Flying Out of Chattanooga Airport
Have you flown out of Chattanooga Airport recently? You will see how much progress this airport continues to make. In 2024, it will be bigger and better. With the completion of a $28M makeover and improvements, you are already seeing the benefits. Flying out of Chattanooga Airport is something to be considered before driving to Atlanta or Nashville.
Many people in the surrounding area will drive more than an hour to fly out of the Chattanooga Airport for their own ease and convenience.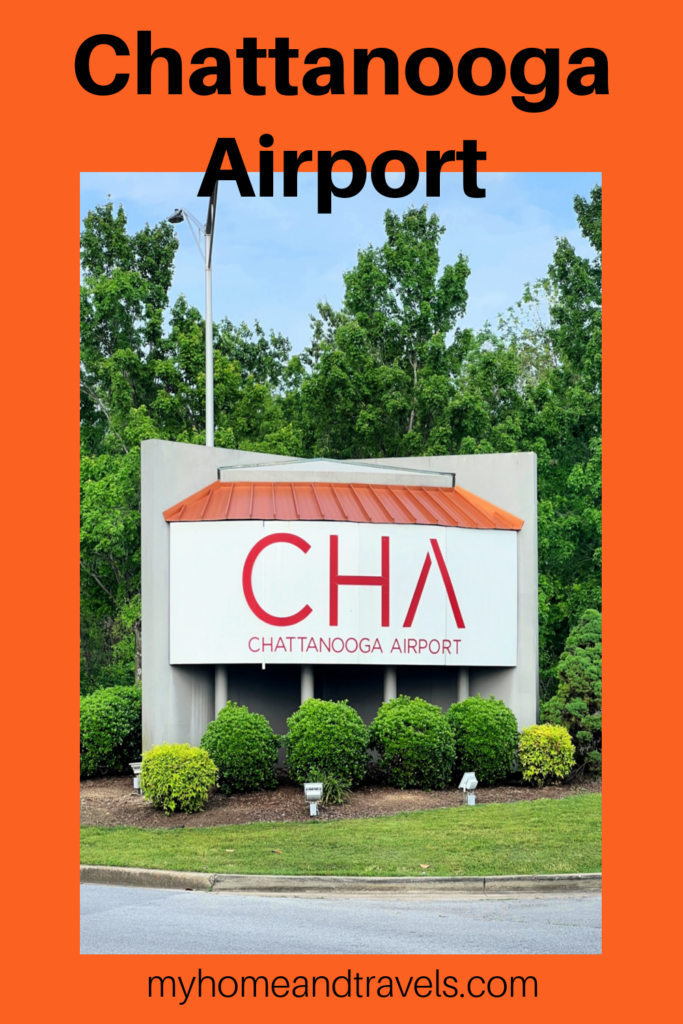 Flying Out of Chattanooga Airport
Flights out of Chattanooga is on track in 2023 to be back to pre-covid numbers. In 2019, approximately 554K people flew out of Chattanooga. In 2022, it was 440K.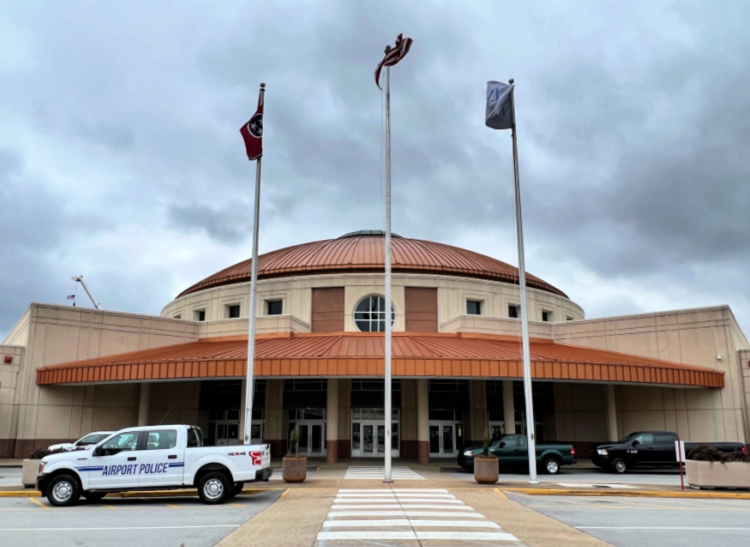 As of June 3, Miami will be added to the non-stop flights with American Airlines. I see so many taking advantage of this new flight for a quick getaway to the Southern Florida area. This will also be a big advantage to those who love to cruise to fly into Miami to cruise out of there or Port Everglades in Fort Lauderdale.
American Airlines also have non-stop flights to Charlotte, Washington DC, and Dallas.
Other non-stop flights include:
United to Chicago
Delta Airlines to Detroit and Atlanta
Allegiant Airlines to Tampa and Orlando
Everyone would love to see stops in New York City, Denver, Seattle, and California. I do have a flight to Seattle, with just a stop in Atlanta soon on Delta.
Construction and Renovations Continue
With part of the completion of the renovation in 2024 are plans for 2 new gates, making space for future partnerships with airlines, and more non-stop flights. No details yet, but stay tuned.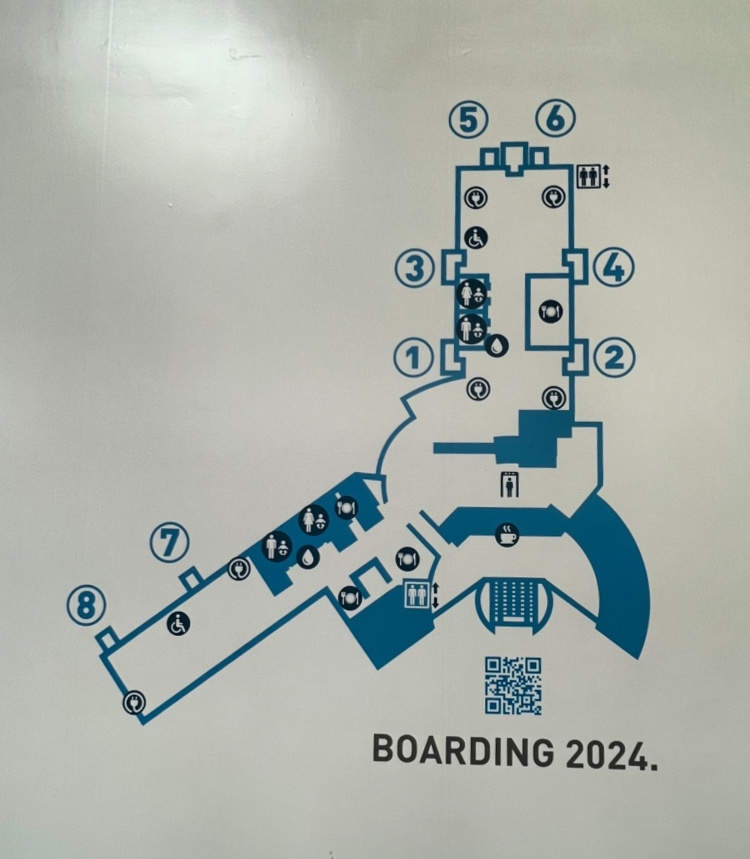 The current construction and renovations don't affect your experience at the airport.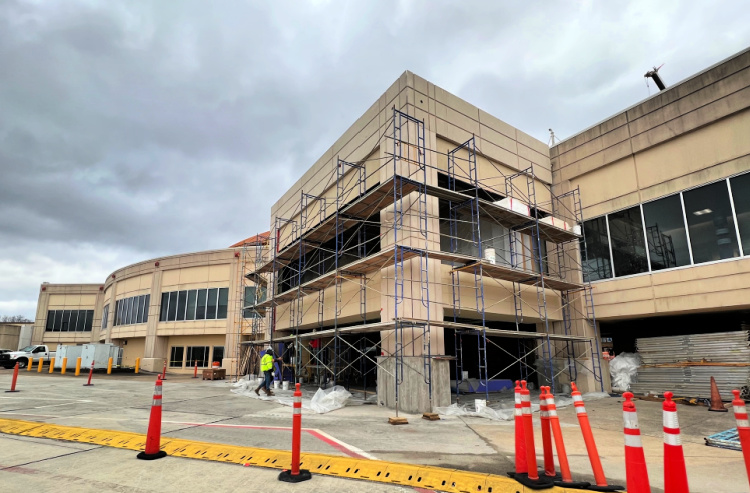 We chose to fly directly out of Chattanooga to Seattle to avoid what many see as hassles of larger airports like security lines, parking, and the crowds. Those are things you won't find at Chattanooga Airport. Some say it's cheaper to fly directly out of Atlanta, or to a larger airport, but to me, my main reason – Convenience.
Parking is so convenient with several options. Short term parking in the covered garage is just steps away from the entrances. Picking someone up? Park in the Cell Phone lot for free while you wait.
If you need long-term parking, there are a couple of lots for this as well. You can find EV and Tesla Supercharging stations as well.
Check out the Terminal at Chattanooga Airport
Around the terminal, you will find many nods to local attractions and businesses.
Want to watch what's going on at the Tennessee Aquarium? There's a live webcam for so you might even see sharks swimming around. Read about the Aquarium HERE.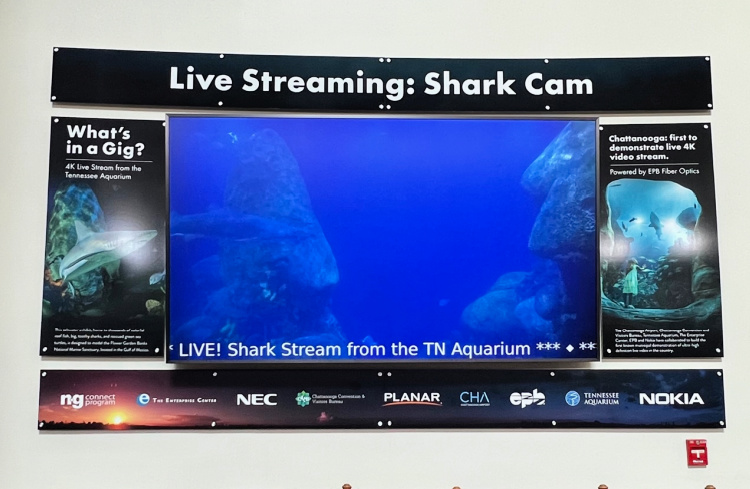 Many don't realize Lodge Cast Iron is considered a local product to Chattanooga, being manufactured just 30 minutes from here. There's even a museum for Cast Iron THERE.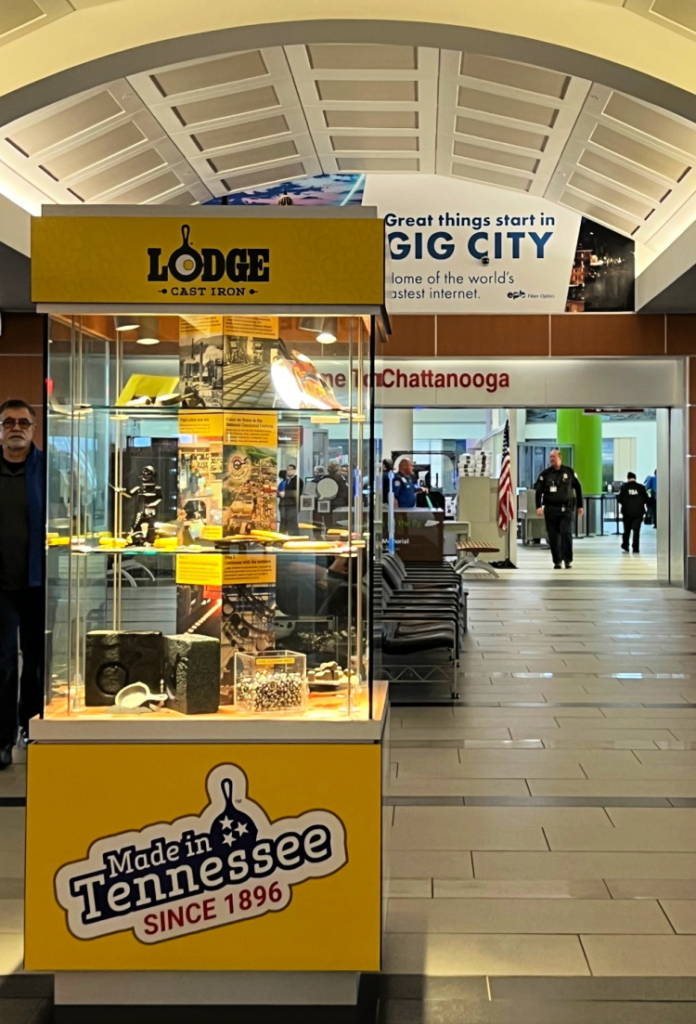 Check out one of the latest Volkswagen autos, made right here in the Scenic City.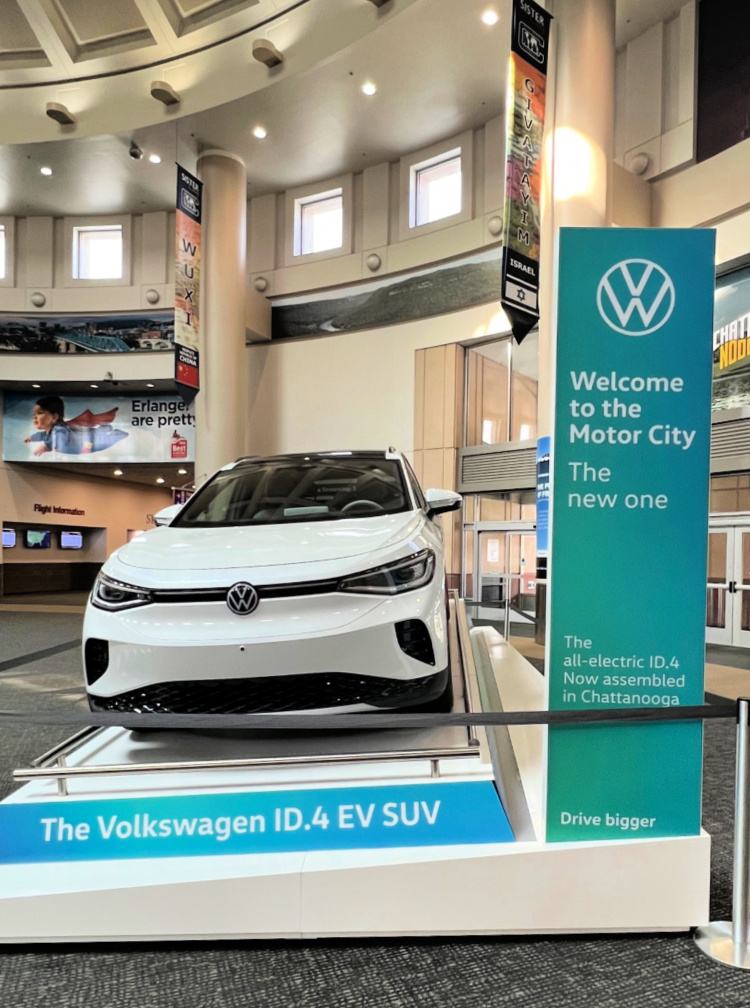 I was amazed at the Climbs Sculpture made with a 3-D printer by Branch Technology. I was told it was installed in 3 pieces. How is it being held together? Good old zip ties.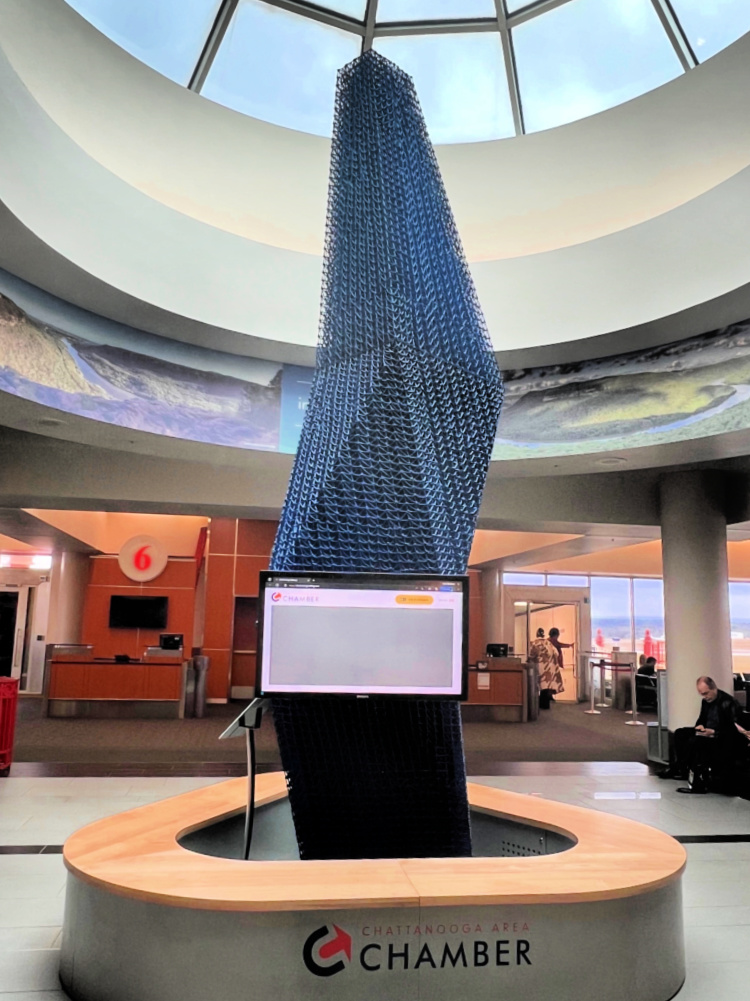 Several car rentals are conveniently located on the lower level of the terminal.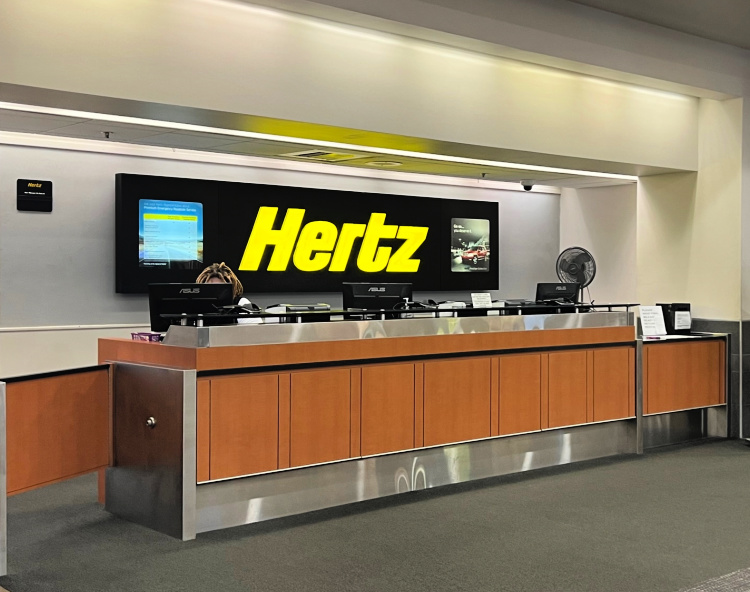 Check out the Art Space at Chattanooga Airport
Make sure to check out the CHA ART SPACE display, rotating about every 6 months. Currently several local art pieces including fiber art can be seen.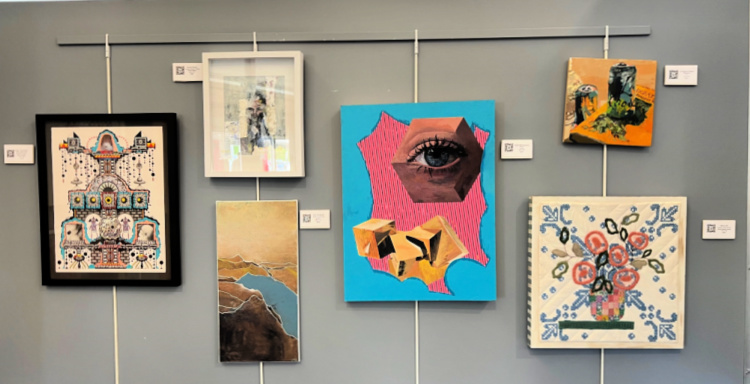 It's great to see a beautiful work of art by a friend, Alexa Lett. So talented.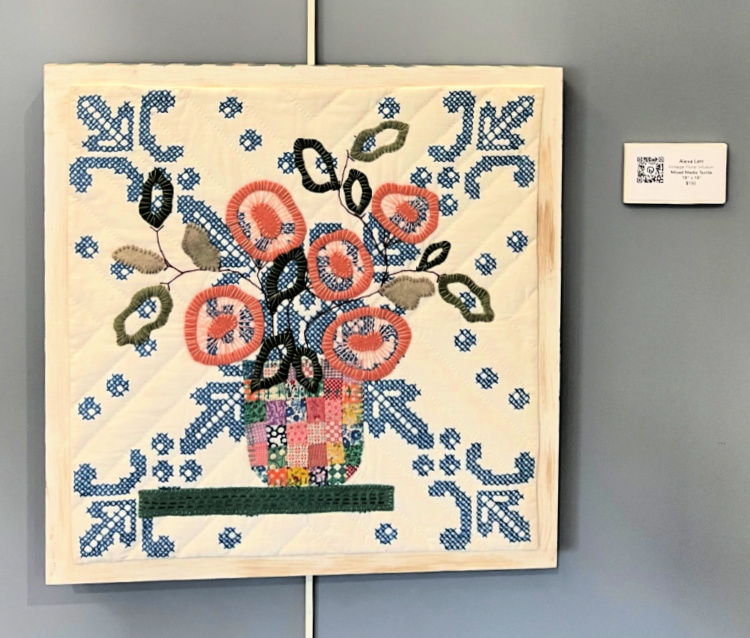 Flying out of Chattanooga is so easy compared to many of the major airports. Recommended times to check in is at least 1 ½ hours ahead of your flight time.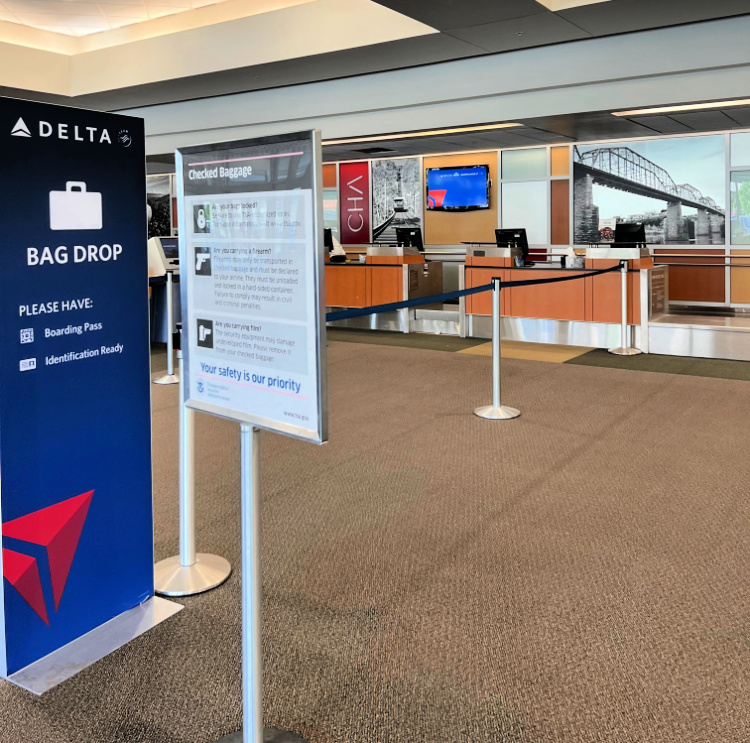 I found, especially with TSA Precheck, I was through the entire check in process in less than 10 minutes. That's not to say I recommend cutting it that close though. There can always be a reason for slower check-in time.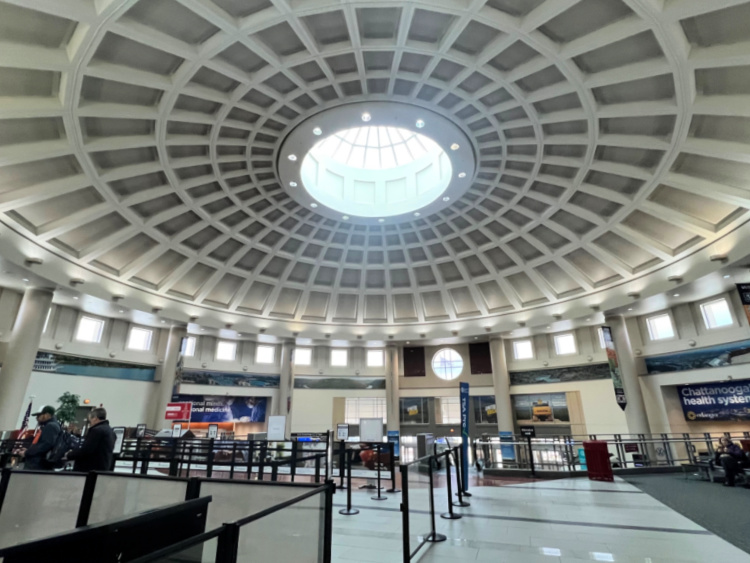 While waiting for your flight to leave, take advantage of the amenities offered. Plug into the free Wi-Fi offered by EPB. You know we are known as Gig City for our ultra-fast internet speed.
You can enjoy a nice snack, meal and drink while waiting. Although airports are notorious for high prices, I didn't find this true here. Did you forget something? Pick it up here as well.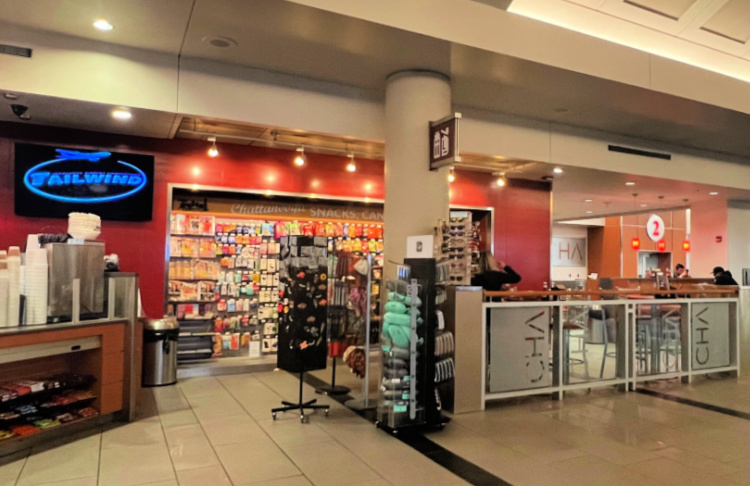 Find a great coffee shop on the lower level as well.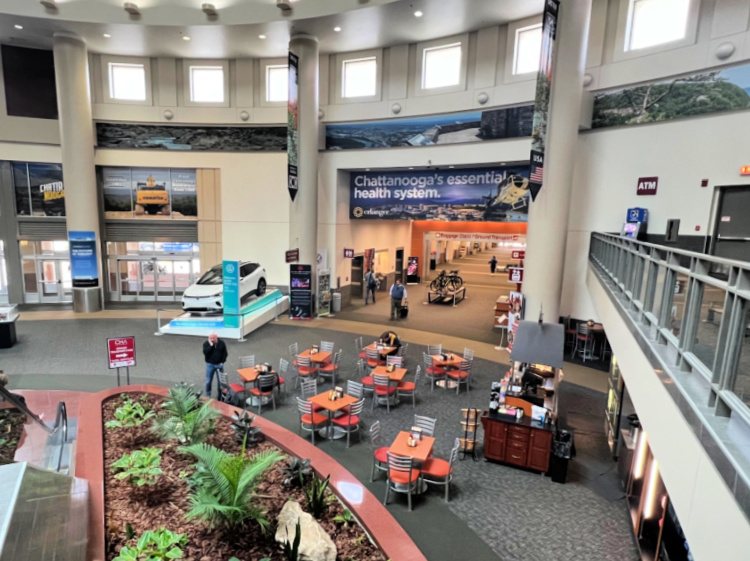 I hope when you are planning your next flight, you consider Chattanooga Airport. Where's your next trip planned for?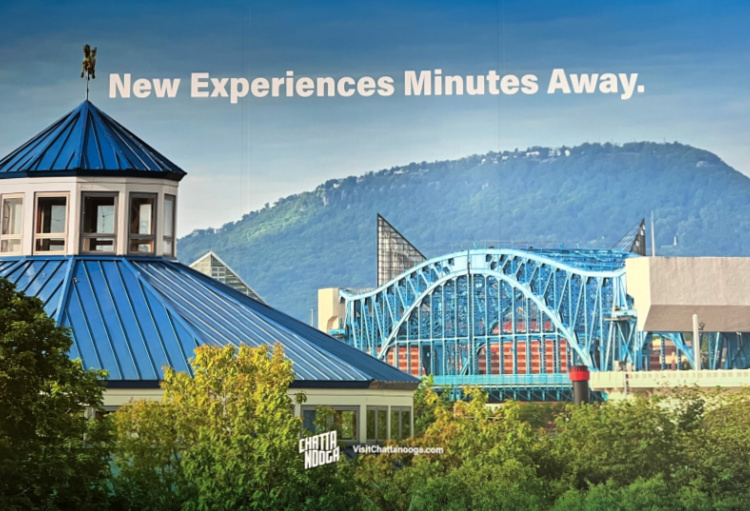 Visiting the Chattanooga area?
I've included affiliate links to Amazon for you to find some products easier. I may receive a small commission, but the price is the same for you. It just helps my blog out.
Happy Travels,
Rosemary