Have you wondered why it's been kind of quite here the last few weeks?
Well, lots going on.
Here's the scoop.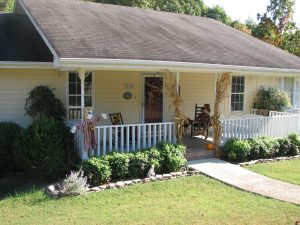 We are downsizing – moving from our 4 BR/3BA home into a 3 BR/2BA apartment, but staying here in Chattanooga. The purging and packing has already started.
I told my husband that every few years you should just threaten to move so you will get rid of stuff and really declutter. Yes, I used that C word – clutter. Of course, I refer to it more as projects and treasures. How many of these items do you have?
Already one yard sale, semi-successful, a full truck to Goodwill, and another small load today will be dropped off. Other charities have been contacted. Money from a yard sale would be nice, but really too much work.
This wasn't a decision made quickly as we have talked about this for a year or so now. Over the next few months you will see our journey documented. So many things with the move to do and think about:
What furniture to buy or to keep?
Choosing a new washer and dryer.
How to decorate?
What we will miss? My front porch.
What we won't miss? All the yard maintenance.
These are just a few of first decisions to be made.
I'll keep you posted.
Any great hints and tips for apartment living will be greatly appreciated.