Who says you can't use your fine china and crystal on a picnic or on your deck? Dig out that wedding china you haven't used since the holidays and have a dinner party on the deck or patio, or even a romantic, elegant picnic for 2.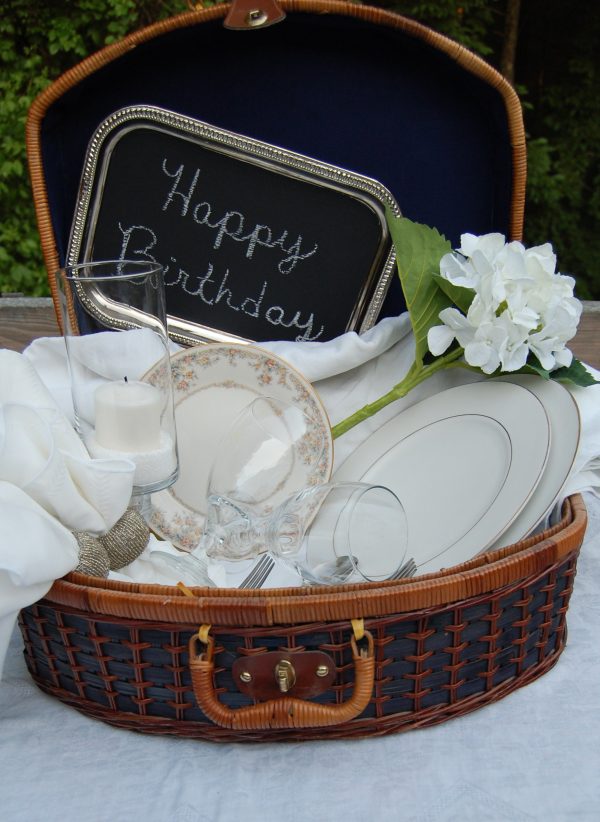 There are several events around Chattanooga where seeing a small table set with china and candles isn't that unusual, and maybe even hearing live music. Eating on "real" dishes and drinking out of glass is my kind of event. Of course, you do need to check with all venues to see if glass is allowed, or even what types of beverages you can bring in.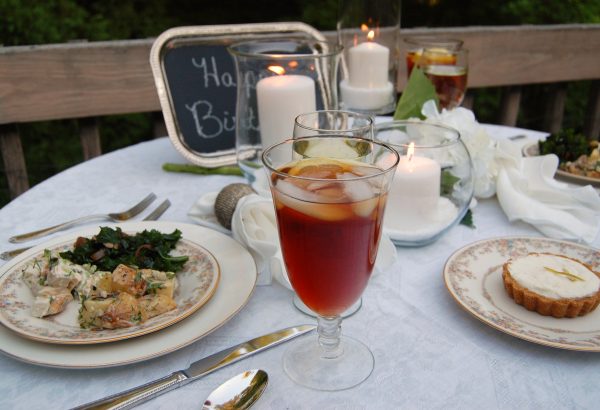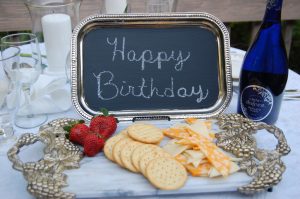 Don't have china? Stop off at any thrift store and find some. Don't worry if they don't all match, that's part of the fun of entertaining is making it your own style. You can even find wine or champagne glasses at Dollar Tree for only $1 each. If they do get broken by chance, it's not really a big deal.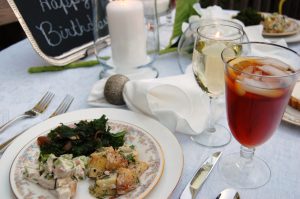 One of my favorite candle holders is ones that I have made myself. Use any size clear candlestick you have on hand, or again pick up very cheaply and glue a pillar holder, vase, or ivy bowl to the top.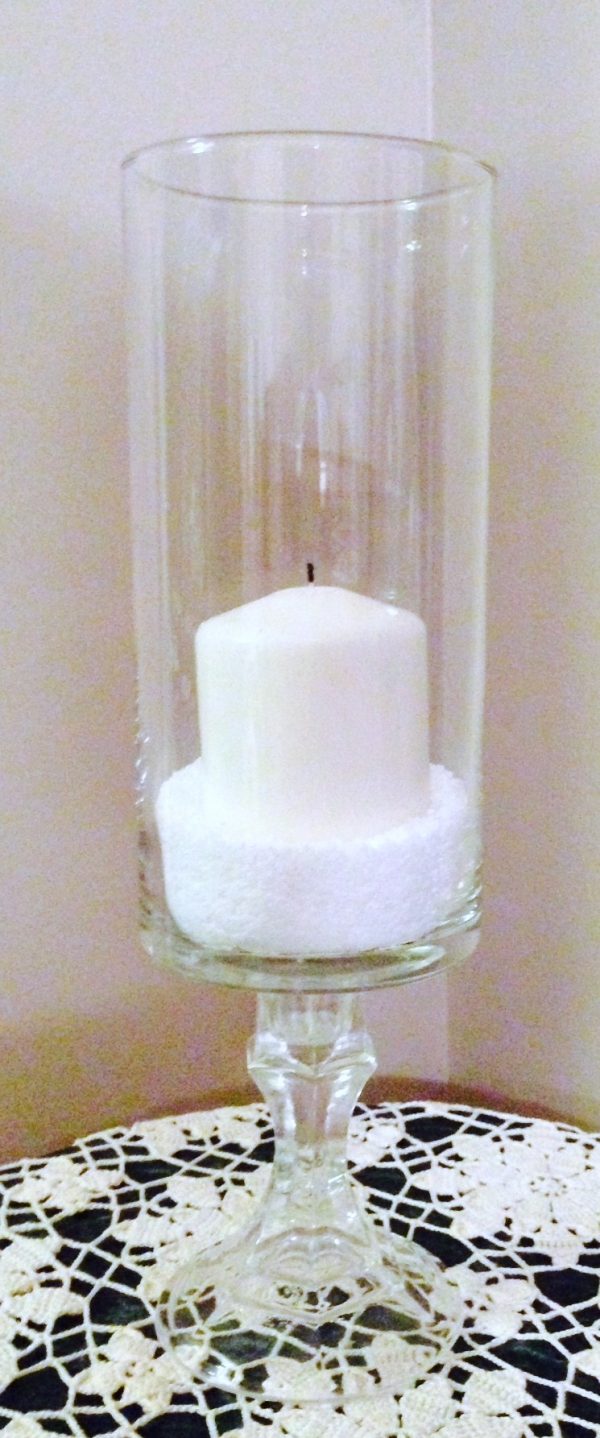 Match up what you want to use together being careful to not use a larger, heavy vase on a tall skinny candlestick, as it might be a bit top heavy and turn over easily. Make sure they are very clean. I like to run mine through the dishwasher. Using an adhesive designed for glass, such as E6000, place a small amount around the upper edge of your candlestick. Be careful to not overdue it or it will ooze out and down the sides. Now center the base of your vase over the glued area and press gently.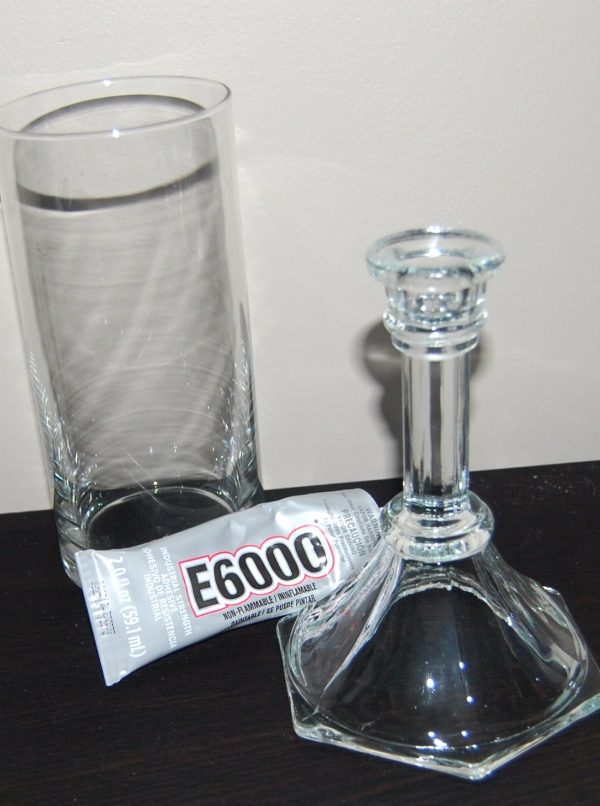 I will then place a lightweight book (or I have used a box of pasta) on top of the base to hold it in place. Don't attempt to move it for at least 24 hours to allow plenty of time for it to dry.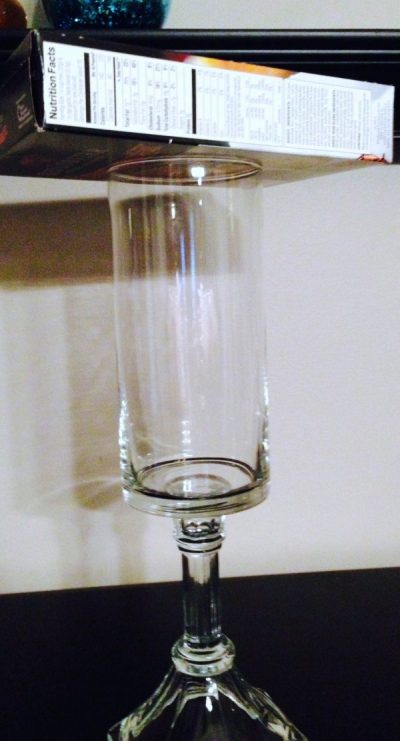 When you need to wash it, do not immerse it in water. Just use your dampened dishcloth to wipe clean, then rinse and dry gently.
One of the great things about using this type of candlestick outside is your candles aren't as likely to blow out unless it's really windy, then I wouldn't suggest using an open flame.
Why not add a menu board or welcome sign for a little flare? Take an old silver tray you have picked up at the thrift store and paint a chalkboard on it. I wouldn't recommend using your sterling silver you might have inherited, but you can even find fake silver trays at the discount stores.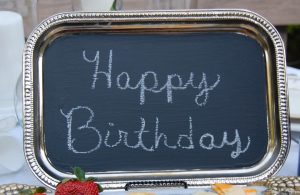 Wash and dry well making sure there isn't any residue from stickers left on it. Using chalkboard paint designed for the surface you are painting, paint the bottom of the tray.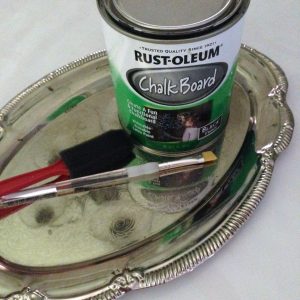 I'm not really a tape type person, so I just would do it freehand. Hey, it's hand painted – it doesn't have to be perfect. Following the directions on the can about number of coats and drying, paint as smoothly as possible. If find using a foam brush works great. Check the instructions for use and seasoning of the chalkboard.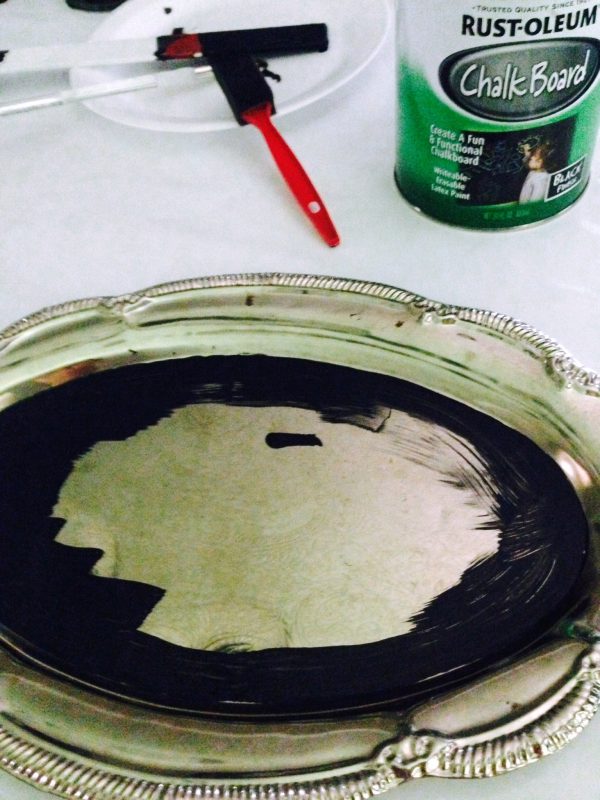 Pick out your favorite phrase, a simple "Welcome", or Happy Birthday and place on an easel. You could even write the types of cheese or wine you are serving.
Even if this is a picnic, or an outdoor dinner party, it's your chance to pull things out of the cabinets and use them. You can mix your old and new items, use silver and gold together, and don't worry about everything matching. Don't have a white table cloth? Think about an old curtain, or even pick up one at the thrift store. This is a great way to show your personality while entertaining.
Add some of your favorite flowers, of if you forgot to pick them up, I love these silk hydrangeas. They look wonderful with your all white setting.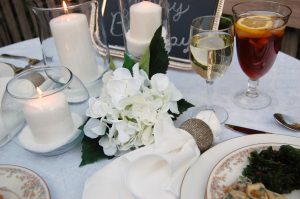 Want a romantic evening? Set this up just for the 2 of you. Don't worry about cooking. Just run by your favorite deli or store and pick up cheese & crackers, chicken salad, some fruit, and a dessert to share. Oh, and maybe your favorite bottle of wine too.
Or, pack it all up and go to the lake or a favorite park. Doesn't an elegant picnic sound divine?
I've included affiliate links to Amazon for you to find some products easier. I may receive a small commission, but the price is the same for you. It just helps my blog out.
Happy Travels,
Rosemary