If you're on the hunt for Sweet And Savory Strawberry Recipes Perfect For Anytime, look no further than these 20 delicious recipes! So many local, fresh strawberries are still available.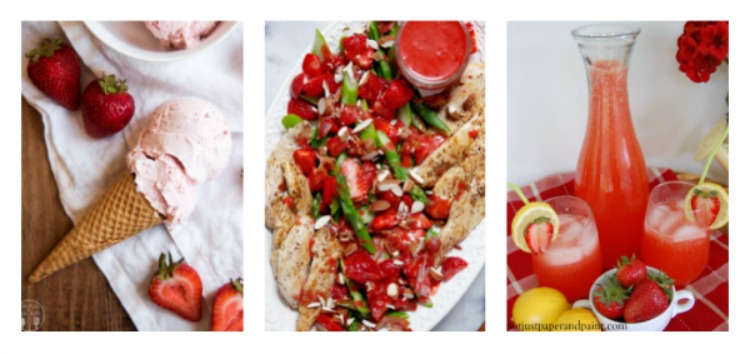 Strawberry season brings with it an abundance of delicious recipes from which to incorporate this versatile fruit. The flavor of strawberries works well in sweet as well as savory dishes. Juicy, ripe and luscious strawberries taste amazing on their own, but they add something special when paired with other fruits such as lemon and rhubarb.
Let's not forget the amazing desserts that can be made with strawberries. How about some homemade jam, strawberry ice cream or popsicles?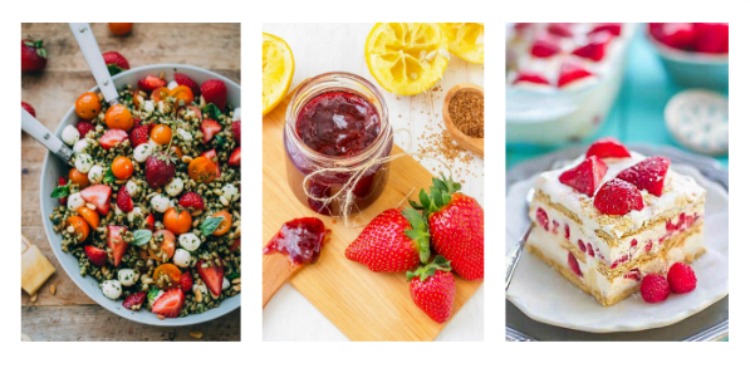 Don't miss making strawberry pies, icebox cakes and of course strawberry shortcake this season. For a savory twist, try gazpacho, or compotes and sauces to add to meats. Strawberries easily enhance salad greens such as lettuce, spinach, and kale with a touch of sweetness and their beautiful ruby color.
Here are 20 delightful sweet and savory strawberry recipes to try this spring and summer.
20 Sweet And Savory Strawberry Recipes
The Best Strawberry Lemonade Ever by My Home And Travels
Strawberry Icebox Cake by Life Made Sweeter
Homemade Strawberry Ice Cream by Like Mother Like Daughter
Strawberry Rhubarb Pie by Culinary Hill
Easy Homemade Strawberry Shortcake by Sally's Baking Addiction
Strawberry Cheesecake Protein Smoothie by Zesty Olive
Strawberry Mascarpone Tart by A Beautiful Plate
Strawberry Cupcakes by Yellow Bliss Road
Homemade Strawberry Jam by Happy Foods Tube
Don't forget these easy strawberry recipes!

Strawberry Peach Ice Lollies by Recipes From A Pantry
Strawberry Cheesecake Bars by Spoonful Of Flavor

Strawberry Jalapeno Tic Tac Toe Tart by Vintage Kitty
Strawberry Asparagus Salad with Bacon & Almonds by Lexi's Clean Kitchen
Strawberry Basil Honey Goat Cheese Quesadillas by The Creative Bite
Strawberry Caprese Farro Salad by A Beautiful Plate
Strawberry Riccota Bites by Home Cooking Memories
Strawberry Basil Smashed Avocado Toast by Love And Lemons
Strawberry And Tomato Gazpacho by Spoon Fork Bacon
Grilled Chicken with Strawberry Basil Sauce by Running To The Kitchen
Strawberry Avocado And Kale Salad by Averie Cooks
Pin these ideas for later.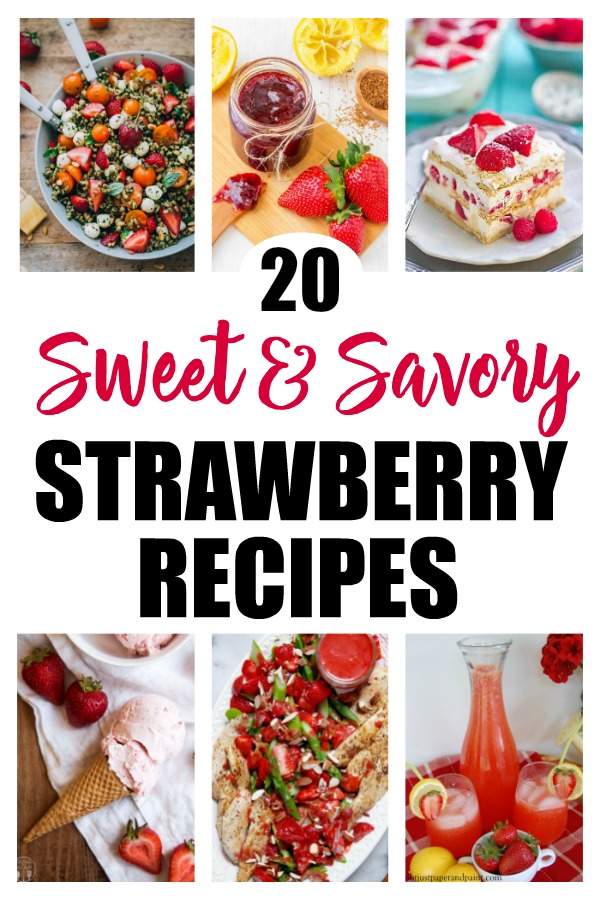 With strawberry season and the feel of summer here, it's time to get your taste buds primed and ready! There's nothing better than eating a fresh strawberry right from the garden on a hot summer day. These 20 strawberry recipes are perfect for making your taste buds happy and ready for more!
With the ease of these delicious recipes, you have no excuse but to make every single one! Let these strawberry recipes be the focal point for your cooking for the next few months. You'll love their delicious taste!
Feel free to share some of your favorite ideas or recipes for strawberries.
Want to think about upcoming peach season? FYI, I actually make this a lot with canned peaches. This is a great make ahead dessert for any summer entertaining or a special picnic.