Slow Cooker Pulled Pork Chili
This slow cooker pulled pork chili is a great new recipe to try being so different than the traditional beef chili. You're going to love making in just a few hours in your slow cooker. You can easily cook this chili on low for 8 hours while you enjoy getting household chores done, work, or homeschooling completed with the kids. Once the 4 hours on high or 8 hours on low pass on by, you'll be ready to serve a delicious bowl of slow cooker pulled pork chili.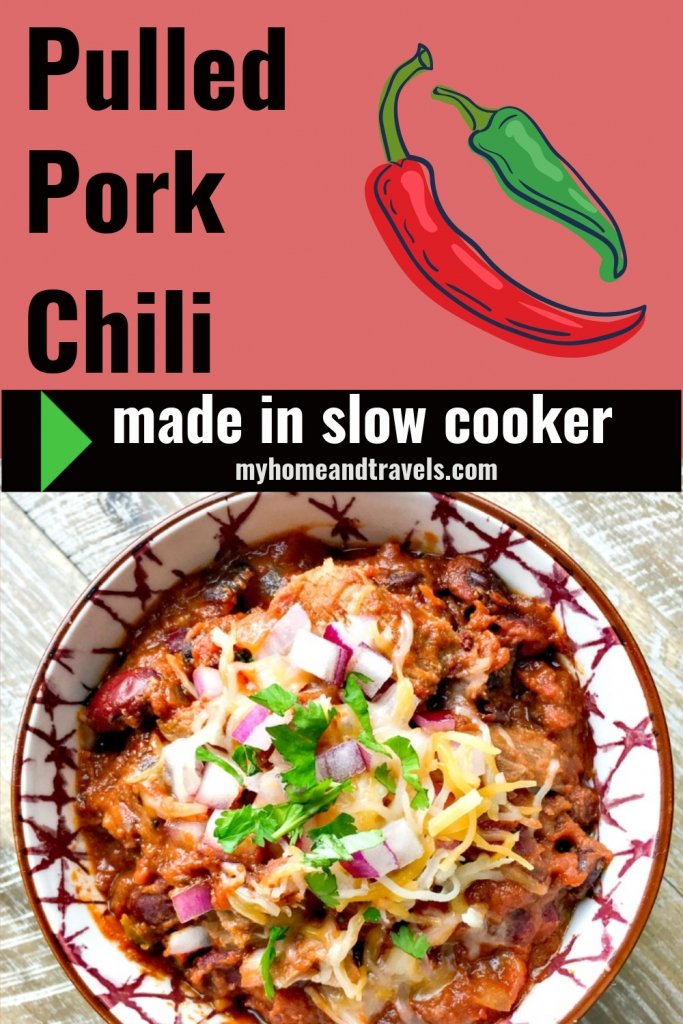 This pulled pork chili is more flavorful than any other chili you've tried. The green chilies, cumin, cayenne pepper, onions, Mexican oregano, and other seasonings will blend together to give you a slight spice with every bite. This delicious chili is the perfect comfort food option after a cold day on the slopes or outdoors doing yard work!
Can you slow cook already cooked pork?
Yes, you can slow cook already cooked pork. You may need to adjust the slow cooking time when you're using a fully cooked pork for this pulled pork chili, though. For my recipe, you'll place a raw pork shoulder in your slow cooker, after trimming it. Then you'll place the other ingredients and seasonings around the pork shoulder before starting your slow cooker.
If I find a great buy on a pork roast, I will cook it and freeze the meat for later use.
Can you put raw meat in crockpot for chili?
For this pulled pork chili recipe, you'll put raw meat in crockpot for chili. You can easily use raw meat in most any slow cooker chili recipes, however, I do prefer to brown chicken or beef when making a beef or chicken chili in the slow cooker.
How long can you keep pulled pork warm in slow cooker?
You can keep this slow cooker pulled pork chili in your slow cooker for about three hours on a "keep warm" setting. After five to six hours, your slow cooker pulled pork chili may not be safe to eat. It's best to plan on eating this pulled pork chili within a few hours of the completed cook time or place it in an airtight container in the fridge.
You can store the leftover pulled pork chili in an airtight container for 3-4 days in your fridge. This will allow you to use my pulled pork chili as a make-ahead meal idea during busy weeks this fall season. Another option to use this slow cooker recipe as part of your make-ahead meal planning for the month is to store the slow cooker pulled pork chili in a resealable plastic baggie in the freezer.
Now that I've discussed all of the frequently asked questions about slow cooker pulled pork chili, it's time to gather up the ingredients and get ready to enjoy a flavorful bite of chili soon.
Slow Cooker Pulled Pork Chili
Just gather up the ingredients below and get ready to make this delicious comfort food pulled pork chili today. If you aren't sure about the spice level, you may try a little less since you can always adjust it and add more later.
What do you put on top of chili?
This is the time to make it your own – me, I'm all about the cheese, green onions and sour cream. My guys – no sour cream, but usually some extra spice or hot sauce. Corn chips or corn bread completes it to make it a meal.
A few more fall favorites and remember I mentioned cornbread?
Fantastic Cornbread Recipes To Try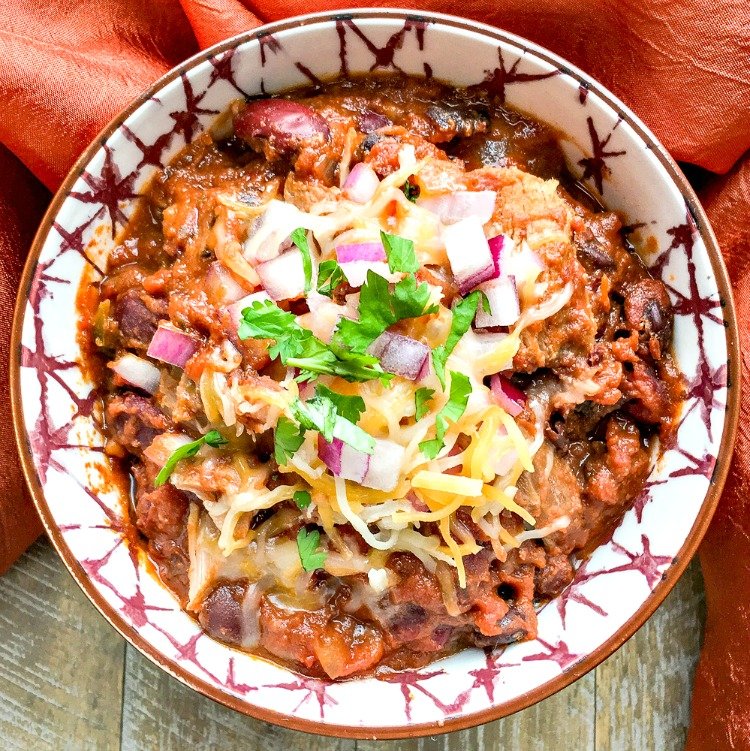 Yield: 4 Servings
Slow Cooker Pulled Pork Chili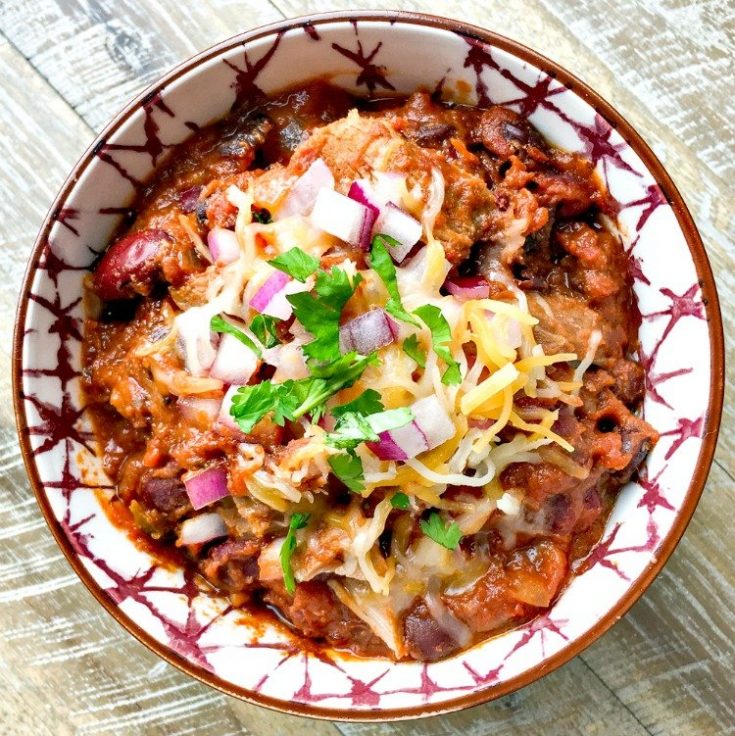 This slow cooker pulled pork chili is a fabulous comfort food recipe to warm your bones in the winter and fall season. Packed full of flavor with a hint of spice, this comfort food chili will fill your belly up.
Total Time
4 hours
15 minutes
Ingredients
4-5 garlic cloves, minced
1 T dark cocoa powder, unsweetened
1 T chili powder
2 tsp ground cumin
½ tsp cayenne pepper
1 T Mexican oregano
Sea salt, to taste
3-3½ lbs. pork shoulder roast, trimmed
1 small red onion, diced
1 4-oz. can mild green chilies
3 T tomato paste
1 28-oz. can diced tomatoes
1 15-oz. can red kidney beans, drained and rinsed
1 15-oz. can black beans, drained and rinsed
2 tsp liquid smoke
1 C chicken broth, preferably organic
To Serve:
Mexican cheese blend, finely shredded
Red onion, diced
Fresh cilantro, chopped
Instructions
Combine garlic, cocoa powder, chili powder, cumin, cayenne pepper, and Mexican oregano in a small bowl. Season with salt, to taste, and stir to combine.
Rub pork roast with seasoning mixture on all sides and place in a 5 or 6-quart slower cooker crock. Arrange remaining solid ingredients around the pork, then pour the liquid smoke and chicken broth on top. Stir the ingredients on each side of the pork with a fork to combine.
Cover and cook on high for 4 hours, or on low for 8. Do not remove lid while cooking.
When cook time is complete, remove lid and gently pull the pork apart with two forks. Allow the pulled pork to rest in the juices for 10-15 minutes to absorb more flavor, if desired.
To serve, top with shredded Mexican cheese, chopped red onion, and/or fresh cilantro. Enjoy!

I've included affiliate links to Amazon for you to find some products easier. I may receive a small commission, but the price is the same for you. It just helps my blog out.
Happy Travels,
Rosemary