I was making Fettuccine Alfredo last night and thought later I would share my recipe. I made the lighter version – thinking about vacation next month – bathing suits.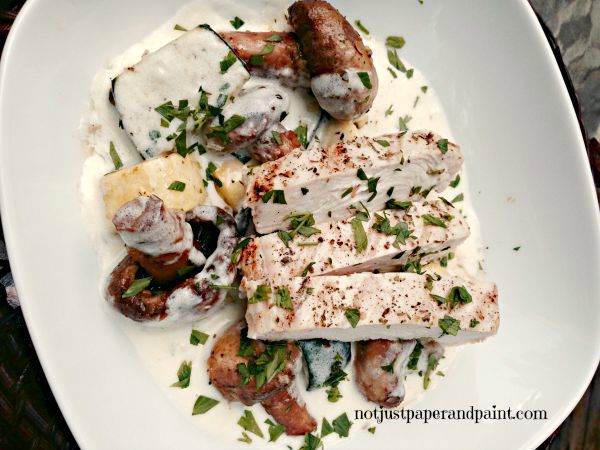 I am including two versions – a very rich one and a lighter one.
This sauce is great to use over a variety of ingredients to make it your own – with what you like. My favorites include grilled or sauteed chicken, grilled squash,mushrooms and zucchini, steamed broccoli or snow peas, and your favorite pasta.
Rich & Creamy Alfredo Sauce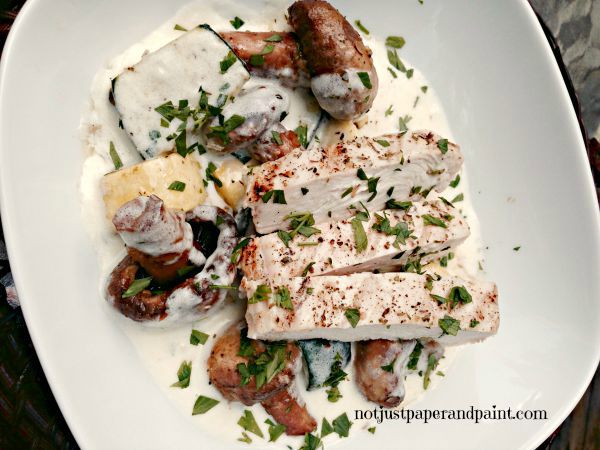 A very rich and creamy Alfredo Sauce. You won't enjoy a restaurant sauce after this.
Ingredients
1 stick, 1/2 cup butter
1 cup heavy whipping cream
3/4 cup fresh, grated Parmesan cheese
2 egg yolks
2 cloves finely chopped garlic, can substitute 1/4 tsp - 1/2 tsp garlic powder
Salt to taste
2 bay leaves
2 T fresh, finely chopped parsley
Instructions
Melt butter in heavy saucepan over medium heat
Stir in garlic and heavy cream
Add bay leaves
Heat just to almost boiling point
Remove from heat
Separate eggs putting yolks in small mixing bowl
Stir egg yolks
Slowly whisk in about 1/2 cup of hot cream mixture into yolks to temper
Slowly whisk this egg mixture back into cream mixture
Return to medium heat
Cook 4 - 5 minutes, stirring constantly
Remove bay leaves
Stir in cheese, mixing well until melted (about 2 - 3 minutes)
Stir in parsley
Remove from heat
Serve over your favorite pasta
Notes
I usually double this recipe to ensure there is enough for leftovers
DO NOT LET THIS BOIL
DO NOT add egg yolks to hot mixture or you will have scrambled eggs - Tempering is very important
Garlic Salt can also be used
Garlic and salt is to taste


No matter which version you try, let me know how you like it. Did you add anything to make it your own?
A few more pasta dishes to try.