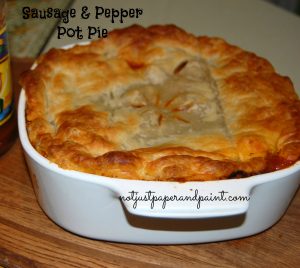 Do you follow directions on recipes or are you like me and want to tweak them a bit to make your own? I was given a challenge from Ragú to makeover a recipe for The Italian Cheesesteak Sandwich. This needed to be a family friendly recipe with ingredients which might already be in your pantry or easily found in your local grocery store.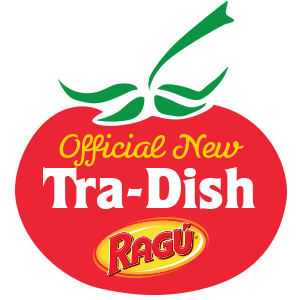 Since I'm all about one-dish meals or those that can be made ahead of time, I thought of a casserole but wanted to take it up a notch by making it a pot pie. With Ragú® Old World Style® Traditional Sauce, meat and cheese as the base, I added other ingredients which I regularly add in other pasta dishes. I hope you will add this to your recipe box and make it a family favorite as I have mine.
Ingredients
1 lb Italian sausage
3 cloves garlic, chopped
1 small onion, chopped
8 oz pkg mushrooms, cut into quarters
1 large bell pepper, cut into ½" pieces
2 jars Ragu Old World Traditional Pasta Sauce (reserve 1 cup for dipping)
1 teaspoon Italian seasoning
½ cup black olive slices
½ cup grated Parmesan cheese
1 cup grated Mozzarella cheese
1 sheet puff pastry – thawed as directed on package
Follow directions on puff pastry package for thawing before beginning your recipe. After thawing, make an X or other decorative design in the center for venting of steam.
Brown Italian Sausage, stirring often, until no longer pink. Remove from pan and drain onto paper towels, leaving 1 tablespoon of sausage drippings in your skillet.
While this is browning, cook ¾ cup of your favorite small penne pasta to al dente. Do not overcook. Drain well and set aside.
Over medium heat, saute onions in sausage drippings for 2 minutes, then add garlic and cook 1 more minute being careful not to let your garlic burn. Add mushrooms and bell peppers and saute for 6 – 7 minutes, until most of the liquid has evaporated and these just start to become tender. Stir in browned sausage, Italian seasoning, Parmesan cheese, black olives, cooked pasta, and Ragú® Old World Style® Traditional Sauce. Heat this mixture just until hot, about 2 – 3 minutes.
Pour this into a 2-quart casserole dish which has been lightly sprayed with a non-stick coating spray, then sprinkle with mozzarella cheese. Place the puff pastry on top, trimming edges to about 1 inch around. Fold this under and press to seal edges.
Bake for 20 minutes until crust is a golden brown. Remove and let stand 10 minutes before serving.
Heat your 1 cup reserved Ragú® Old World Style® Traditional Sauce to use as dipping for crusty French Bread. Adding a nice tossed or chopped salad will complete the meal.
Did you know – each jar of Ragú® Old World Style® Traditional Sauce is made with 11 juicy tomatoes making it its richest, thickest recipe *versus our previous OWS formula.
I was provided with 2 jars of Ragú® Old World Style® Traditional Sauce but the recipe and reviews are my own.