Although when you first hear Baked Pineapple, you might think dessert, but it's a perfect side dish on any table. I make it quite often, but it's always one of those dishes on a holiday table, especially Easter and Thanksgiving. I'm not sure where I first got the recipe or tried it, but knew it was something I wanted in my recipe file. Yes this is the perfect baked pineapple casserole.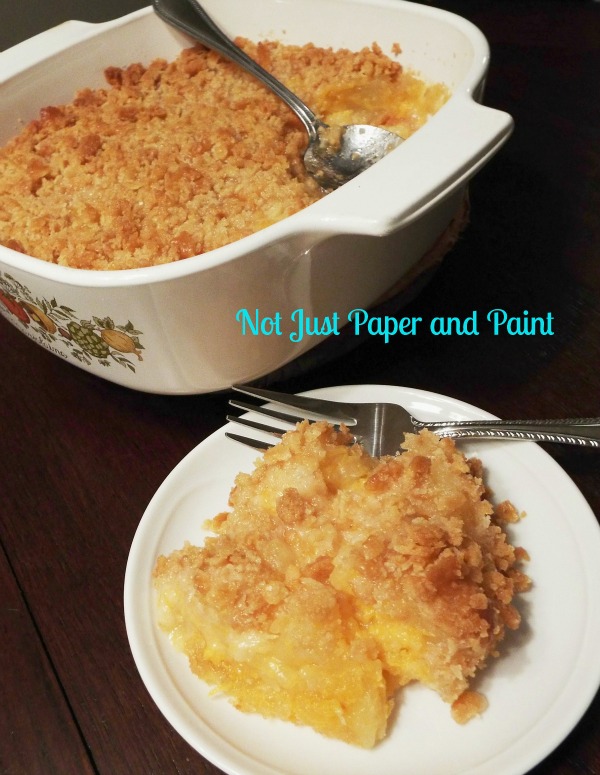 Cheese?? Really, cheddar cheese is in this? Well, ok – I'll give it a try.
My husband isn't a pineapple lover, but I do remember the first year I made it there were about 10 – 12 people here for Thanksgiving so I thought surely someone else would like it too. Turns out it was a hit, even with my husband. It is now a tradition on Thanksgiving, plus a few other times a year. Think about the pineapple is a great accompaniment with ham anytime you serve it.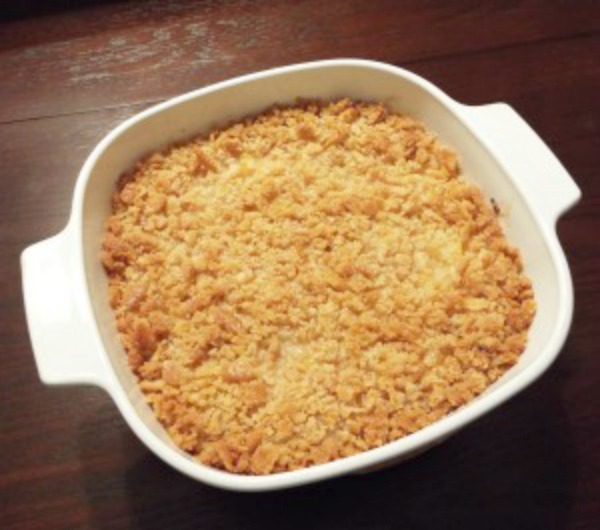 Another advantage of this recipe is you can make it ahead of time then assemble it right before baking. Mix all of the wet ingredients together and refrigerate. Crush your Ritz Crackers and add the juice and melted butter right before baking.
I hope you add this to your recipe file.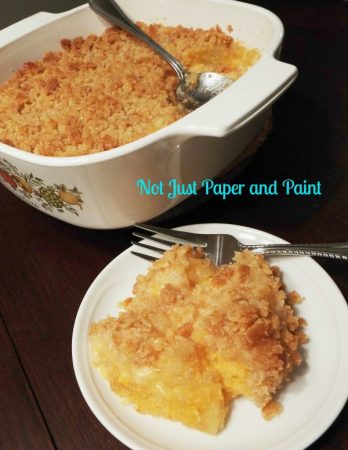 Baked Pineapple Casserole
2014-11-19 08:22:15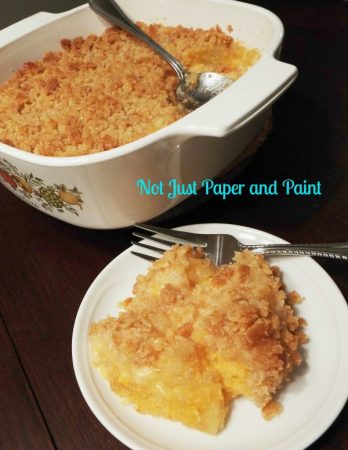 A delicious side dish for any Holiday Dinner
Ingredients
1 cup sugar
6 tablespoons all-purpose flour
2 cups grated sharp cheddar
2 (20-ounce) cans pineapple tidbits, drained, (keeping the juice)
1 cup Ritz Cracker crumbs, crushed
8 tablespoons (1 stick) butter, melted
Instructions
Preheat oven to 350 degrees
Using additional butter or non stick spray, coat a medium-size casserole dish
In a large mixing bowl, stir together the sugar and flour
Slowly add in the cheese making sure it is all well coated with flour and sugar mixture
Add drained pineapple
Stir until all ingredients are well combined
Pour this mixture into sprayed casserole dish
In a separate mixing bowl, mix together Ritz Cracker crumbs, melted butter, and 5 Tablespoons of the reserved pineapple juice
Spread this over pineapple mixture
Bake for 25-30 minutes, or until golden brown
Notes
The type of pineapple you use is to your taste.
I prefer the tidbits since I like the texture, but you can also use crushed or chunks.
To make ahead
Prepare pineapple mixture and store in refrigerator the day before
Right before baking, add the Ritz Cracker crumb mixture
Baking may take an additional 5 minutes
My Home and Travels https://myhomeandtravels.com/

Check out all the other Pineapple tutorials here:

Craftivity Designs | Pineapple Tablescape and Printable Menu
The Vanderveen House | Pineapple Pillow Cover