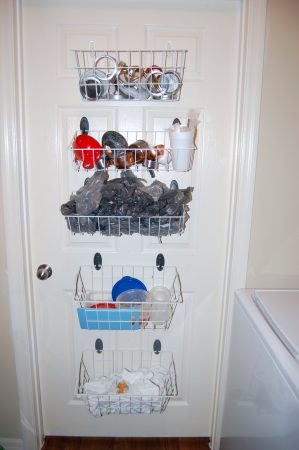 It"s all about the space – storage space that is.
Who doesn't need or could always use more storage space? I'm always looking for any little nook to add storage to I can, especially if it's hidden away.
In the pantry/laundry room, there was a lot of space on the door which was going to waste. I had considered a shoe bag to hold small utensils, but those small pockets weren't going to hold enough. I was just using an over the door hook for hanging aprons and plastic grocry bags, which was useful, but not the best use of the space.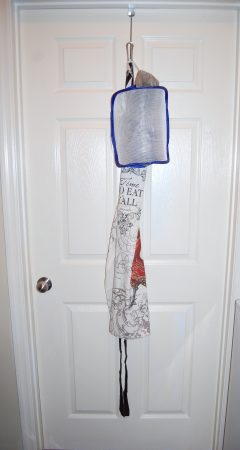 I had some vinyl coated metal baskets collected over several yard sales and flea markets, which were just waiting to be used. Now, how to hang them – well of course with my favorite 3M Command Strip Hooks would do the trick.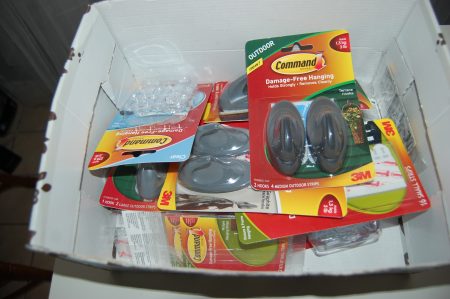 After doing a rough measure of the door and baskets, it looked like 5 baskets could be used in the space.
Before hanging, I decided what would be in each basket since they were different sizes. Plus that would help determine the placement of each basket.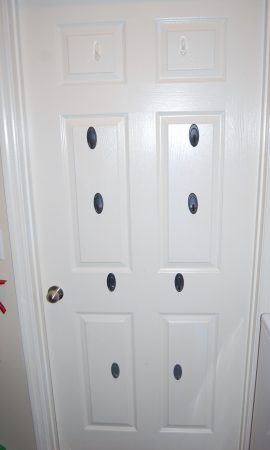 My five would be divided for plastic ware, plastic grocery bags, cleaning rags, lids, and measuring cups. Then it was picking the best size basket for each of these items. Another plus of having a place to store items, it would control how much to keep. This was especially helpful on the plastic grocery bags, now I could only keep what fit in the basket.
I marked where the top and bottom basket would be, then worked the other three in between.
As always when using a product such as 3M Hooks, follow directions on the package. I made sure the surface was clean before applying my adhesive strips then the hooks. On the packaging it will also give you the weight limits recommended.
Also per directions, there is usually a wait time for the hooks/strips to hang before actual use.
Now these items are handy to get to and have them out of baskets where I couldn't reach them above my washer and dryer.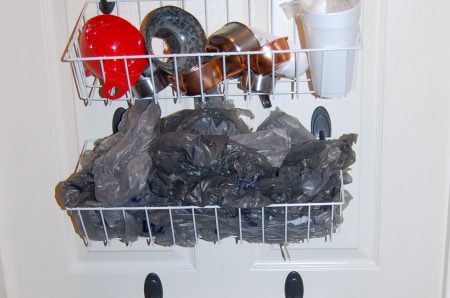 Where do you have space on a door for a project like this? Maybe behind a bathroom door or even in the kids room is a great place to start.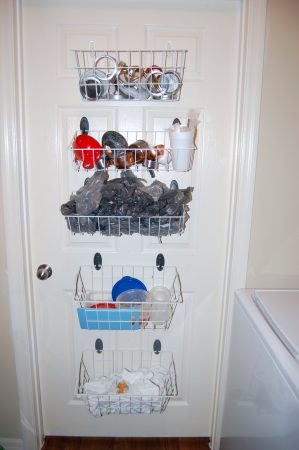 *** These will be moved to my pantry door in my new (old) home when we move back this week. So excited for the move.
This is a great temporary fix to an apartment or rental.