Let me tell you why you need an old Army Trunk Turned Gaming Storage/Coffee Table. No matter if you are thinking about your kitchen, bedroom, or outdoor areas, storage always is part of the planning. I guess now is a time to reveal a bad habit – I kick my shoes off and they usually stay in that spot for a while. Surely I'm not the only one doing that. Am I? And that even happens on the front porch.
As we were getting our porch done and it looked "pretty" I didn't want our shoes left to show. We use our front door a lot. I tried placing a bucket just inside the door for this, but it seemed if the shoes were wet, they didn't make it in. Ok – what to do?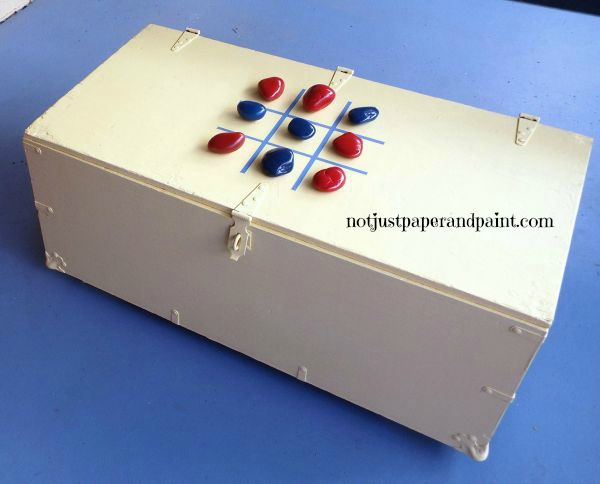 I had a couple old Army trunks in the garage which I had picked up at a yard sale for $5 each. One original thought was to make a coffee table but it didn't work in the space. Let's do a coffee table for the front porch. Not only would it give me storage, but a place to set drinks and put my feet up while sitting on the front porch swing.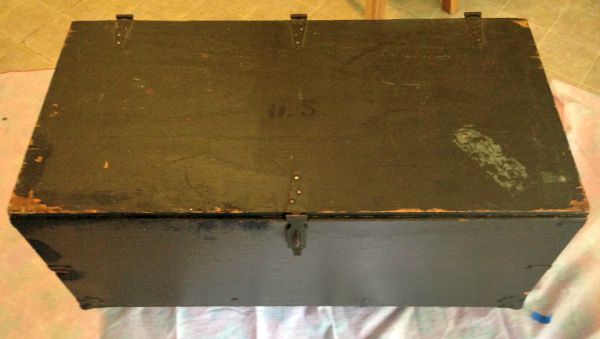 This was probably one of these easiest and cheapest projects I have ever done. But you will see more ideas were added along the way.
First was deciding on color. It would be yellow and I knew there was still paint left over from the porch painting. Good – starting off with no additional costs.
After a good cleaning with wood cleaner, painting was all it needed.
I did give it one coat of white paint with primer since there was some unfinished wood exposed. There were several uneven areas of the trunk, but for this project it was ok to leave. Sorry, no boring picture of white primer, but you get the picture.
The hinges were riveted on and since the wood was dried out, I was afraid if I tried to remove them, the wood wouldn't hold up, so I just left them on and painted over. I used paint left over from painting the porch floor (see all of this in upcoming post).
After 2 coats of Royal Porch & Floor Paint in Butter Churn from Elders Ace Hardware, it was done. Or so I thought. It was just too plain looking.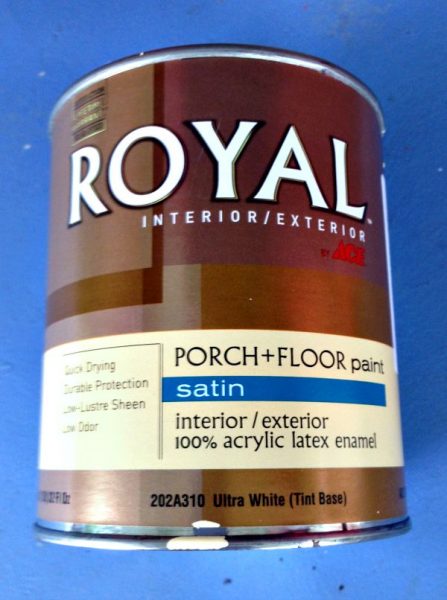 My first thought was to stencil the top to match the rest of the porch but wasn't thrilled with that idea. A checkerboard would be cute, but with size limits between the hinges, it wouldn't work. Tic-tac-toe was the answer. And would be easy to do.
Now to find the playing pieces. Again, this was supposed to be a use what I had and cheap project. After looking around in my stash of stuff, rocks would do the trick. These rocks were from the craft store but you could look around the yard and maybe find some too.
I keep some of these rocks inside a watering can on my porch just to weigh it down.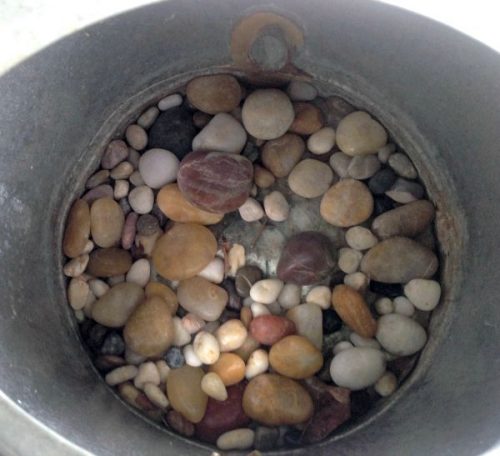 They were washed and allowed to dry then a couple of coats of red and blue paint had them done. Gotta love Rust-Oleum 2X paint and the comfort grip.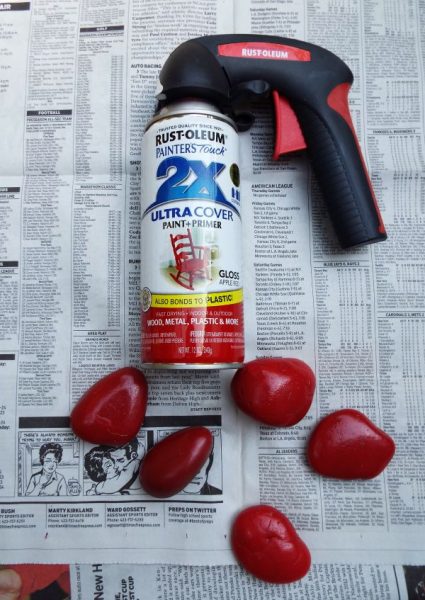 The lines for the top would be painted in the Monday Blue, also Royal Porch & Floor paint from Elders Ace Hardware.
I made a pattern using some scrapbook paper so I would know how to space my lines.
Each line would be 1/4″ wide. So I divided my paper into thirds, then also into half so it could be centered between the middle hinges.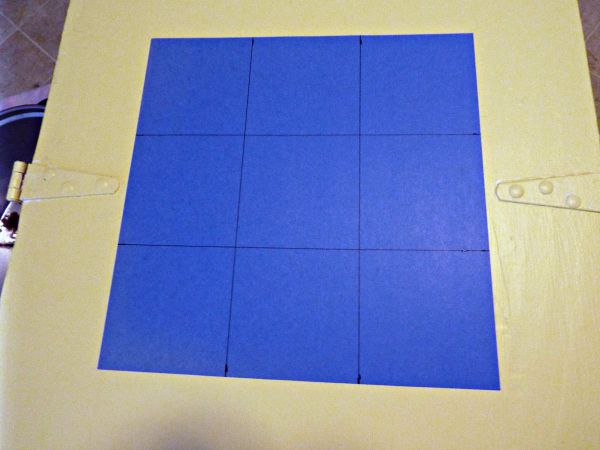 Using 3M painters tape, a square was taped off because this would the edge of each line. Two lines were taped off to create the vertical lines. Remember the burnish the edges of tape well with an old credit card to prevent bleeding.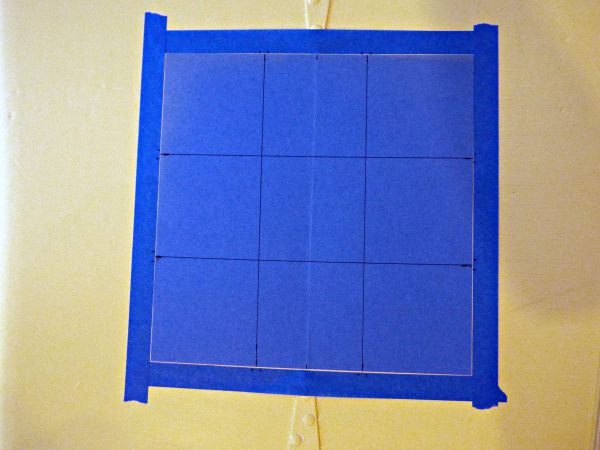 Three light coats were painted, letting dry about 45 minutes between each.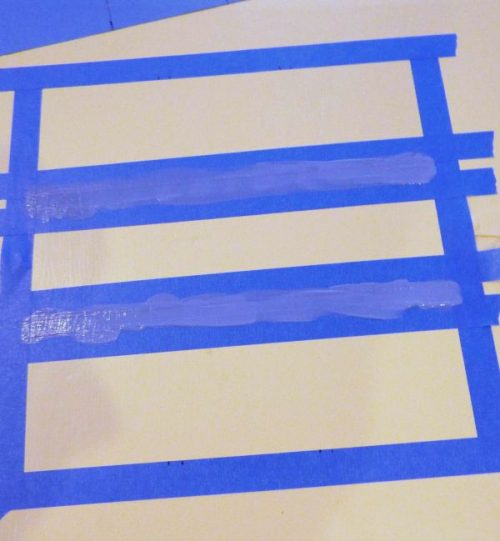 After the final coat, the tape for these lines was removed and left to dry overnight.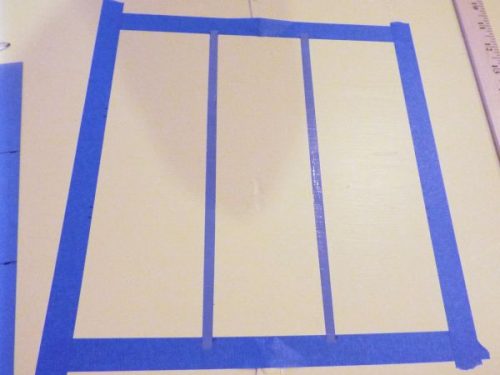 The next day, the same process was used for the horizontal lines.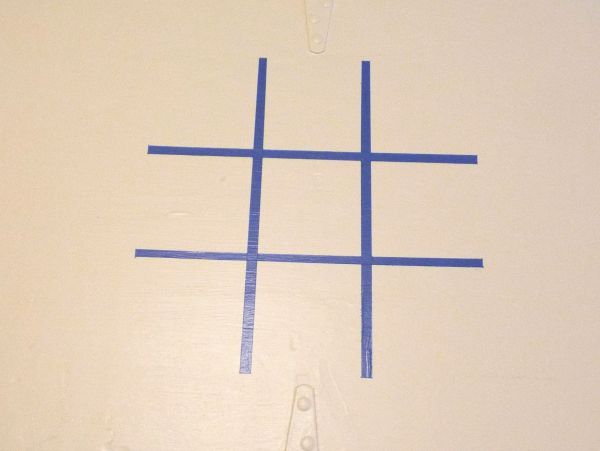 Now it was done.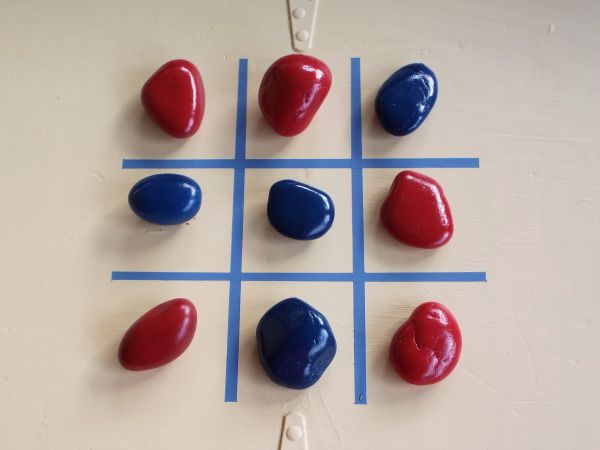 Wait – no it's not.
This trunk was going to be used on a covered porch but rain can blow in sometimes so I decided maybe legs should be added so moisture wouldn't accumulate under it. Remember this is a cheap project. I found a couple pieces of 2 x 4 which would do the trick. One piece was about 3/4″ shorter, but that didn't bother me since it would still work.
I painted these 2 pieces with the same yellow paint. After the 2nd coat they dried overnight.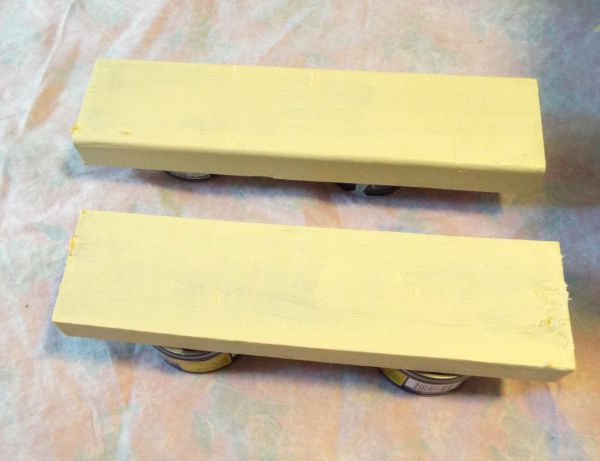 These were attached by using wood screws and screwing in from the inside of the trunk. The legs were placed underneath, just really eyeballing the placement. I measured in to see it was about 2″ and then drilled 3 pilot holes about 2 3/4″ in 3 places. Using a drill like this Ryobi, makes getting into corners so much easier.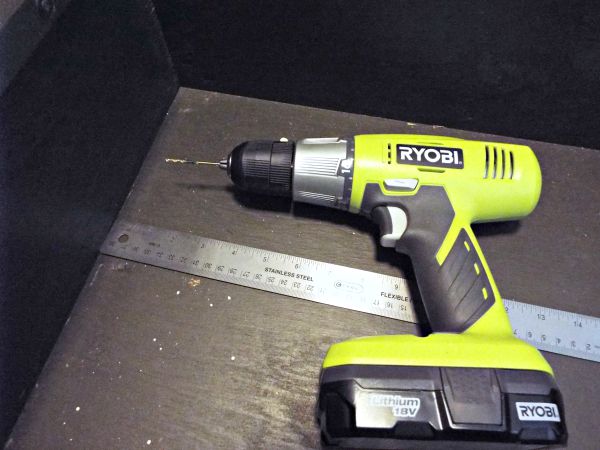 These weren't measured exact. I went to my jar of old screws and found enough to use for the project.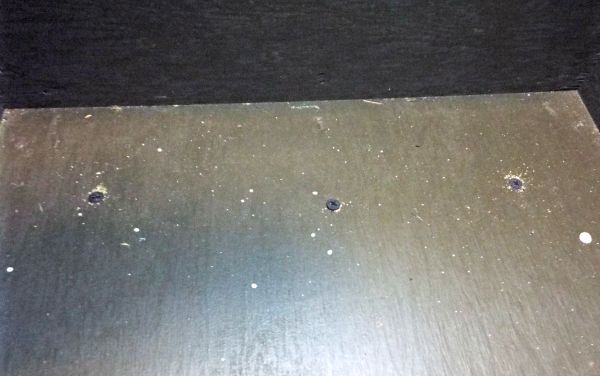 Legs were attached on both ends and now – IT'S FINISHED.
Now to keep the stuff hidden on the porch.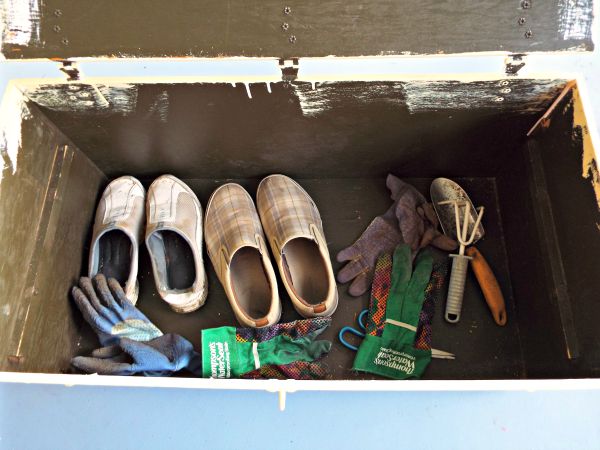 This will not only be used for shoes, but also some of my small gardening tools and gloves that I use in my front porch area. I figured it up, and using what I had on hand my total cost for this project $0. Best kind of project to do. I've had the trunk for about a year, so I don't really consider that any cost. It freed up space in my garage. Worth a lot more than the original $5 I spent.
Who's up for a game of tic-tac-toe with a glass of wine or sweet tea?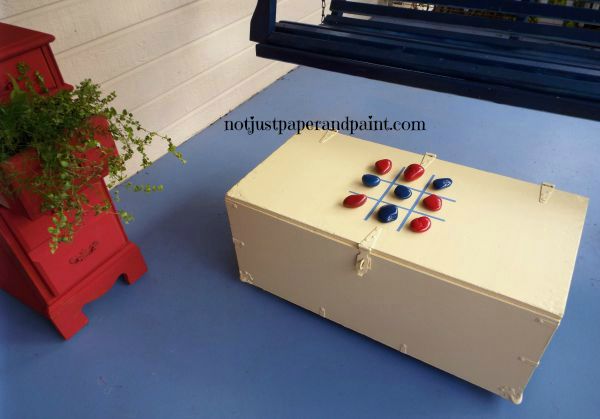 Make sure you come back over the next few days for my complete porch makeover.
This could also make a great storage trunk in a kids room, but you would need to replace the hinges with other types made for toy boxes for safety reasons.
I have two more of these trunks – remember they were only $5 each and since there were three, why not buy them all.
Not what shall I do with the other two? Ideas?