Cleaning – who really likes to do it?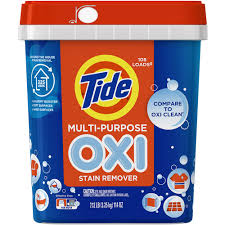 OK – admit it – who really likes to clean? Well, maybe a few of you might but I hate it. Sometimes though it is more fun when you do the cleaning, and I mean those things you put off and hope the cleaning fairy will come by to visit, and see great results in just moments. After a challenged was made, I have discovered what can help get this done quicker and easier – Tide OXI. Did you think Tide was just for laundry? No more.
One of our favorite HGTV guys – Jonathan Scott of the Property Brothers, states there's at least 225 uses – but I bet you can find more.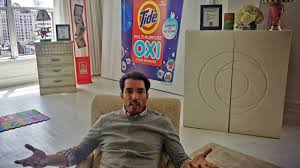 How many of you have those little spots around your house – inside or out – that needs a good cleaning? Me, too many to mention but that is going to change. Some of these are going to become a bit easier to clean with the discovery of Tide OXI.
To give it a try I went outside to find a couple of really dirty items and found them. How many of you really clean your tires or wheels that often? I do good to empty the trash and vacuum the inside of my car, let alone worry about the wheels and tires. Our truck needed a little TLC.
After mixing a scoop of Tide OXI and a cup of hot water, I got out my scrub brush and rubber gloves and went to work.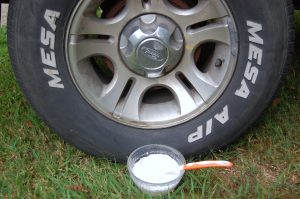 I was amazed that even with all of the road crud it didn't take too much effort to have some nice shiny wheels. After a good rinsing and drying, I was very happy with the results this product gave me.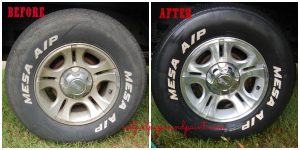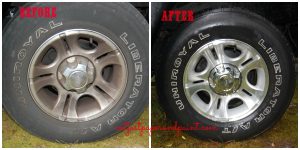 Another item I spotted was my old pump which had been used on the farm in Arkansas. I'm not sure most people would even know what this is but I do remember my great aunt and uncle who actually still used one of these when I was very young. I had placed it on a pipe in a one of the flower beds in our wooded area of the yard a few years ago. It was covered with all of that mossy green stuff that seems to cover things that are ignored out in your yard.
Again, a little of the Tide OXI mixture and a brush did wonders. The original red, rusty came through. That patina so many try to make happen on items, was already on this old keepsake.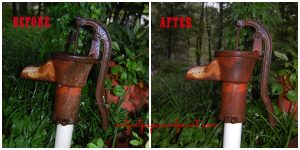 Think about the next time your kids are bored – give them a bucket of Tide OXI mixture, a scrub brush, and a hose and let them clean. Instant gratification.
You can find this wonder product at one of my favorite stores – Home Depot. Now what else can be done for a little fall cleaning since I completely missed out on spring cleaning? A few things on my list is plastic flower pots, the garage doors, and some brick pavers.

I've included affiliate links to Amazon for you to find some products easier. I may receive a small commission, but the price is the same for you. It just helps my blog out.
Happy Travels,
Rosemary