A Gulf Shores trip to get away from it all is a fantastic way to relax, recharge, and reconnect with your family. Gulf shores is known for its delicious seafood, family-friendly activities, and beautiful beaches, and we saw it all on our most recent Gulf Shore Trip. Thank you to the Gulf Shores and Orange Beach Tourism for hosting our stay. Recommendations were made but we chose the places to visit and dine. These opinions are all mine. #sponsored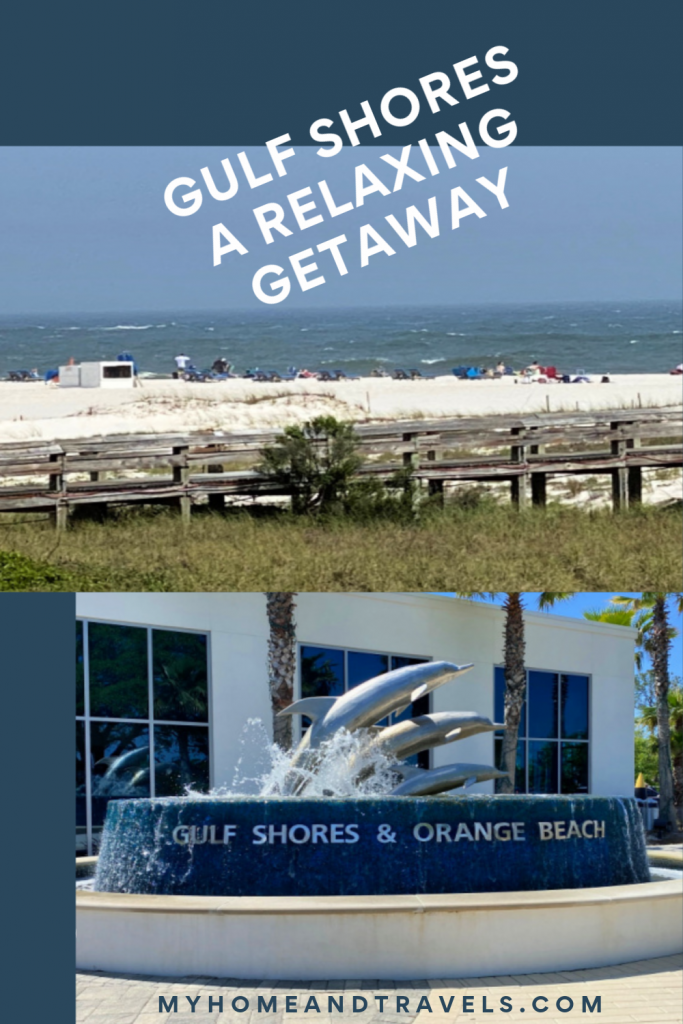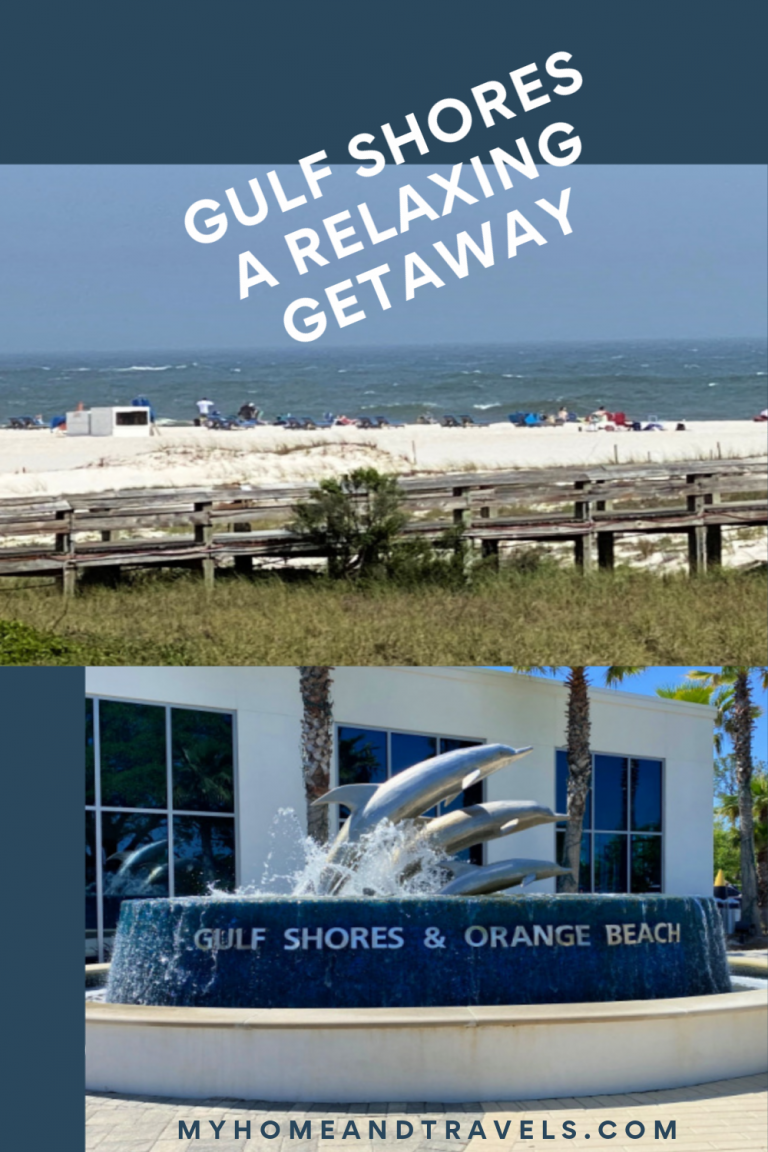 Our Gulf Shores Trip
On our recent trip to Gulf Shores, we were able to enjoy a nice cross-section of everything the area has to offer. We saw some great places like the zoo, took a tour of the beautiful natural surroundings, and dined at some of the best restaurants that I've ever been to. It was a wonderful trip, and I want to share it with all of you. It's just a taste of what Gulf Shores has to offer, but what a taste it is!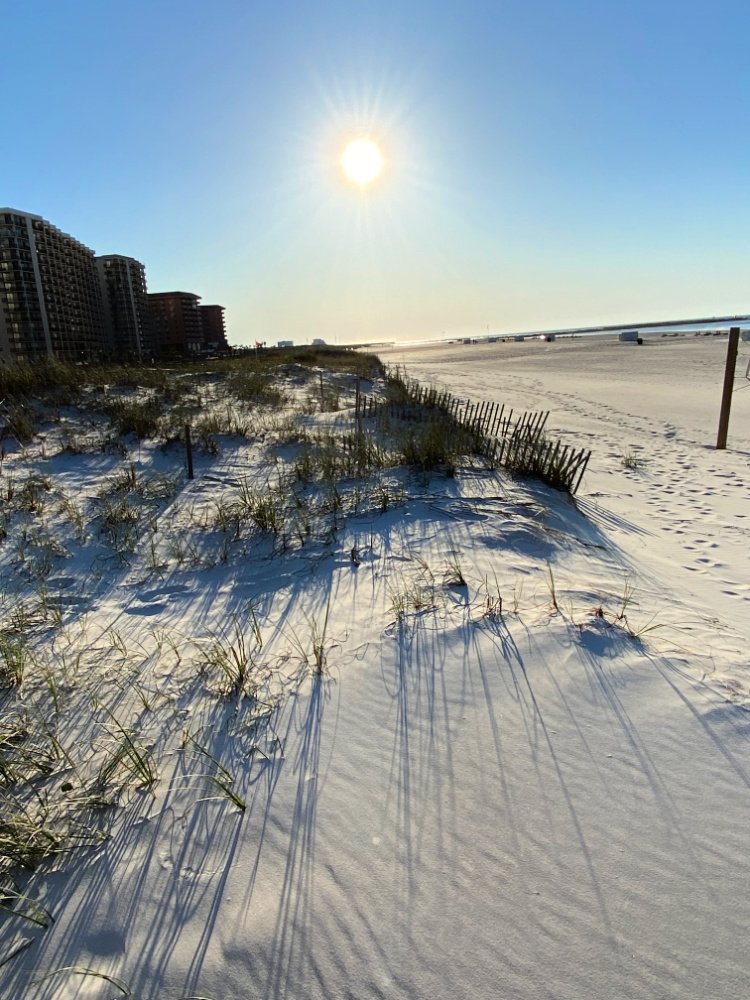 The Yard Milkshake Bar
When we got to Gulf Shores, we immediately stopped at one of the best places to score a delicious treat – The Yard Milkshake Bar. The Yard is known for tow things above all else – decadent milkshakes and 100% safe edible cookie dough. On our stop, we opted to get shakes that were piled so high with toppings and garnishes that we needed a spoon to go along with our straw.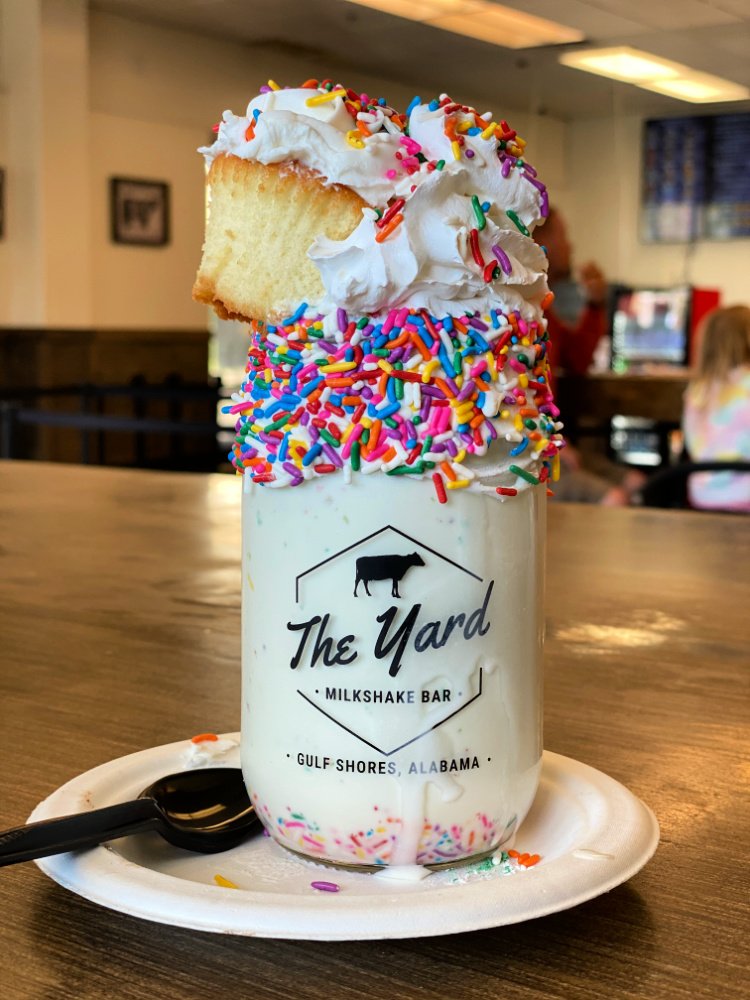 A Birthday Surprise with The Beach Moms
We were also celebrating my husband's birthday, so I contacted THE BEACH MOMS to help me out. They are a company which will make your life so much easier when traveling to the Gulf Shores area. They will plan events, book attractions, buy your groceries and fill up the frig, or have a special cake. Contact them online and make all of your orders.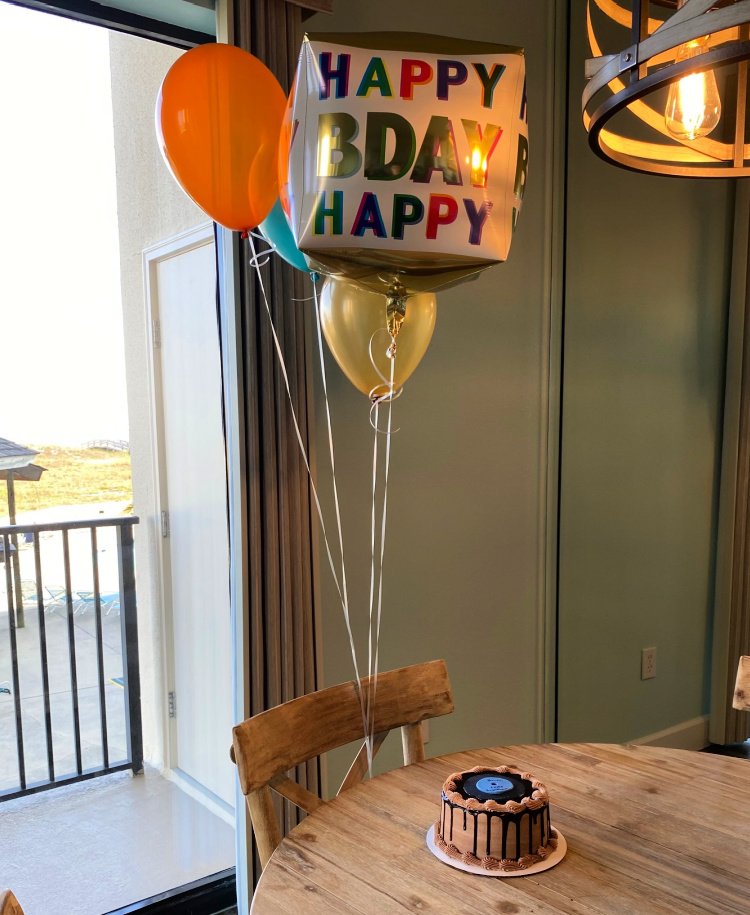 Mile Marker 158
A little later, we stopped for dinner at Mile Marker 158. This restaurant is one of several that are part of a family of locally-owned restaurants that includes Ginny Lane Bar & Grill, YoHo Rum & Tacos, and Villaggio Grille. It's a restaurant focused squarely on American cuisine and an elegant but relaxed atmosphere. We stopped there while we were exploring the Wharf, where the restaurant is located. Speaking of that.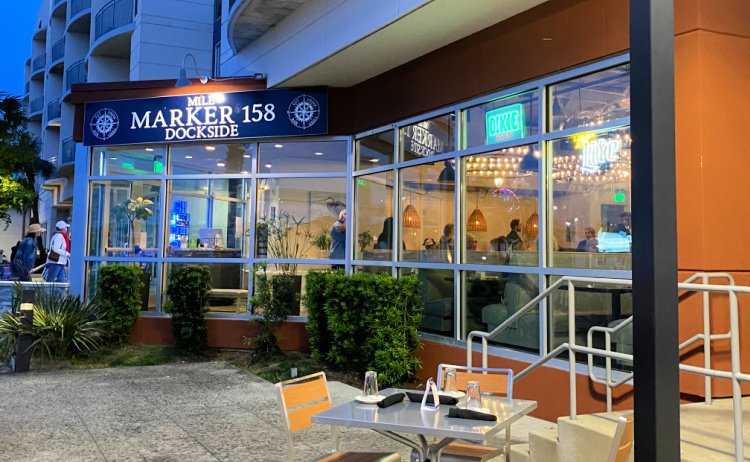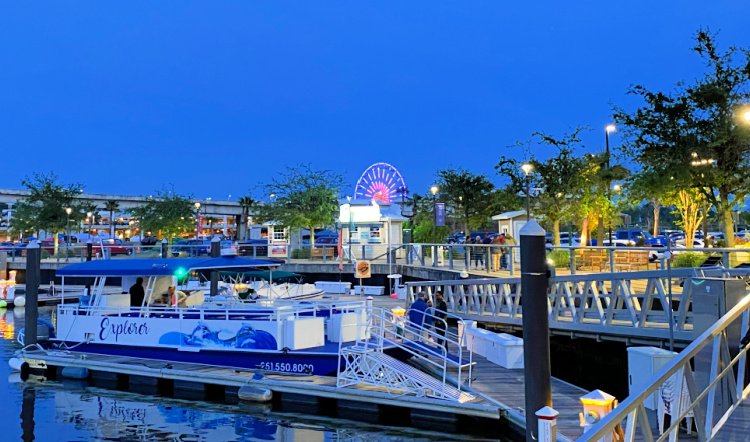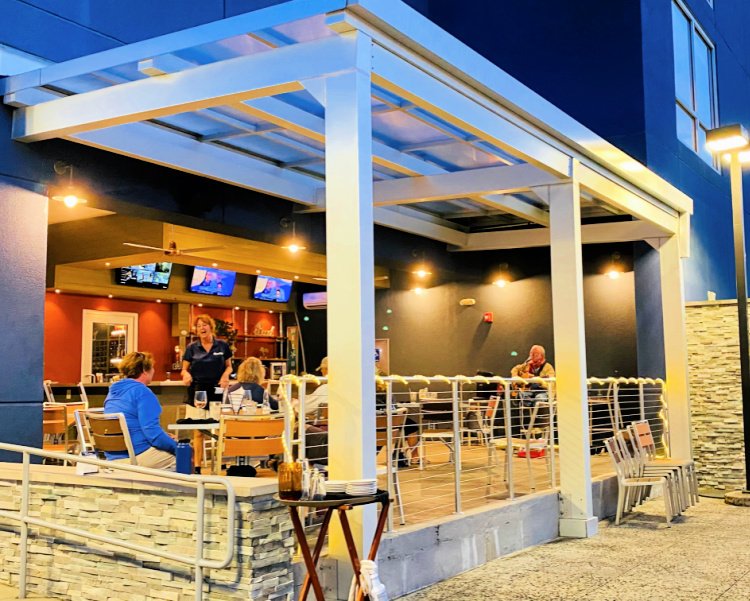 Visiting The Wharf
Contrary to its name, The Wharf isn't actually a wharf. Rather, it's a dining and entertainment district located in Orange Beach that attracts tourists from both near and far with its fantastic food and entertainment.
While there, we got to see the famous Wharf Ferris wheel, which is the largest in the entire southeast. It offers bird's eye views of Orange Beach and the surrounding area that are especially dramatic when you reach the pinnacle of the wheel.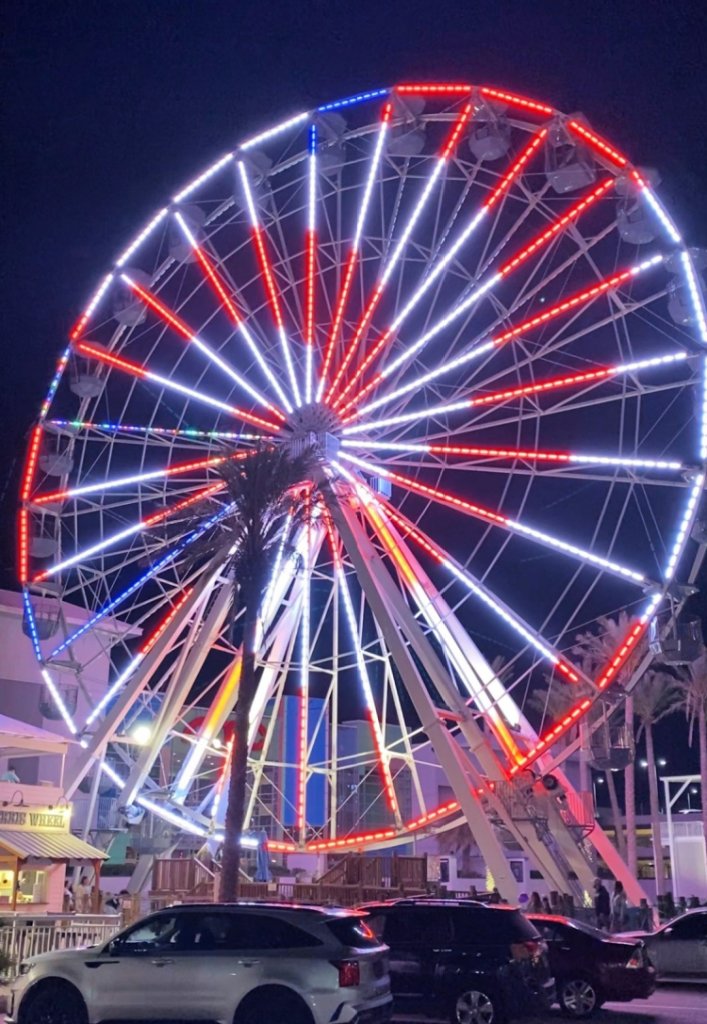 The Wharf also features a spectacular SPECTRA Sound and Light Show at night. This show boasts choreographed lighting effects with surround sound music for a fully immersive audio-visual experience.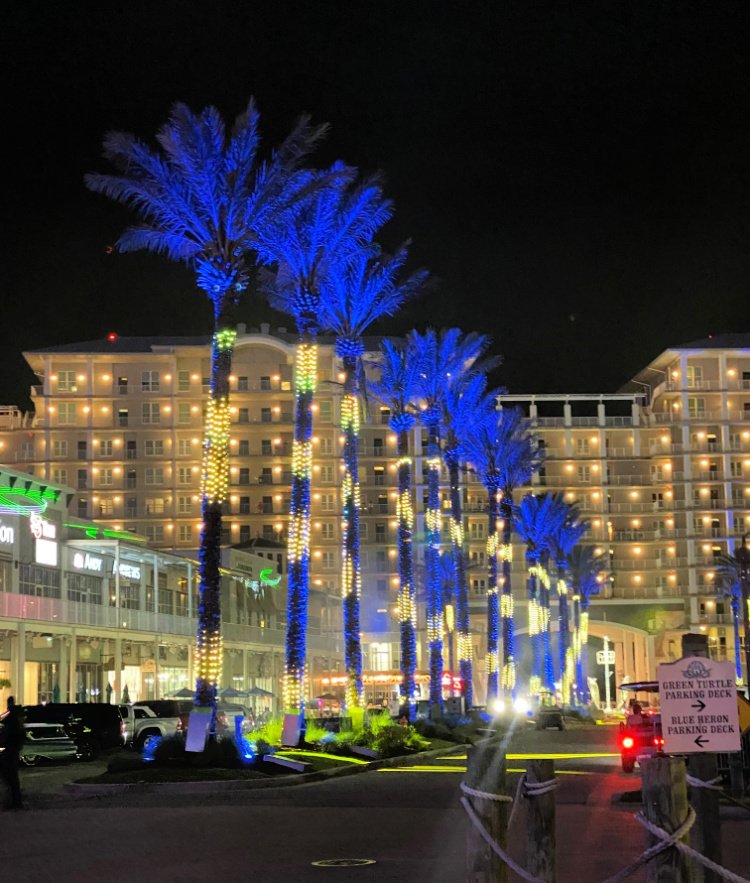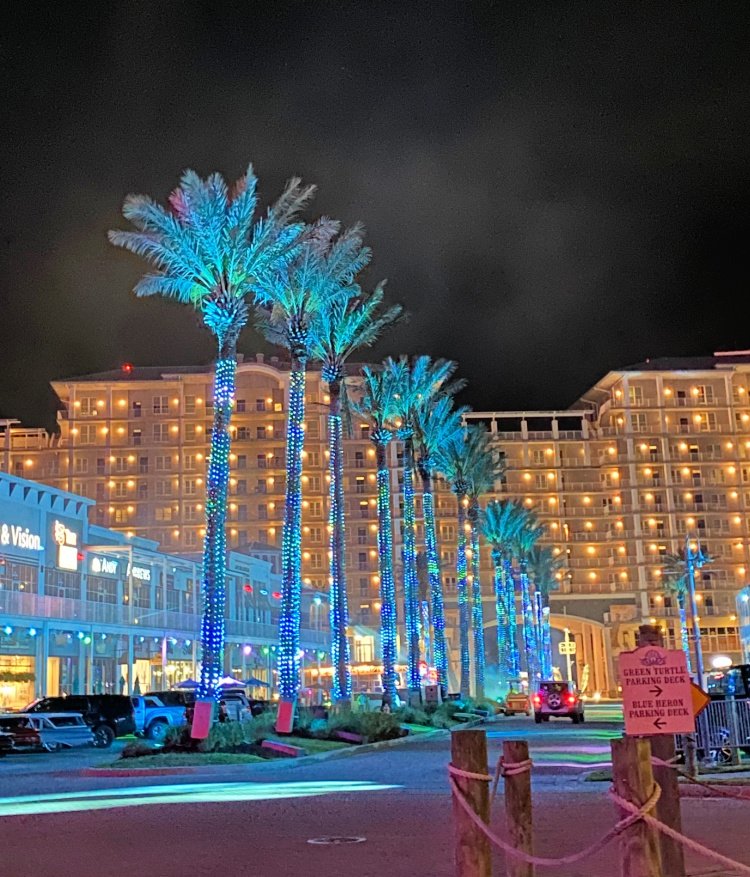 We returned to The Wharf the next morning for breakfast at The Southern Grind and also to attend a Classic Car Show going on. There's always new things happening around Gulf Shores.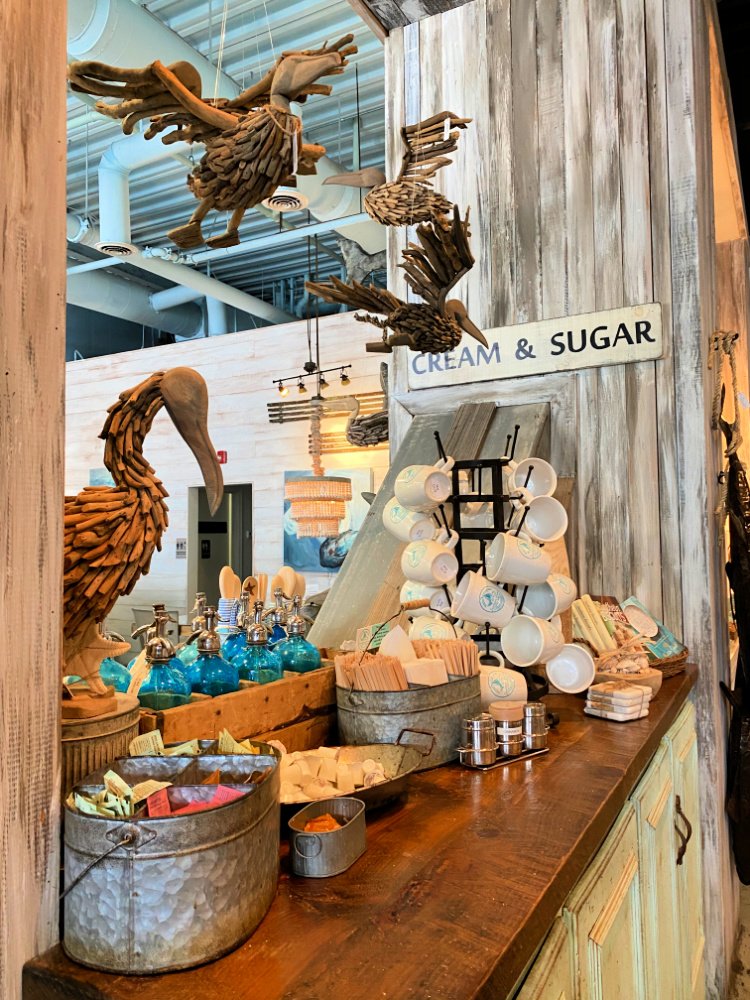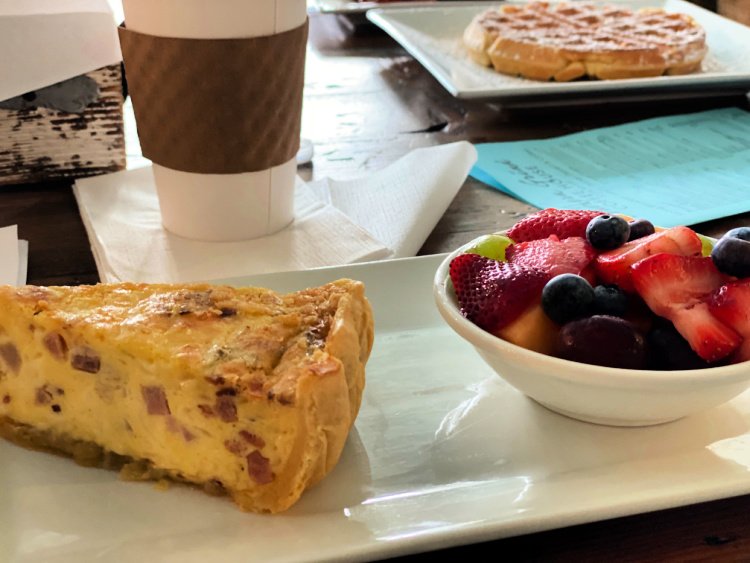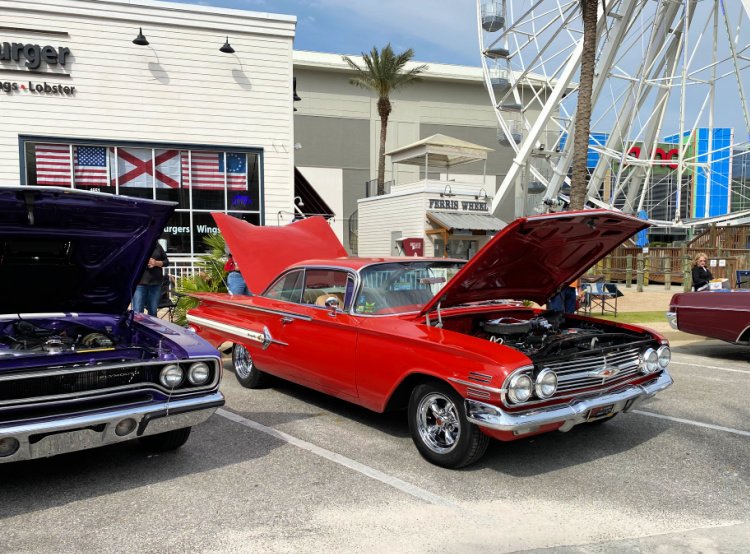 Alabama Gulf Coast Zoo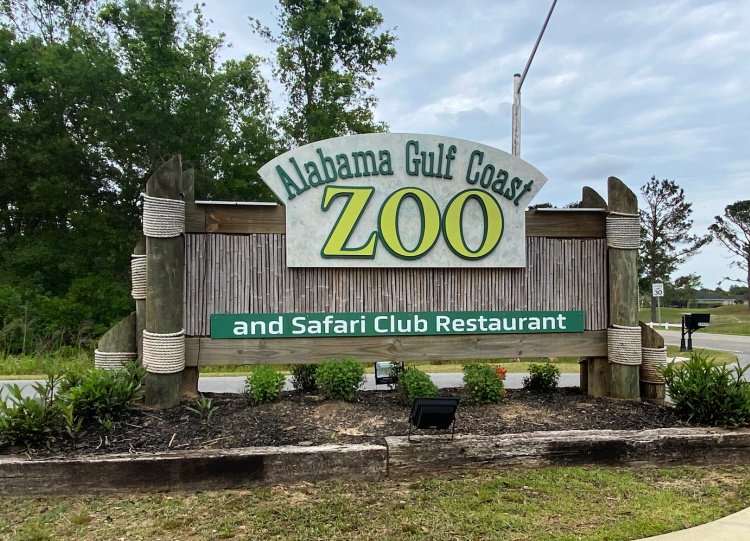 Any Gulf Shores trip should include a visit to the Alabama Gulf Coast Zoo. Known as the "Little Zoo" due to being the focus of Animal Planet's hit 2006 documentary series, "The Little Zoo that Could", this non-profit zoological park is focused on entertaining and educating.
Lions, Tigers, and Bears – Oh My! And more.
The Lions were hiding, or napping on this day.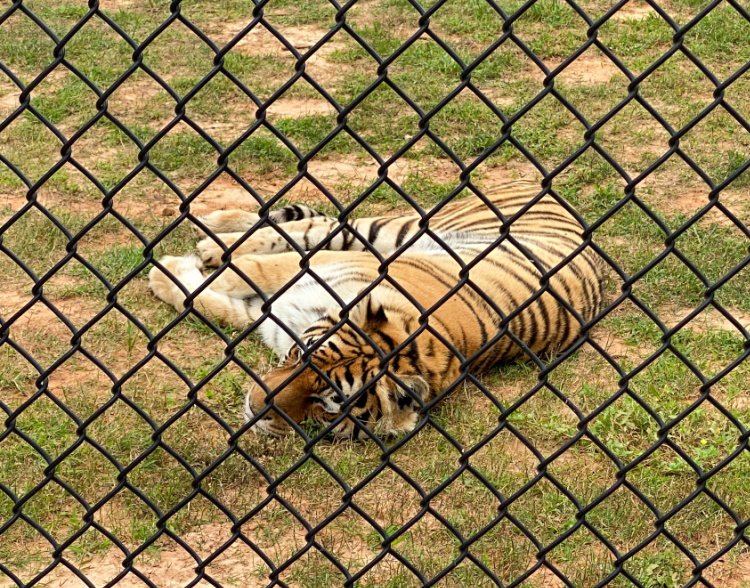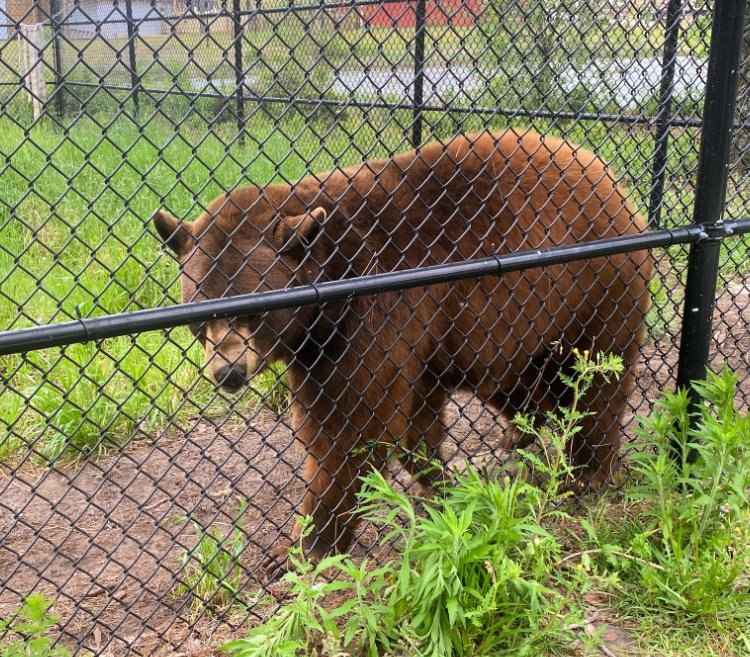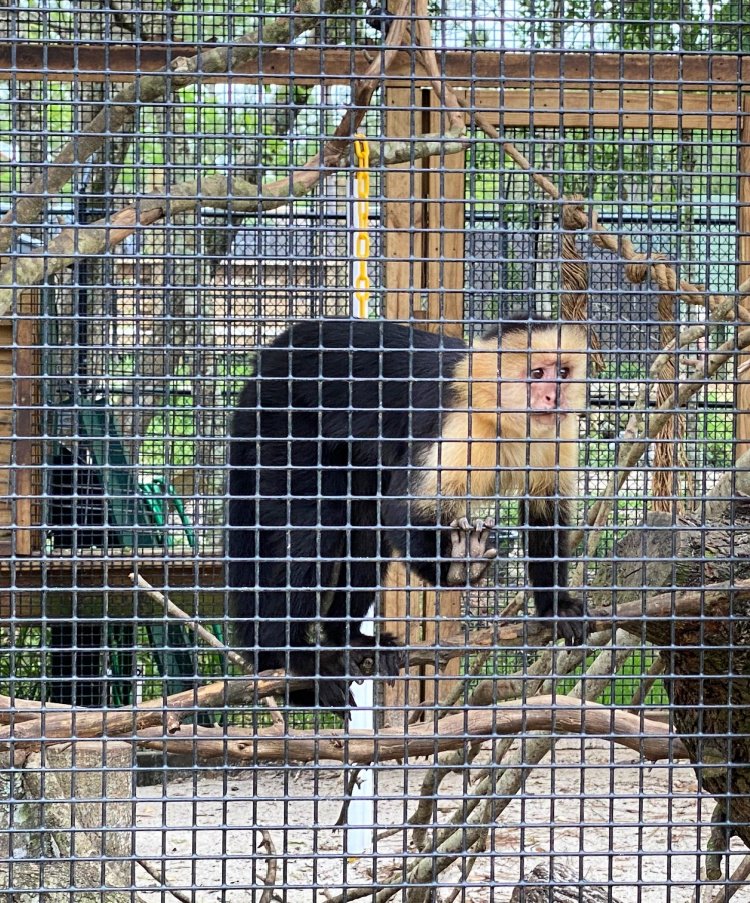 A favorite is always the giraffe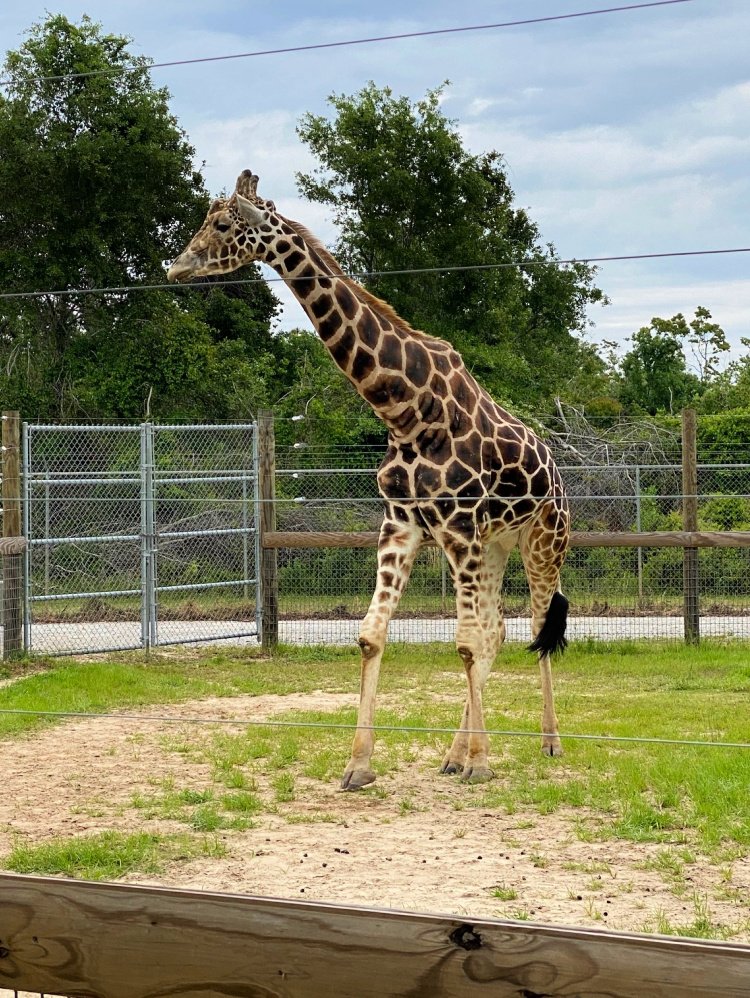 The zoo is so much more than a community zoo. It features over 200 species, 31 subspecies, and is a haven to 8 endangered species. It's just 6 miles for the beach and sits adjacent to a protected nature preserve.
The highlight was the Kangaroo Encounter. Some friends had been recently and got to hold the babies, but they had grown a bit and a little too wiggly, and strong. But getting to pet these furry and soft little creatures was a new experience. I highly recommend it.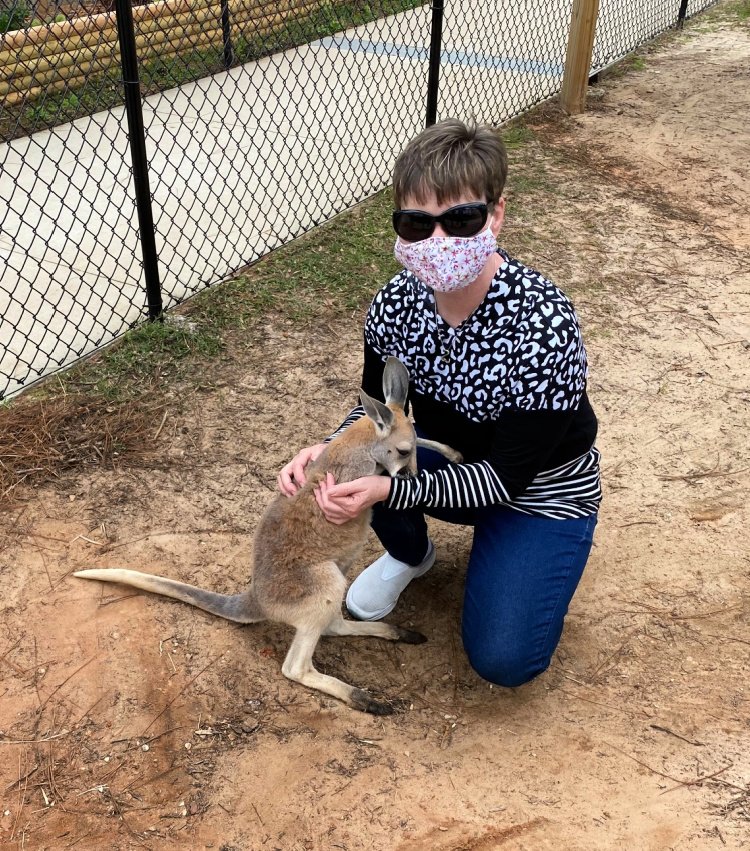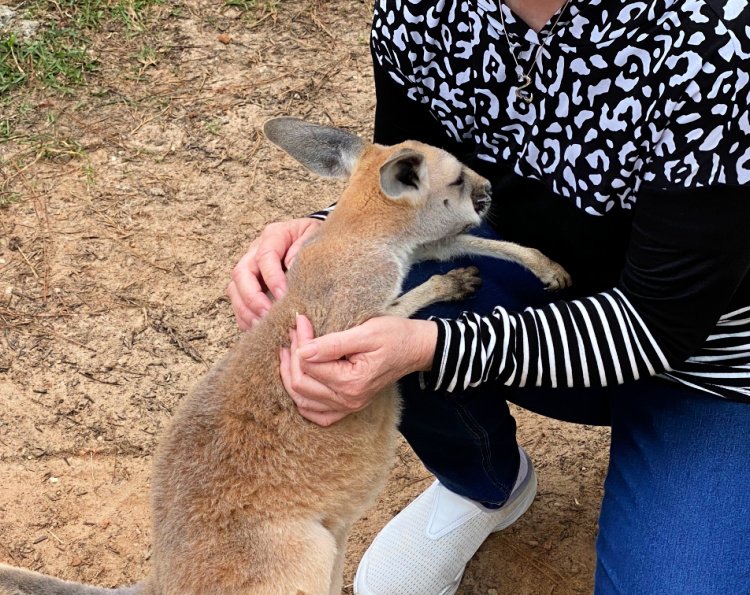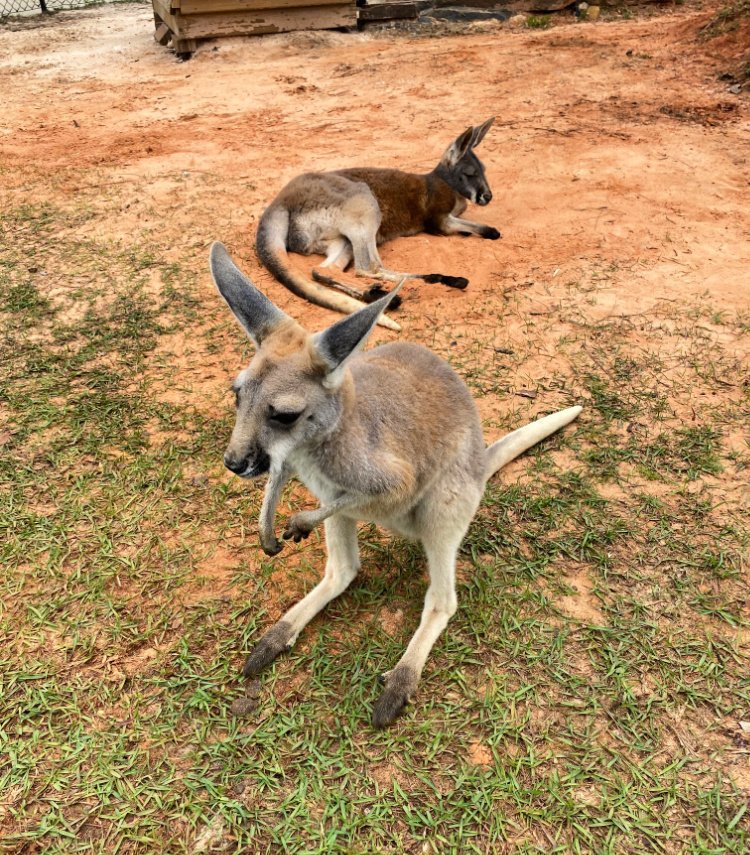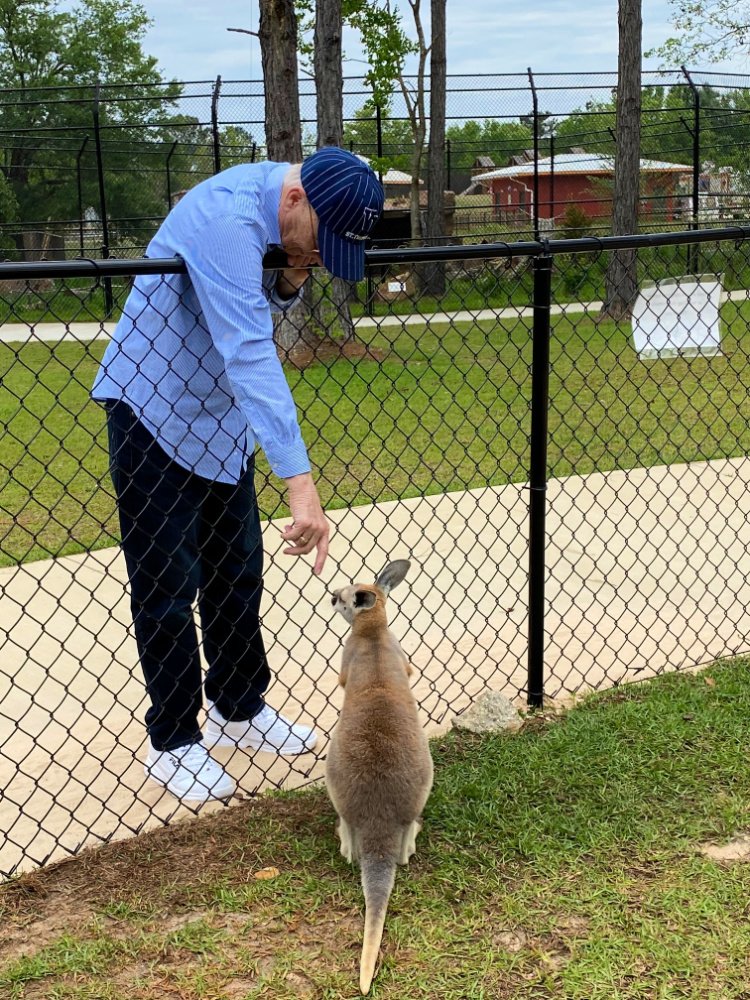 Hop onto the Nairobi Express for a quick tour.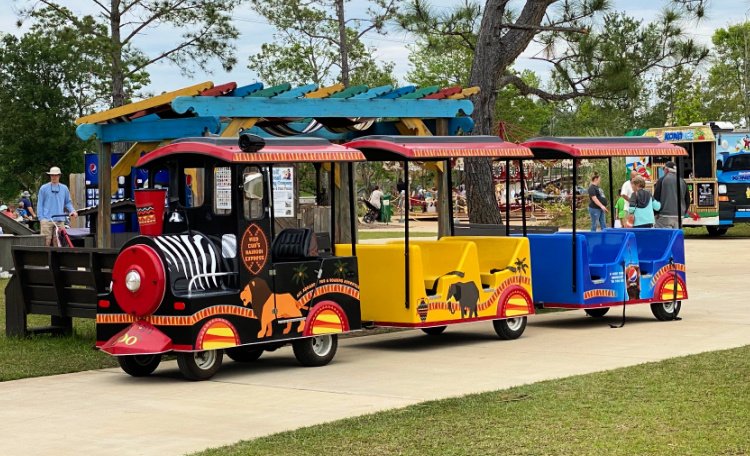 In further service of its conservation goals, the zoo is also home to Alabama's first Green Certified restaurant, Safari Club, which is where we had lunch.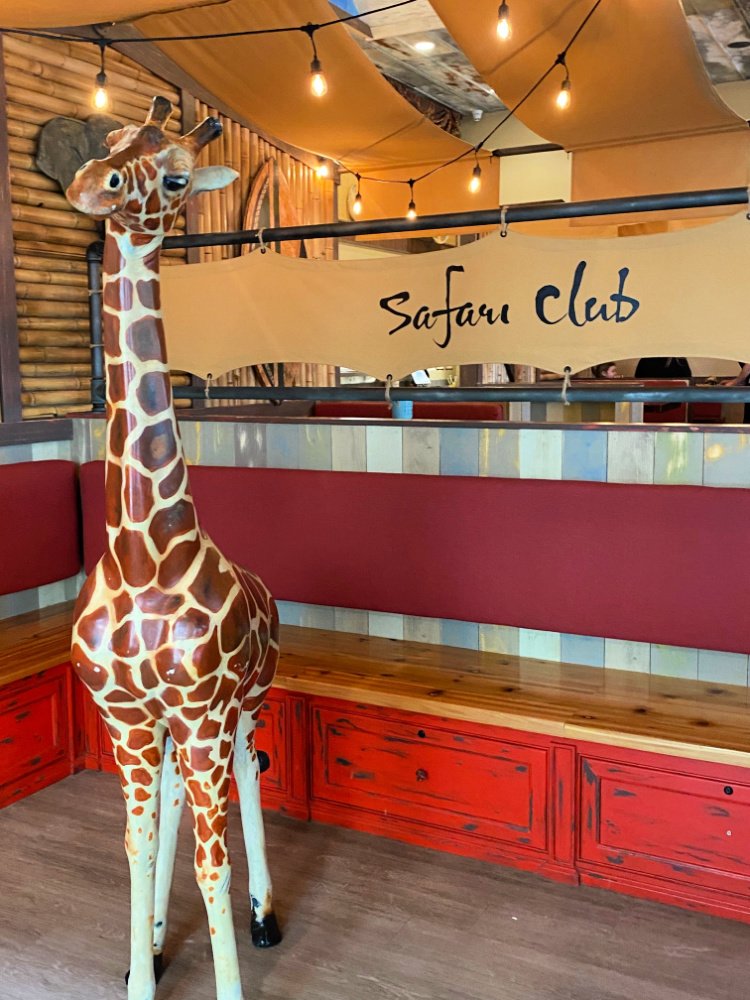 The Safari Club
The Safari Club Gulf Shores is probably the nicest zoo restaurants I've ever eaten at. This a true restaurant, not just a place with chairs to sit in between looking at animals. It has lovely decor, and the food is amazing.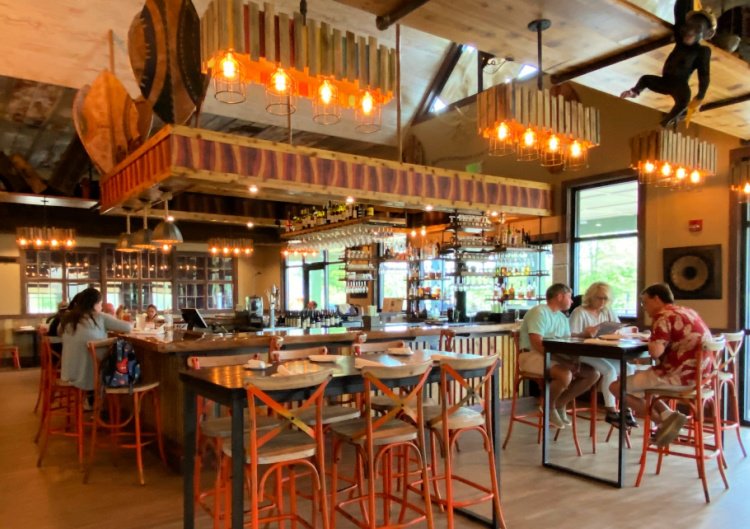 Their wood-fired pizza is not to be missed!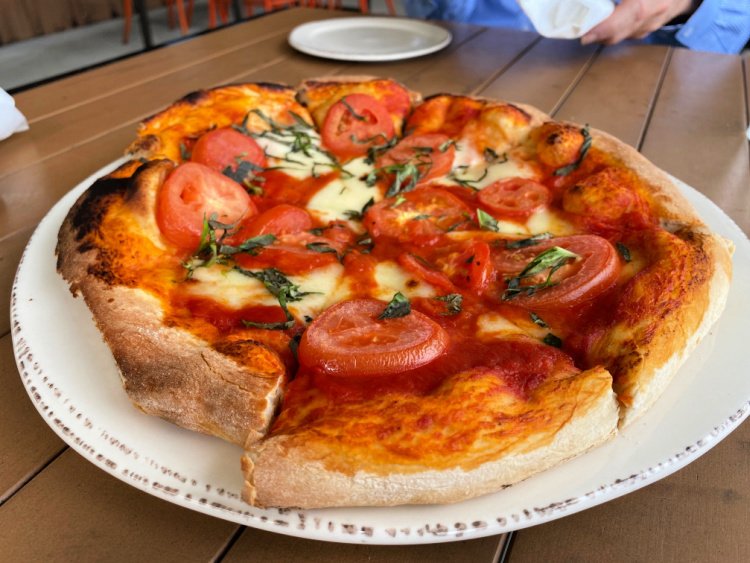 Don being the Key Lime Pie lover as he is, we were told this was the best in Gulf Shores. He agreed and enjoyed every little crumb.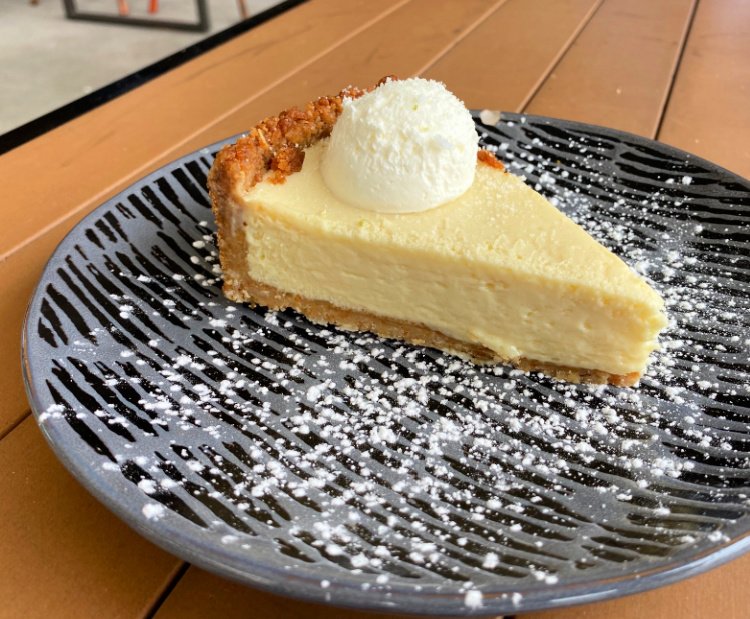 As a certified Green Restaurant, The Safari Club has been recognized by the Green Restaurant Group in Boston as a leader in conservation, recycling, and reduced waste. The restaurant uses no styrofoam, no plastic straws, and all of its to-go containers are biodegradable. They're as focused on helping the environment as they are on amazing food.
Orange Beach Cat Boat Tours
Orange Beach Cat Boat Tours takes a unique approach to the boat tour – you pilot your own boat! These are simple boats, and after a short safety lesson, you and your guide will depart to explore the Intercoastal Waterway and back bays of the Orange Beach area.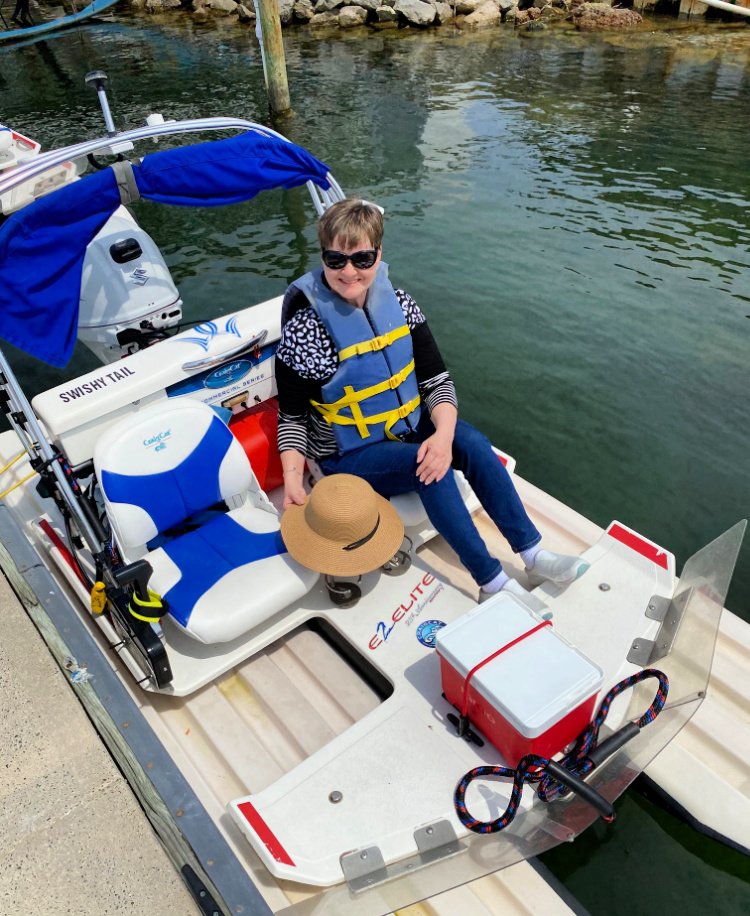 The boats you'll operate are small, two-person affairs that are easy to use and sit low in the water, making them extra stable and offering excellent vantage points for viewing the area.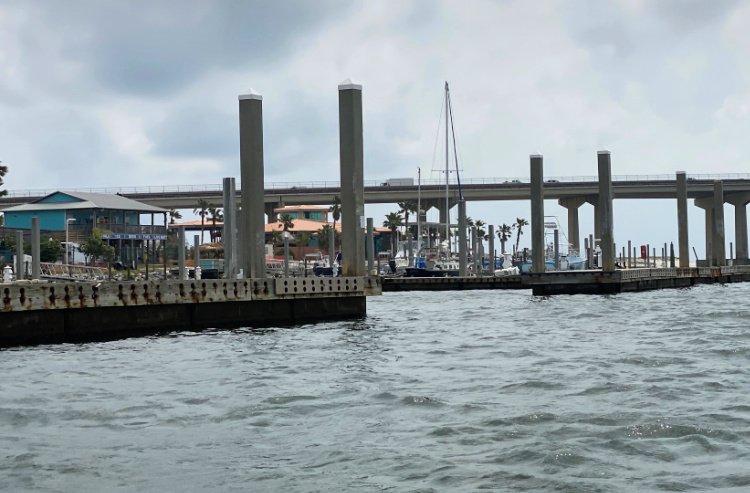 On our trip, it was quite windy, so the owner took us on a shorter tour. Even with a short tour, we were still quite taken with the beauty of the area. This tour is highly recommended.
Fisher's Upstairs at Orange Beach Marina
Fisher's Upstairs at Orange Beach Marina is a must-visit restaurant that should be included in any Gulf Shores trip. This beautiful white tablecloth restaurant offers delicious food and an upscale dining experience. You'll find some of the best food anywhere in the country, unique craft cocktails, and a top-notch wine list.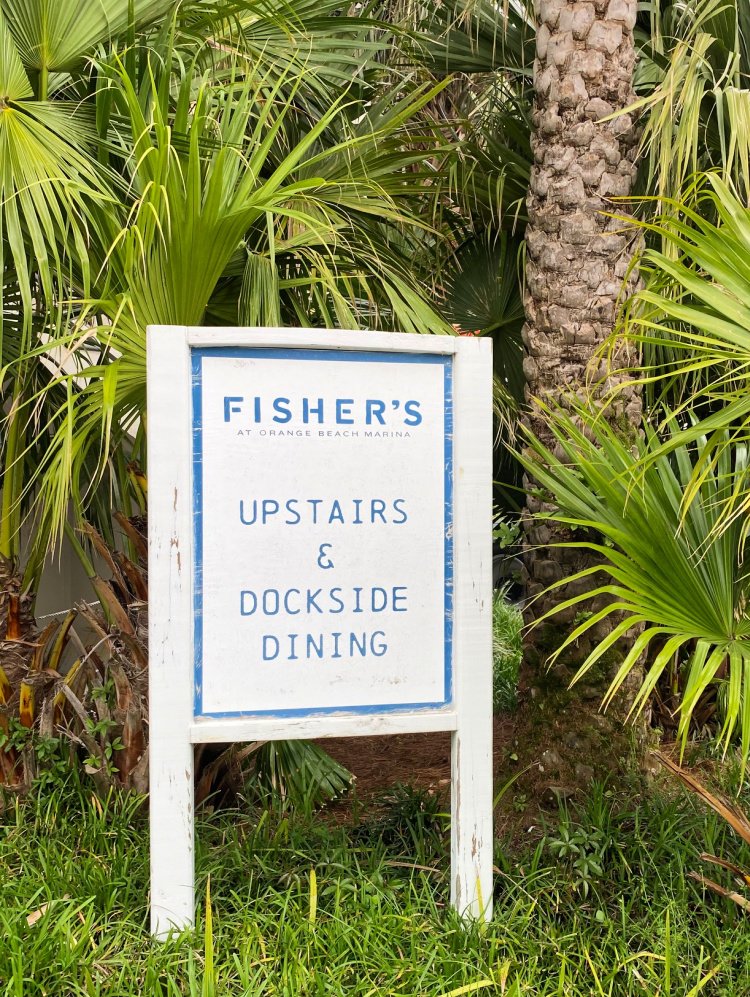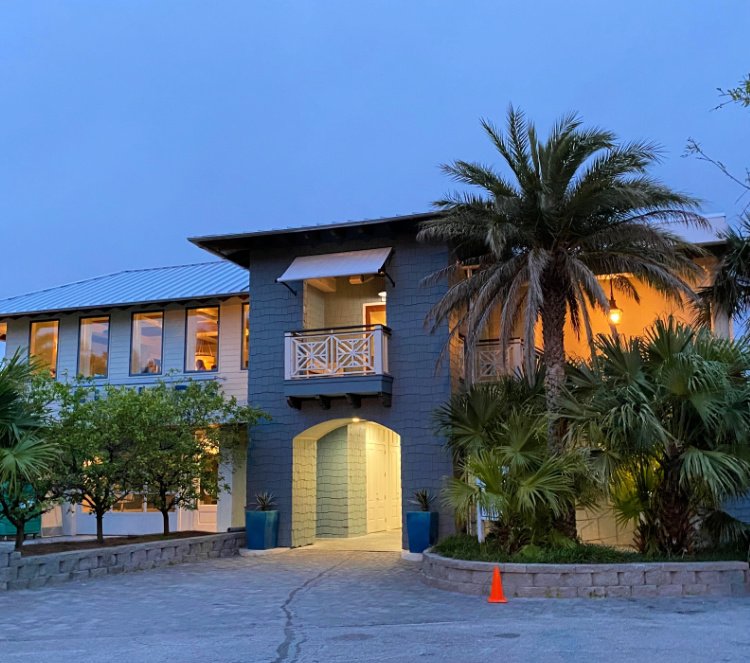 Worth noting is that you'll enjoy picturesque views along with delicious food when you dine at Fisher's Upstairs.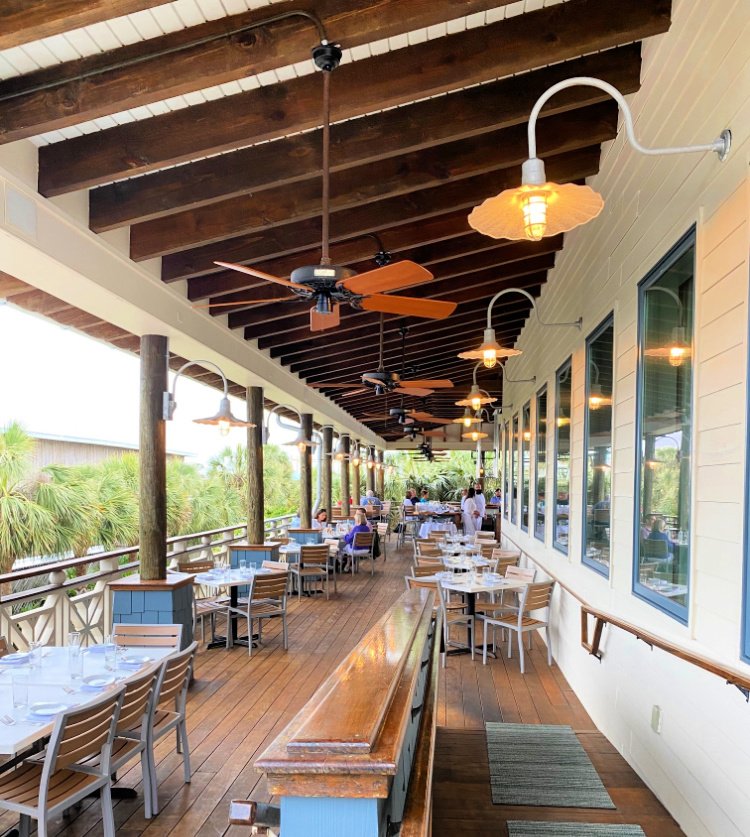 Your food will also be some of the freshest you've ever had because the restaurant is locally sourced whenever possible. The andouille sausage is from Chattanooga, the produce is from Florida farmers, and the seafood is from Florida fishermen.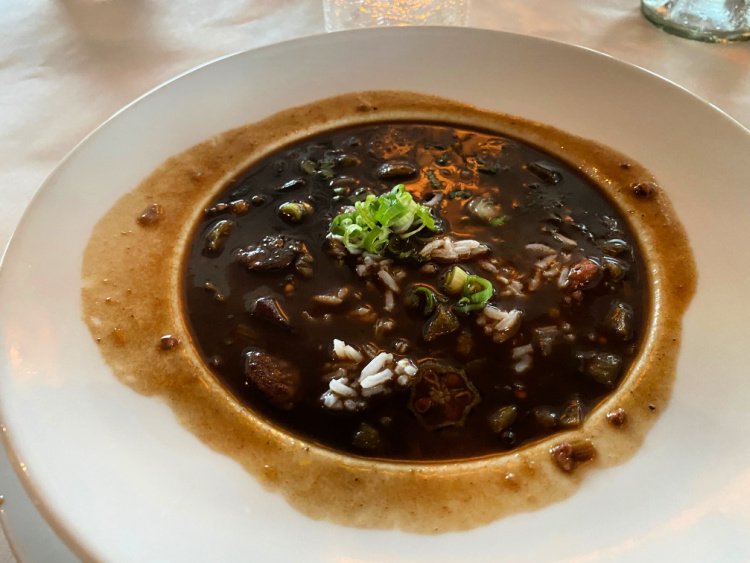 Any choice of food is excellent, and top notch service. We especially enjoyed the pork chop and brussels sprouts (no not apple sauce).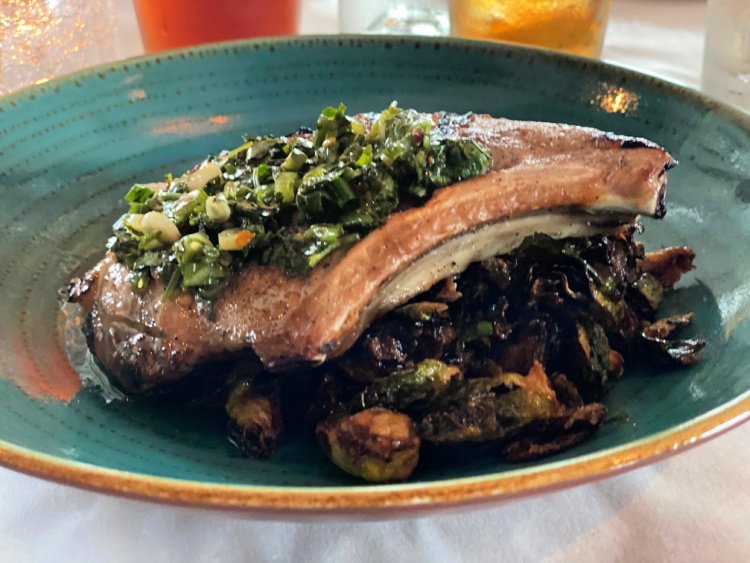 Sunliner Diner
Add some nostalgia – along with great food – to your Gulf Shores trip with a visit to Sunliner Diner. It's a classic diner that delivers a healthy dose of yesteryear along with its waffles, all-day breakfast, milkshakes, and other diner favorites.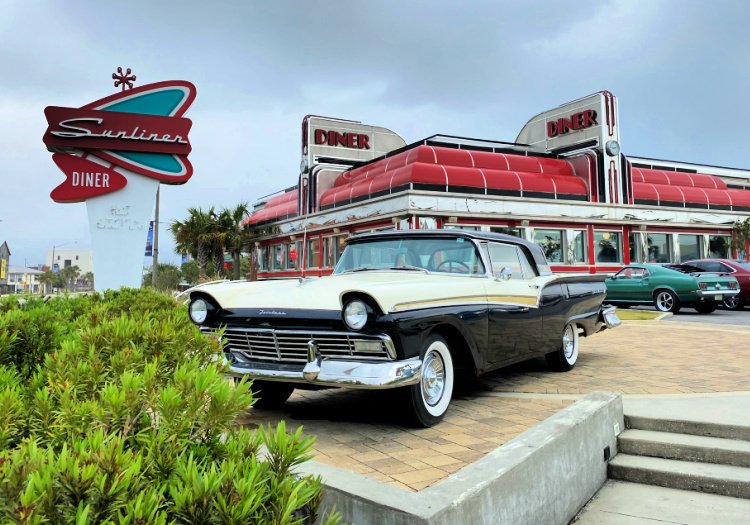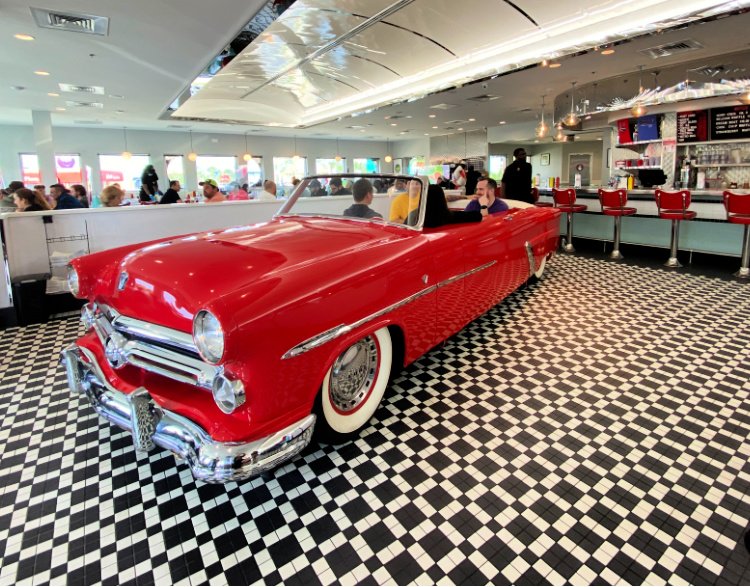 Historic Fort Morgan Self-Guided Tour
Step back in time at Historic Fort Morgan and explore the area on a self-guided tour.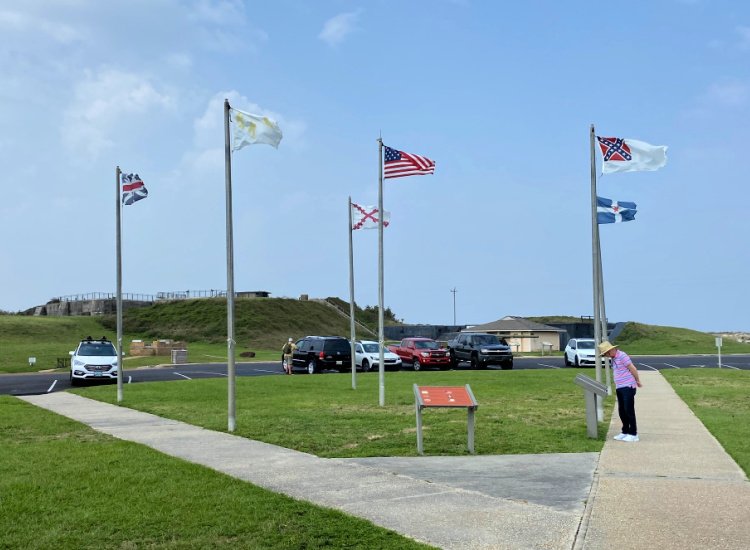 You'll find it on Mobile Point at the end of Scenic Fort Morgan Peninsula. We visited and were treated to an intriguing look at how the fort was designed while we learned about the role it played in the Battle of Mobile Bay, the Spanish American War, World War I, and World War II.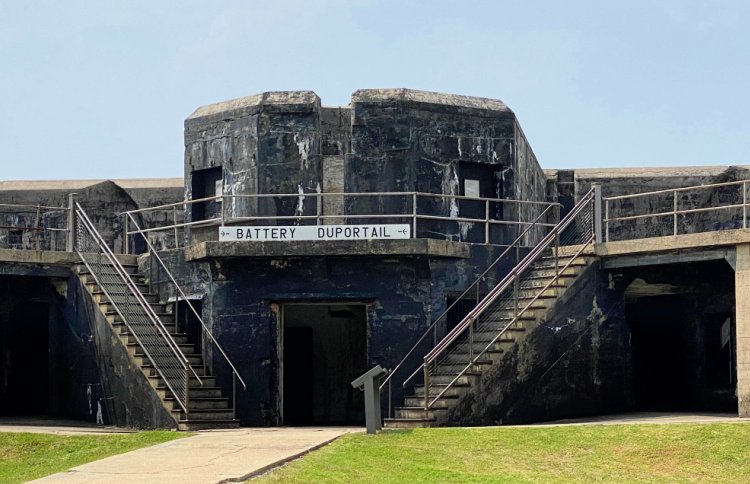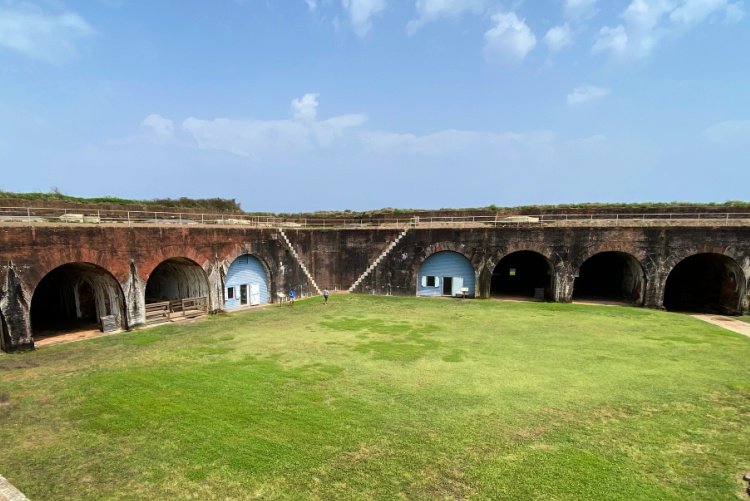 In addition to the impressive fort itself, you'll find nature areas, a boat launch, picnic area, and beaches.
Gulf State Park Fishing & Education Pier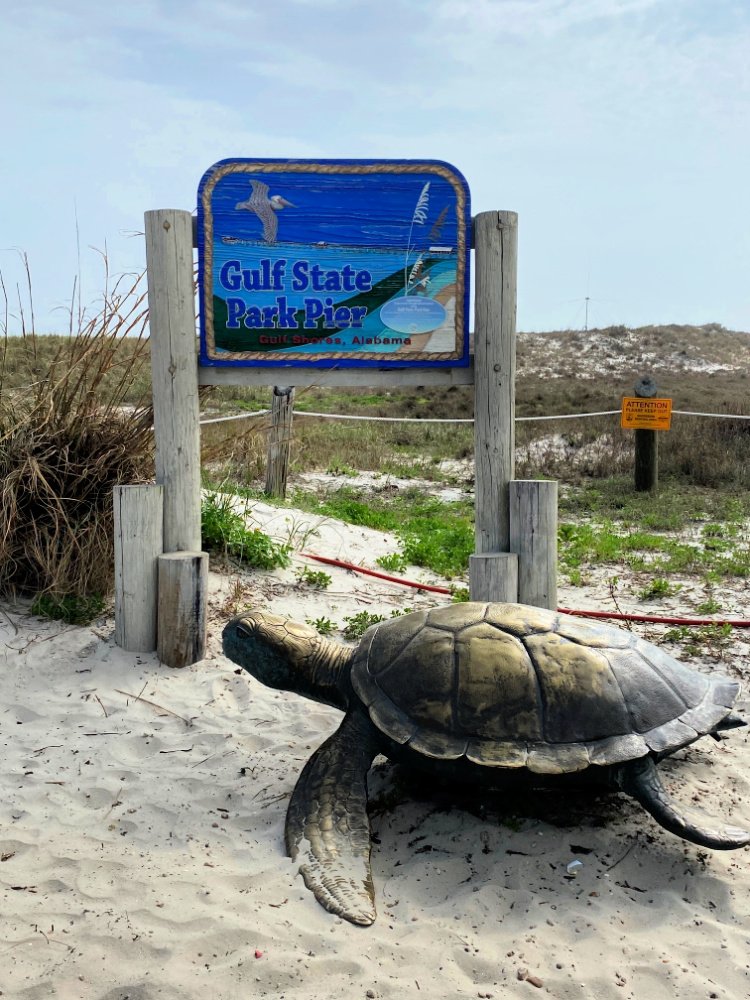 Gulf State Pier is the largest on the Gulf of Mexico and Alabama's only public pier on the Gulf of Mexico. AT 1,540 feet long, 20 feet wide, and clocking in a whopping 2,448 square feet of fishing space, there's plenty of room for everyone on the pier.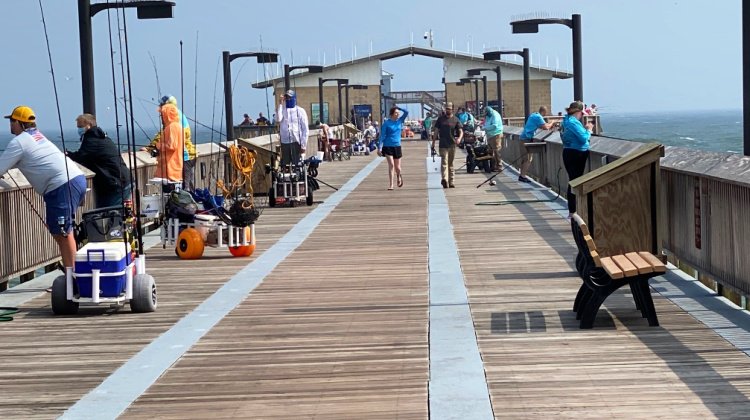 We enjoyed the covered seating at the concession area and the indoor retail shop where we could purchase souvenirs from the trip. The shop also sells tackle for anglers. All along the pier, you'll find signs that tell readers about the native fish, birds, and wildlife in the area.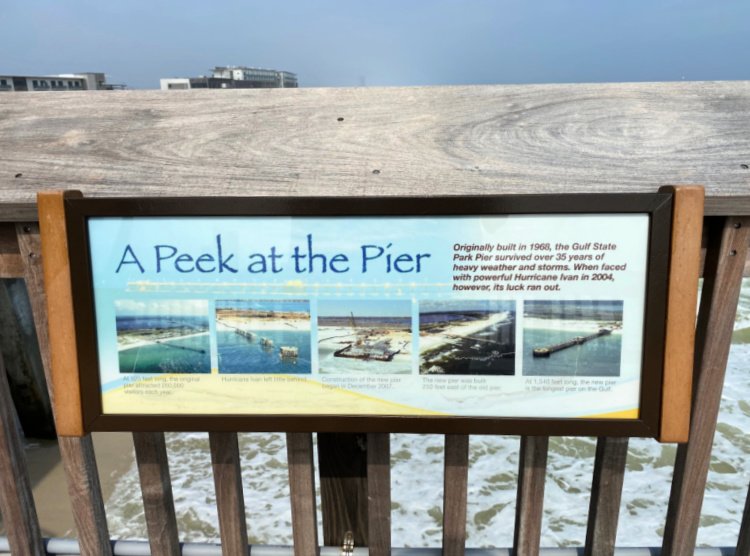 A Gulf Shores Trip to Remember
We thoroughly enjoyed our Gulf Shores Trip. The food was spectacular, the views were amazing, and the history was incredible. Gulf Shores is an area that is filled with just about everything you could ask for in a getaway, and you can feel it everywhere you turn.
Although the beaches are amazing and the main reason to visit, remember to visit other attractions and the local businesses. You will come home with more memories.
If you need more restaurant recommendations, find my top ones we tried, and those we will on our next trip – hopefully soon.
TOP RESTAURANTS IN GULF SHORES