#chattanoogastrong #noogastrong
Are there any words that can be said that hasn't been already? My town was attacked on 7/16/15 by one of it's own citizens. He graduated from a local high school and college but something went wrong. I'm not going to focus on this horrible young man. We are #chattanoogastrong #noogastrong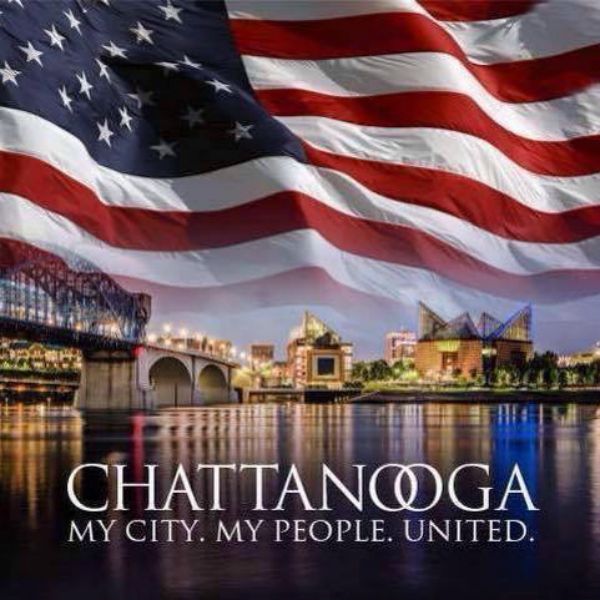 I was out of town, so didn't see any live coverage of this event, but looking back at video, to see the only traffic was police cars and ambulances, with police officers having drawn weapons on the side of the road, you think "This can't be happening". To think of armed men riding along on the bumpers of trucks, was unreal.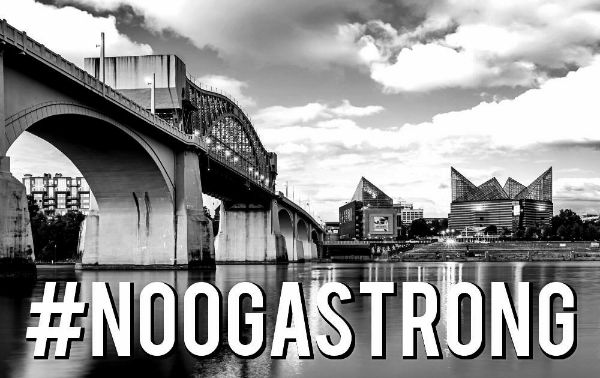 I, along with most other people think it will never happen to me. I used to say that I would just stay in Chattanooga when I would see all of these attacks on people in especially foreign lands, then in places like New York, but never in a city like Chattanooga. Well, it can happen to you.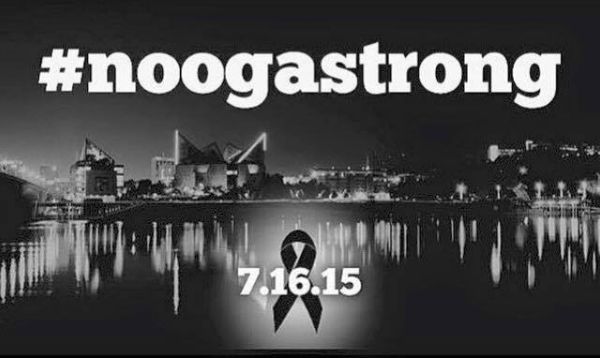 This is not going to be political, but is everything being done to stop what are now known as terrorists? No. How was he missed? Why wasn't he on the radar by the government? So far, I've not heard that answered. Could the next terrorist be living next door to you – YES they could be. You could be looking into the face of one sitting in a restaurant, church, or while you are at work.
Have these fallen heroes been honored in the way they deserve – No. As I have heard reported the shooter was a Muslim. I don't know a lot about their religion, beliefs and customs but that day was a Muslim holiday. The Empire State Building in New York chose to celebrate it by having on green lights. Shame on them.
I have not seen any coverage if the President called any type of special news conference about this horrific event. It was mentioned, but this was not just an attack on Chattanooga, it was an attack on all of us – the US and all their citizens and our Military. Those who choose to serve and protect their country.
I want to honor those five who lost their lives and how this heinous event touched so many lives.
Four Marines lost their lives doing their job, something each chose to do. Then on Saturday, a young sailor, Randall Smith, succumbed to his injuries. He went to church with a guy who does some yard work for me. A father of 3 young girls.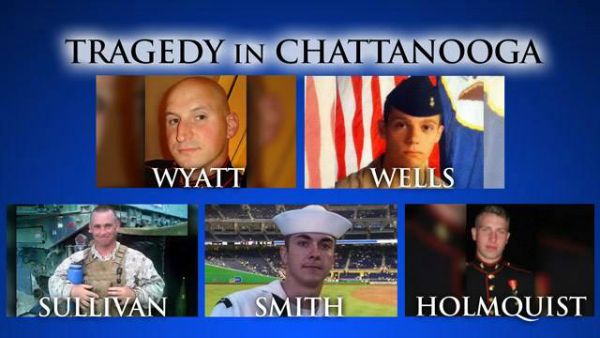 There was a policeman injured. I recognized him as someone who used to come in to the hospital where I worked in the ER.
More stories of how close it was. A friend of our son's, whom I have met, has a brother who had joined the Air Force, and was in the office getting ready to leave off the next day for basic training. His father had just left the office. If the shooter had entered the Air Force office first, he probably would have been killed.
Other cities have taken time to honor and remember my town.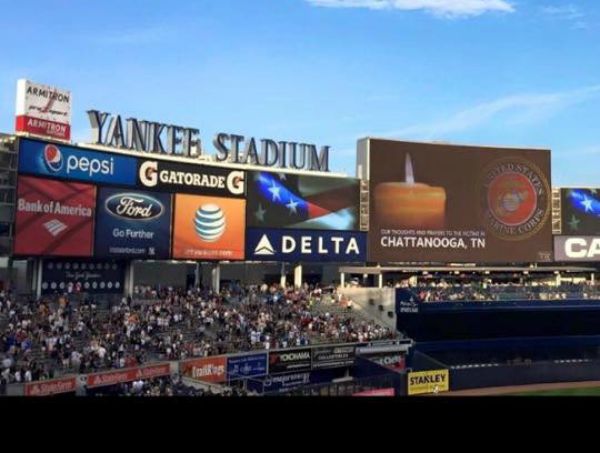 So many donations are being given to these families. Prayer vigils all over the city and country are being held. A group was giving away cupcakes but asking for donations to go directly to families of the victims.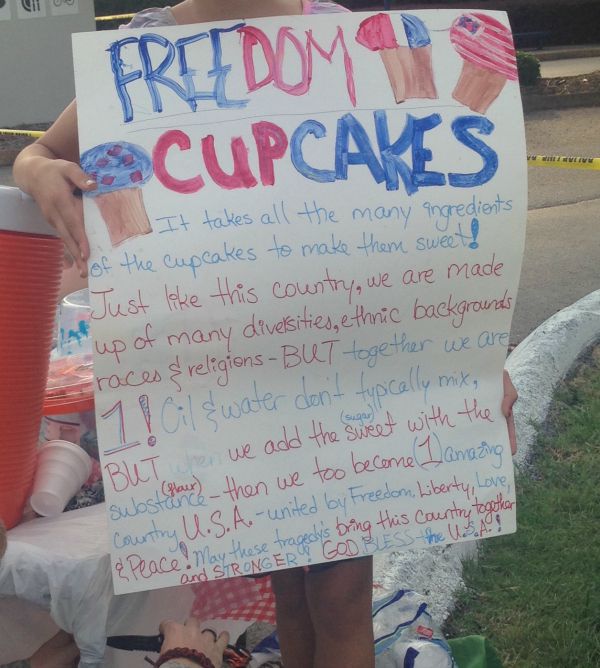 At both locations, memorials have been set up which we visited today.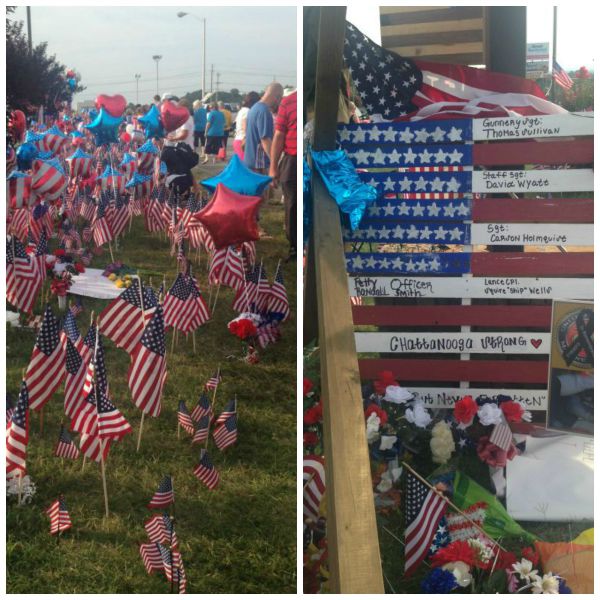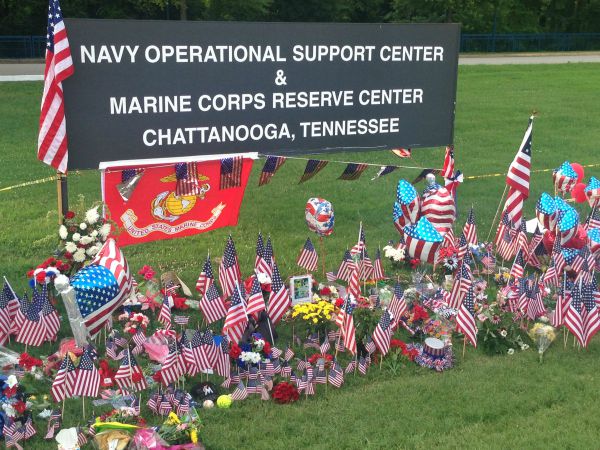 Someone left a purple heart on Friday and it's still there.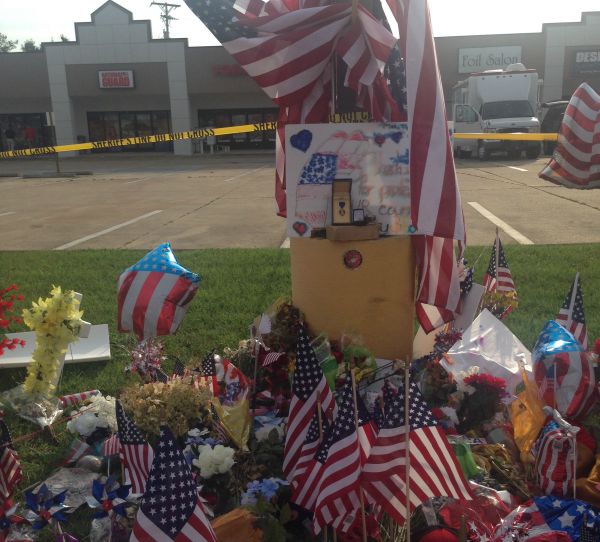 Four empty chairs was set up at a local restaurant – the manager is a former Marine. I'm sure a 5th chair was added. This has been done in numerous restaurants and bars around town.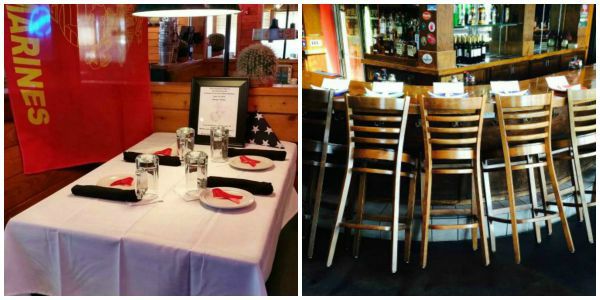 So many celebrities call Chattanooga home or have spent time here. They are offering their own thoughts and prayers for our town. Peyton Manning visited one of the shooting sites over the weekend. This bus stopped off from a trip to pay their respects.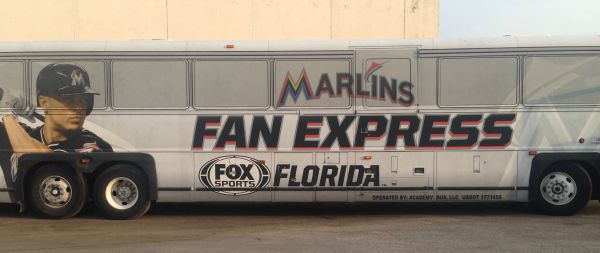 Although not many mentions from the White House or the Government, all national media people was in town. I did recognize John Roberts.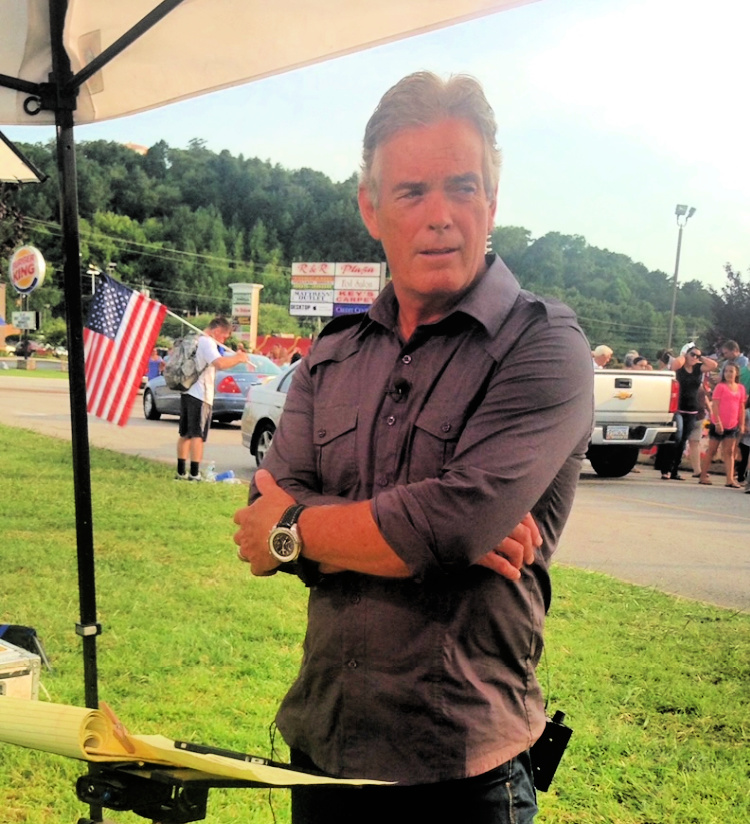 Can we live in fear all the time? No but being more cautious and aware is going to be everyone's job. If you have a feeling something is wrong, it could be.
Sometimes these events are random. Could he have come into the hospital where my husband works, into the car dealership where my son works, or even into the hotel where I was, Yes – this could have happened to any of us. Why did it happen at the recruitment offices? I don't know and not sure anyone else does at this point. Muslim Extremist are know to target Military and Police.
Everyone has opinions on how things are handled and these are my own.
What can be done? If I had the answer, I would do it. But something has to be done to protect our country, whether our citizens are within the US or abroad.
For now, PRAY.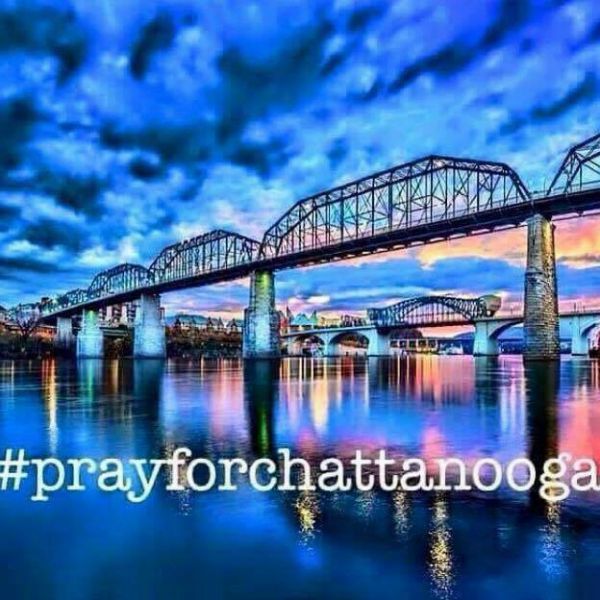 #noogastrong #chattanoogastrong
***Almost a year later – millions has been raised for the families, the police officer got back to work just in the last few months, memorials have been made and a ceremony is planned on 7/16 this year. One of the most tragic things is, these types of tragedies keep happening.
I've included affiliate links to Amazon for you to find some products easier. I may receive a small commission, but the price is the same for you. It just helps my blog out.
Happy Travels,
Rosemary