The Dollywood Flower and Food Festival is back, and it's waiting to wow you with over half a million flowers, new food options, great entertainment and so much more. Like last year, the Dollywood Flower and Food Festival is devoted to bringing in the spring season while keeping visitors safe. This ensures that visitors can have fun and be safe at the same time.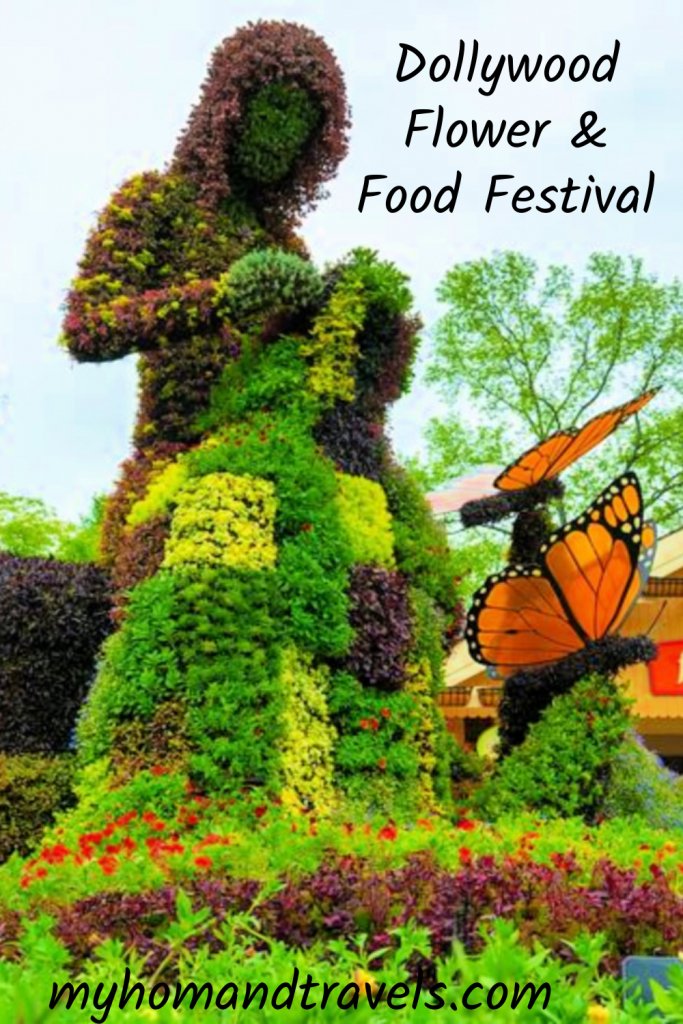 Head to the heart of the Great Smoky Mountains, through the doors of Dollywood, and into a wonderland of gorgeous blooms from April 23rd through June 7th. Presented in partnership with Covenant Health, the Dollywood Flower and Food Festival is going all-out, as always, to deliver the best visual, audio, and culinary experience possible to those who come to enjoy the fest.
Lush Landscaping that Captures the Imagination
Fully embracing the magic of spring, the Dollywood Flower and Food Festival will boast a variety of massive floral sculptures brought to life by absolutely stunning blooms that are bright, vibrant, and exploding with the colors of spring. Visitors will delight in the now-familiar butterfly umbrella, new scenes highlighting animals created with colorful blooms, and the always wonderful Coat of Many Colors depiction. These beautiful creations are all thanks to Moasicultures International, a world-renowned company that specializes in creating gorgeous on-of-a-kind creations just like these.
The exceptionally well-received Umbrella Sky is back again this year, as well, treating visitors to hundreds of colorful umbrellas suspended above Showstreet. In addition, chalk art, a newly added aspect of the festival will be on full display featuring amazing art depictions made completely of colored chalk art.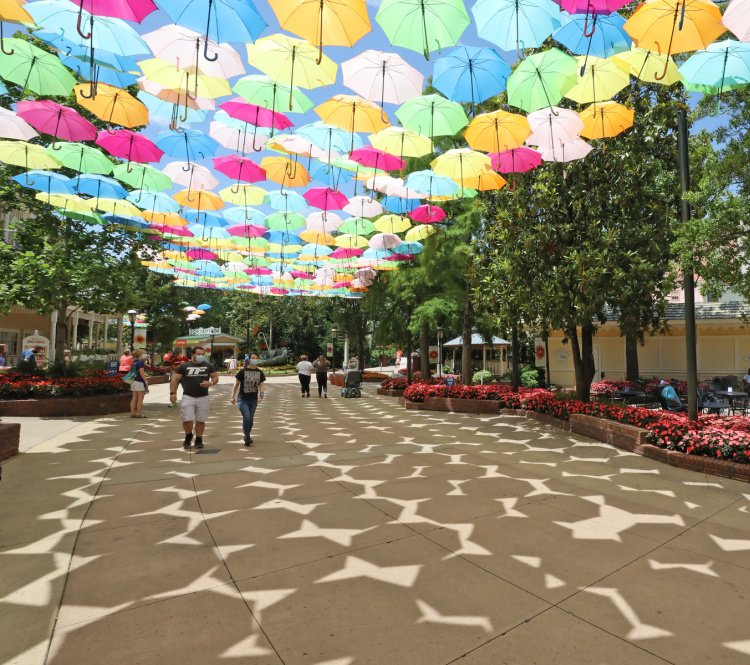 More Food Options than Ever
The Dollywood flower and food festival is going all-out with its food as well as its displays. Visitors to the festival will be treated to delicious eats like a Cuban sandwich with plantain chips, fish and chips, mountain paella, summer succotash with pan-seared chicken, lobster rolls, and more. And we can't forget the downhome desserts. Classics like blueberry and blackberry mini funnel cakes, lemon curd and blueberry liege waffles, and much more tasty sweets are also available.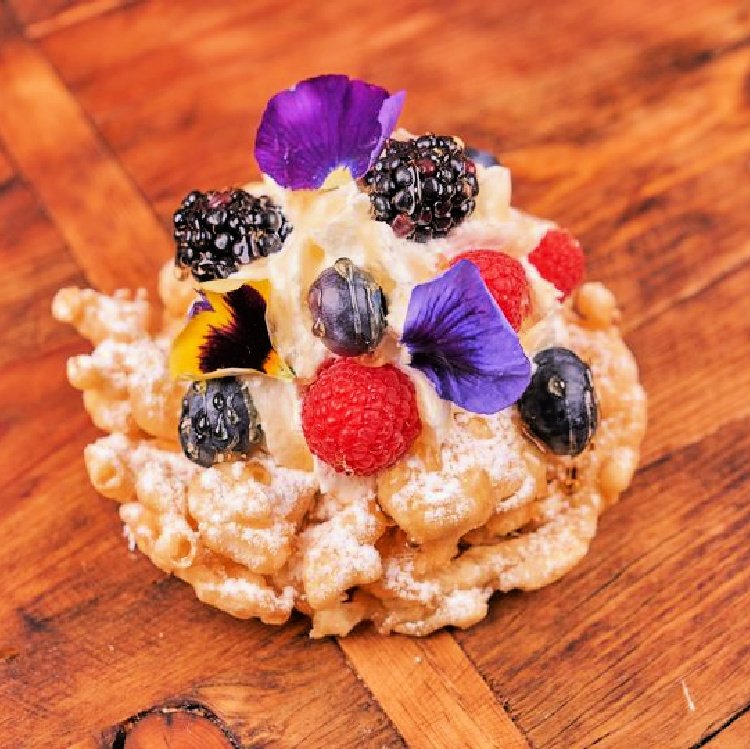 Available for purchase this year is the dining pass available online or at the park. At only $29.99, the pass offers guests the ability to sample five meals at any of the Flower and Food Festival culinary locations, ensuring that the fest is a feast for all the senses.
Entertainment
As always, entertainment will play a major role in the festival this year. Visitors can enjoy the uplifting spiritual music offered during The Melodies of Spring Event which features contemporary Christian artists, Southern gospel groups, and other inspiration acts at Dolly Parton's Celebrity Theater every Friday, Saturday, and Sunday throughout the festival.
Of course, staying true to the Dollywood tradition, musical acts will be found throughout the park, as well. Visitors will be able to view and listen to such musical acts as The Voice contestants, Worth the Wait, Willow City, The Hall Sisters, and more. They might even stumble across Stephani Ezatoff, the festival's wandering performer.
The Heart of the Dollywood Flower and Food Festival
At the heart of the Dollywood Flower and Food Festival is the spirit of spring and family, and the heart of Dollywood, Dolly herself, explains that perfectly when talking about the festival.
"When I was a little girl, I loved springtime because everything seemed so bright with color," Dolly said. "It started to get warm outside and you just felt like you could finally get out of the house after being cooped up in there for so long, which is something I know we're all feeling right now. But the thing I remember most about those spring days were the flowers that would start blooming all over the hills. So, the Smokies really were the inspiration for this festival."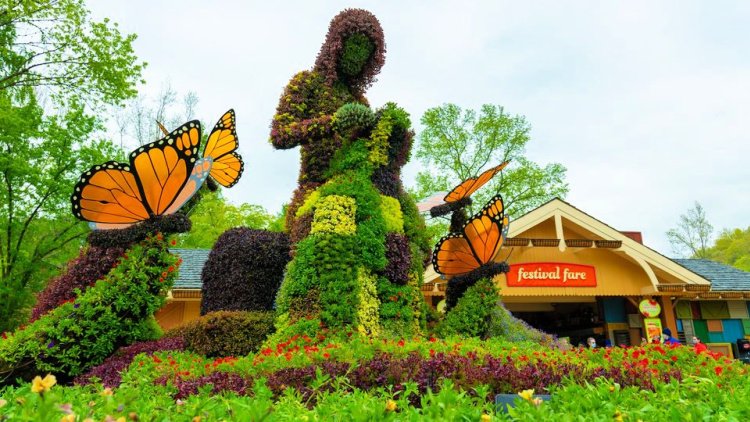 "And I just love we made that big, beautiful display of my mama with all those wonderful flowers," she went on. "It's special to me, and I know she would have been so proud of it. But something else I'm happy about this year is that not only do we have all the flowers, we're also bringing in a lot of great music to the festival. I just know it is really going to make the whole park feel so joyful. It's a special time of year, and I really think Dollywood is a great place to get outdoors and enjoy it all!"
Come See the Dollywood Flower and Food Festival for Yourself
With more than 500,000 blooms, sweeping flower sculptures, chalk art, amazing music, delicious food, and the down-home sensibilities that Dollywood is known for, the Dollywood Flower and Food Festival is not to be missed this year. They've outdone themselves this year, and it will definitely show when you walk through the entrance to the park.

photos courtesy of Dollywood