Did you know January 27th is a holiday? No, not just my birthday. I've got a round up of cakes for national Chocolate Cake Day. Isn't it nice they made my birthday into a holiday? If you're on the hunt for cakes made with chocolate, you've come to the right place. These 20 recipes are certain to be a true treat to your taste buds!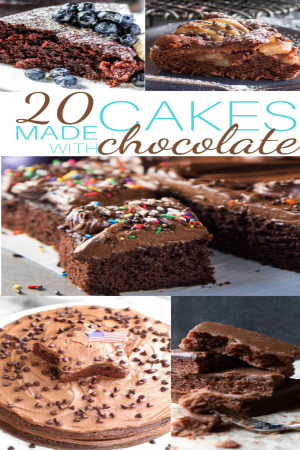 I love a good cake. And if that cake has chocolate in it, that's even better. There's nothing quite like taking a big old bite out of a moist, delicious piece of cake after a long day's work. Or settling down on the couch to watch your favorite show with a piece of your favorite cake in hand…truly priceless.
And while you might already have a favorite cake recipe, you can never have too many. These cakes made with chocolate are ones that need to be on your radar! Your taste buds will thank you!
20 Cakes Made With Chocolate
Eggless Chocolate Mousse Cake // Ruchis Kitchen
Chocolate Sheet Cake // Mom's Dinner
Basic Chocolate Cake Recipe // Longbourn Farm
Church Supper Cocoa Cake // Sue Bee Homemaker
Vegan Chocolate Biscuit Cake // Spabettie
Chocolate Pear Cake // An Italian In My Kitchen
Best Chocolate Cake Recipe // Umami Girl
Fudgy One Bowl Chocolate Cake // The Flavor Bender
Flourless Chocolate Cake // Savory Spin
Cherry Chocolate Cake // Kitchen Sanctuary
Slow Cooker Chocolate Mint Cake // Garlic and Zest
Chocolate Peanut Butter Cake // Hearth and Vine
Chocolate Banana Cake // Natalie's Health
Sour Cream Chocolate Cake // Eat Little Bird
"Beetified" Chocolate Oatmeal Cake // Savory Spin
Chocolate and Coffee Whiskey Cake // Platter Talk
Black Magic Chocolate Cake // Sugar and Soul
Cabernet Dark Chocolate Cake // Lemons for Lulu
Coca-Cola Chocolate Cake // Cook Eat Go
Espresso Chocolate Cake // Kleinworth & Co.
Is your mouth watering for these delicious recipes? It should be! And don't worry, they aren't hard to make! All you need are a few simple ingredients and you can have these cakes as well.
Make them for your family and friends or for yourself…it's totally up to you! But make certain that you make them because these chocolate cakes are just that good!
Have you ever made a cake with chocolate before?
A favorite frosting of mine on any chocolate cake is My Mocha Buttercream Frosting. This even makes a boxed cake taste good.