Lots Of Green Recipes For St. Patrick's Day
It's that time of year to make sure you're thinking when you will wear your green for St Patrick's Day! We figured we'd help you out with Lots Of Green Recipes For St. Patrick's Day too. Some are sure to surprise and satisfy just about every taste bud there is (yes even for that complicated one who you never know what to make for them). There's a range of salty to sweet baked goods and more and they're all GREEN!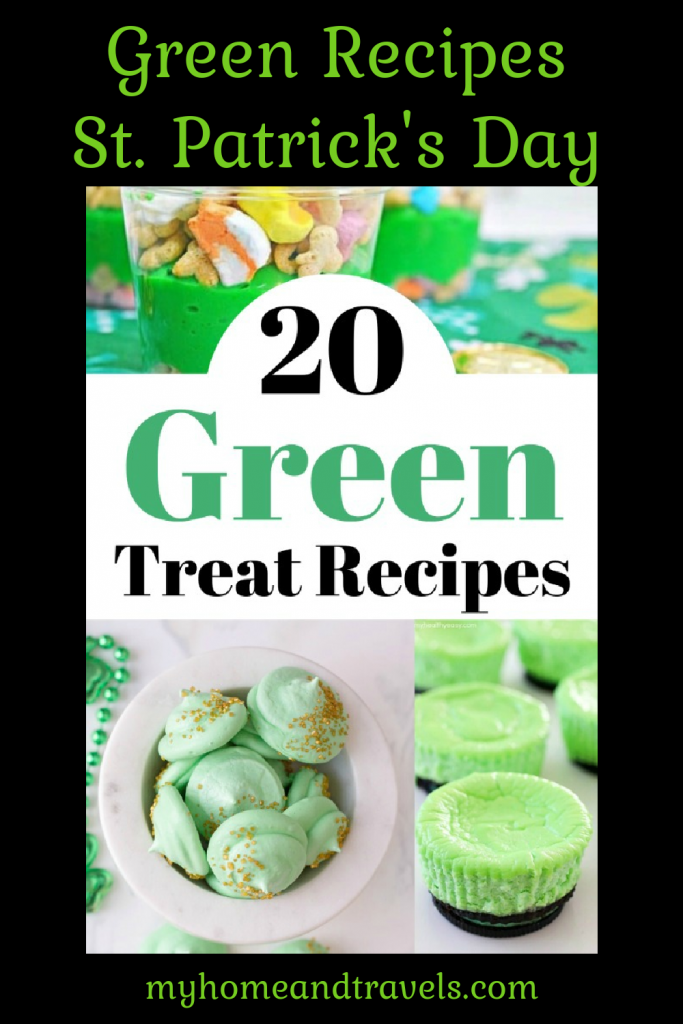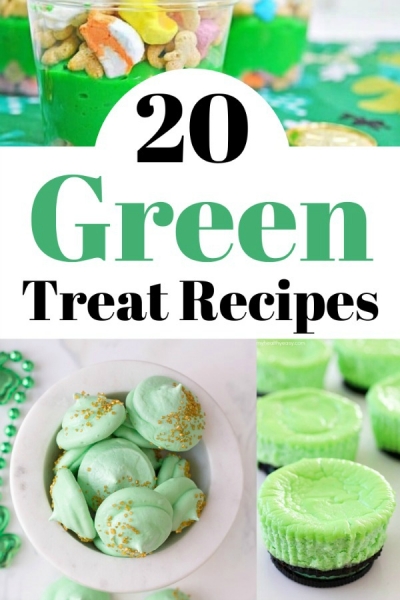 This post does contain a few affiliate links and if you purchase, I MIGHT earn a few cents from a purchase.
Think about it – you really have time to try all of these before March 17th.
Green Machine Smoothie Recipe by Happiness is Homemade. This is a cool recipe for the whole family to enjoy and it's even a sneaky way to get the kids to drink something healthy!
St Patricks Day Green Fudge by Crayons and Cravings. This is a fun seven ingredient recipe that is super easy to follow and make for a whole batch to share!
Shamrock Pretzel Pops by Mommys Bundle. Let's face it, who doesn't love a sweet and salty snack right? Now you can make these easy festive pops with just five ingredients and three steps!
St Patrick's day Luck of the Irish Rice Krispie Treats by Oh My Creative. Every holiday needs a color coordinating rice krispie treat and these sweet treats are no exception. Perfect and easy to make and enjoy!
Chocolate Peanut Butter Bark Recipe by Lemon Peony. Need a quick and easy recipe to make for those last minute parties? This bark recipe is green and takes only a few hours at most to complete!
Green Oreo Pops by Unique Gifter. Take a classic and recreate it into something brand new with this range of different ways to decorate Oreo cookies for the holiday!
Lucky St Patricks Day Meringue Cookies by Extreme Couponing Mom. Making these top notch Meringue Cookies will have you feeling like you can bake like one of the pros. Super easy to follow recipe that the kids can even help with.
St Patrick's day Puppy Chow Talk about an easy to make and quick recipe, this puppy chow recipe takes just under ONE hour and you're ready to snack. Perfect for movie nights!
Shamrock Shake Recipe by 3 Boys and a Dog. Ice Cream, Whipped Cream, and Milk, plus some holiday colors make for an epic milkshake that'll impress any guest. (Or treat yourself, we won't judge)
Quick & Easy Guacamole Recipe by Thrifty Northwest Mom. can we really talk about green foods without mentioning the naturally green favorite GUACAMOLE! Check out how you can make this classic favorite in a flash.
St Patricks Day Pudding Recipe by The Flying Couponer. What kid or adult for that matter doesn't love pudding? LOVE the addition of Lucky Charms on this pudding. The sky's the limit with the kinds of things you can add on yours!
Keto Chocolate Mint Candy Bars by Kimspired DIY. For those that are on the Keto Diet, this is a perfect way to get in your own St Patricks Day treats and still enjoy all the green the holiday has to offer! It only takes 35 minutes to make this batch too!
Chocolate Mint Oreo Mousse by Spend with Pennies. Sweet treats that only take 10 minutes, consider me sold!
Shamrock Cream Cheese Cookies by Organized Island. This does call for a chilled dough to make these cookies so be sure to "cut out" some times for that (See what we did there?)
Oreo Mint Chocolate Ombre Cake by The Soccer Mom Blog. This cake is almost too pretty to eat but you can create this masterpiece yourself in under an hour!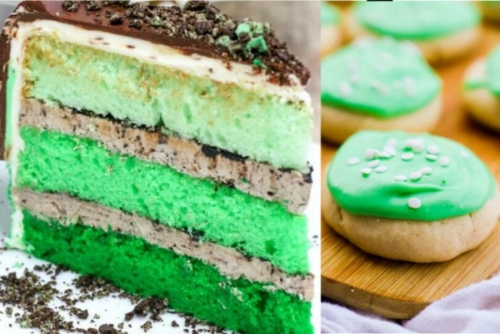 Pistachio Cream Bars by Simply Stacie. This recipe says that these sweet treats get even better as leftovers! Plus this one recipe (depending on servings size) is said to make 24-36 bars!
St Patricks Day Shamrock Whoopie Pies by Mom Foodie. These are so much easier to make than they look thanks to these step by step photos. We'll be super bakers before we know it!
St Patricks Day Sugar Cookies by The Diary of a Real Housewife. So, we always have to include the classic sugar cookies BUT these are just like the ones you can buy in stores that everyone hates because it ruins their diets but they're too good to pass up!
Skinny Mini Mint Cheesecakes by Yummy Healthy Easy. If you're watching your calories these delicious mini treats are only 148 calories each! Plus we love the idea of adding an Oreo cookie under them too!
St Patricks Day Gum Drops by Thrifty Jinxy. These poppable gum drops are perfect for kids of all ages (yes this means us adults too) and it only takes four ingredients to make them!
To get a head start on this year and more years to come here are some basics you can grab to help make your St. Patrick's Day baking a bit easier:
Here's a few more great recipe roundups, not only for the GREEN season but really anytime.
I've included affiliate links to Amazon for you to find some products easier. I may receive a small commission, but the price is the same for you. It just helps my blog out.
Happy Travels,
Rosemary