This Cocoa Ritz Cracker Pie For Any Holiday is always a favorite and especially around Thanksgiving. This homemade pie is packed full of flavor and has an easy to make process that you'll be certain to love. If you're looking for a simple holiday pie recipe that will have everyone running to the table, this is the one for you!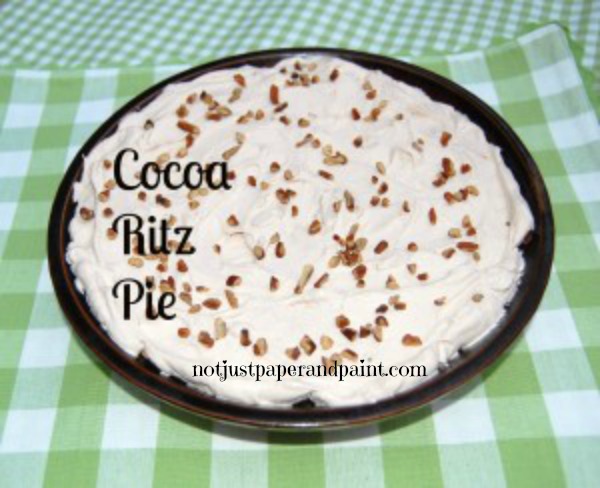 Cocoa Ritz Cracker Pie
There isn't anything that a slice of pie won't cure. And this is why I make this during the holidays – because it brings back wonderful memories that I'll cherish forever.
One of the main reasons I love making this pie is using this stoneware pie plate. My Mother had 3 of these at one time, which she had for many years. She gave me one of them a very long time ago, so since she is no longer alive, not only do I enjoy this recipe she passed on to me, but memories of this pie plate.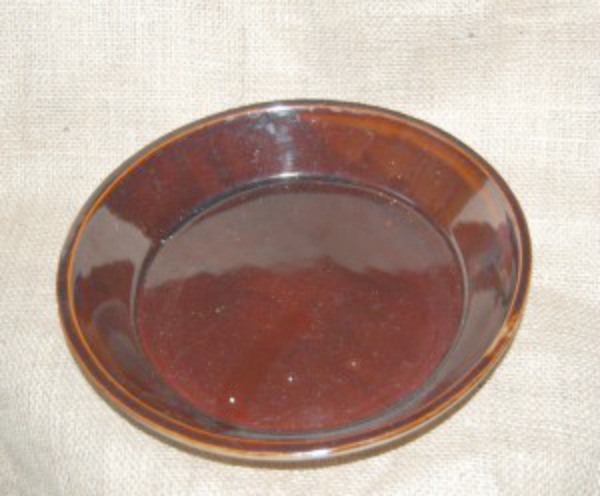 How to make this Ritz Cracker Pie recipe
The main thing to think about when you're making this pie is that the Ritz cracker crust is the star of the show. This doesn't mean that the rest of the ingredients aren't – but with a name all about the crackers, you know that it's good.
What's the best way to crunch up the Ritz Crackers?
There are several ways that you can do this. If you have a food processor, you can use that and just toss them and let it do all the work. However, if you have a rolling pin and a Ziploc bag, that will work just fine, too. (it's especially fun if you have little helpers in the kitchen because they LOVE to break up the crackers!)
Just add the crackers into the bag, make certain that it's sealed, and mash and roll and break them up. That's really all there is to it!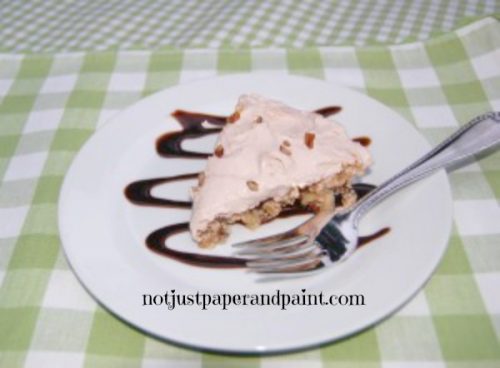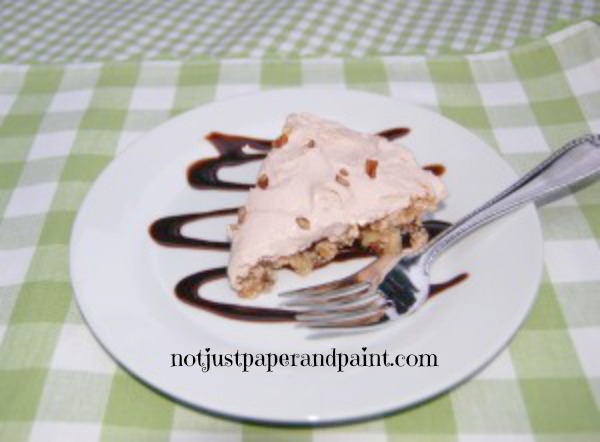 Can you freeze this Ritz Cracker Pie recipe once made?
You can! In fact, it's actually a really great texture once you pop it in the freezer and eat it later. Just cover it very well to keep out the air and it should freeze up just fine.
Toppings to add to this Ritz Pie Recipe
Even though this cracker crust pie recipe is pretty dang good on its own, you can easily add other toppings as well to your slice of the pie.
Some topping ideas could be:
Chocolate chips
Shredded coconut
Hot fudge
Drizzled caramel
Pecans, walnuts
Butterscotch Chips
Whipped Cream
Drizzled honey
And the list could go on and on! You can easily add more sweetness to your slice of the pie if you want!
Are you ready to make this delicious Ritz Cracker Pie recipe? I have a feeling that once you realize how simple it is to make a crust out of crackers, you're never going to be buying a store-bought pie crust again!
Cocoa Ritz Pie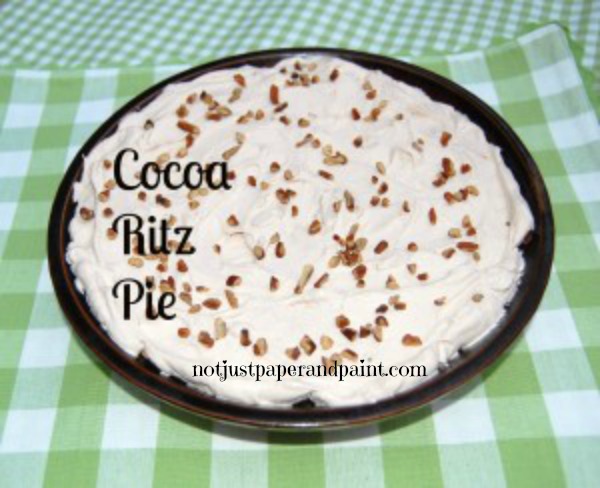 Ingredients
Pie Ingredients
3 egg whites at room temperature***
1 C sugar
1 C pecans, finely chopped
23 Ritz crackers, finely crushed
1 t vanilla
Chocolate Whipped Cream Topping
¾ C heavy whipping cream
2 T sugar
2 – 4 T instant cocoa**
Notes
PIE
Beat egg whites until stiff peaks form.
Gently fold in other ingredients.
Pour your filling into a greased 8" pie pan and bake 25 – 30 minutes at 325.
The pie will just start to turn brown as it is getting done.
Place on wire rack and cool completely before adding topping.
TOPPING
Start whipping the cream until it just becomes frothy.
Add the sugar and instant cocoa and continue whipping until stiff peaks form.
Spread this over the cool pie and refrigerate immediately.
Toasted Pecan pieces can be added for garnish on top.
Refrigerate any leftovers.
*** Egg whites can be brought to room temperature quickly if you place them in a glass or metal bowl and set in another bowl of warm water for 5 - 10 minutes.
**The instant cocoa can be added to your taste.
Plus remember, this is sweet also, so if you add 4 T of instant cocoa, you might decrease your sugar slightly.

TO FREEZE:
After letting the pie cool completely, wrap in a couple of layers of saran wrap, then aluminum foil and freeze.
DO NOT add the whipped topping before freezing.
To thaw, just let it set on the counter, still wrapped, at room temperature for a couple of hours.
Add your topping and serve, or refrigerate until serving.

More Dessert Recipes