Shore is Good Seafood Dip is a favorite with our family. Filled with cheese, crab, and shrimp – what's not to like? Maybe you are still looking for an appetizer idea for any upcoming New Years' events or maybe while watching one of your favorite sports teams.
Do you love seafood? If you do, then you're sure to love this good seafood dip recipe that I'm sharing today, but first a bit of a story of how I came by this yummy recipe!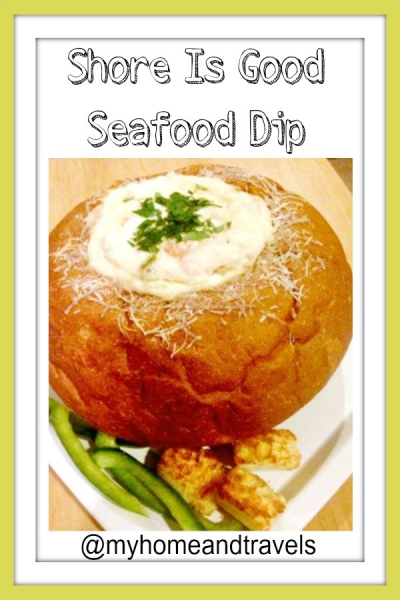 The Start of my favorite Seafood Dip
I got a version of this recipe from a cooking class I took from Paula Deen way back at the beginning of her career. In the summer of 2004, we had a great vacation to Savannah and Tybee Island, but the highlight for me was attending her cooking class. She had just married Michael and was still in the beginning stages of her empire.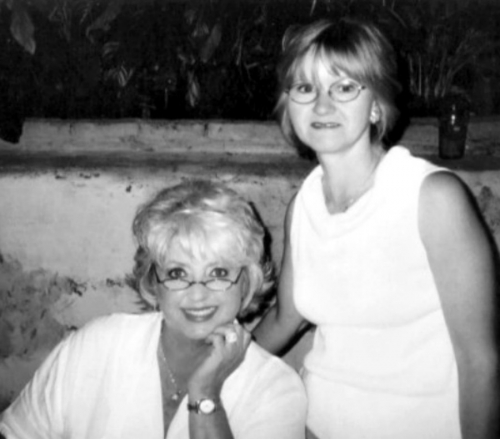 When I saw a class offered the very week I was there, I had to go. Plus, to my delight, it was about seafood. Even then it wasn't cheap, but I knew it was probably a once in a lifetime chance. It was held in the basement of The Lady & Sons and was a small, intimate group. What you saw on TV is what she was in person, along with Jamie, Michael, her brother Bubba. and Aunt Peggy. There was time for talking, autographs, and pictures. About a month later, I even got a feature article in the local newspaper. It was the best time.
And from that trip, came this seafood dip. Not only is it super simple to make, but it's such a fun reminder of the time that I had there with Paula Dean as well!
What do you dip into seafood dip?
I like to dip veggies, melba toast, soft bread, or just crackers in my seafood dip. (but let's be honest – I could literally eat this by the spoonful as well!)
How do you store leftover shrimp dip?
This needs to be stored in the fridge when not being eaten. It has to remain cold due to the ingredients.
Can you leave out some of the seafood in this dip?
Sure! You can alter this seafood dip recipe any way that you want. Make it your own and create your own fun story to go along with it!
You're sure to enjoy this good seafood dip! Dig in!
Shore is Good Seafood Dip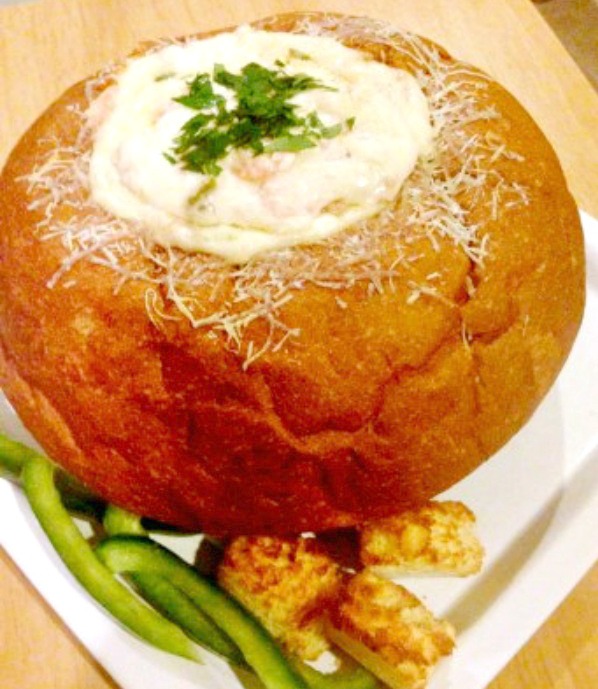 A warm cheesy, seafood dip perfect for any occasion.
Ingredients
2 T Butter
1 medium green bell pepper, diced (mixture of red & green works great)
1 medium onion, diced
2 stalks celery, diced
Half a can – cream of mushroom soup
½ C Mayonnaise
4 oz cream cheese, softened
8 ounces parmesan cheese
6 ounce can crabmeat, drained
6 ounces shrimp
Parsley, for garnish
Instructions
Preheat oven to 325.
Melt butter in a skillet over medium heat.
Add the pepper, onion, and celery and sauté for approximately 2 – 3 minutes, just to soften them.
Do not let them brown. Cool.
In a separate mixing bowl, combine the soup, mayonnaise, Parmesan cheese and cream cheese.
Stir in the crabmeat, shrimp, and cooled vegetables just until blended.
Spoon this mixture into a lightly greased 8 x 11 casserole dish and bake for 30 minutes.
Sprinkle with parsley before serving.
If serving in bread bowl, cut out the center of the loaf and use this bread to toast for serving.
After filling, sprinkle with extra cheese and broil for about 4 – 5 minutes.
Serve with toast points or crackers.
Notes
A few hints – this is great to make ahead of time.
With seafood being used, I would only make it up to one day ahead of time.
Plus, this tastes just as great being served almost at room temperature instead of right out of the oven.
In fact, I think you can taste all of the flavors better.
I wouldn't let it set out or cool longer than 30 minutes though just for safety reasons.
Even if I'm serving it in a bread bowl, I still bake it in a casserole dish, then put it in the bread right before serving.
I have used a mixture of red and green peppers since it does make the dish a little prettier.
I use salad shrimp, but if you are using larger size, you will need to dice them.
If frozen, thaw and squeeze out excess water.





More Seafood Recipes