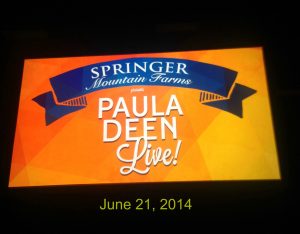 I was invited to attend Paula Deen Live, the first of two shows held over the past weekend in Pigeon Forge, TN. It was a very successful comeback judging from the size of the crowd and the reception shown by the audience. Lot's of "We Love You Paula" could be heard.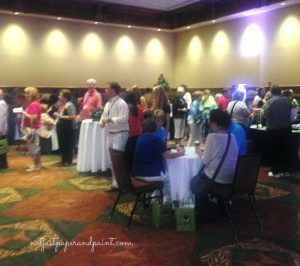 The evening began with 200 people attending a Meet & Greet with appetizers, wine, and of course sweet tea. One of the dishes which everyone wanted seconds on was her Shore is Good Seafood Dip.
I had the pleasure of taking a Seafood Class with Paula in Savannah 10 years ago. At the time, these were very small affairs compared to her shows and classes now. In this class, one of the recipes featured was for this dip. Here's the recipe for you to try at home. Shore is Good Seafood Dip. Other items included Fried Chicken and Chicken Pot Pie which were made with Springer Mountain Farms Chicken, a sponsor of these Live shows. Did you know Springer Mountain Farms was the first poultry company in the world to be American Humane Certified by the American Human Association?
A large dessert table completed the menu.
Michael came out and posed for pictures with the crowd and talked with everyone before Paula made her first appearance. He is such a kind and friendly, true Southern Gentlemen, who just happens to look a bit like Santa.
During the meet & greet, we all had the opportunity of meeting Paula & Michael, getting autographs, and a professional photo. Both truly took time to speak to each of us. I had taken my recipe booklet and apron which I had received in my cooking class from 10 years ago. Paula got a kick out of it and talked about how far they had come. Theresa, a director with Paula Deen Live, remembered making those booklets. She was kind enough to also pose for a picture with me.
All attendees received a swag bag full of goodies including a book, a magazine, cake or biscuit mix, BBQ sauce and seasoning mix. I think biscuits will be on the menu for breakfast tomorrow. After the meet & greet, the Live Show began with a 3 piece group, Seth & The Moody Melix. They provided a mini concert and also helped to provide a little humor during the show. Bantering between Paula, Michael, the band, and even the audience was mixed in with food demonstrations. Gordon Elliott, producer of her Food Network shows stood on the sideline during the whole show. "If it wasn't for you I wouldn't be standing here. I thank y'all for loving me," she said. Through lots of laughter and tears, she was back to herself onstage in no time. Below you will find a few of the recipes they prepared on stage.

A few audience members were called up on stage to help with recipes and also for a little game of who knows Paula best. Do you know who Paula's celebrity crush is? Blake Shelton. He had appeared on one of her shows way back before he was well known.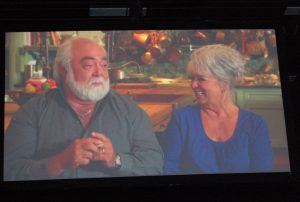 Some of the highlights included a video on how and why The Bag Lady started, how Paula & Micheal met, a tour of their Savannah home, and a clip of her new Paula Deen Network. A few outtakes from previous shows added a lighthearted humor to the evening.
This new network, which will debut in the fall, will be available on the Iphone, Ipad, or computer. Sign up here for the newsletter to be the first to know and receive offers about the Paula Deen Network.
Live Shows scheduled include:
August 6 – San Antonio, TX
August 8 & 15 – Savannah, GA
August 26 – Atlanta, GA
August 27 – Nashville, TN
September 16 – Birmingham, AL
September 18 – Jacksonville, FL
For complete details and ticket information, www.pauladeen.com/schedule I hope you try these recipes as featured during the Live Show.
Peach Trifle
2014-06-25 20:49:03
A refreshing summer recipe
Ingredients
1 poundcake, cut into chunks
Vanilla Custard
2 pounds frozen, sliced peaches, thawed
Fresh Whipped Cream
Mint, to garnish
GRANDMOTHER PAUL'S SOUR CREAM POUNDCAKE
½ pound 2 sticks butter
3 cups sugar
1 cup sour cream
3 cups AP flour
½ teaspoon baking soda
6 eggs
1 teaspoon vanilla
Preheat the oven to 325 degrees
Cream the butter and sugar together, add the sour cream.
Sift flour and baking soda together.
Add to creamed mixture, alternately with eggs, one at a time, beating after each.
Add vanilla. Pour into a greased and floured tube pan and bake for 1 hour 20 minutes.
VANILLA CUSTARD - below is a doubled recipe (Paula wants it to be doubled for trifle)
11/2 cups sugar
1/3 cup A.P. flour
4 cups milk
6 egg yolks
2 teaspoons vanilla extract
1 stick butter
Mix together the sugar and flour and slowly add milk.
This should be cooked on top of a double boiler, but you can cook over low to medium heat, stirring constantly until it thickens.
Do not leave it unattended.
Slightly beat yolks and temper with a small amount of the hot custard; stir well.
Add egg mixture to custard pot and cook 2 minutes.
Remove from from heat, add vanilla and butter. Let cool.
WHIPPED CREAM
2 cups heavy whipping cream
¼ cup confectioner's sugar
2 teaspoons vanilla or almond extract
Add 2 cups heavy cream to a chilled large bowl along with ¼ cup confectioner's sugar and vanilla. Beat with hand mixer until thickened and soft peaks appear.
Add one third of the poundcake to the bottom of the trifle dish.
Next add a layer of cooled custard, a layer of sliced peaches,
then a layer of whipped cream. Repeat the layers two more times.
Finish the top with the last spoonfuls of whipped cream and a pile of sliced peaches in the center. Garnish with mint.
My Home and Travels https://myhomeandtravels.com/
GRILLED CHICKEN AND ARUGULA SALAD WITH CORN AND TOMATOES
2014-06-26 20:25:17
Ingredients
Olive oil, for grill
2 ears corn, silks and husks removed
1 pound thin chicken cutlets (Springer Mountain Farm)
Kosher salt and freshly ground black pepper
2 tablespoons white wine vinegar
¼ cup extra virgin olive oil
6 cups baby arugula
2 on the vine tomatoes, sliced into wedges
1/3 cup crumbled feta cheese
Kosher salt and freshly ground black pepper
Instructions
Heat a cast iron grill pan over medium high heat.
Brush grill pan with olive oil.
Bring large saucepan of salted water to a boil.
Add corn to boiling water for two minutes.
Remove from water with tongs and cool.
Pound out the chicken until it's ¼ inch thick (it should already be thin so just a few pounds each). Season the chicken on both sides with salt and pepper.
Grill the chicken until nice and golden on each side, and completely cooked through, about 5 minutes total.
Meanwhile, use a sharp knife to remove the corn kernels from the cob.
Add vinegar and oil to a large mixing bowl, add a pinch of salt and pepper, and whisk together.
Toss in arugula, corn, tomatoes, and feta cheese.
Slice chicken and toss into salad.
My Home and Travels https://myhomeandtravels.com/
Skillet Chicken and Sausage Jambalaya
2014-06-26 20:28:38
Ingredients
2 tablespoons vegetable oil, pre-measured
1 tablespoon butter, pre-measured
¾ pound andouille or other smoked sausage, cut into ¼ inch thick slices
1 large yellow onion, chopped
1 large green bell pepper, chopped
1 pound boneless, skinless chicken thighs, cut into 1 ½ inch pieces
Salt and black pepper
1 clove garlic, chopped
1 teaspoon dried thyme
1 teaspoon paprika
½ teaspoon cayenne pepper
½ teaspoon celery seeds
2 bay leaves
3 cups chicken broth
1 can (14 ½ ounces) diced tomatoes
1 ½ cups long-grain white rice
Instructions
In a large skillet with a lid, heat the vegetable oil and butter over medium-high heat.
Add the sausage and cook until browned on both sides, about 5 minutes.
Transfer the sausage to a bowl. Add the onion and bell pepper to the skillet and cook until just beginning to soften, 2 to 3 minutes.
Lightly sprinkle the chicken all over with salt and black pepper.
Add the chicken and garlic to the skillet.
Cook, stirring, until the chicken loses its raw color, about 3 minutes.
Add the thyme, paprika, cayenne pepper, celery seeds, and bay leaves and cook for 30 seconds, or until fragrant.
Add the broth and tomatoes, bring to a boil, and taste for seasoning.
Return the sausage to the pan with any accumulated juices and sprinkle in the rice (make sure you sprinkle the rice evenly all over the skillet)
Cover the pan, reduce the heat to low, and cook until all the liquid has been absorbed and the rice is tender, about 15 minutes.
Remove from the heat and let stand, covered, for 10 minutes.
Remove and discard the bay leaves.
Serve it up right from the skillet.
My Home and Travels https://myhomeandtravels.com/
Follow my blog with Bloglovin