If any of you have followed my recipes, you usually will notice they aren't spicy or contain black pepper. Well, this one is different. With Fall in the air and cooler weather, it's soup season.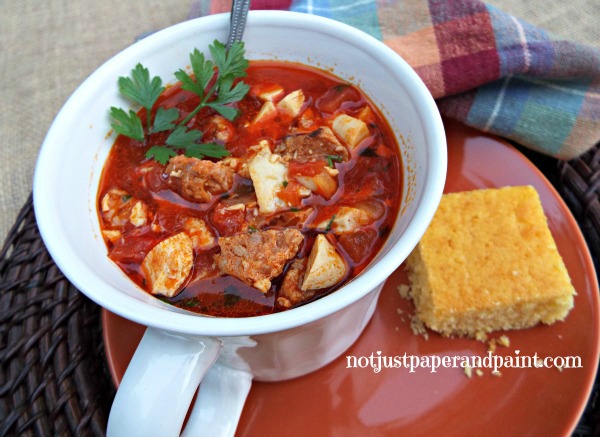 Tuesday is usually a shopping day every couple of weeks with a trip to Fresh Market to get their $2.99 boneless chicken breast and ground chuck. I didn't realize til today it was
Springer Mountain Chicken
. This is the only chicken we buy now for the quality and what it doesn't contain. 100% all natural with no steroids or hormones but also produced with no antibiotics, never fed animal by-products, and are American Humane Association Certified. Plus, they are almost local – located in North Georgia.
Another item bought on a regular basis is their Chorizo.
With that, and the fact my guys like spicy stuff, I decided to combine the Chicken and Chorizo for a Gumbo.
A warm and hearty gumbo perfect for a fall evening or for tailgaiting.
Ingredients
2 lbs boneless, skinless chicken breast
6 cups water, enough to cover
2 T olive oil
1 C mixed seasoning*
1 lb Chorizo, sliced
2 T Creole seasoning for spicy, 4 T for extra spicy
4 C chicken broth
1 15 oz can diced tomatoes
Salt & pepper to taste
2 T fresh parsley, chopped
Prepared white rice - as directed
Instructions
Place chicken in stock pot with enough water to cover, approx 6 cups
Boil on medium heat for 45 min or until done
Remove chicken from broth and cool
Chop into small pieces or shred
Measure chicken broth
Pour 2 T into skillet on medium heat
Add seasoning and saute' for 5 minutes, just until softened
Do not brown
Remove seasoning for later use
Add Chorizo slices and cook for 10 - 15 minutes until brown and cooked thoroughly
Remove from skillet and drain excess grease
In stock pot, add seasoning mixture, chicken and Chorizo
Stir in tomatoes, Creole seasoning, and 4 C broth
Salt & pepper to taste
Canned broth can be used to make your broth measure 4 C if needed
Cook over medium heat for 1 hour, stirring occasionally
While this is cooking, prepare rice
Right before serving, add parsley
Spoon over rice and serve
Store leftovers in refrigerator
Notes
*Mixed seasoning - usually a combination of celery, peppers and onions.
Handy to have on hand for many dishes you prepare
Add more peppers or onions if desired
Could use a rotisserie chicken, or any leftover chicken
Great recipe for crock pot - after mixing all, cook on low 3 - 4 hours
Chorizo was chopped into smaller pieces after sauteeing

Cook chicken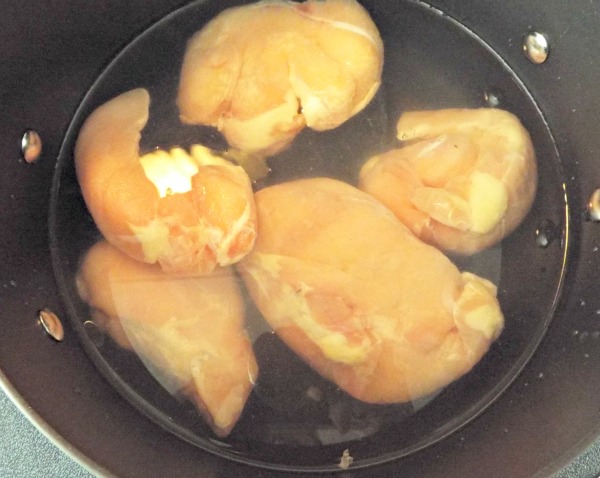 Saute' seasoning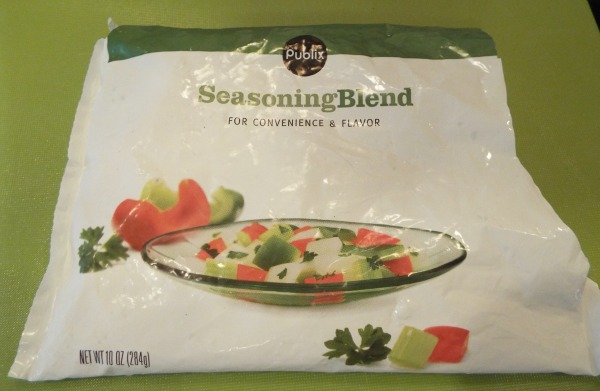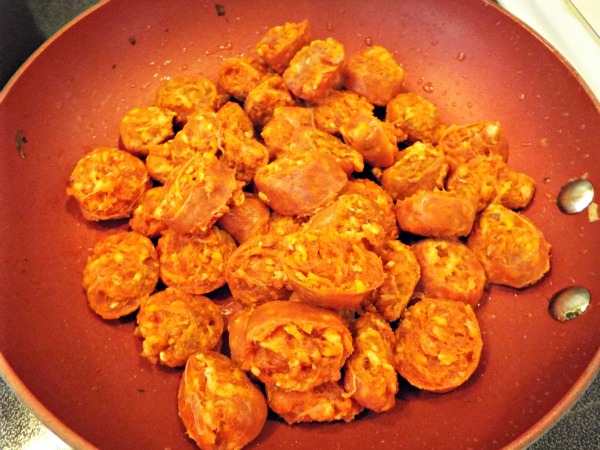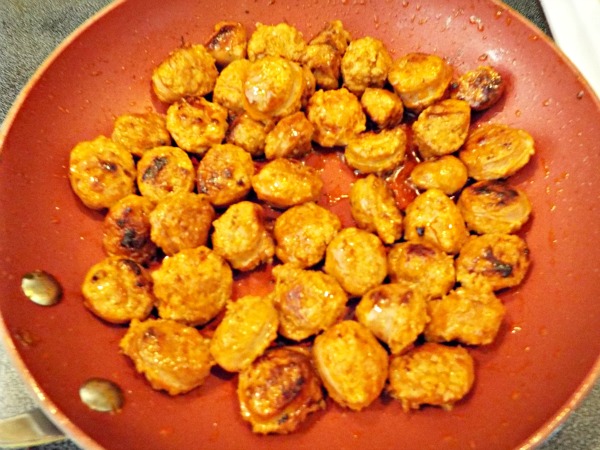 Chop chicken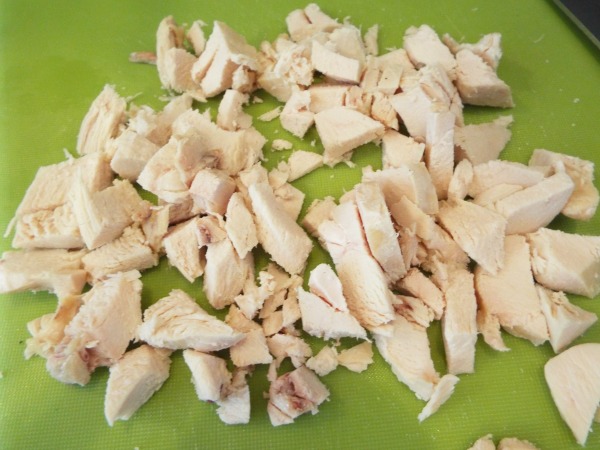 Combine all ingredients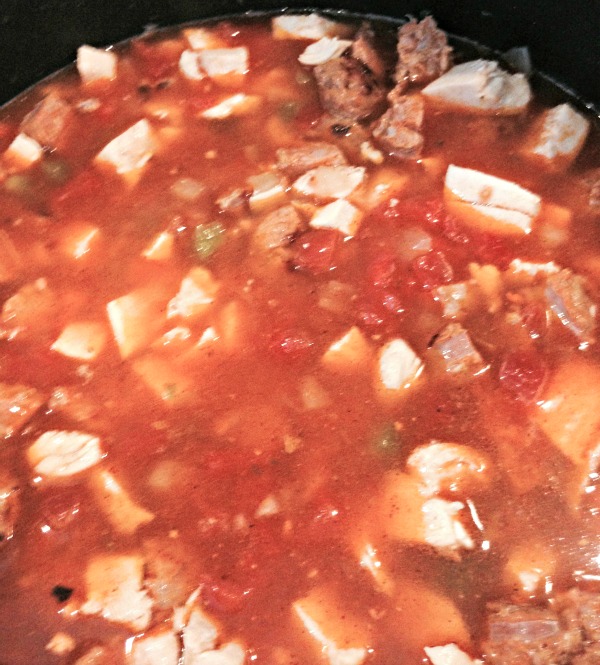 Ladle it up over rice and enjoy. Serve with cornbread or crackers.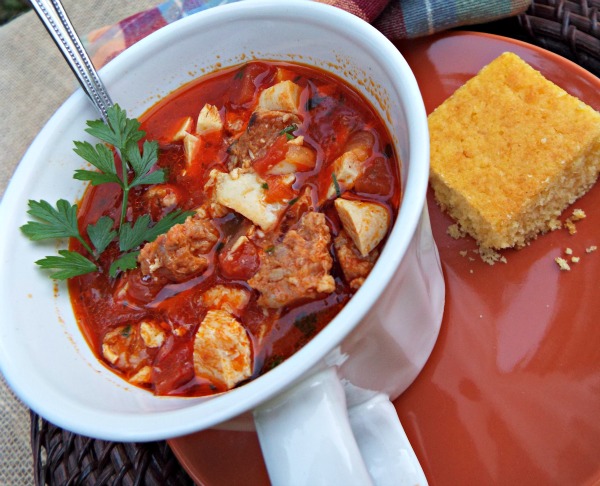 A couple more comfort food recipes.
Have you signed up to follow me?
I've included affiliate links to Amazon for you to find some products easier. I may receive a small commission, but the price is the same for you. It just helps my blog out.
Happy Travels,
Rosemary