One of the newest retailers hitting the Chattanooga area is Chattanooga Mercantile, a place for everyone to shop. I have updated this with a few more favorite booths. Hope you check it out again.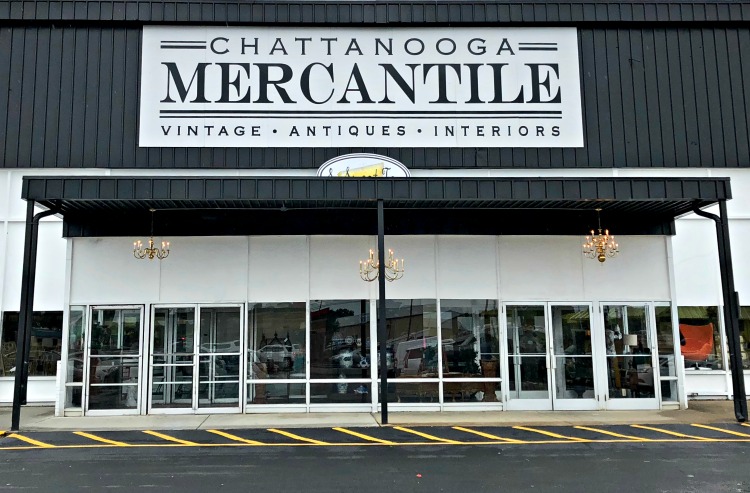 Some may refer to this shop as an antique mall, but it is much more. Yes you will find antiques, such as a goat cart or even a sleigh for Santa, but also personalized clothing, a bakery, gifts for all ages, reproductions, and everything between.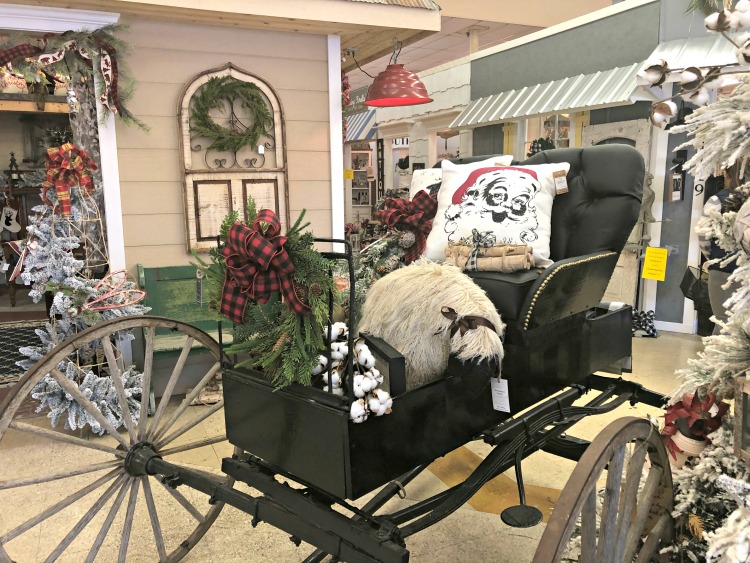 They are doing a 12 Days Of Christmas Cookie Decorating each weekend. Check their page for details.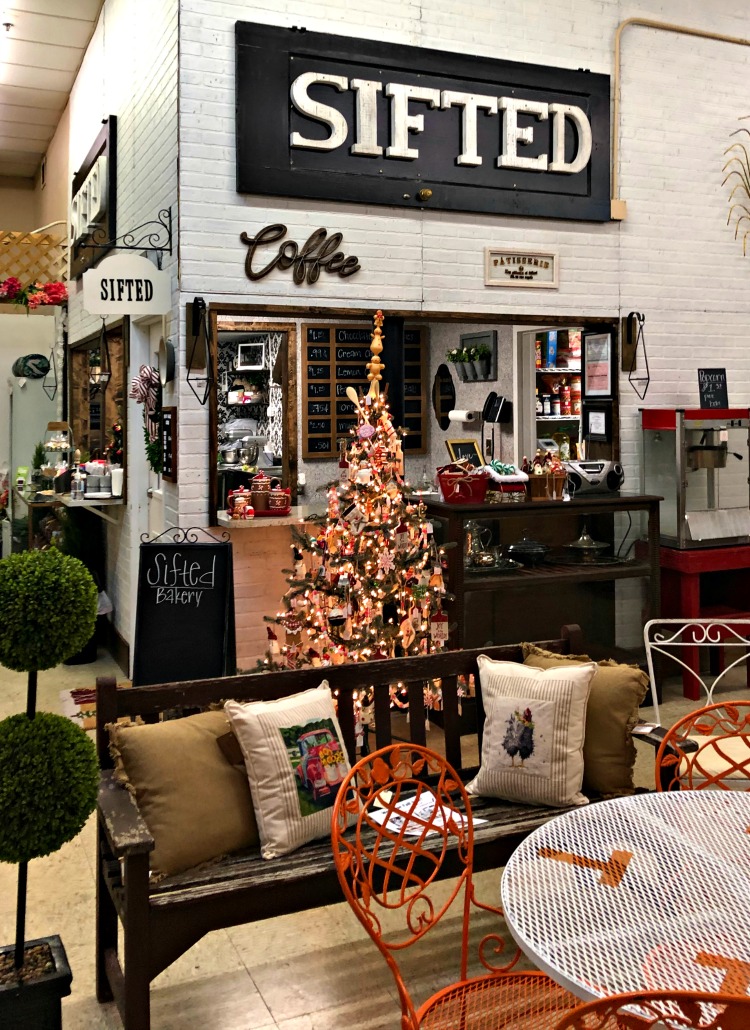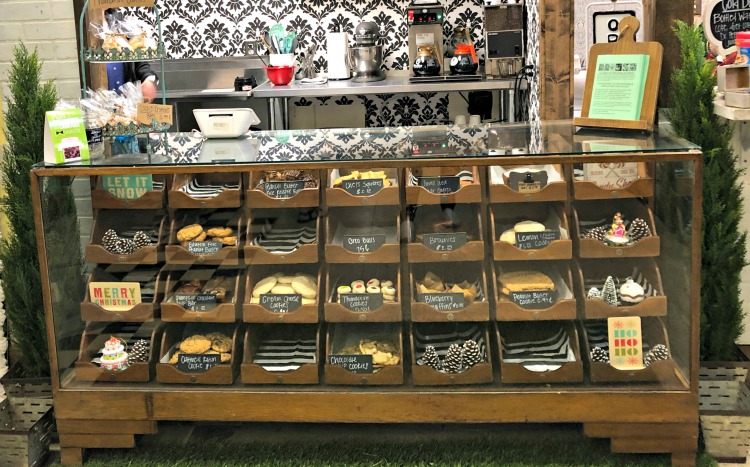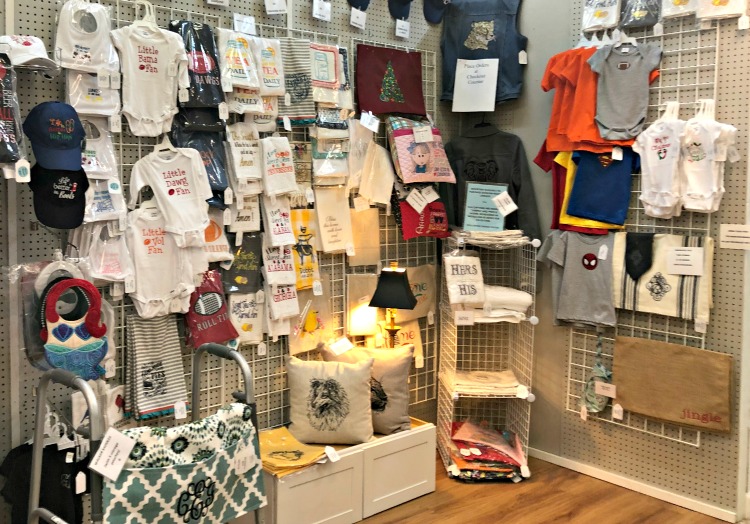 The owners, Steve Watts and Luke Stewart, began selling antiques almost a decade ago in a booth much like what you will find at the Merc. Along the way they quickly outgrew each space opening their first store, The White House. With their success, The Greenbriar and The Redbriar were opened to not only provide a larger home for their own antiques, but also allowing for space for treasures found by their fellow pickers.
With the two shops being successful, it was time to find the perfect location to combine both "Briars" under one roof and offering a truly unique and complete shopping experience. Finally the perfect location was found and building began.
Most of the vendors came from the other shops, and with this larger location, there was space for many more vendors, each with their own unique items. Each vendor is carefully screened to bring something new into the shop. Some boutique items, gift items, food and souvenir items were needed to be able to offer a one stop shop.
Steve and Luke wanted Chattanooga Mercantile to be the 'go to' place for locals and a place where tourists venture in for a break and spend the day. With a tea room and bakery, you now have a shoppers paradise. This is one of my favorite pieces I may have to go back and buy, but hope it will be there.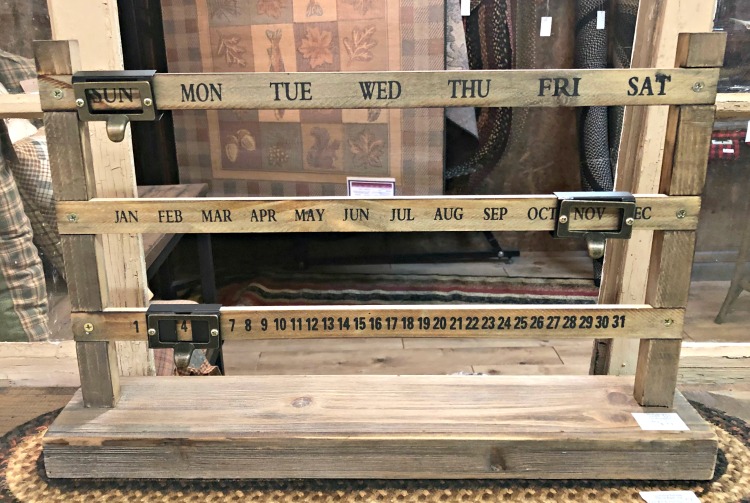 Something which caught my eye as I have ventured through the aisles is how each vendor has spent so much time in making their booth represent their brand and product. I am overwhelmed at the amount of work they have spent in decorating and displaying to make an inviting spot for you to shop or browse. This giant tree will greet you as you enter.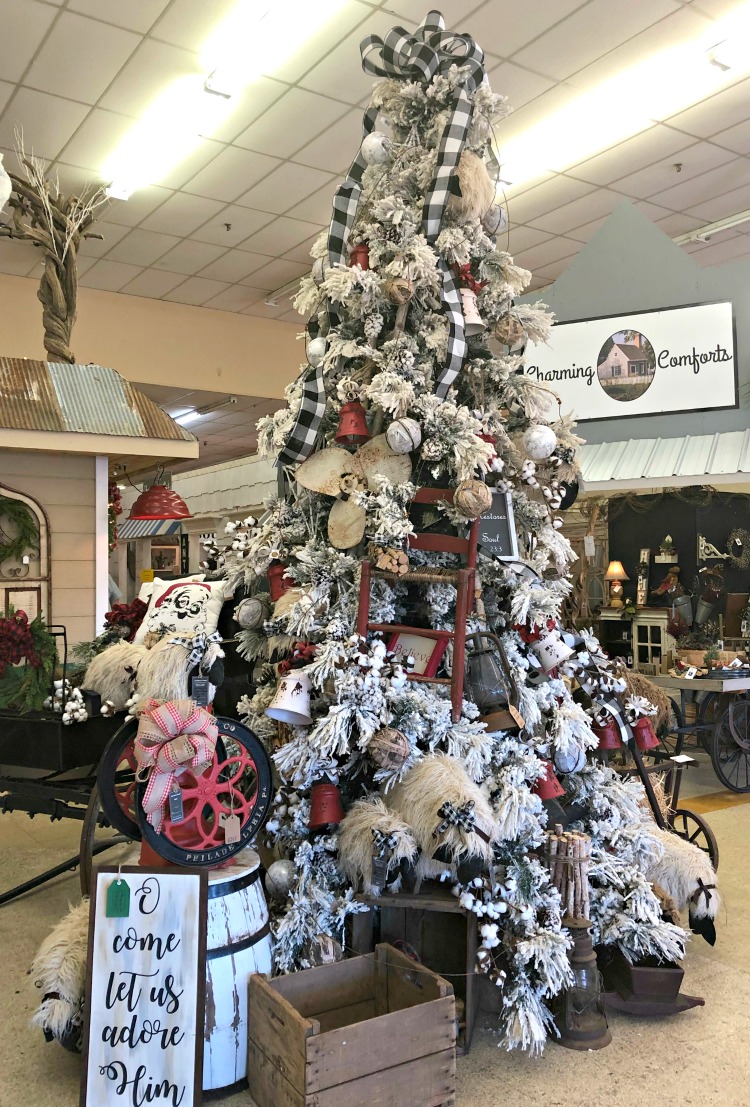 You will find you have to make more than one trip around the shop. Something new is spotted every time you look around. Don't forget to look up too.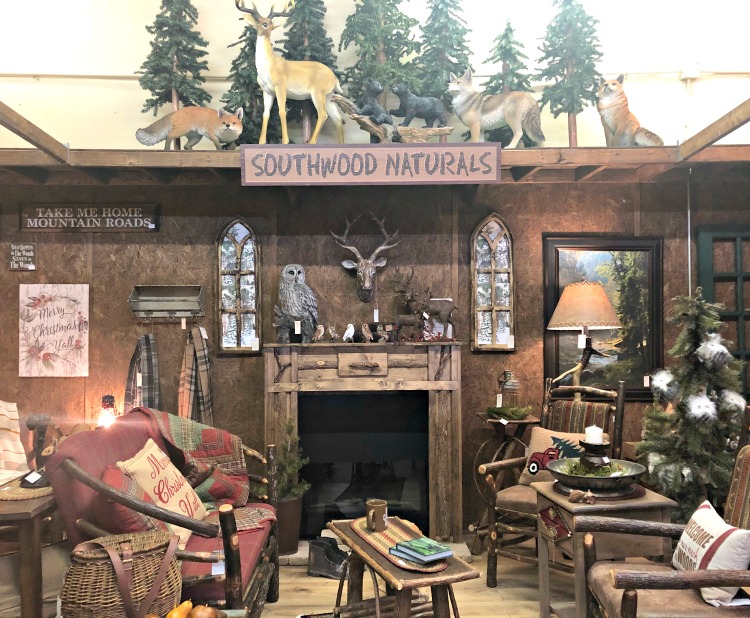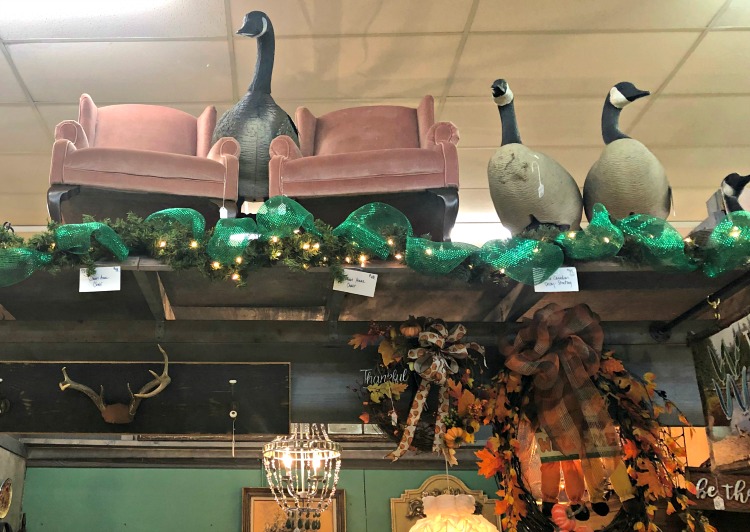 The farmhouse style is still popular in home decor, but you will also find the more traditional items.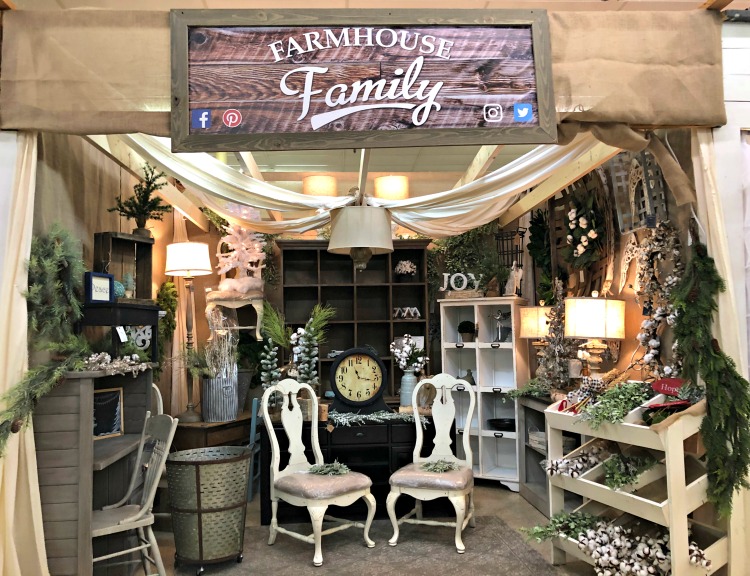 So many items are displayed in a way to give you an idea on how to use them in your own home.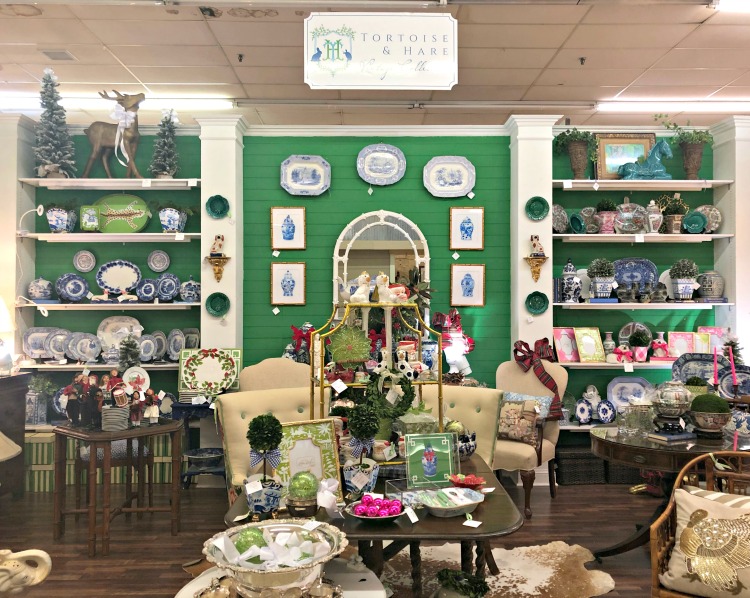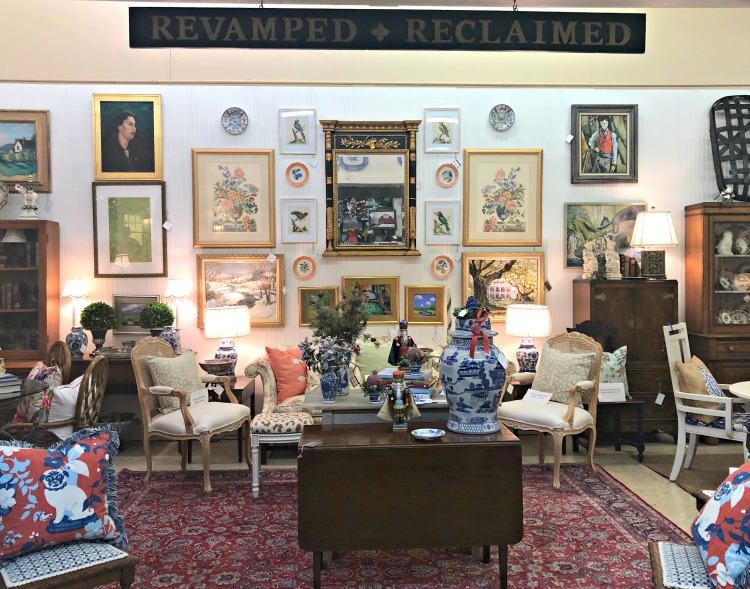 Along with all of the rustic and antiques, there's modern gift ideas to something with the French Country flair.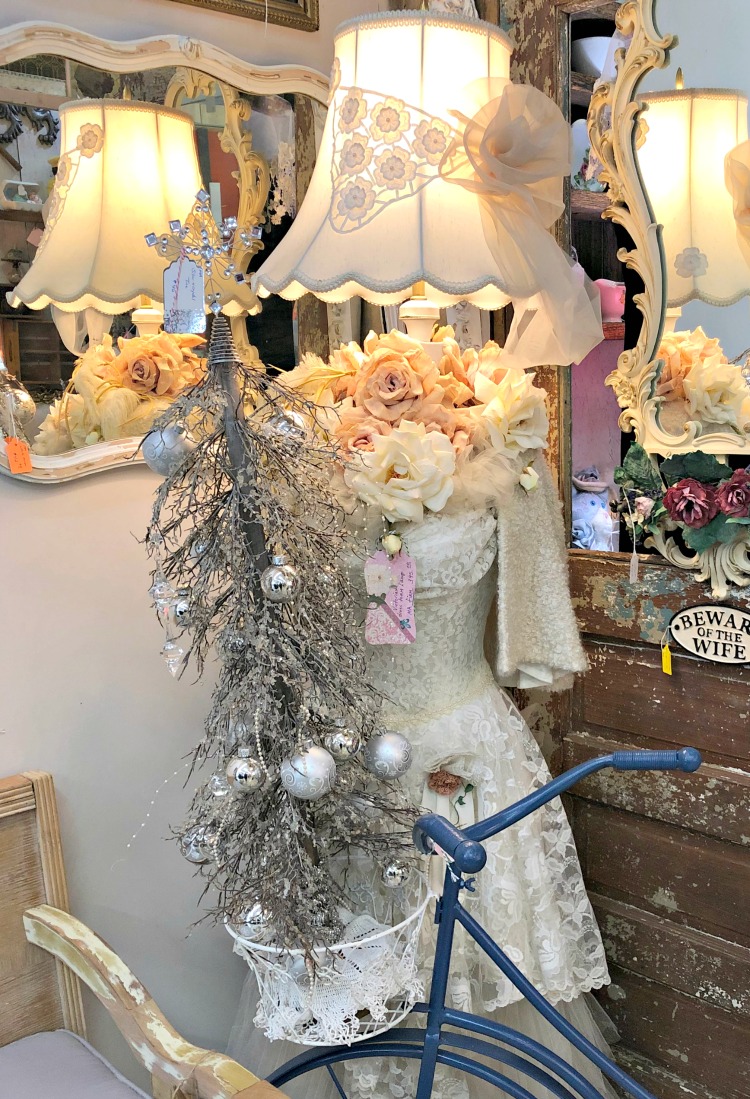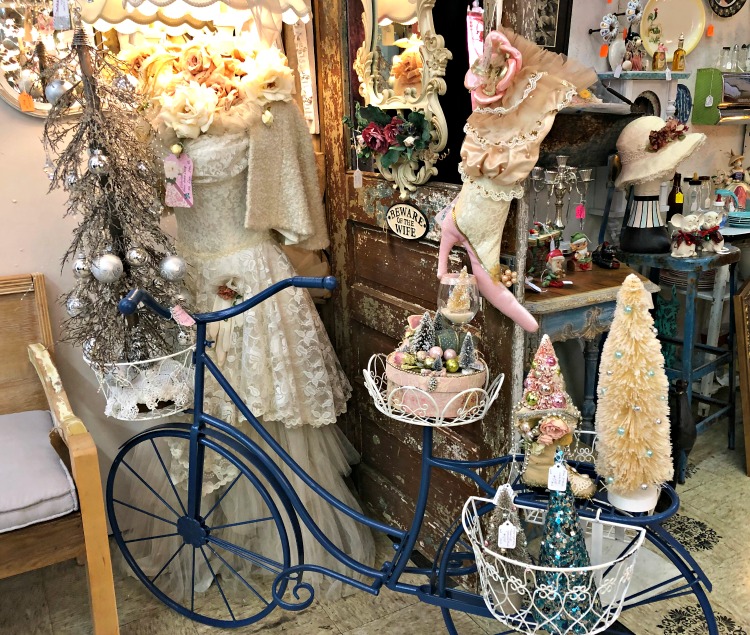 Who's a Christopher Radko collector?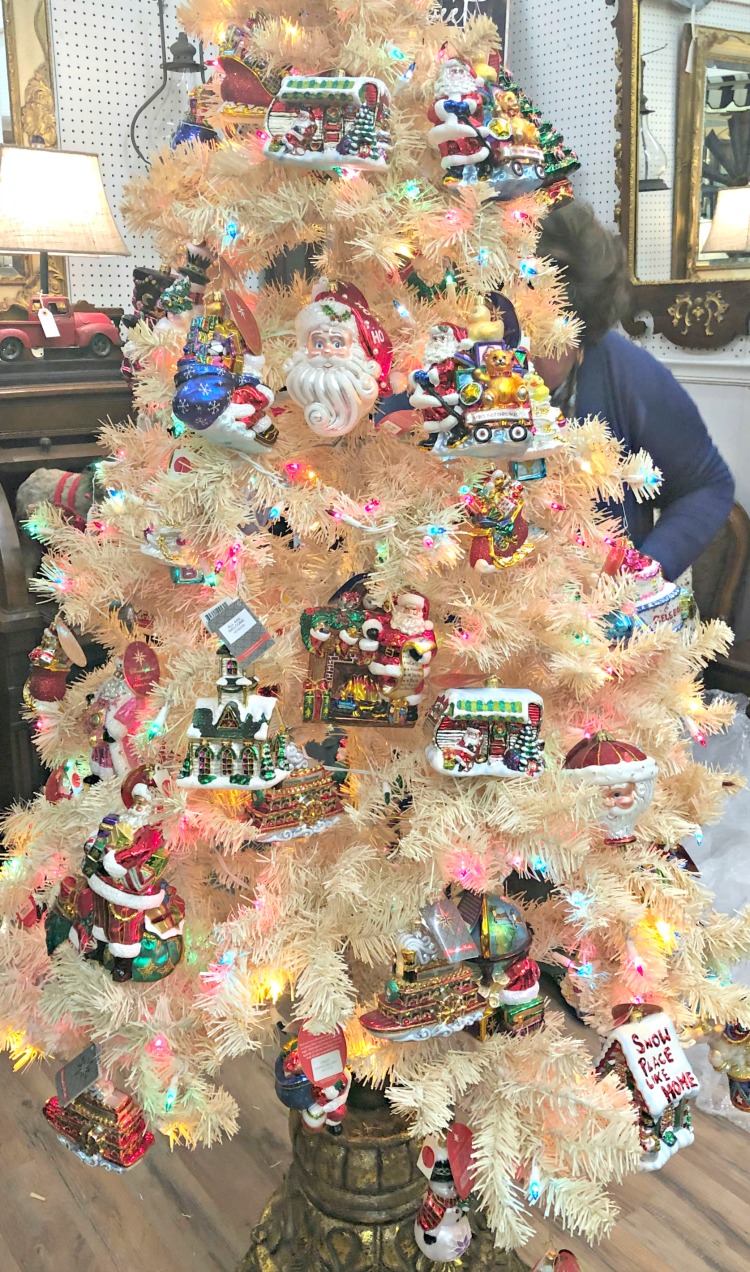 You can go all the way from finding dishes for setting a table, to the full tablescape.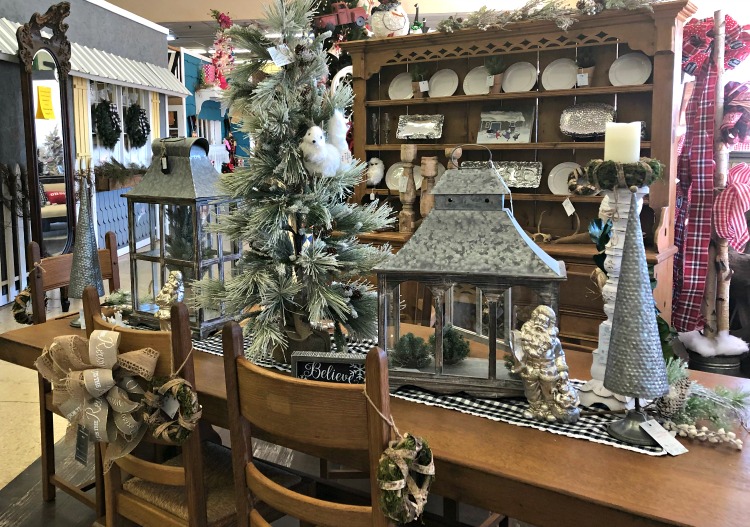 There are so many ideas you can try to recreate at home, but sometimes it's just easier to purchase the item and take it home. Black and white checks, along with Buffalo plaid seems to be the biggest trend in decor right now, not just for the holidays either.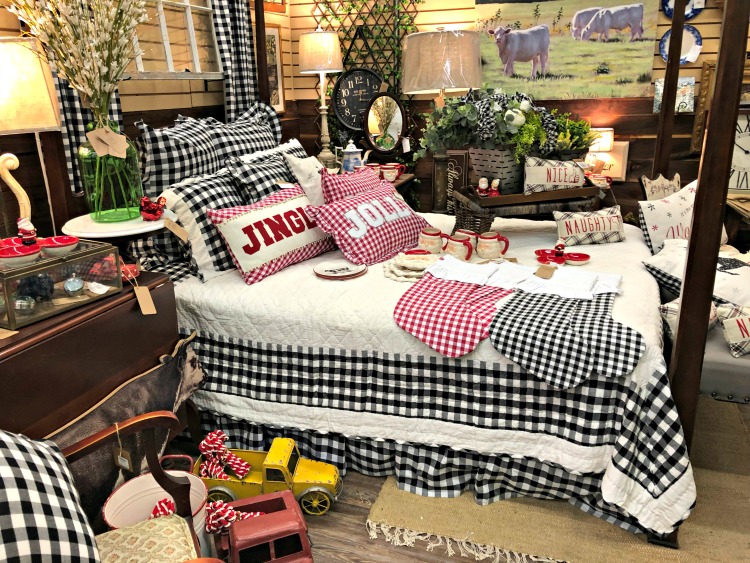 Classy Cove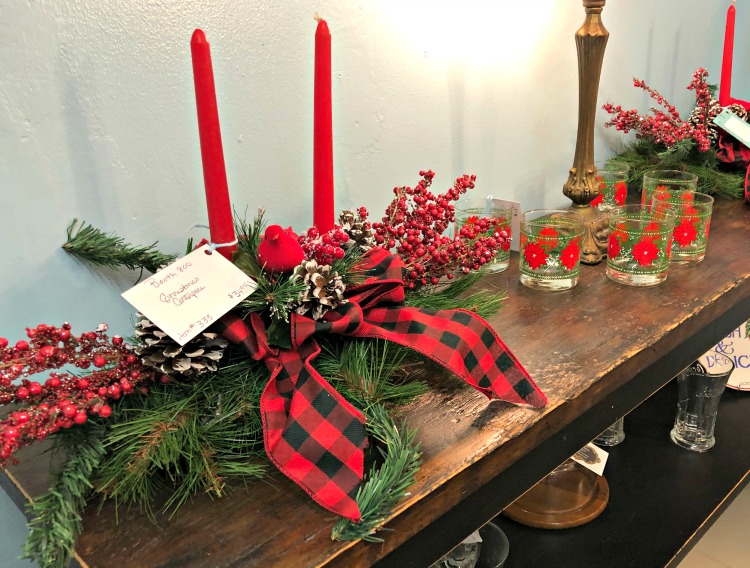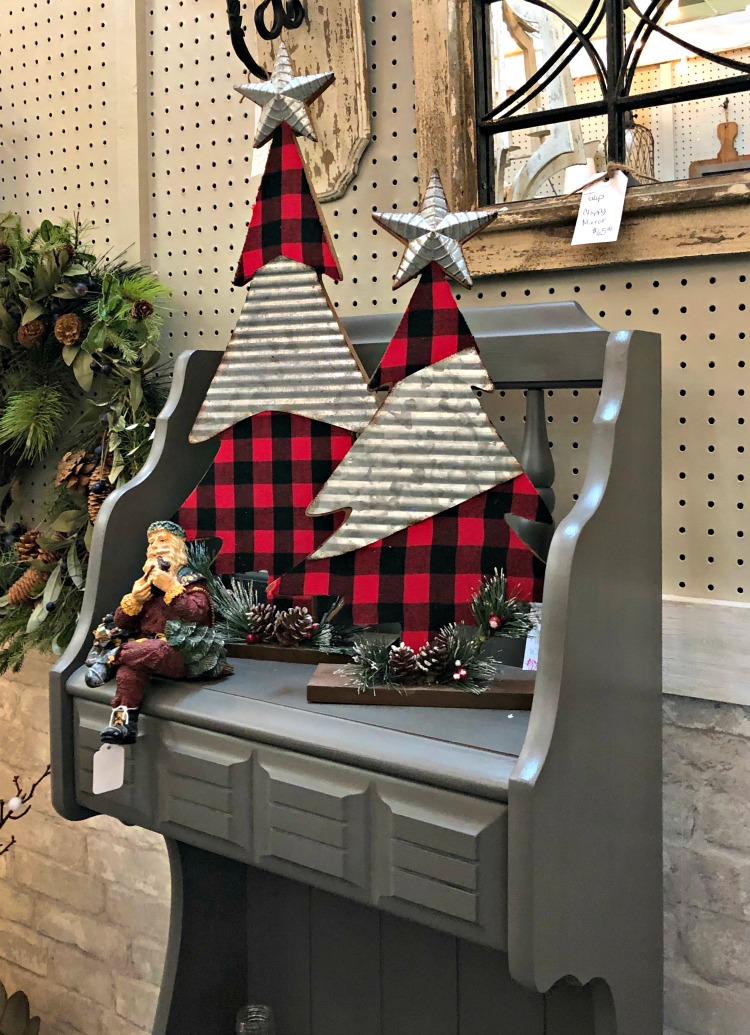 And can I just say if you need Christmas decor and ideas on how to use it, Chattanooga Mercantile will leave you with more ideas than you really need. Take your time and look for the details such as items used in a Christmas Tree you might have never thought of.
Farmhouse Family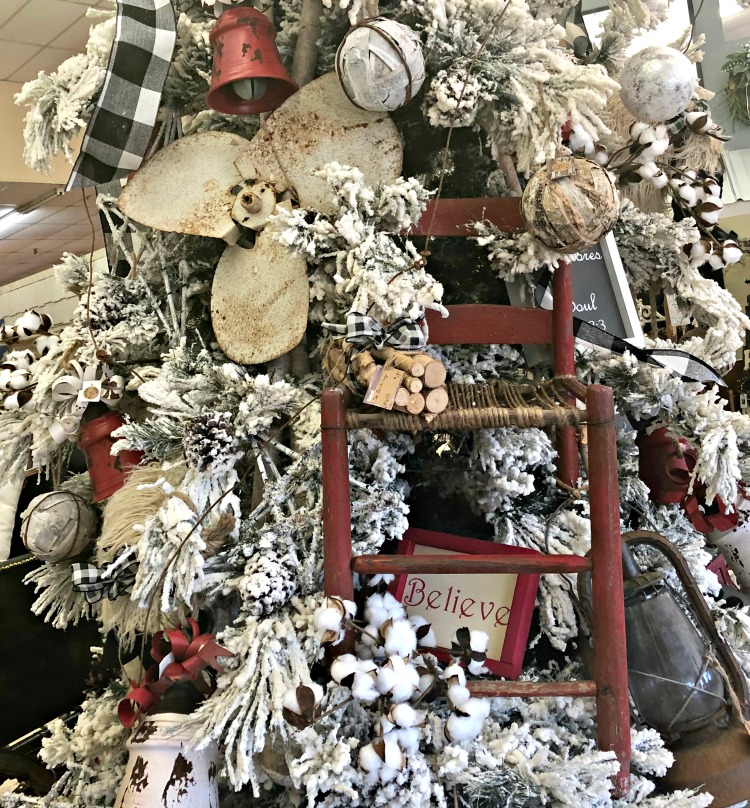 Have you seen one of the latest items all over the internet – a tree made from an old door?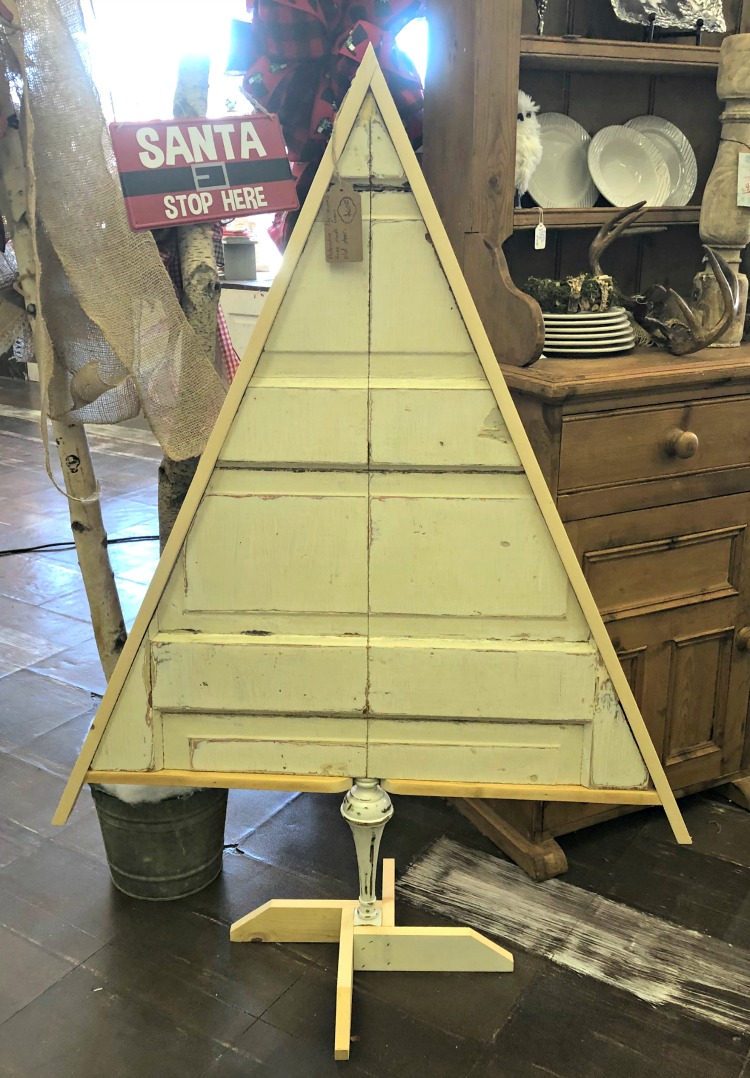 Did you know Moon Pies were made right here in Chattanooga?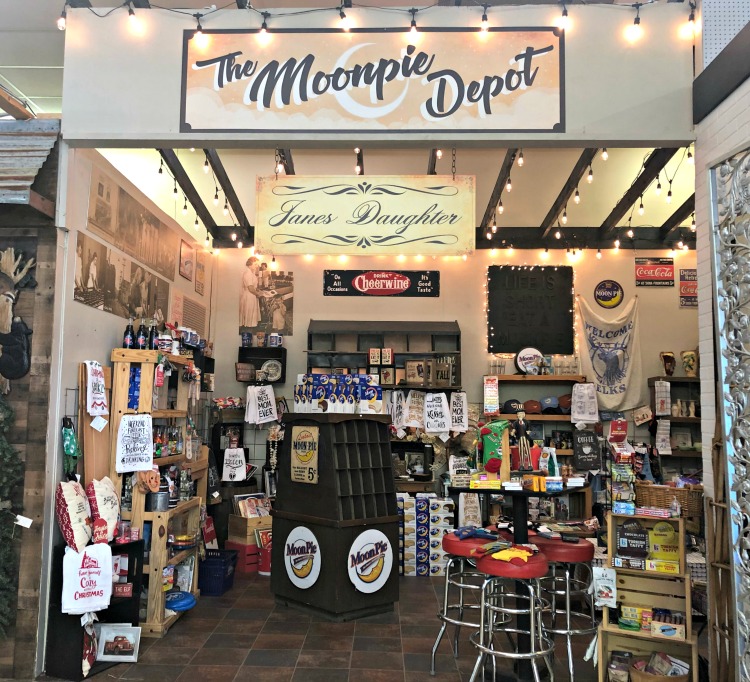 I wish I could share all the booths with their names and pictures, but I'm hoping this sampling is enough to make you want to come out this weekend for the Christmas Open House.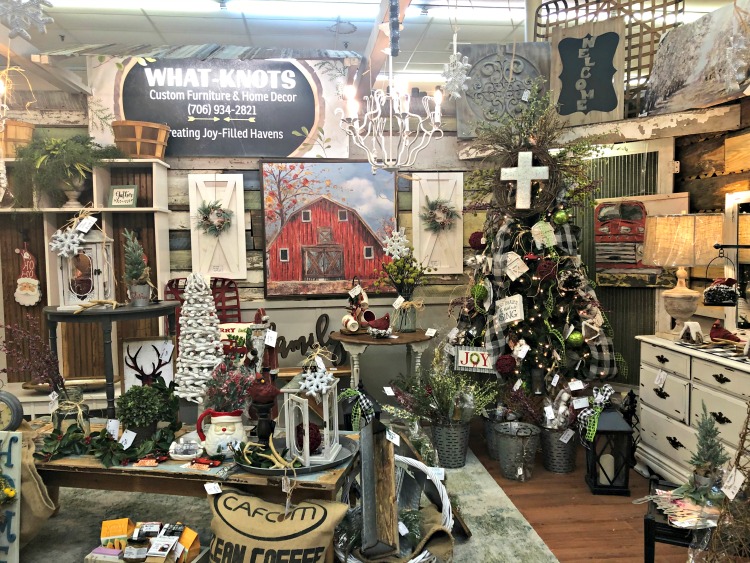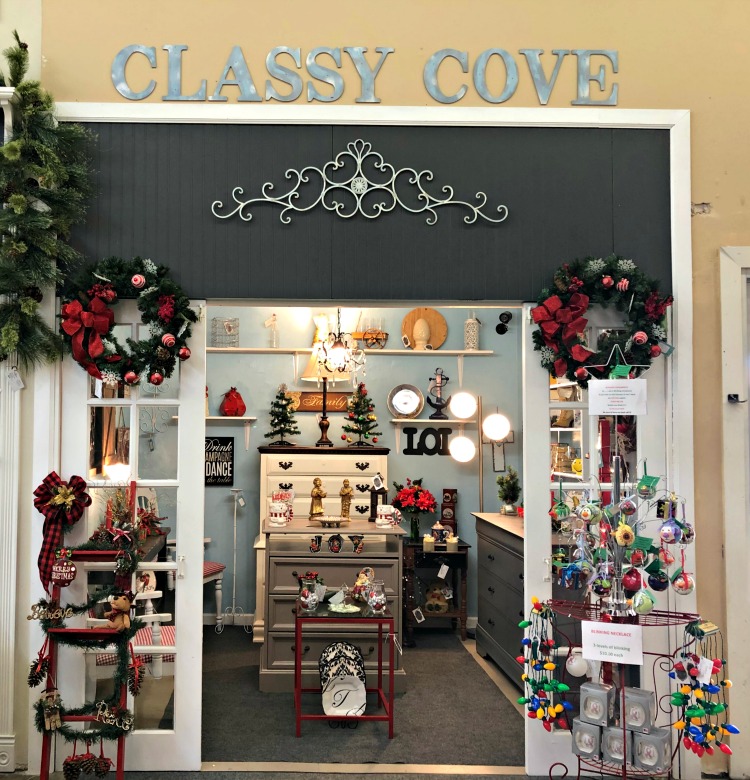 A little gift shop inside Chattanooga Mercantile.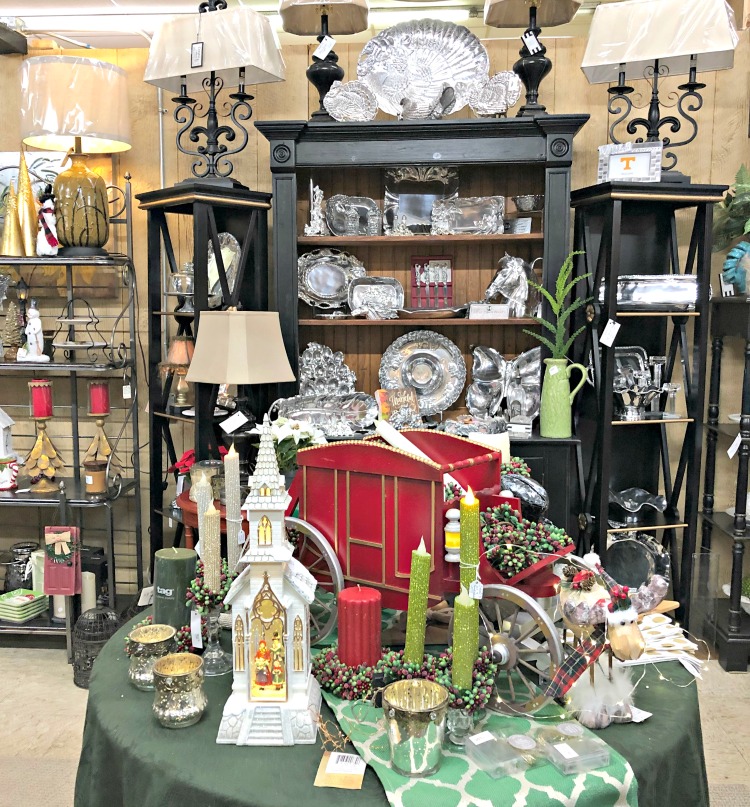 I'm sure each season and holiday will have just as much. Can you imagine all the bunnies, birds, and eggs you will see for the Spring?
The newest opening is Mammie Carlotta's, a tea room, which they hoped to open on the original opening date in August, but saw it was going to be a very special place and deserved it's own special attention and opening.
Named to honor two very special women, Luke's Grandmothers, Mammie and Carlotta, would be so proud of the attention to detail Luke put into this tearoom.
When you step in, you feel how the heritage of Southern Hospitality and grace is reflected in the decor and menu.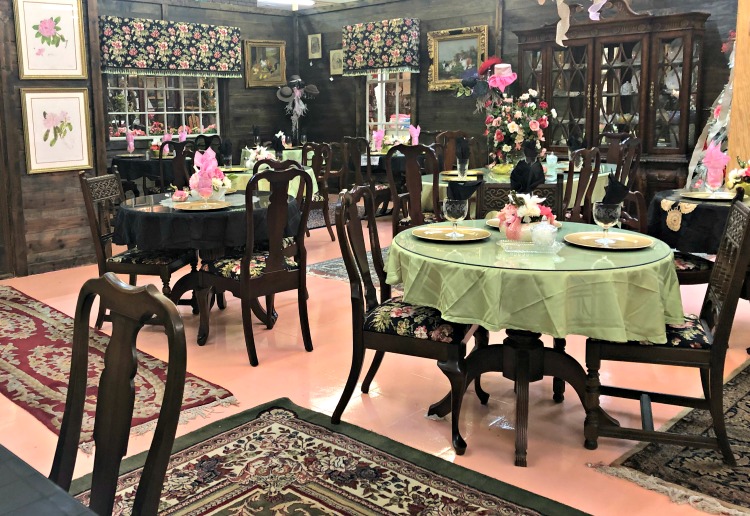 It's open daily from 11 – 3, but watch for some special occasions during the evening hours. Look for a full review after I have the opportunity to try the full menu.
Many vendors are in full Christmas mode with the Christmas Open House this week, beginning on Thursday going the whole weekend until Sunday. ** Open House was a huge success.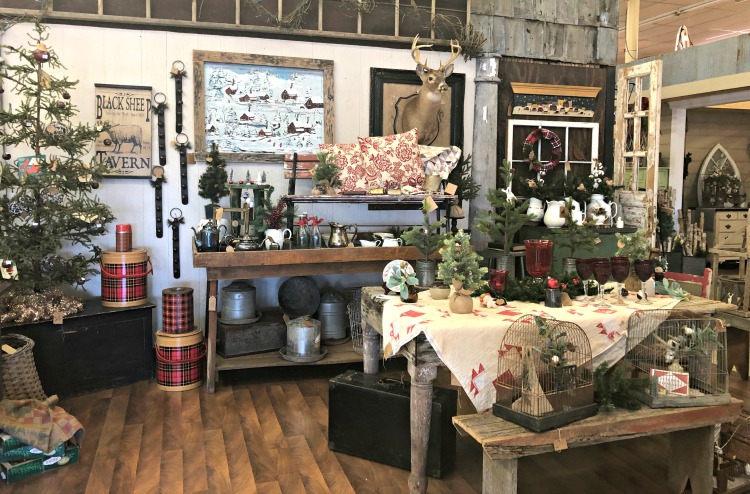 Any questions, ask the friendly staff. They will even help you load your purchases.
Many vendors are linked so you can check out their FaceBook page. I'm sure they would love any Likes and support.