We had lived in our home about 6 months when right before Christmas we had a package left on our porch not addressed to us. It wasn't the name of the person we bought the house for so we didn't recognize the name. No name in the phone book (yes it was a few years ago).
We opened it as it had no return label so maybe we could find out how to find who had sent it. To our surprise it was full of Hershey candy products. Really full – probably about 15 pounds of pure chocolate.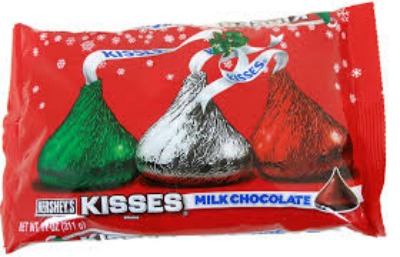 It came from a local company so the next day I called them. The person didn't work for the company any longer and they told us to keep it. If it was returned since it was edible, it would be destroyed. Yeah – Merry Christmas to us.
Well, we enjoyed the candy and didn't think much more about it – until the next year.
Yes – another package arrived, not quite as much candy but still all Hershey. I called the company again, and was told to keep and enjoy. We did.
Now for the 3rd year – a larger package arrived and we were excited but quickly a bit disappointed as there was a huge lot of wrapping paper and supplies in it with just a little candy. Since the paper didn't match my color that year, we gave it away but kept the candy.
It was becoming a joke if we was going to get the candy every year. Guess what – the 4th year a package of candy arrived. By this time I felt like I had called and notified them in the past so this time, we just enjoyed it and thought maybe we had a candy angel.
On the 5th year, yes another package, although smaller arrived.
Sadly after that our candy angel had disappeared. I think the company had gone out of business so I guess there was no Christmas presents sent out.
Oh well, we enjoyed it while it happened.
Do you have any weird happenings like this? Have you ever sent gifts without a name tag?