Red Velvet Brownie Bites Made With Buttermilk
You can't be a true Southerner and not love Red Velvet Cake, but have you tried Red Velvet Brownies? You will think you have died and gone to heaven. These Red Velvet Brownie Bites made with buttermilk are more than just a chocolate, fudgy brownie with red food coloring. A traditional Red Velvet Cake recipes calls for vinegar so I thought Red Velvet Brownies made with buttermilk would help with a real Red Velvet Cake taste – and it did.
I love using buttermilk in recipes, one of my favorites being German Chocolate Cake. Here's my Mini Trifles. It seems it's not used as much in more modern recipes, but it's a staple in my house. Who can make cornbread without buttermilk?
I wanted to jazz these brownies up a bit for a Christmas party and thought if they were made to look like Santa Hats or sprinkled with peppermint, it would add to the holiday feel.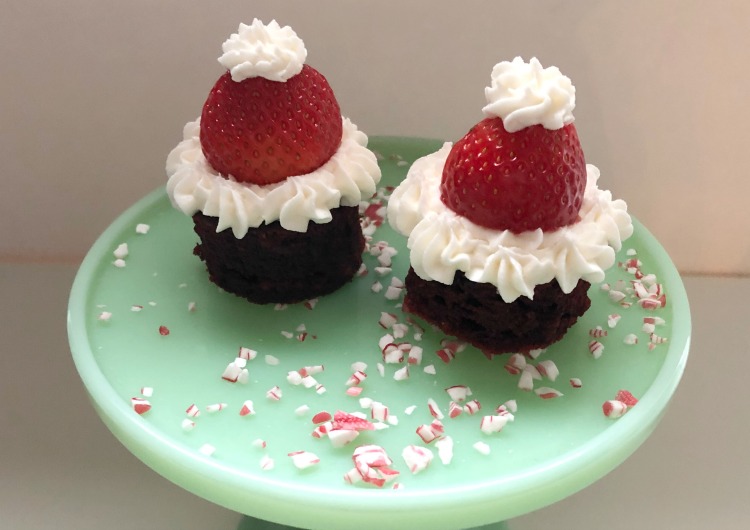 A traditional Red Velvet Cake has Cream Cheese Frosting or my favorite is a flour based frosting. But since I wanted to pipe frosting on, I used my Best Buttercream Ever Recipe. And it is the best.
Do you follow me on Pinterest?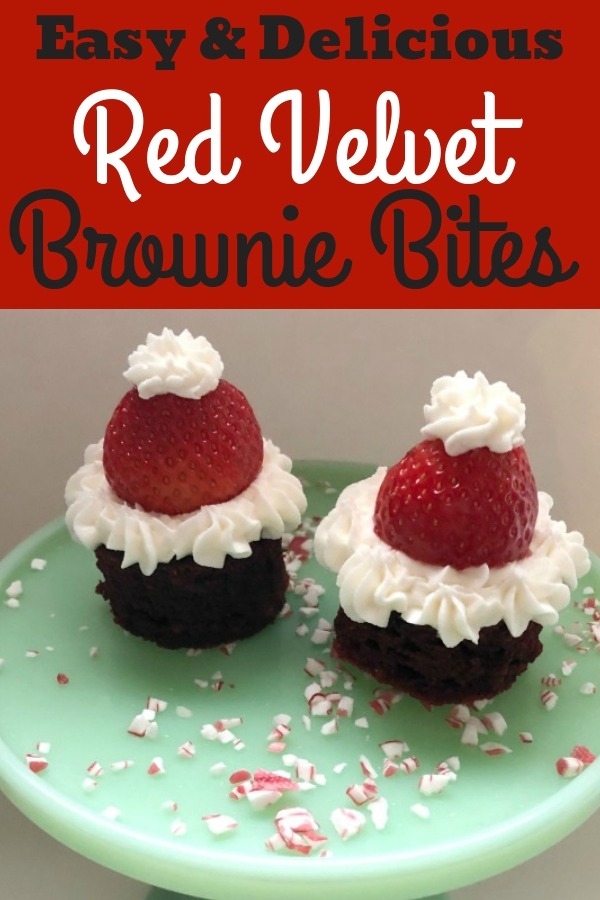 Red Velvet Brownies Bites Made With Buttermilk
Ingredients
2 cups all-purpose flour
2 cups sugar
1 teaspoon baking soda
1/4 Teaspoon salt – omit if using salted butter
1 cup butter
1/3 cup unsweetened cocoa powder
1 cup water
2 eggs
1/2 cup buttermilk
1 1/2 teaspoons vanilla
1 – 1 ounce bottle red food coloring (2 tablespoons)
Directions
Preheat oven to 350 degrees
Spray a 9″ x 13″ baking pan with non-stick spray
Combine butter, cocoa and water in medium saucepan
Heat this mixture to almost boiling
Remove from heat
Set aside and cool to touch
In large mixer bowl, mix together flour, sugar, baking soda and salt (if used)
Add cooled cocoa mixture to flour mixture
Mix on medium to medium high until combined
Add eggs, buttermilk, vanilla, and red food coloring.
Mix an additional 1 – 2 minutes.
Pour into prepared pan
Bake for 30 – 33 minutes, until toothpick comes out clean
Cool for 10 minutes in pan then invert onto wire rack to cool
Store in air-tight container
Frost and decorate as desired
A few hints & tips
Red food color is very intense, be careful when using
This batter is thinner than normal brownie batter
To cool cocoa mixture quicker, pour into another dish
To make the Santa Hats…
Strawberries should be washed and dried well. Cut the top and bottom of strawberry to form flat edges.
Place the large, cut end on a paper towel to help absorb some moisture.
Cut circles from cooled brownies with a small round cookie cutter. Mine was about 1 1/2″.
Using a piping bag and star tip, pick starts to cover top of brownie.
Place strawberry on top of piped frosting.
Pipe a star on top.
Since strawberries contain a lot of moisture, these shouldn't be made too far ahead of time.
To make Peppermint Bites…
Pipe or spread frosting on top of brownie.
Sprinkle with crushed peppermint.
Other ideas:
Snow could resemble snow.
Sprinkles of any color.
White sugar to add sparkle.
A dollop of buttercream could resemble a snowball.
Cut as triangles and decorate as a tree like these Christmas Tree Brownies.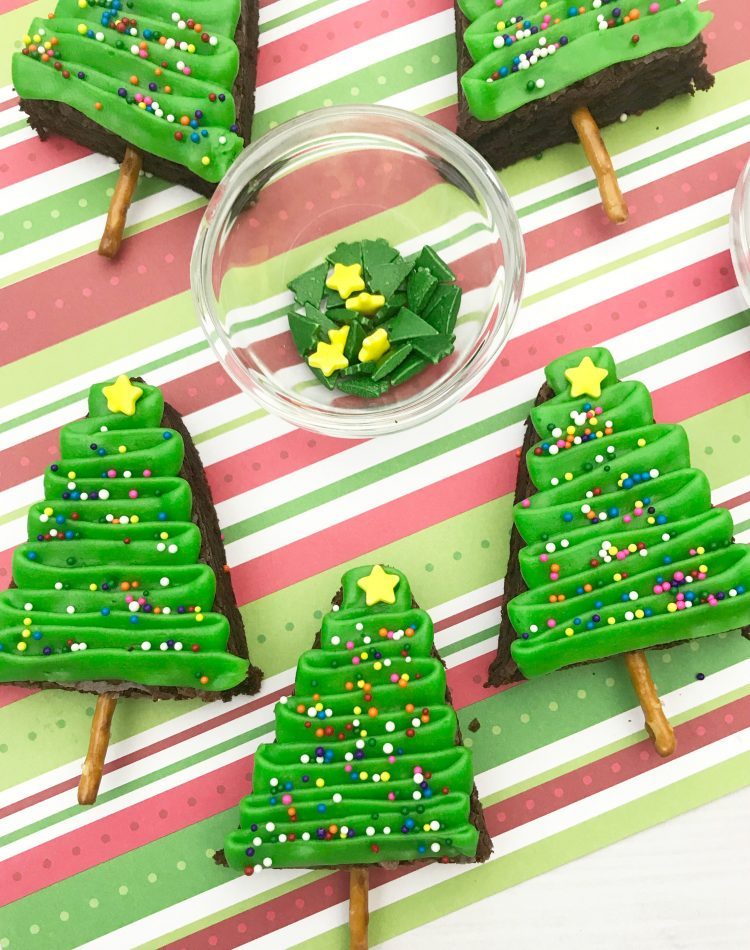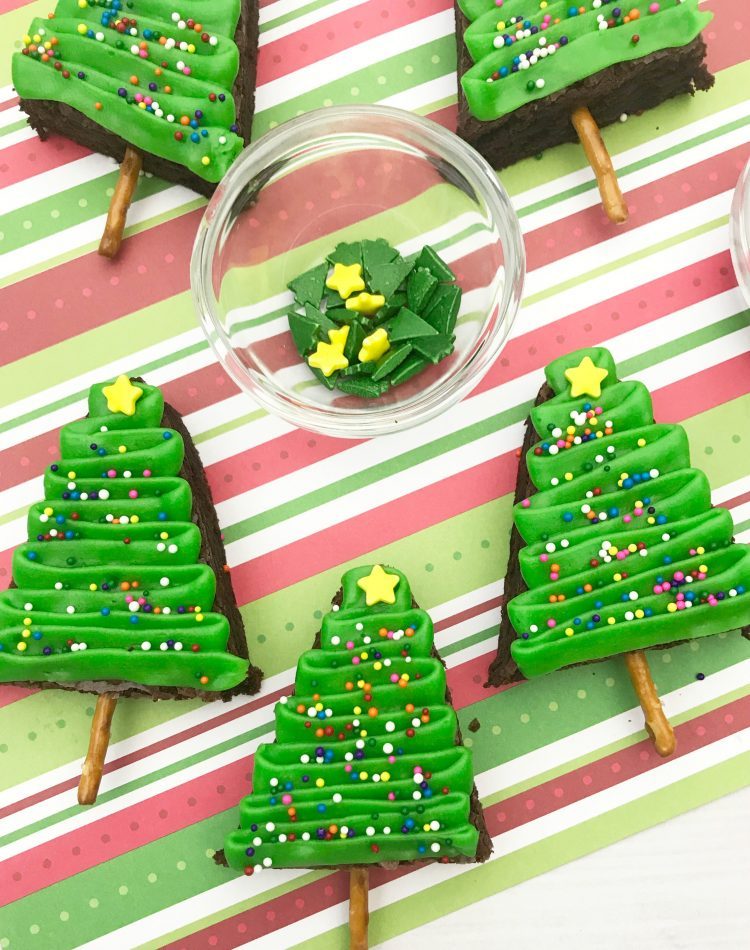 Or as a snow tree.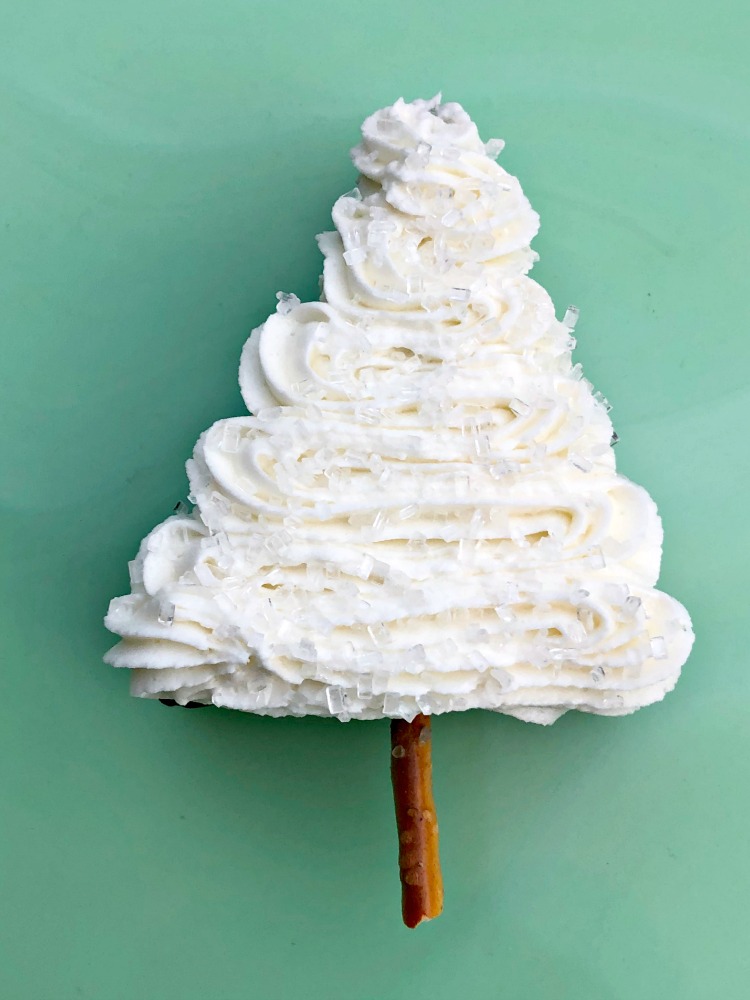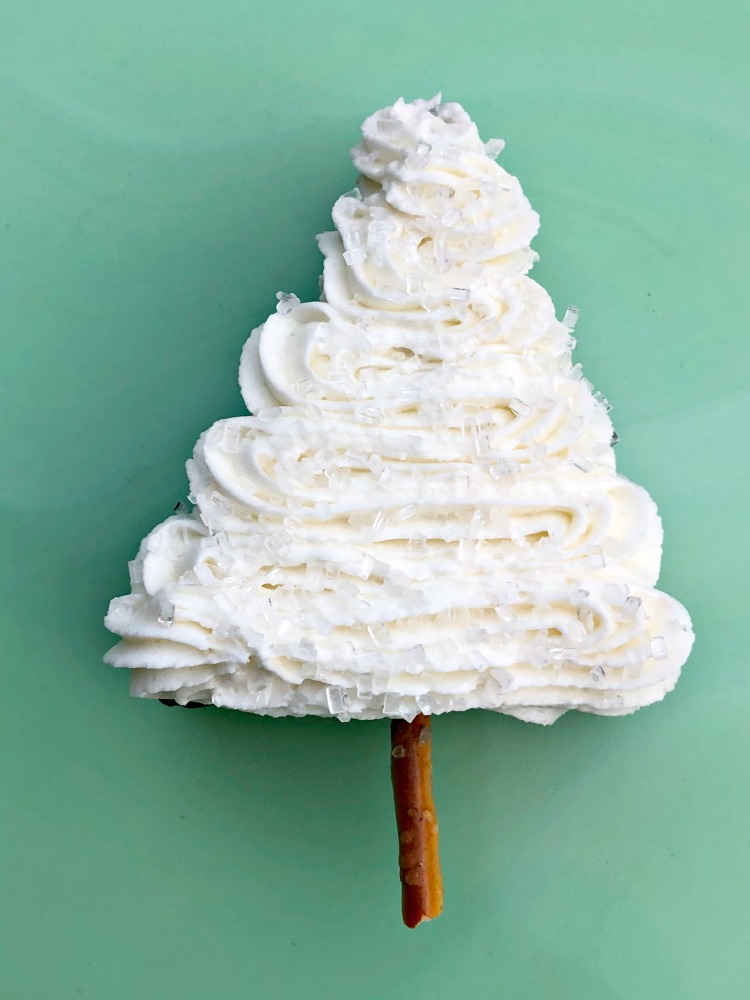 The ideas are almost endless.
I've included affiliate links to Amazon for you to find some products easier. I may receive a small commission, but the price is the same for you. It just helps my blog out.
Happy Travels,
Rosemary