Day Ten of Twenty Five Days of Christmas. Don't forget your fur babies at this time of the year. These No Bake Dog Treats Your Pup Will Love are super simple and easy to make! It's time to give your pup a treat as well, right?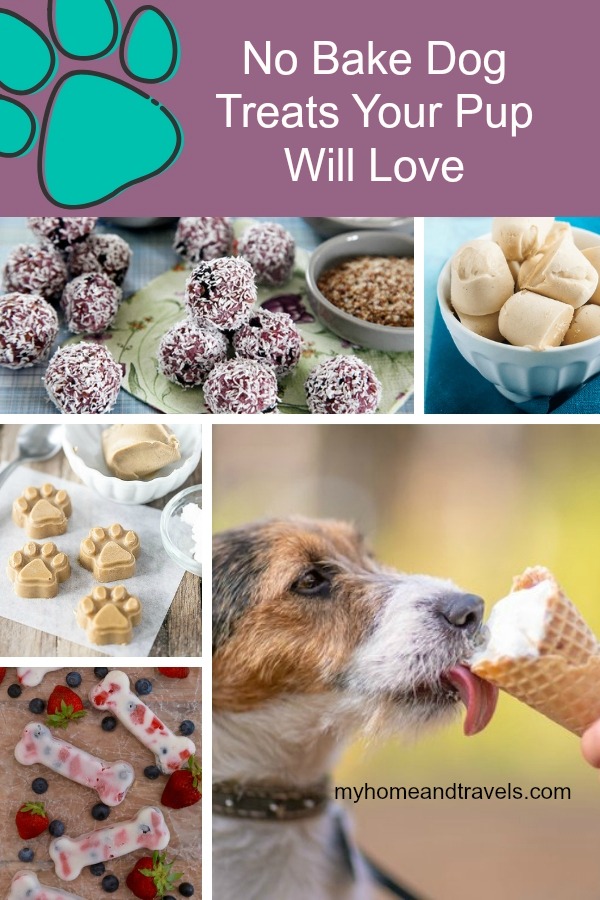 If you're looking for some homemade dog treats for your four-legged furry best friend, these 20 no bake treats are just what you've been searching for! But beware, some of them sound so delicious and easy to make that you might find yourself tempted as well!
Make up some fun snacks for your pup with ease for the upcoming months. Making them homemade is always a better idea than buying them from the store! Not only are you saving money, but you know exactly what ingredients are in them as well!
20 No Bake Dog Treats Your Pup Will Love
Peanut Butter Coconut Oil Dog Treats – They'll gobble these right up!
Spiced Apple Gummy Dog Treats – Sounds so good and perfect for Spring.
Homemade Dog Treats – One can never have too many homemade recipes.
Berry Bliss Ball Dog Truffle – Truffle? Yes, your dog deserves these!
Frosty Pumpkin Dog Treats – The perfect Fall treat!
Watermelon and Yogurt Frozen Dog Treats – Talk about a great way to cool down your pup!
Frozen Apple Dog Treat – They'll love this homemade recipe and so will you.
Apple and Chicken Pup Pops – The combination of apple and chicken can't be topped.
Puppy Ice Cream – Everyone loves ice cream.
No Bake Peanut Butter Dog Treats – No baking at all!
Homemade Frozen Dog Treats – Frozen for pups is always a good idea!
Peanut Butter Banana Frozen Doggy Bites – Give them some peanut butter and fruit!
Homemade Frozen Pumpkin Banana Pup Pops – Another great pumpkin recipe for your dog.
No Bake Coconut Dog Treats – Surprise! Your dog may love coconut!
No Bake Dog Treats – Don't turn on that oven with these homemade treats.
Easy Three-Ingredient Homemade Dog Ice Cream – Only three ingredients!
2 Frozen Ingredient Frozen Pumpkin Yogurt – Better yet..this one only has two ingredients!
DIY Dog Ice Lick Dogsicle – Your dog will lick away this treat!
Homemade Doggie Breath Freshener Treats – Give your dog fresh breath!
Banana Blueberry Ice Cubes – These ice cubes are so refreshing and delicious!
While some of these homemade dog treats are great for the summer months, others are good for all year long. Treat your pup's taste buds with these delicious homemade dog treats!
Do you have a favorite homemade dog treat recipe?