If you're looking for a delicious recipe for fall, you're going to love the taste and the flavor of these Pumpkin Spice Energy Balls. Not only are they quick and simple to make, but they also pack on quite a delicious flavor as well.
I love the fall. Everything is cooler, the air is crisp and you can almost find any type of food or drink item flavored pumpkin. It's almost a slight obsession for those of us who like pumpkin….You know what I mean, right?
Wandering to the store to see what pumpkin-flavored item we can find sitting on the shelf…and it seems that the stores are rolling those items out earlier and earlier as well.
This year, I'm prepared and I'm happy to share this delicious pumpkin recipe with you. You're going to love the ease and simplicity of this recipe!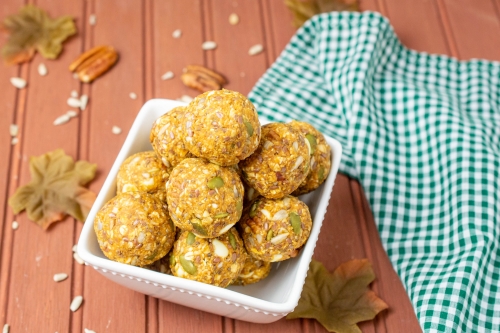 Pumpkin Spice Energy Balls
The great part about this homemade pumpkin recipe is that you just need a few simple ingredients.
Ingredients needed for pumpkin spice energy balls
1 C quick cooking oats
¼ C roasted, salted pepitas (shelled pumpkin seeds)
¼ C raw sunflower seeds
2 tablespoons flax seeds
1 tablespoon chia seeds
⅓ C pecans halves, broken into pieces
⅓ C white chocolate chips
½ teaspoon ground cinnamon
¼ teaspoon ground ginger
¼ teaspoon ground nutmeg
⅓ C pumpkin puree
¼ C honey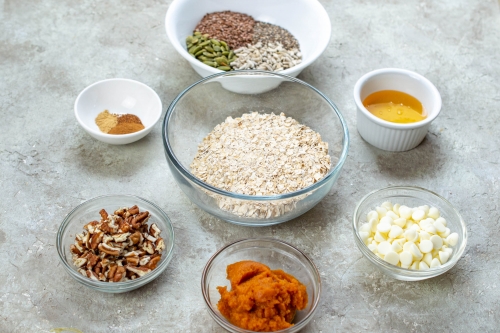 How to make Pumpkin Spice Energy Balls
In a large mixing bowl, combine all ingredients.
Use a rubber spatula or a spoon to mix together.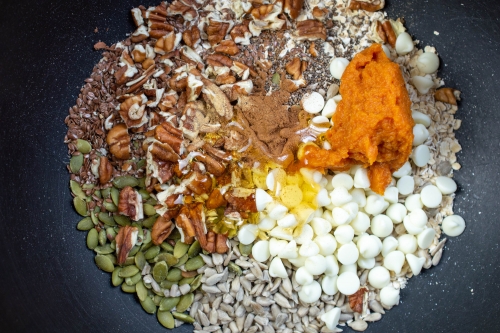 Mixture will look wet and will be "loose" and not stick together.
Pack mixture into a small ice cream/cookie scoop (about 1 ½ – 2 tablespoons).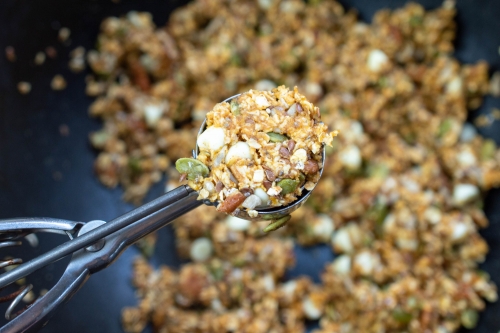 Scoop into your hands and start making a ball by first "mushing" and transferring back and forth between hands until it holds together then roll into a ball.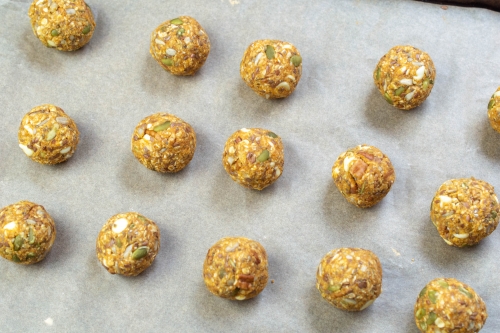 Place on a cookie sheet and chill in the refrigerator for 15 minutes.
Store in a ziplock bag or container with lid in the refrigerator.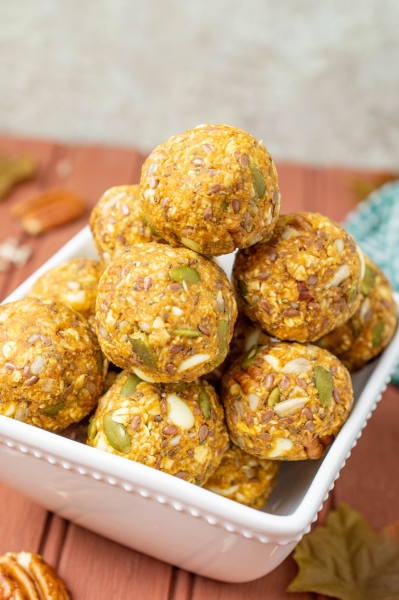 See how simple and easy this recipe is to make? You are going to love the taste and flavor!
If you like this recipe, make certain to check out these as well:
Have you ever made your own pumpkin spice energy balls? Pin these for later.