This Oreo Pumpkin Trifle Dessert is perfect for upcoming holiday meals, including Thanksgiving. It is made with an Oreo crust, pumpkin mousse, and whipped cream. Don't you just want to dive into this? This could become your new favorite pumpkin dessert for the Fall season.
Remember this dessert? My PUMPKIN MOUSSE served in a chocolate drizzled Martini glass with candied pecans?. Well, it's still a favorite but I thought it was time to give a bit of an update. It was part of the inspiration for the Oreo Pumpkin Trifle Dessert.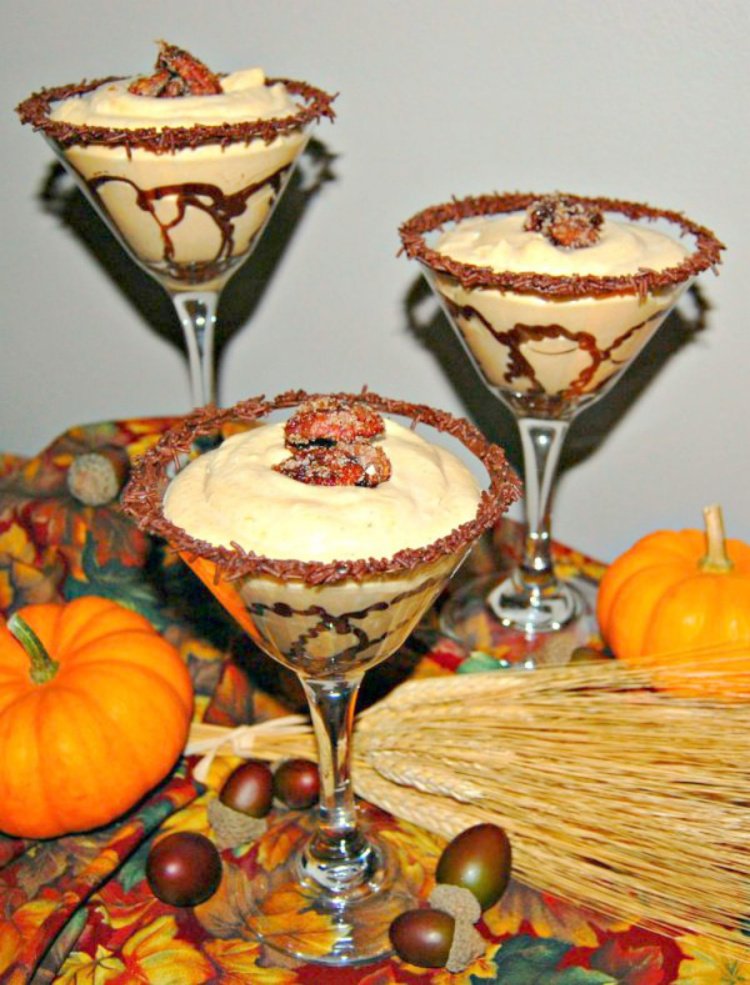 If you are looking for a unique dessert to share with family and friends for the holidays, this is it. Make a day ahead of time as a time saver, then add fresh whipped cream and crumbled Oreos last minute.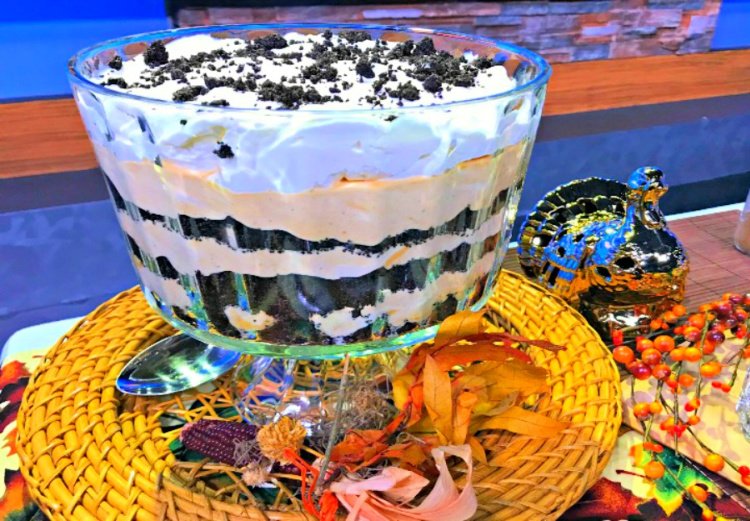 A trifle bowl is a great serving dish to have if you don't have one yet. I've included a link here for you to check out which is similar to mine.
I love to use these for any layered desserts and salads.
If you don't have a trifle bowl, any taller bowl, even the bowls which remind you of fish bowls will work well.
A few alternate ideas for serving this Oreo Pumpkin Trifle is in individual servings.
Make in Mini Parfait Glasses
Inspired from one of our favorite restaurants, Seasons 52, these small desserts are great for when you want just a bite of something sweet after a meal.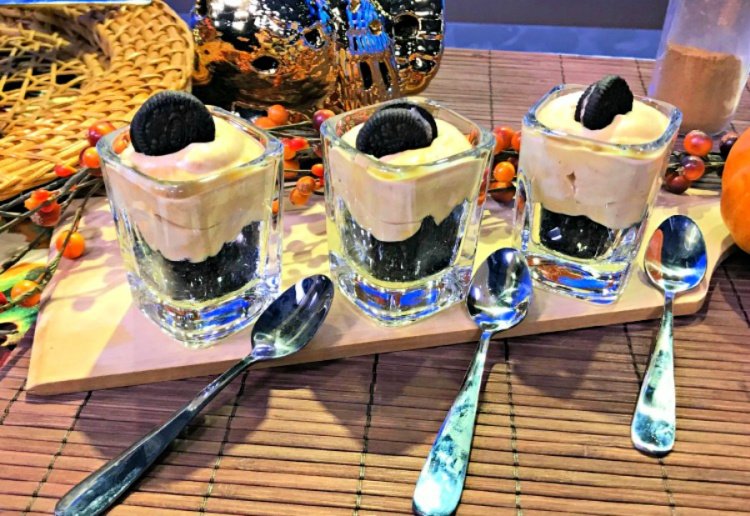 Whipped topping could be added to these also. Garnish with Mini-Oreos or crushed Oreos.
Make them ahead of time also and put on your buffet table so everyone can have a few bites.
As always, remember to Pin this for later ideas and to grab the recipe.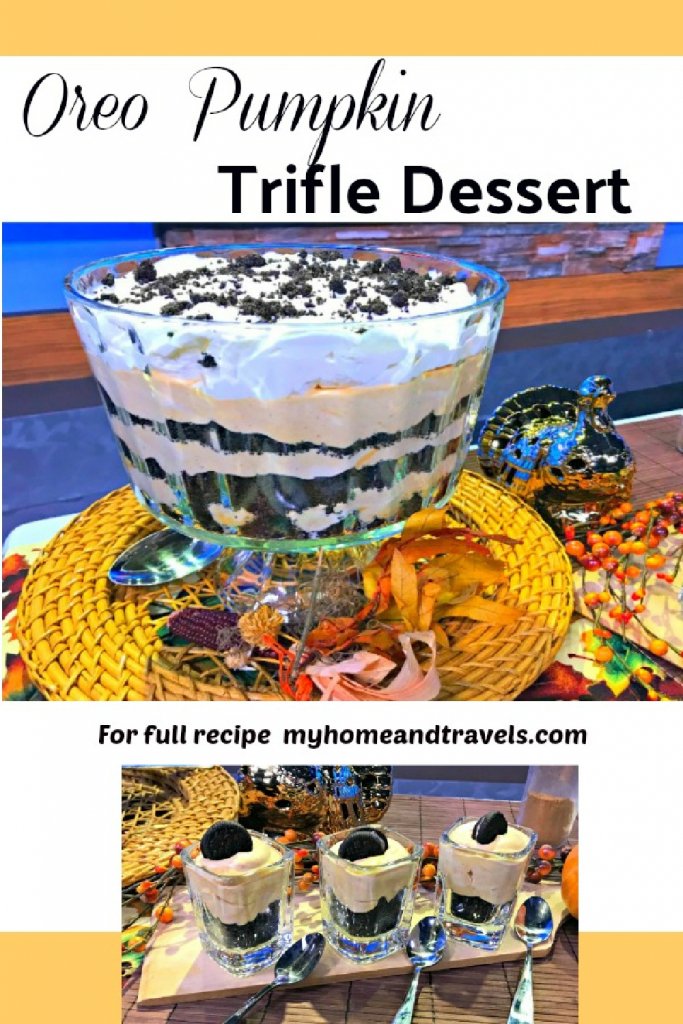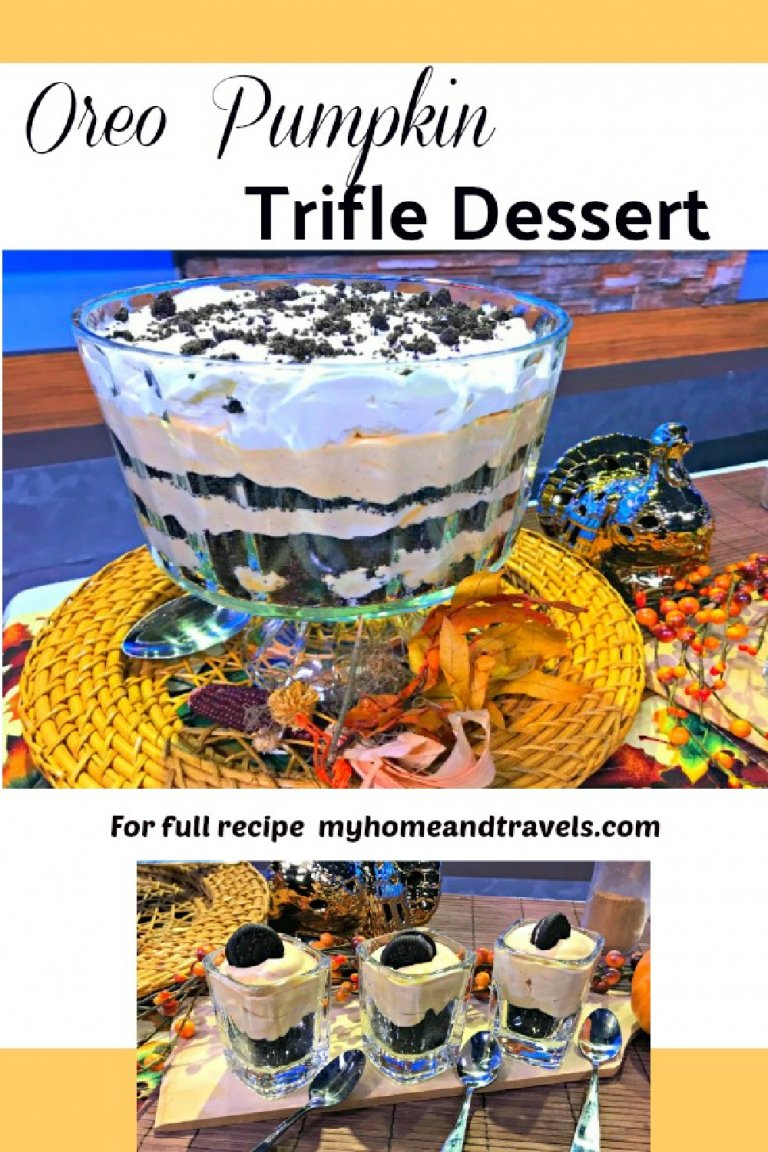 Here's a link to glasses which not exactly like mine since they are no longer available.
Even plastic ones for a large group – no washing dishes
MASON JARS
Small mason jars are also a great way to prepare these ahead of time. This is convenient for any holiday gathering or maybe an office party.
Crushing Oreos is much easier with a food processor. If you don't have one, place the Oreos in a Zip-Lock bag and crush with a rolling pin.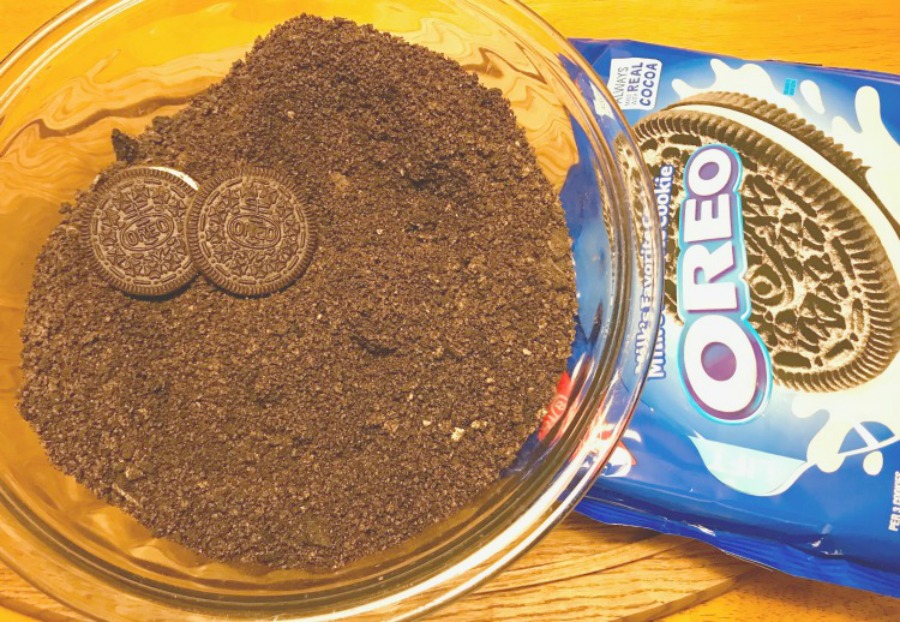 I keep crushed Oreos on hand (without butter) to use as a topping on ice cream. And it makes a great garnish on any chocolate dessert. If butter is added, you will need to refrigerate.
Here's another great dessert to use crushed Oreos.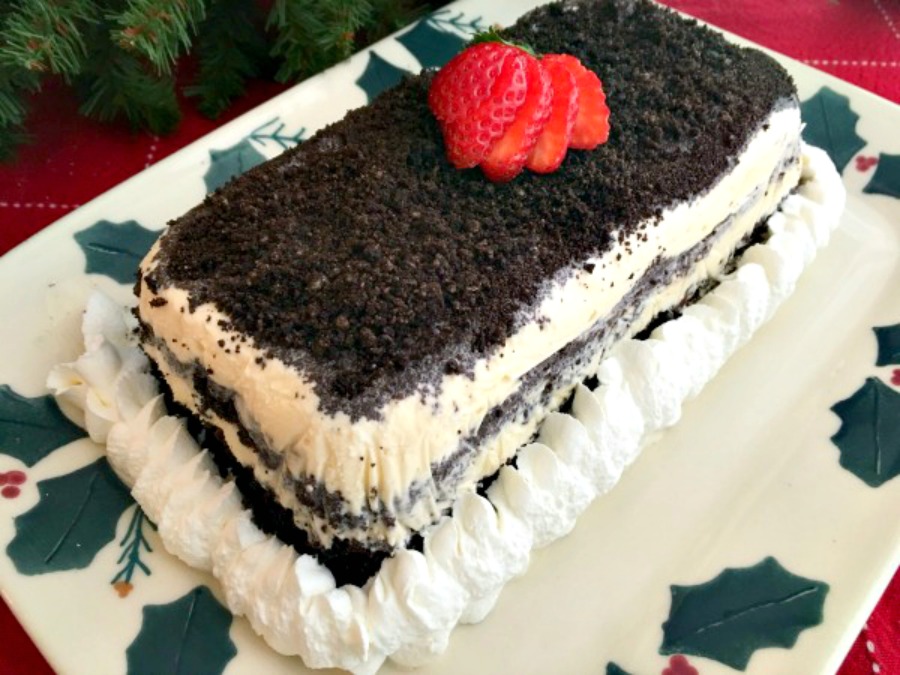 Oreo Pumpkin Trifle Dessert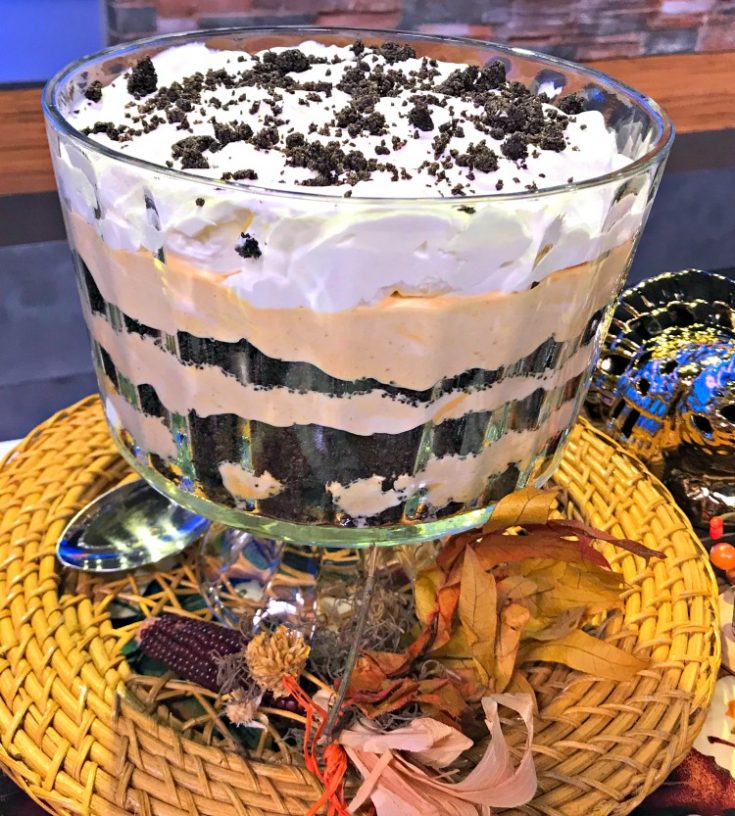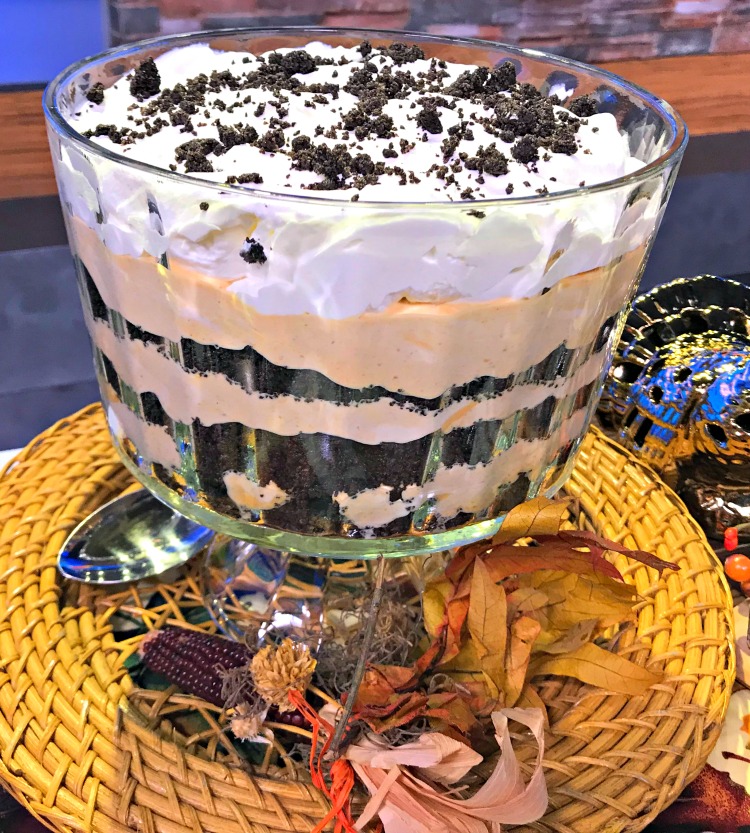 A delicious, creamy mixture of pumpkin mousse, Oreos, and whipped cream.
Ingredients
Pumpkin Mousse
1 15-ounce can pumpkin (not pumpkin pie filling)
3 cups heavy cream
3/4 cup sugar
1/2 teaspoon cinnamon
1/4 teaspoon all spice
1 tablespoon vanilla extract
Oreo Layer
60 Oreos
1 1/4 stick butter, 10 T - melted
Whipped Topping
1 1/ 2 C heavy whipping cream
1 - 2 T sugar
Instructions
Pumpkin Mousse
Combine pumpkin, 1 cup heavy cream, sugar and spices in a medium saucepan.
Heat until it comes to a slight bubble and simmer 4 – 5 minutes, stirring occasionally.
Remove from heat and stir in vanilla.
Pour mixture into a medium mixing bowl to cool.
In a medium size bowl, whip remaining 2 cups of heavy cream to stiff peaks.
Fold approximately 1/3 of the whipped cream into the pumpkin mixture.
After this is incorporated well, fold in remaining whipped cream, being careful not to overmix.
Oreo Layer
Crush Oreos.
Stir in melted butter until well blended.
Reserve about 1/4 C for garnish on top.
Whipped Topping
Whip heavy cream and sugar together to form stiff peaks.
Assemble
Layer
Oreo mixture
Pumpkin mixture
Oreo mixture
Pumpkin mixture
Whipped topping
Garnish with crushed Oreos
Refrigerate immediately
Notes
I usually make the whipped topping with a little less sugar when using on a sweeter dessert like this.
The pumpkin mixture can be made ahead of time (before adding the whipped cream) and refrigerate.
Layer in mason jars or mini parfait glasses as desired.
This recipe could easily be made in half if doing a smaller amount of jars or parfait glasses.

Adapted from Pumpkin Mousse With Candied Pecans and Chocolate