Pumpkin French Toast Casserole
It's still pumpkin time in Tennessee, and elsewhere, so think about making this Pumpkin French Toast Casserole maybe for Thanksgiving morning. With using canned pumpkin, this could be made anytime of the year. Who likes breakfast for dinner?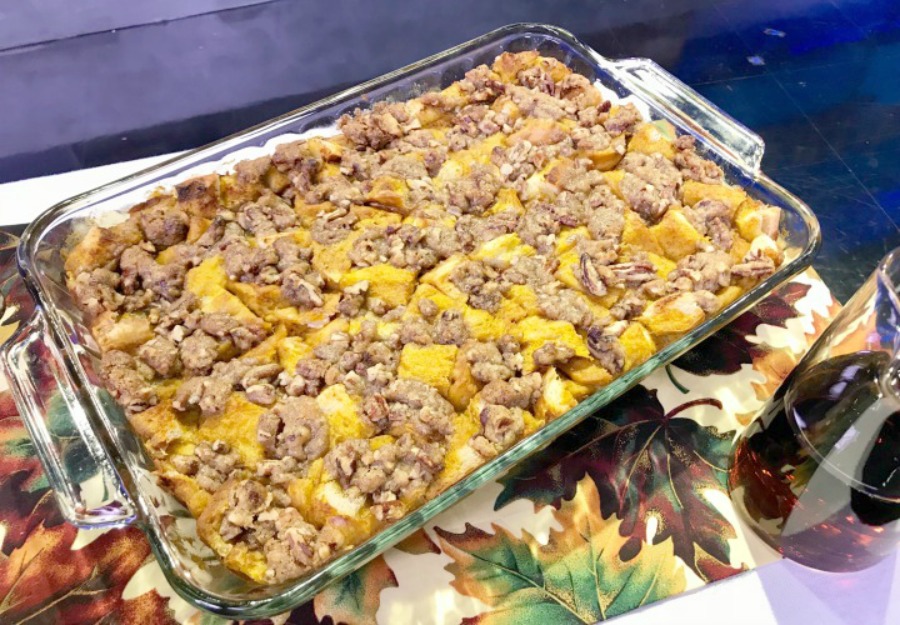 A great advantage to this Pumpkin French Toast Casserole is you can make it ahead of time.
My recipe is rich but remember it is the Holiday season. You can try to limit the portions – TRY.
Pumpkin French Toast Casserole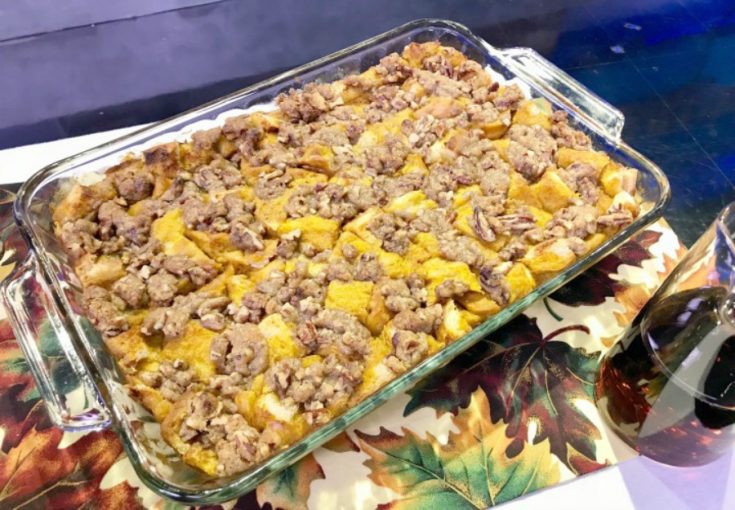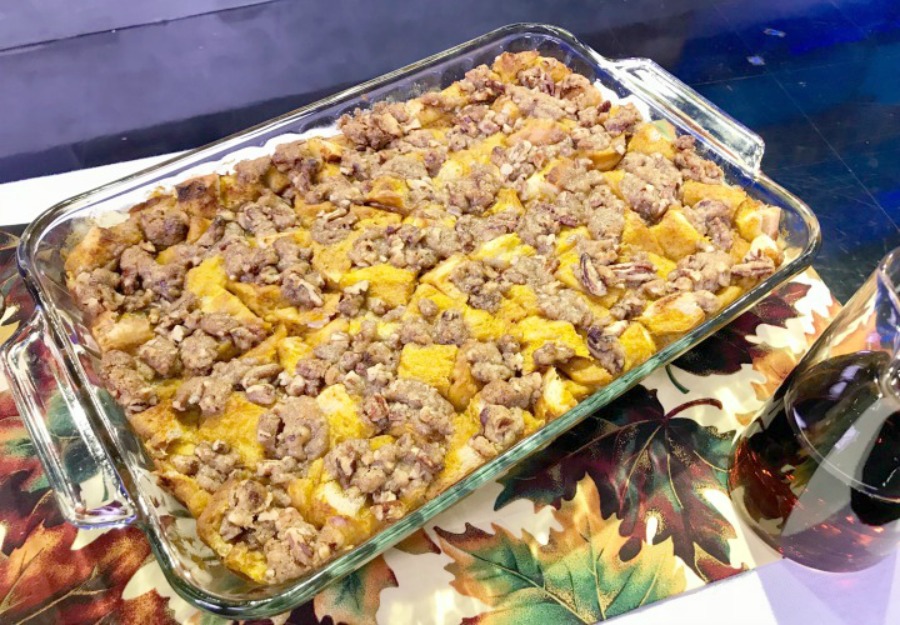 A rich casserole perfect for any holiday breakfast or brunch.
Ingredients
CASSEROLE RECIPE INGREDIENTS
1 loaf brioche or french bread, cubed
1 1/4 C whole milk
1 1/4 C heavy whipping cream
1/2 C brown sugar, packed
6 large eggs
1 1/2 C pumpkin puree, canned or fresh
1 T vanilla extract
1 T pumpkin pie spice blend, a little more to taste
STREUSEL TOPPING RECIPE INGREDIENTS
1/2 C brown sugar, packed
1/2 C all-purpose flour
1/2 C cold butter, diced, salted or unsalted
1 /2 C chopped pecans
Instructions
Casserole directions
Spray a 13" x 9" casserole dish with non-stick spray.
Add cubed bread.
Set aside for now.
Preheat oven to 350.
In a medium bowl, whisk the eggs til foamy.
Add the milk, cream, sugar, pumpkin, pumpkin pie spice and vanilla.
Mix til well blended.
Pour this pumpkin mixture over bread cubes.
Press lightly on bread to distribute pumpkin mixture.
Cover with plastic wrap and refrigerate overnight.
Streusel directions
In a medium mixing bowl, whisk brown sugar and flour together.
Cut in the cold butter using a pastry cutter or your fingers until there's small chunks of butter, about pea size.
Stir in chopped pecans to combine.
Sprinkle this streusel topping on refrigerated Pumpkin French Toast Casserole right before baking.
Bake in preheated over for 45 - 55 minutes.
After 30 minutes, you can make a tent of aluminum foil and place on top to prevent over-browning.
Remove from oven and let it rest for 5 - 10 minutes before serving.
Notes
Serving suggestions:
Warm your maple syrup before serving
Sprinkle confectioner sugar on top
Fresh whipped cream with a sprinkle of pumpkin pie spice
Caramel sauce makes a great topping to drizzle on this

Additional tips and suggestions:
If bread is too fresh it won't cut as well. Refrigerate a couple of hours.
You can let it set out a few hours after cubing to dry a bit more.
Most loaves of bread is about 1 lb, which is a little more than enough.
Don't pack bread cubes into dish.
If you don't have time to refrigerate overnight, try to at least 4 - 6 hours so the bread has time to soak in all of the pumpkin goodiness.
A bit more pumpkin pie spice or cinnamon can be added to pumpkin mixture to taste.
Pumpkin pie spice could be added to streusel mixture for even more flavor.
Make the pumpkin and streusel mixture a day ahead or early in the day and refrigerate.
Using real maple syrup and vanilla makes such a difference in taste

Make custard filling.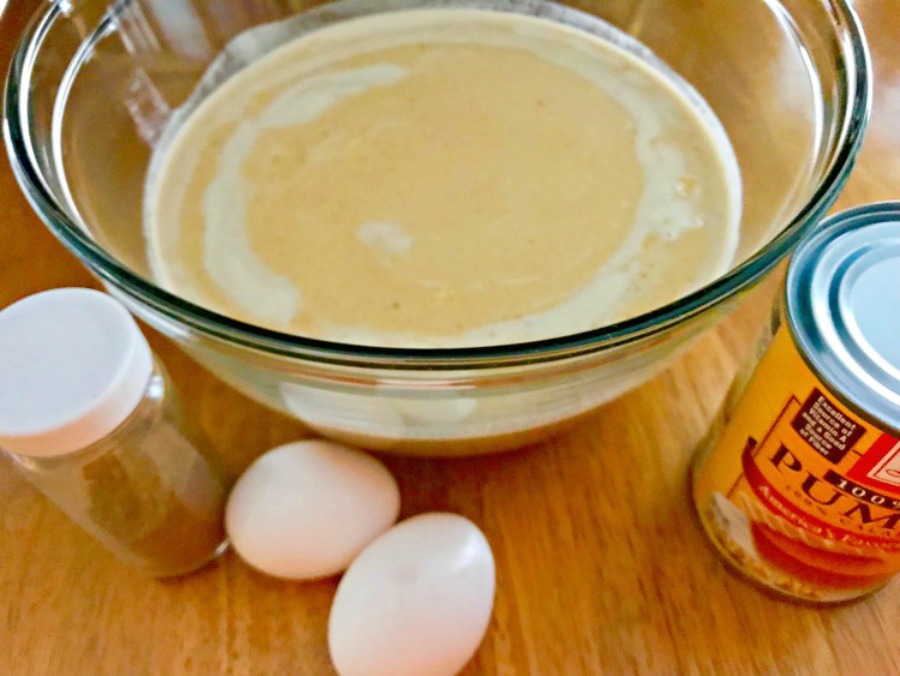 Cut bread into cubes – or slices could work too.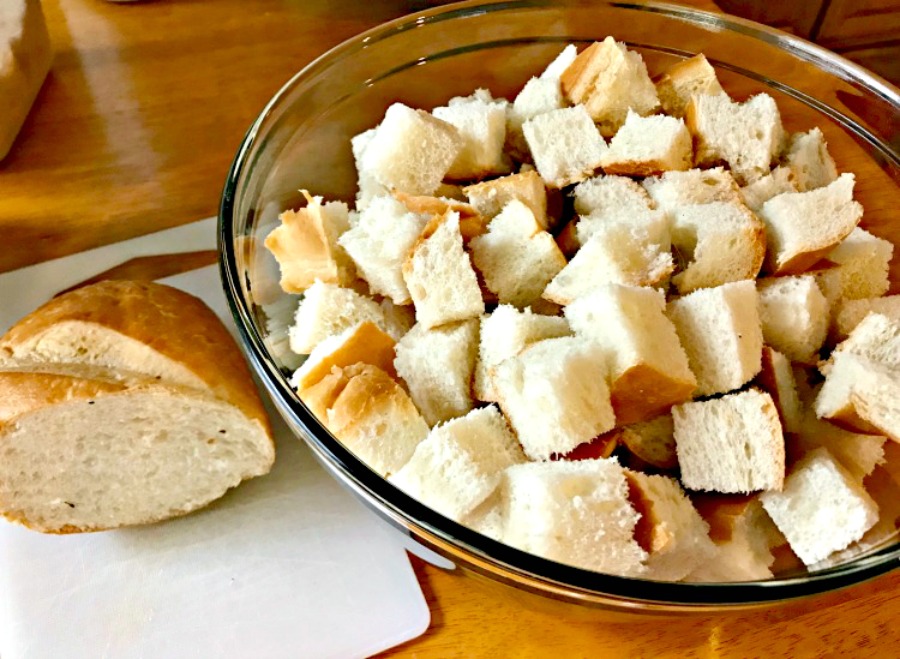 Pour custard filling over bread cubes. Doesn't look so pretty right now, but just wait.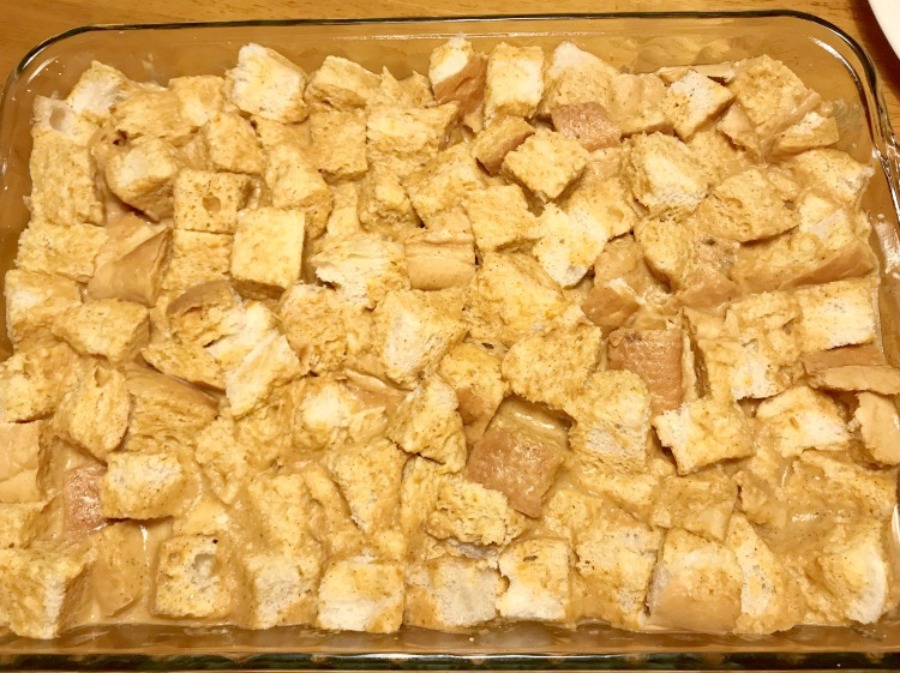 Top with Streusel topping before baking.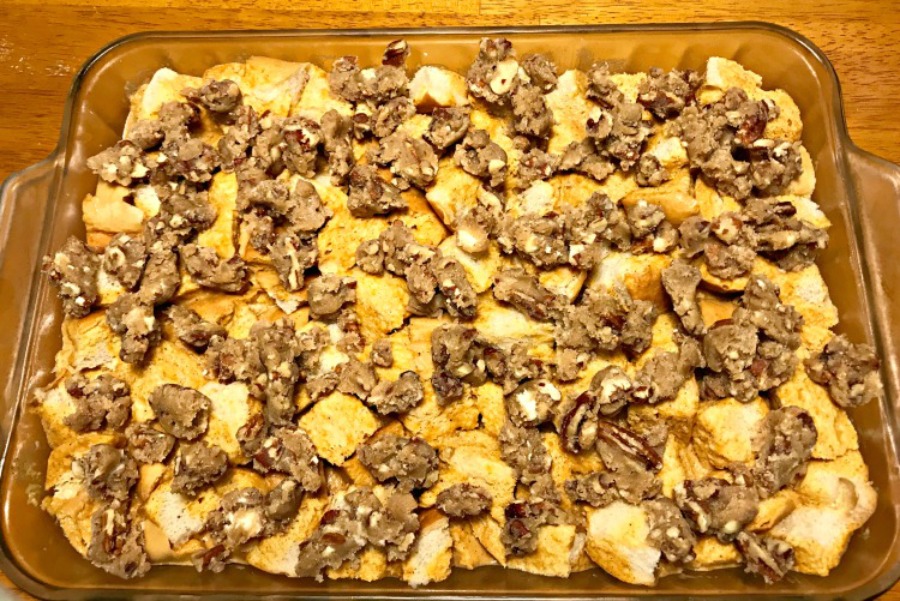 Serve with fresh whipped cream – sprinkled with pumpkin pie spice.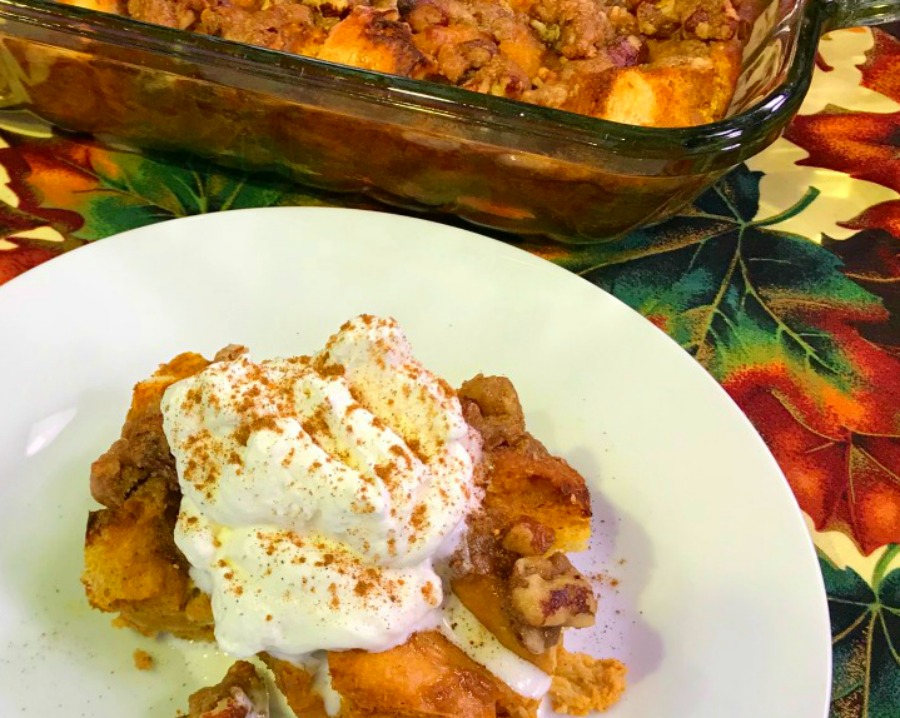 Or sprinkle with confectioner sugar – add warm maple syrup.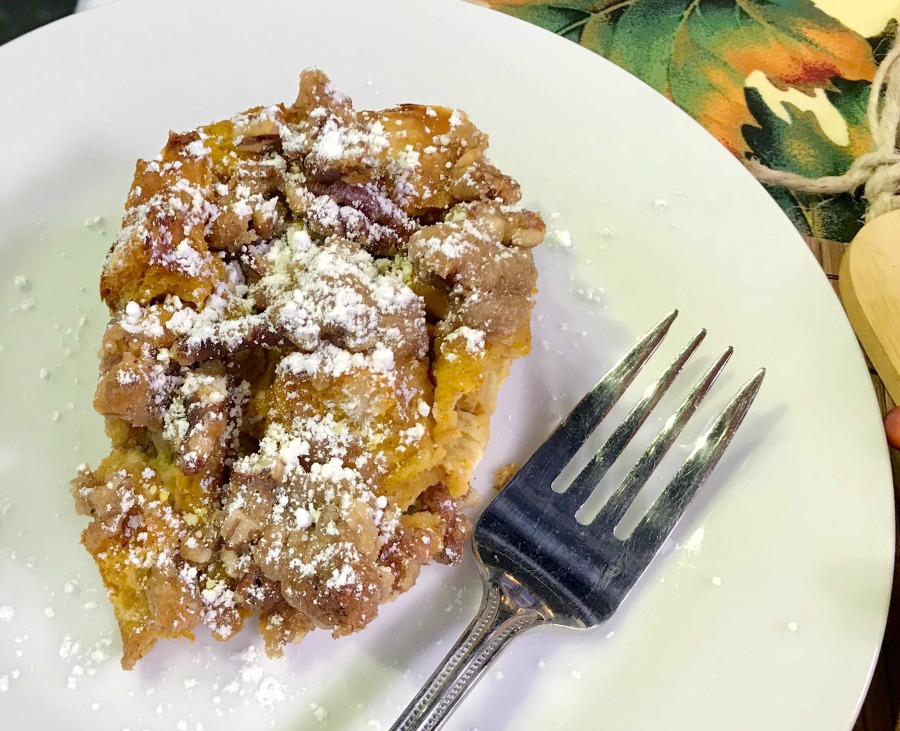 Now do you need a pumpkin dessert?
Here's my Oreo Pumpkin Trifle which includes a video. Check it out HERE.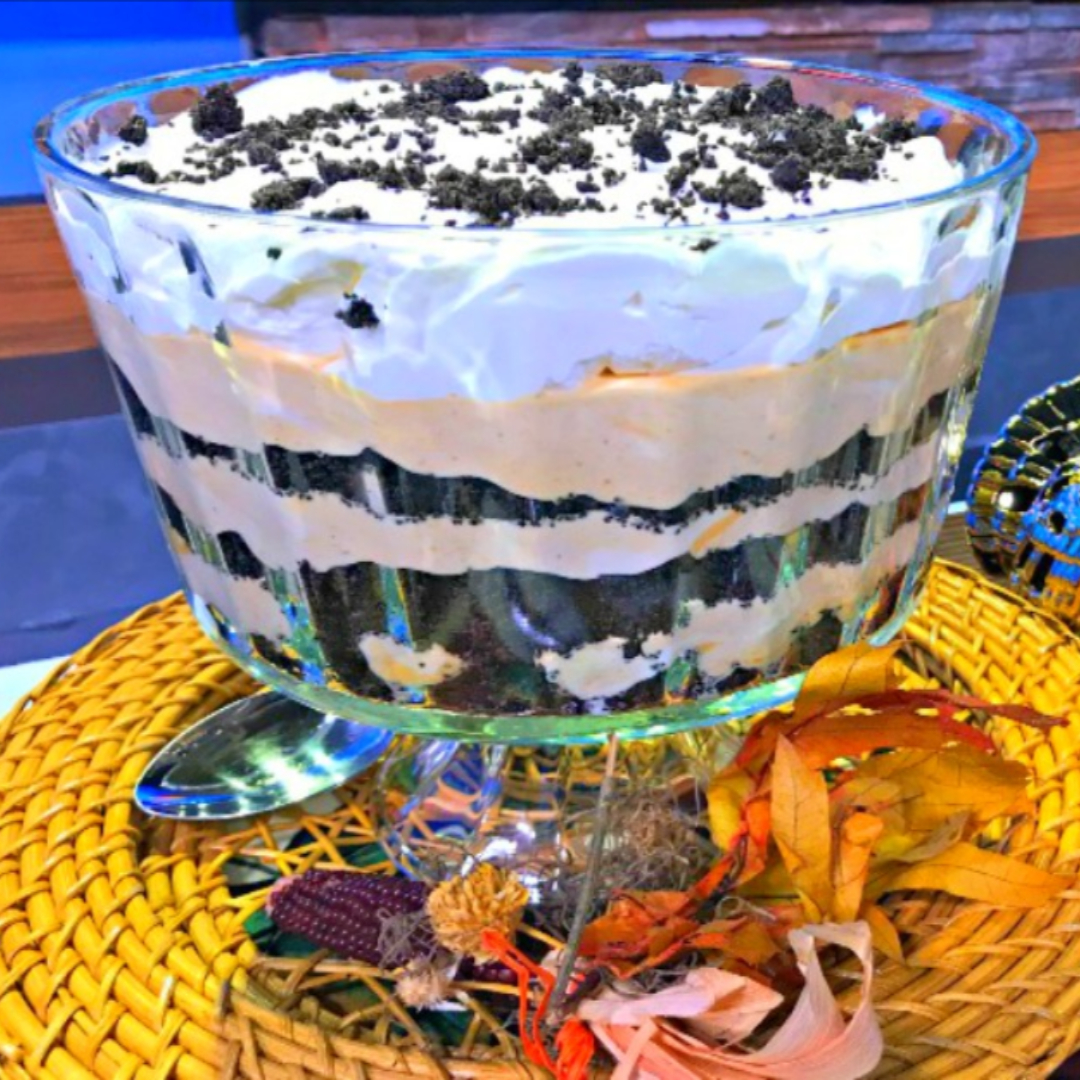 Or my Pumpkin Mousse.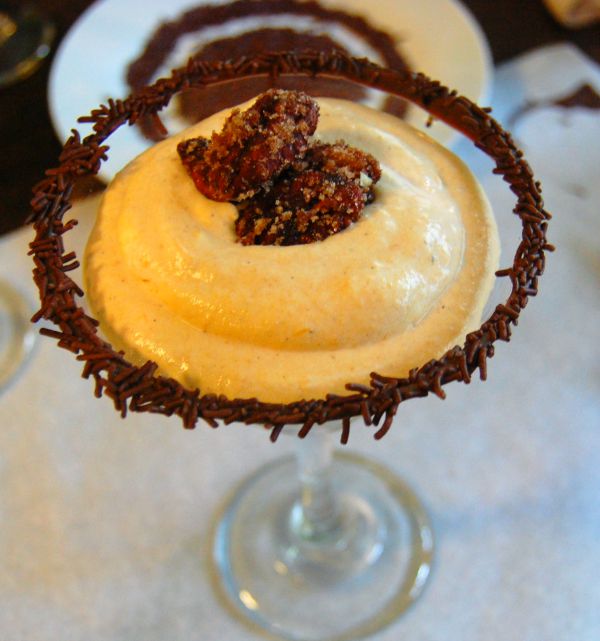 What's your favorite way to eat pumpkin?
Do you follow my Pinterest Boards? My Home And Travels Pinterest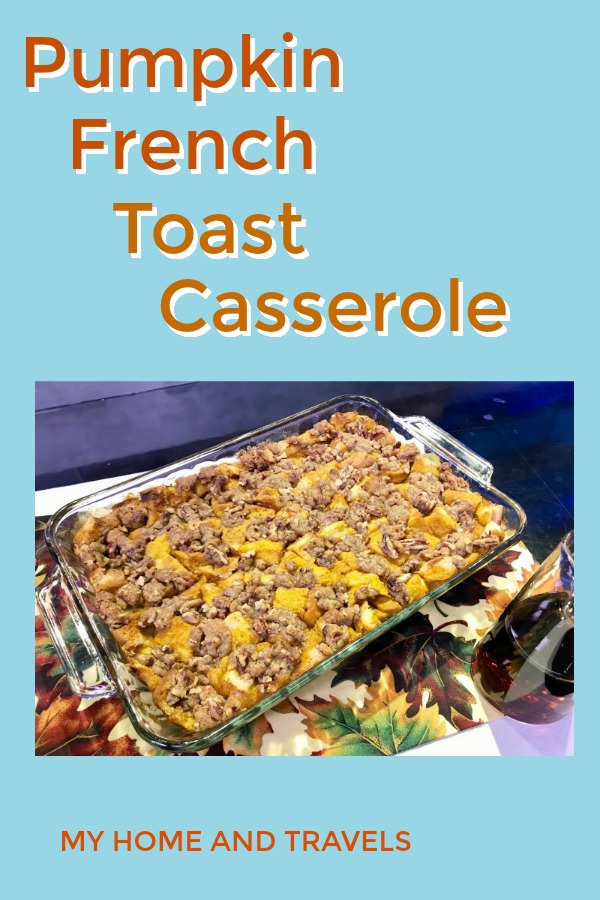 I've included affiliate links to Amazon for you to find some products easier. I may receive a small commission, but the price is the same for you. It just helps my blog out.
Happy Travels,
Rosemary