I want the continued signs of Spring to stick around and just knew if I used The Perfect Roasted Whole Chicken Recipe it would help bring Spring on. Well, I can wish. The Perfect Roasted Whole Chicken Recipe is great for a family dinner, company coming, or even a picnic.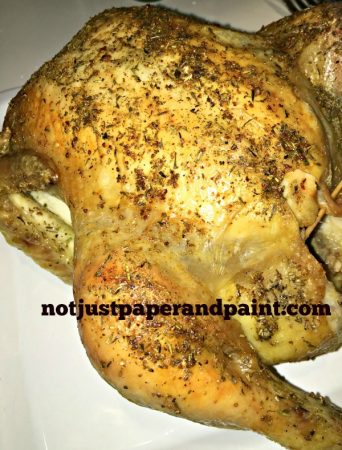 Using The Perfect Roasted Whole Chicken Recipe has it's advantages – it's really pretty easy, you can season and add flavors of your own likings, and there's usually leftovers.
Anytime I think of chicken some of my favorite seasonings include lemon, Rosemary (yes a favorite – wonder why), sage, and garlic. My family loves a lemon pepper flavoring but you know me, no pepper.
ROASTING THE PERFECT CHICKEN
Preheat oven to 450.
Now let's get this chicken ready.
Rinse thoroughly and remove any giblets. These can be used for stock or disposed of.
Drain and dry chicken well so your coating will stick.
I like to use a mixture of oil and melted butter, about 2 T each, and brush onto all the skin, making sure not to miss the legs or wings.
Today I used
Wildtree Zesty Lemon Grapeseed oil
. Love that lemon taste but olive oil could be substituted.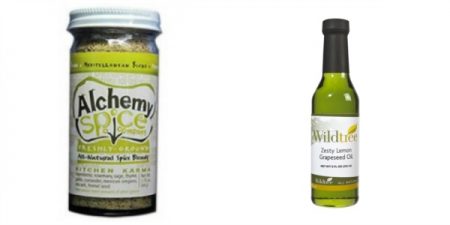 Allow some of this for inside the cavity.
Alchemy Kitchen Karma
which is a mixture of Sage, Rosemary, Thyme, Coriander, Garlic, Oregano, and Sea Salt. Sprinkle about a T of your seasoning in the cavity then about 2 T all over the chicken after the oil/butter mixture. Although I keep a ton of spices on hand, sometimes it's just easier to use a mixture such as this for seasoning.
Alchemy is made right here in Chattanooga so that's another reason to support them.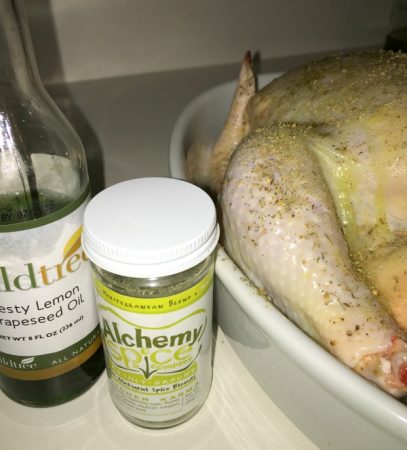 A few other great items to stuff the cavity with is quartered lemons, onions and carrots. A toothpick can be used to close the cavity.
This is where your own taste comes into play.
During the summer I like to use fresh herbs – even placing sprigs of Rosemary under the skin.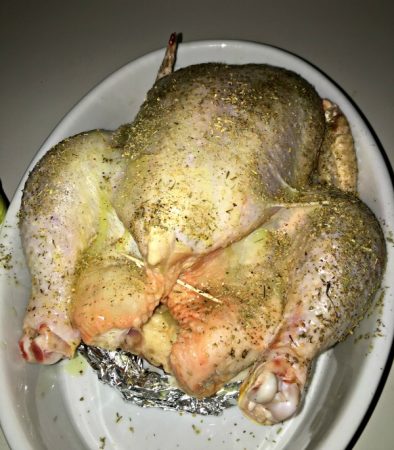 Place your seasoned chicken onto the rack and place onto lower rack in oven. Immediately turn oven to 350.
Baking times can vary depending on the size of your chicken. Most need to roast 15 – 20 minutes per pound.
After this time, check to see if the legs and wings wiggle freely and juices are running clear.
The most accurate way to check is a meat thermometer. It should register 165 when inserted into the thickest part of the thigh.
When done, let it rest for at least 15 minutes before carving so it has time for the juices to redistribute.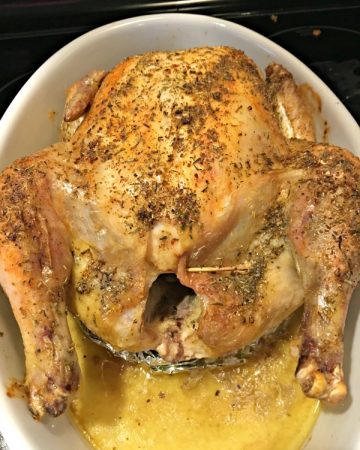 Gravy can be made with the drippings if desired.
I love these small individual gravy boats – I've had them a while but think they came from Crate & Barrel. Adding Parmesan Garlic Potatoes and Asparagus (Seasoned with
Wildtree Basil Pesto Grapeseed Oil
) all prepared in the oven, rounds out the meal.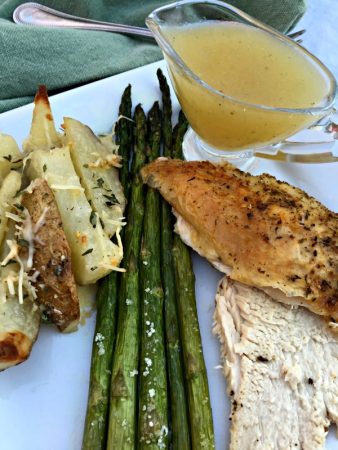 Refrigerate any leftovers within an hour.
And now that you have The Perfect Roasted Whole Chicken Recipe, won't you try it? What's some of your favorite flavors to try?
What if you want to make The Perfect Roasted Whole Chicken Recipe and you don't have a roasting pan? Here's how you can do it.
Place a layer of vegetables such as potatoes, carrots, parsnips, and onions in the dish and place chicken on top.
No veggies, or don't like that option. Make a rack out of aluminum foil.
You need about a 2′ length of heavy duty aluminum foil.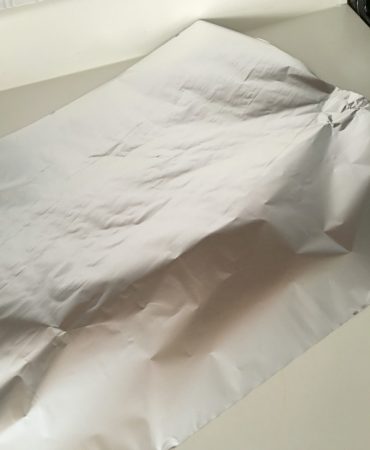 Start on one long edge and scrunch it up.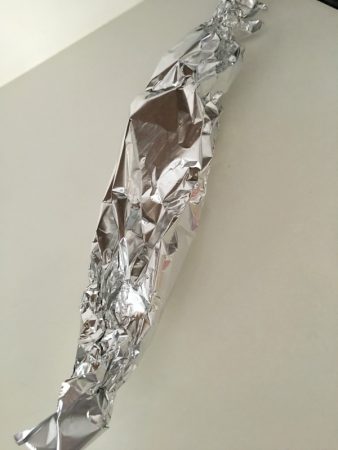 Then scrunch it up tight. For an average size chicken this one roll should be enough.
Form into a circle in the bottom of your roasting pan.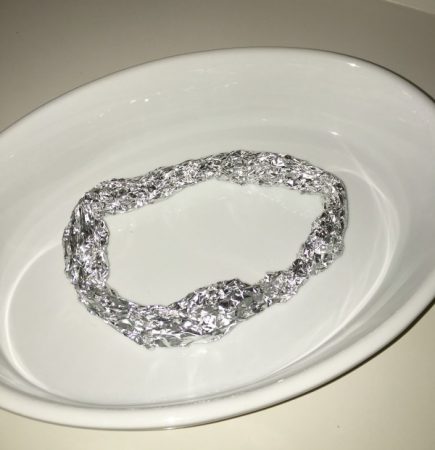 You now have a rack for The Perfect Roasted Whole Chicken to rest on.
Here's a couple more of my favorite chicken recipes.
http://www.alchemyspicecompany.com/shop/kitchen-karma-mediterranean-blend
http://www.mywildtree.com/pws/brookegoodyear/tabs/grapeseed-oil.aspx