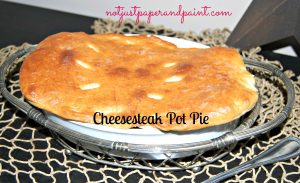 Here's another version of my pot pie which I created using  Ragú® Old World Style® Traditional Sauce.   Hope as you try this, you can imagine eating a very cheesy, cheesesteak sandwich.
I was given a challenge from Ragú to makeover a recipe for The Italian Cheesesteak Sandwich.  This needed to be a family friendly recipe with ingredients which might already be in your pantry or easily found in your local grocery store.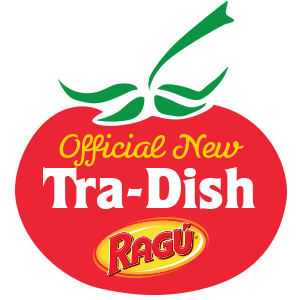 Ingredient list
10 – 12 oz  ribeye or sirloin steak, sliced very thin
2 T olive oil
3 cloves garlic, minced
½ c finely chopped onions
8 oz pkg mushrooms, cut into quarters
½ c chopped bell pepper
½ tsp Italian Seasoning
1 jar (24 oz ) Ragú® Old World Style® Traditional Sauce
1 lb sliced, smoked provolone cheese
1 can refrigerated French Bread
1 T olive oil – for finishing
Preheat oven to 350.
Have meat slightly frozen so it will slice easier.  Heat olive oil over medium heat.  Cook steak just enough to brown. Remove from pan and drain onto paper towels.
Into your pan, add the onions and garlic and cook for 2 – 3 minutes, until onions start to become translucent.  Do not brown.  Add mushrooms and bell peppers and sauté for 6 – 7 minutes, stirring often, until most of the liquid has evaporated and they just start to become tender.
To this mixture, stir in steak, Italian Seasoning, and Ragú® Old World Style® Traditional Sauce and heat just until hot, about 2 – 3 minutes.
Spoon half of this mixture into a 1 ½ qt casserole dish which has been lightly sprayed with a non-stick coating spray.  Layer half of your cheese slices on top, then make a layer with the remaining meat mixture and finish with remaining cheese slices.
Remove bread dough from can and roll this out on a floured surface to just big enough to cover your dish, about 3/8"thick, but allow enough to crimp on edges.  Make holes in top for steam to escape.  Place this over your dish and pinch the sides to cover the dish.
Bake for 25 – 28 minutes, just until crust is a golden brown. Remove and let stand 10 minutes before serving.  Brush the crust with a little olive oil after removing from oven.
Did you know – each jar of Ragú® Old World Style® Traditional Sauce is made with 11 juicy tomatoes making it its  richest, thickest recipe *versus our previous OWS formula.