Savannah Crab Cakes by Paula Deen
Memories of the beach – so nice to think about here in the middle of February when snow is being predicted for later in the week. Several blogger friends had the pleasure of spending the weekend in the Tybee Island – Savannah area. Not only was I wishing I was there, but remembering my first trip to Tybee. The summer of 2004 we had a great vacation there but the highlight for me was attending a cooking class with Paula Deen. She had just married Michael and was still in the beginning stages of her empire.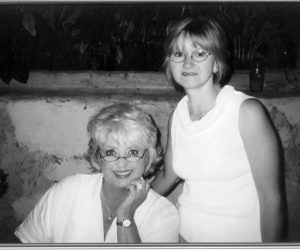 When I saw a class offered the very week I was there, I had to go. Plus, to my delight it was about seafood. Even then it wasn't cheap but I knew it was probably a once in a lifetime chance. It was held in the basement of The Lady & Sons and was a small, intimate group. What you saw on TV is what she was in person, along with Jamie, Michael, and Aunt Peggy. There was time for talking, autographs and pictures. About a month later, I even got a feature article in the local newspaper.
Here is my version of the Crab Cake recipe I took away from the class which I continue to make today. Several versions of this have been used at The Lady & Sons.
Hope you enjoy.
SAVANNAH CRAB CAKES
3 T butter
3 green onions, finely chopped
½ C finely chopped bell pepper
1 tsp garlic powder
4 ½ t heavy cream
¼ C mayonnaise
½ C saltine cracker crumbs (14 crackers)
1 egg
2 T fresh parsley, chopped
1 lb fresh crabmeat (if any juice – drain)
Juice of ½ lemon
Approximately ½ cup each
Parmesan cheese
Cracker crumbs
3 T butter
3 T olive oil
Melt butter in skillet – saute' onion, garlic and green pepper until peppers are limp. Do not brown. Place in mixing bowl and cool. Add cream and mustard and mix well. Add cracker crumbs, egg, parsley, mayonnaise and lemon juice. Mix well. Gently fold in crab meat, being careful to not crush it. Form into patties.
Mix together Parmesan cheese and cracker crumbs. Gently coat each patty in this mixture. Refrigerate about 2 hours to firm up or until you are ready to use.
Fry on medium heat in the butter and olive oil about 3 minutes per side.
NOTES:
I have used Panko bread crumbs in place of cracker crumbs
If the mixture is a bit too thin to form patties, add a few more crumbs but be careful to not add too many since you want the taste of crab and not crackers.
Using a mixture of butter and olive oil gives it a bit more flavor plus the olive oil helps prevent the butter from browning and burning too easily.
These can also be made into small balls to use as appetizers.
Depending on the wetness of your patty, you might need a bit more cheese and cracker crumbs for coating. You don't really want the coating too heavy.
I've included affiliate links to Amazon for you to find some products easier. I may receive a small commission, but the price is the same for you. It just helps my blog out.
Happy Travels,
Rosemary