How many of you have eaten or made these? It was one of those recipes that my sister and I made quite often. It was easy, pretty cheap, and not too messy. The perfect combination for a couple of young girls. I have to wonder how many were made. It happens to be my son's favorite too so making the perfect no bake cookie is done quite often.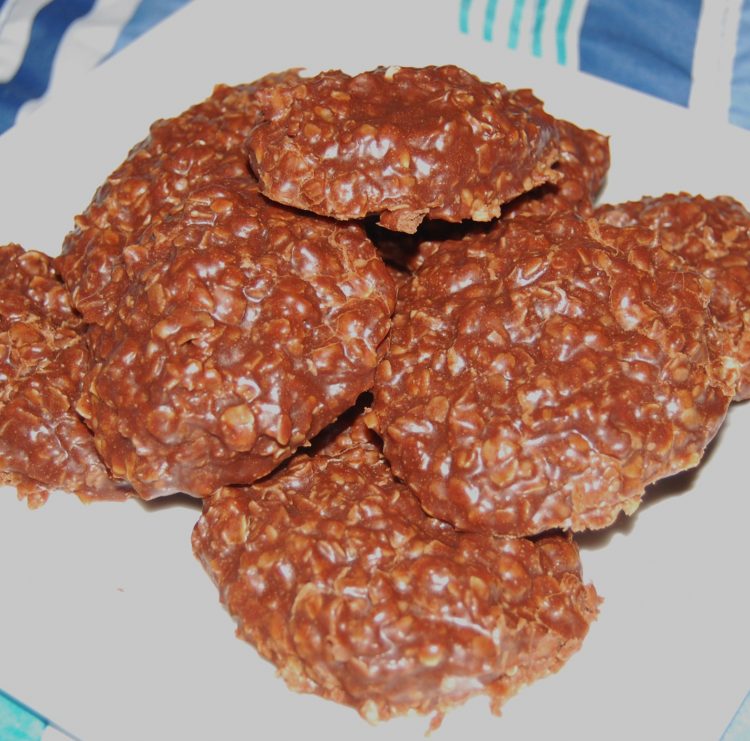 My school was very small and we had a fall festival – not like the ones that are held now. This centered around a week of fun and ending on Friday night with the crowning of the elementary and high school king & queen. I was a 7th grade maid. The winners were chosen by who raised the most money and bake sales were always a big part of that. These cookies would appear from several each day, and in varying forms.
The recipe I use now isn't the one I used back then. A few different ingredients, including I now add peanut butter.
My favorite way to eat them is having some in a bowl while still warm, then with a big glass of cold Mayfield milk.
Enjoy!
2 C sugar
½ C oleo (or butter)
½ C milk
4 T cocoa
2 ½ C quick cook oats
½ C peanut butter
2 t vanilla
Cook sugar, oleo, milk and cocoa on medium heat until it begins to boil. Boil 1 ½ minutes after a full boil. (if it's a double batch, about 2 – 2 ½ minutes) Remove from heat, stir in peanut butter and vanilla. Add oats.
Stir until all oats are covered with chocolate goodness.
Let stand for just a few minutes then drop by spoonfuls onto waxed or parchment paper.
Store in covered container.
This is one of those recipes for a beginner or a young cook just starting out.