PARMESAN PASTA CHICKEN BAKE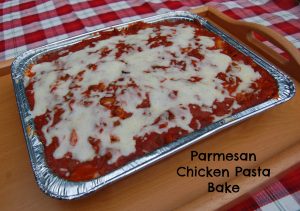 For a large family gathering or your next pot luck, bring this to the table and you will be hit of the party.
For a smaller family dinner, consider the freezing directions to have these on hand. Just add a salad and bread – dinner is done.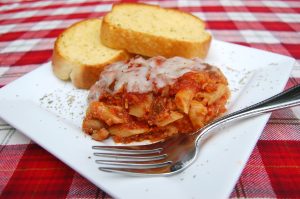 Parmesan Pasta Chicken Bake
A delicious take on Parmesan Chicken but one you can make ahead
Ingredients
2 cups dry pasta – Penne or Ziti are my favorite
2 T olive oil
½ cup chopped onions
½ cup chopped bell peppers, or peppers from frozen pepper stir fry
10 oz jar chopped mushrooms, drained
1 ½ T Italian Seasoning
1 ½ T Garlic Powder
1 tsp salt
36 oz pasta sauce such as Prego or Ragu
1/2 cup grated Parmesan cheese
6 breaded chicken patties
1 ½ c grated Mozzarella cheese
Instructions
Cook pasta in salted water as directed on package but subtracting about 1 – 2 minutes from total cooking time.
It will continue to cook while baking.
Drain and set aside.
Preheat oven to 350.
Pour olive oil into medium size skillet.
Saute' onions, peppers, mushrooms and all seasonings over medium heat for 5 minutes.
Add pasta sauce.
Heat this for 5 minutes or just until bubbly.
Add ½ cup grated Parmesan cheese and stir until just melted, about 2 minutes.
Spray a 9 x 13 casserole dish or aluminum pan with vegetable spray.
Put about 1 cup of sauce mixture into bottom of pan.
Layer chicken patties on top of sauce.
Add pasta on top of chicken.
Sprinkle 1 cup Mozzarella cheese on top of pasta.
Pour remainder of sauce over cheese.
Bake for 30 – 35 minutes.
Add remaining ½ cup Mozzarella cheese and bake for an additional 5 minutes.
Let set for 10 minutes before serving.
Serve with garlic bread and fresh garden salad.
Notes
This is a great dish for a pot luck dinner or family dinner.
For my family of 3, it gives us plenty of leftovers for lunches.
You could consider making this into 2 smaller dishes.
If so, after assembling your dishes, (leaving off the last layer of cheese), let cool completely.
Wrap in a layer of plastic wrap and a layer of aluminum foil and freeze.
To cook, place in cold oven and set oven to 350.
Cook for 50 – 55 minutes.
Add the last layer of cheese and cook 5 more minutes.


I've included affiliate links to Amazon for you to find some products easier. I may receive a small commission, but the price is the same for you. It just helps my blog out.
Happy Travels,
Rosemary