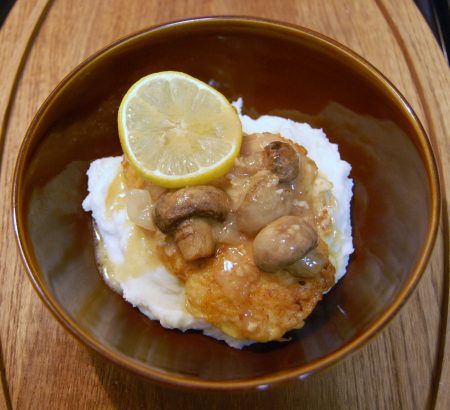 Here's a recipe from my friend Angela Pomoe Roberts at
I had been looking for a few new recipes to try and when I saw this, yep, this was one to try.
Here is her complete recipe
Breaded Lemon Chicken with Capers and the Einkorn Cookbook
A few disclosures here, I had never heard of Einkorn Flour and I don't like capers.
Here's the changes I made to my recipe.
**Capers were not included.
**All-purpose flour was used in place of Einkorn.
**I did add a few sauteed mushrooms just because I had some extra on hand and I love mushrooms. Since they tend to have so much water in them, I sauteed 8 oz of button mushrooms in a little olive oil to let all the water cook out. I then added them to the dish right before baking, not in the sauce.
I served this over garlic mashed potatoes.
Please visit Angela for so many cooking tips and recipes.
Thanks Angela for sharing.

I've included affiliate links to Amazon for you to find some products easier. I may receive a small commission, but the price is the same for you. It just helps my blog out.
Happy Travels,
Rosemary