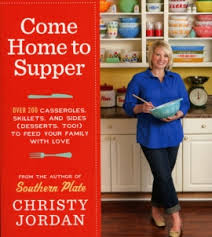 If you need some new dishes to add to your menu, make sure you check out Christy Jordan's Come Home to Supper. Not only is it filled with great recipes but wonderful family stories. One of things I have so enjoyed about her recipes is they are recipes which cooks of any level can enjoy. Plus, many can be made with things you would commonly have in your own pantry.
For all of you near the Chattanooga area, Christy will be signing her books next Monday, March 24th, 7pm, Barnes & Noble Hamilton Place. Come by and meet this lovely lady and get your very own book. Plus, she is scheduled to be a guest on 3 Plus You also on Monday at 11 am.
Can't make it out or not in the Chattanooga area, you can win an autographed copy right here. The contest will run through Monday, March 24th at 10:00 am EST. I will contact the winner via email for mailing address. If you are local, I would be glad to meet you at her book signing so you can get it personalized.
If you need more information on the book signing, contact Barnes & Noble at 423-893-0186. Check out Christy's website for a ton of recipes and information on other book signing locations. www.southernplate.com