Easy Crockpot Apple Butter
Have you ever used your crockpot for homemade apple butter before? If not, this Easy Crockpot Apple Butter recipe needs to be on your radar. Not only is it simple to do, but it's perfect for the fall weather also! Who doesn't love apple picking?
Always save ideas to Pinterest and make sure you follow me. MY HOME AND TRAVELS ON PINTEREST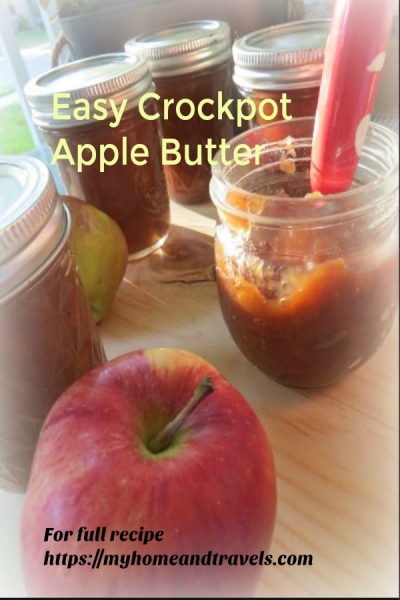 Easy Crockpot Apple Butter
Now that fall is officially here, at least we think it is, I'm craving everything apple and pumpkin. One of my favorite recipes just so happens to be this delicious crockpot apple butter recipe. I love how easy and simple it is to make and it makes the entire house smell absolutely wonderful.
It's also one of those simple recipes that you can "dump" in the crockpot and forget about as well. My husband loves apple butter on toast or biscuits at any time of the day.
Slow Cooker Apple Butter
If you're anything like me, you find comfort in eating good food that you know you've made. I love using my crockpot for dinner and lunch recipes and always on the lookout for other ways to use it.
Once I tried this slow cooker apple butter recipe, I was hooked. Pair this up with a nice loaf of homemade bread or even just on some crackers and you've got a tasty treat that is certain to be a hit.
Throw all of the ingredients in your crock pot before you go to bed and you will wake up to that wonderful spicy autumn smell in your home, and have a nice treat ready for breakfast.
If you're looking for a really great homemade Christmas gift, why not give the gift of something homemade? Everyone loves the idea of getting something made from the heart so this is one simple way to make that happen.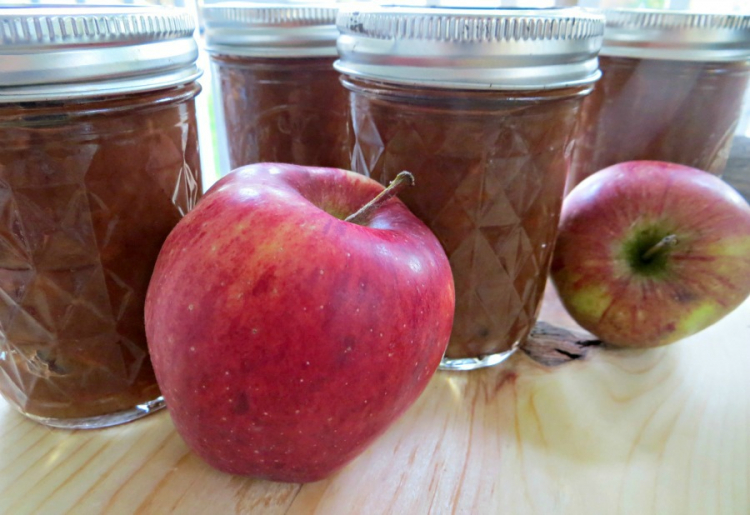 What type of apples is best?
This is entirely up to you as most have a favorite. Softer varieties cook a lot quicker. I find mixing a few varieties gives your apple butter more depth in flavor. My favorite combinations are Fuji, McIntosh, and Golden Delicious.
If you are buying apples at an orchard, sometimes they have bags which aren't quite so perfect, so grab these up, usually you can find these at a cheaper price.
Do I need to peel the apples?
I don't because they cook down so much you aren't left with the peel feel. Also, if you use a blender, you get ultra-smooth apple butter.
And, not peeling all these apples is a time saver.
If I'm using sweet apples, can I cut down on some of the sugar?
This recipe is perfect just the way it is! Seriously! Before you alter it, try it out this way first. Then you can always change it up later on if you want.
I always suggest on my recipes, and in fact when I'm trying new recipes, make it as shown then add more or take away to make it to your own liking. That usually applies unless there's something you know you don't like such as hot sauce or capers.
Are you ready for the recipe? You just need a few simple ingredients and steps to make it happen!
Just a few easy steps to make.
How to Make Apple Butter In Your Crockpot
Mix all ingredients in your crockpot or slow cooker.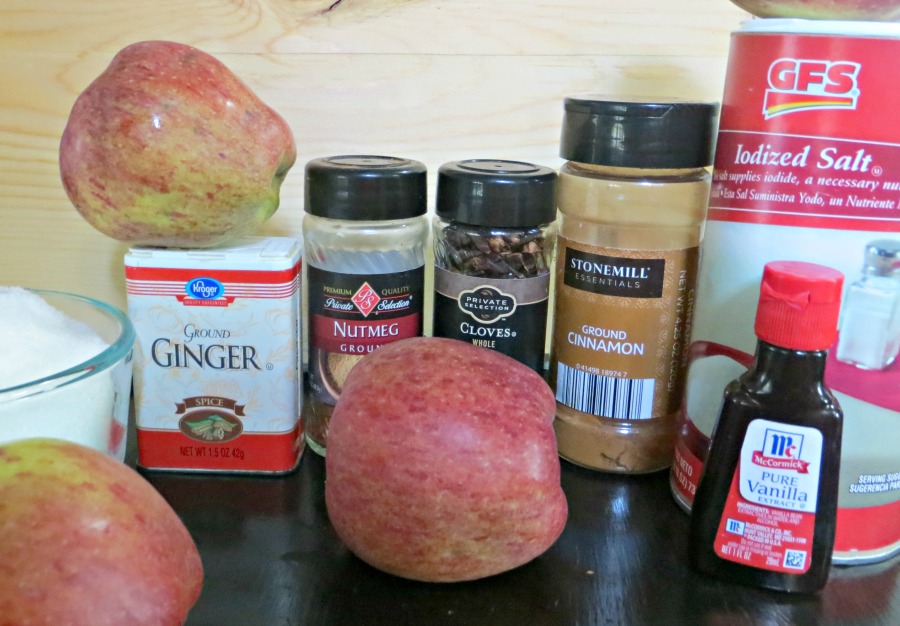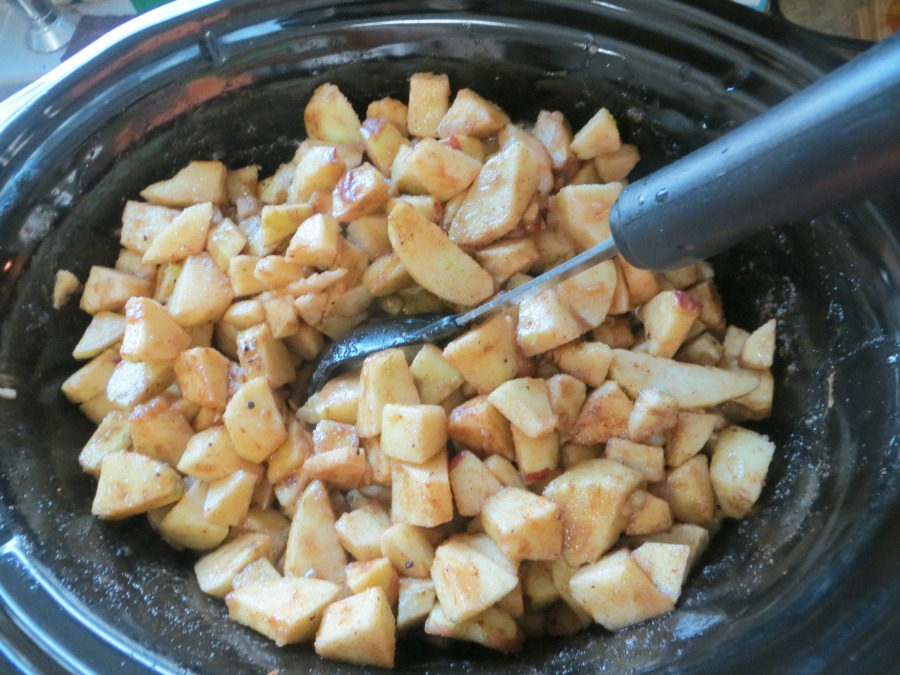 Cook to this perfect finish.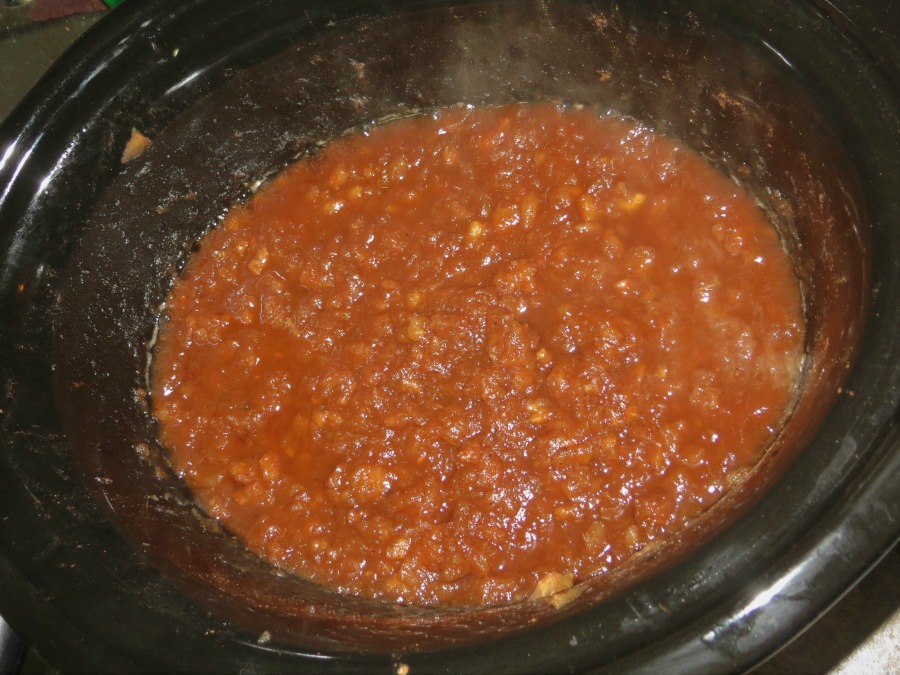 Serve up on a great bread for breakfast or snack.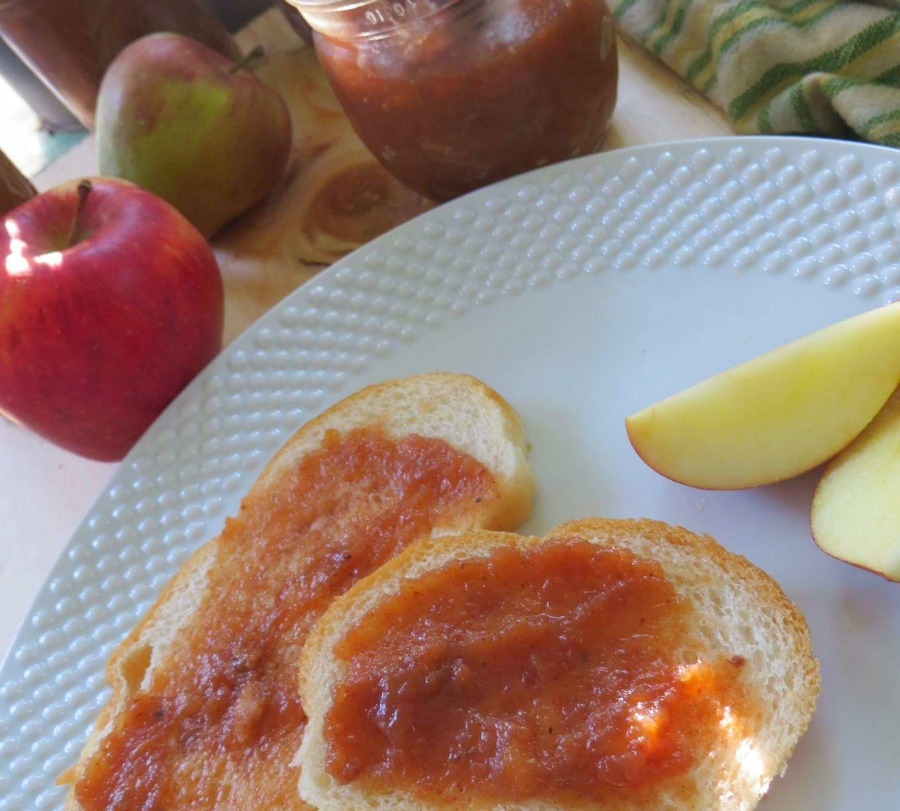 Enjoy this delicious easy homemade crockpot apple butter recipe!
What will you eat this crockpot apple butter with?
Yield: Approximately 4 pints
Crockpot Apple Butter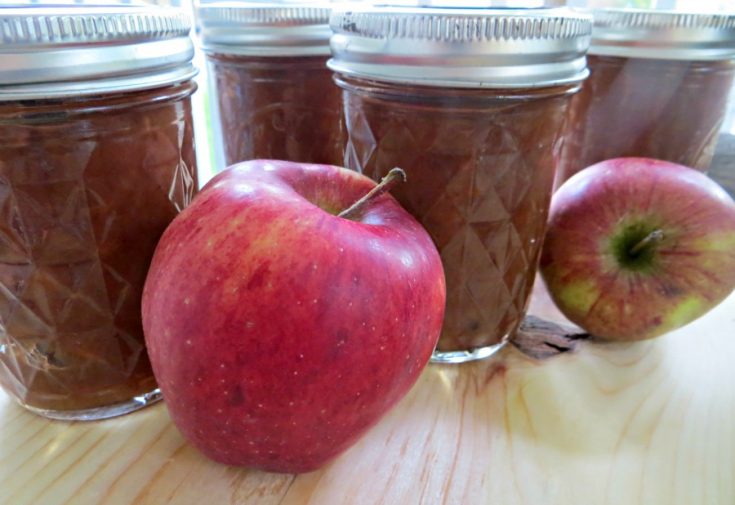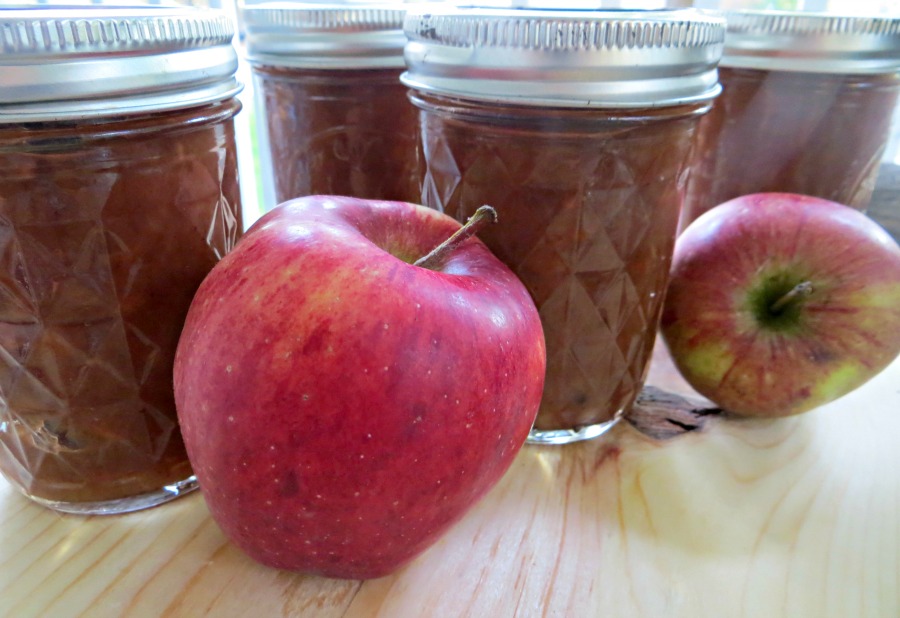 You're going to love this delicious homemade crockpot apple butter.
Ingredients
5 lbs apples, about 20 medium
1 cup granulated sugar
1 cup brown sugar
3 tsp cinnamon
1/4 tsp salt
1 tsp nutmeg
1 tsp ginger
1/2 tsp ground cloves
1 tsp vanilla
Instructions
Core and dice apples
Combine all ingredients in crockpot
Cook on high for 2 hourx
Mash down with a potato masher
Cook on low for 10 hours
Stir every few hours
Cool completely.
Refrigerate or freeze.
Enjoy on your favorite breads, muffins, or scones!
+++If you have a lot of juice in the crockpot, stain your apple being using your immersion blender or putting in blender.
So many apples can be juicier than others, and this can thin down your apple butter.
Notes
If you want an ultra smooth apple butter, use an immersion blender, food processor, or blender after mixture has cooled.
Can be kept in the freezer for 3 - 4 months
Can be kept in refrigerator for 2 weeks
No need to peel apples

Think about putting this on at night and wake up to the wonderful aroma of fresh apple butter for your breakfast. Store this in the refrigerator for up to 2 weeks, or freeze up to 3 months. I love using small mason jars then they are also ready for gifts too.
Do you love quick and easy recipes? If so, then you MUST try these FAST AND EASY 2 INGREDIENT BISCUITS.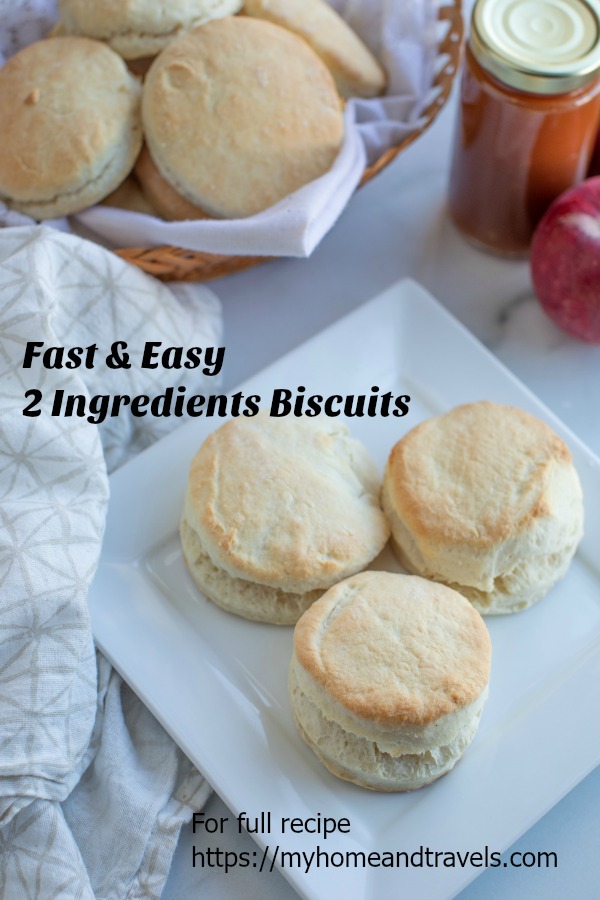 An Alternate To Apple Butter
If you love this Apple Butter, I'm sure you are going to love this PUMPKIN BUTTER MADE IN THE CROCKPOT too!! You have to try it.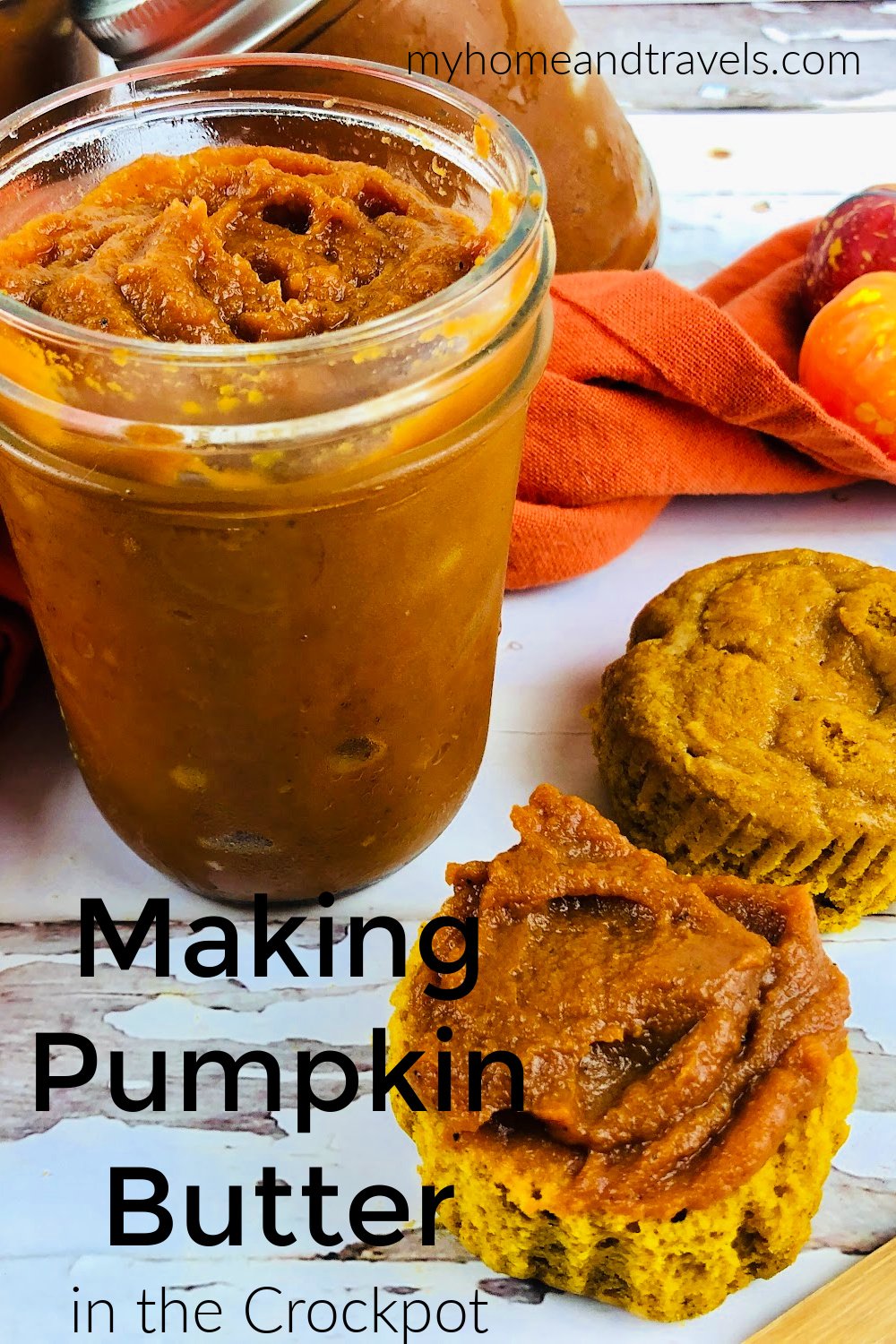 More Crockpot Recipes
I've included affiliate links to Amazon for you to find some products easier. I may receive a small commission, but the price is the same for you. It just helps my blog out.
Happy Travels,
Rosemary