One-Pot Turkey Alfredo Using Leftover Turkey
Do you always have leftover turkey after the big day? I know I do and always look for ways to use it besides just warming it up the next day or saving it for sandwiches. Over the past years I've made turkey salad, added it to salad or casserole, or even added it to my Alfredo sauce but this year I wanted to use it where it didn't taste like leftovers. Making this One-Pot Turkey Alfredo Using Leftover Turkey is a great way of using leftovers, and making a "different" dish with them.
Make sure you are making a Pinterest Board for these recipes.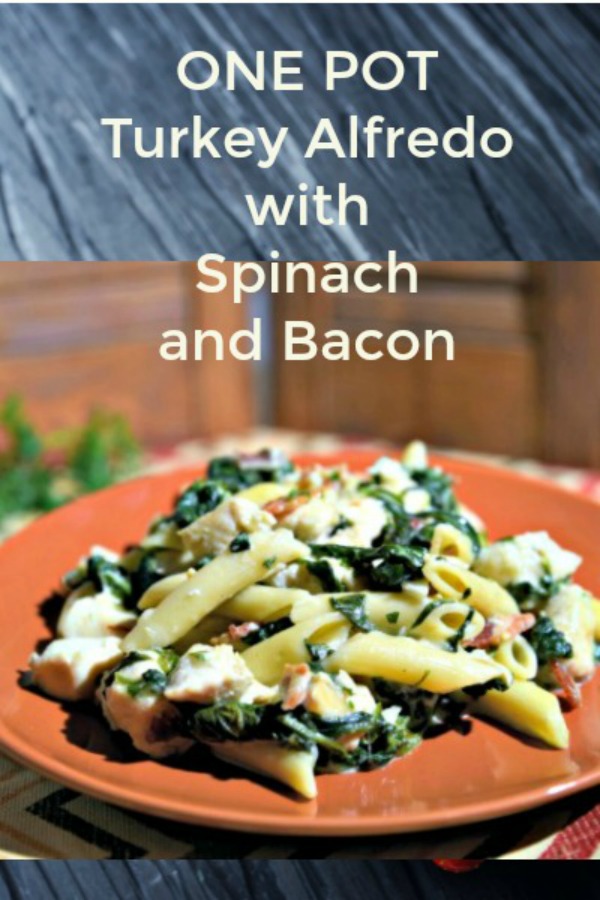 Do you love Alfredo Sauce?
I've been making Alfredo Sauce for several years and even came up with a lighter version, but with the busy time of year and wanting to add more flavors to the meal, adding spinach was the healthy part and bacon was the extra flavor part. OK – admit it – who doesn't think bacon will make almost anything better?
Can you freeze leftover Turkey?
Yes you can – Freezing leftover chicken or turkey is easy. The meat does need to be removed from the bone prior to freezing. Of course using a boneless chicken breast also cuts down on the time needed to prep and cook for recipes.
Remove all the meat from the bones and go ahead and cut into uniform size pieces or even shred. This turkey can be frozen for 2 – 3 months for best flavor. You really want to do this process within a day or two of cooking. Some even like to separate the dark and white meats for those who prefer one over the other.
Consider how you will be using the turkey and in what quantities. Are you making soup, a casserole, using it in a salad, or making sandwiches? I like to do mine in 1 or 2 cup sizes usually for soups and one-pot meals. I will substitute this turkey for chicken in a lot of recipes.
If you have a vacuum sealer, that is the way to go as it will remove all the air. If not, use plastic wrap and double wrap it. Mark with the date and "turkey".
Why one-pot meals?
Some have compared the one-pot meals to slow cooker meals which is easily thought of. Most people use their slow cooker again as a time saver – set it and forget it or for those meals such as a pot roast, which does require a longer cooking time.
One pot cooking isn't really new, but with more people trying to serve a healthy meal quicker, the term has just become more popular. There were cookbooks out over 10 years ago promoting one-pot cooking.
What kind of pot do you need? The pot of choice is a ceramic coated cast iron pot or "dutch oven" as many call it but any heavier pot or skillet works well too. An iron skillet can work too.
Can any of this be prepared ahead of time?
As with one pot or one pan meals, a lot is in the prep. Having your ingredients ready ahead of time, maybe chopped in fairly uniform sizes so the cook time will be the same, and what works well together, or what does your family like.
Also, preparing the ingredients either earlier in the day, even the night before, will also reduce you time for getting a quick meal on the table.
What if I don't have leftover turkey?
Another timesaver – use a rotisserie chicken which you've picked up at a local grocery store.
Most of the year, whole turkeys are hard to find, but breast aren't. Or use chicken.
Did you want to see my lighter alfredo recipe?
One-Pot Turkey Alfredo Using Leftover Turkey will soon be a regular meal for your family.
For a few more recipes and more details, check out my feature in my local newspaper.
One-Pot Turkey Alfredo Using Leftover Turkey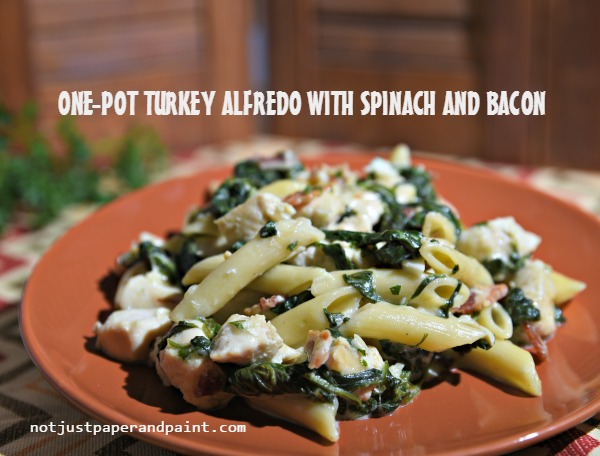 A delicious One-Pot meal using your leftover turkey
Ingredients
4-6 slices bacon
4 cups chopped or cubed turkey, cooked
6 oz baby spinach, 4 cups packed
2-4 cloves garlic, finely chopped
Salt to taste
Black Pepper to taste - if you like it, I don't
2 C chicken broth or stock
3 C whole milk
1 lb. 4 cups dry Penne pasta 3 1/2 cups will give you a creamier dish
1 cup Parmesan Cheese
2 T butter
2 T chopped parsley
Instructions
Using a dutch oven or other heavy pot, cook the bacon until almost crisp.
Remove from pan, drain, cool and chop, not too fine.
Keep about 2 - 3 T of bacon drippings in pan.
Add the garlic into the pan and saute just a minute.
Add the spinach and salt into the pan and cook just until the spinach is wilted.
Add the cooked turkey, butter, bacon, broth and milk into the spinach mixture.
Bring to slight simmer, just below a boil and add pasta.
Constantly stir this for about 10 -15 minutes, until pasta is cooked.
Add the Parmesan cheese and parsley and stir until cheese is melted.
Remove from heat.
Cover for about 10 minutes to allow the sauce to continue to thicken.
Sprinkle extra cheese and parsley upon serving.
Notes
Garlic can easily burn, so keep a careful eye on it.
If you are using raw turkey or chicken, add to the bacon drippings and saute' til no pink remains.
This is approximately 8 - 10 minutes, depending on the size of your chopped pieces.
If the dish isn't quite as creamy as desired, a little milk or broth can be added.
Use a rotisserie chicken for another time saver.
Turkey is good between a small cube and shred if you don't like big chunks.
The 5 cup of liquid can be a combination of stock, broth, whole milk, half and half, or even heavy whipping cream.
The more stock used will produce a lighter version.
The more heavy cream and half and half, the richer the dish will be.
Bowtie pasta is also good to use.

I've included affiliate links to Amazon for you to find some products easier. I may receive a small commission, but the price is the same for you. It just helps my blog out.
Happy Travels,
Rosemary