A weekend getaway to Wisteria Bed and Breakfast in Laurel, Mississippi is a great way to rest, relax, and recharge. Just as full of southern charm and history as the town which it calls home, Wisteria Bed and Breakfast is a beautiful, historic building that offers guests the best of bed and breakfast in the south. With so much history and such a charming atmosphere, this bed and breakfast offers a the spirit a great big hug and a "welcome, y'all" to everyone who steps foot inside it.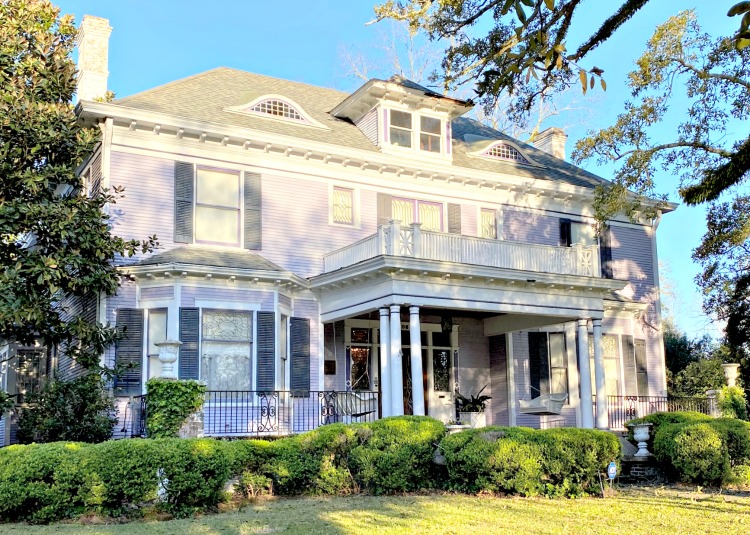 A Getaway to History and Charm
If you make your way to the corner of West 7th Avenue and North 5th Avenue one block west of Gardiner Park, you'll find yourself at the Grand Historic Wisteria. This old south three-story building, complete with a second-floor balcony, classic third-story dormers, and porch columns is the quintessential picture of the old south. Surrounded by old-growth trees with a bricked walkway, the bed and breakfast welcomes visitors to come inside and make themselves at home.
Don't think though it's open on weekends only. You can make reservations for every day of the week. Wisteria Bed & Breakfast opened in 2004. Since the premier of Home Town in 2017, her business has doubled. Even though you might catch a last minute opening, always make your reservations in advance, especially for weekends.
Home Town has made Laurel and Mississippi a destination travel spot. After watching the show, everyone wants to visit and have that small town, Southern hospitality feel and with a stay at Wisteria, you get it all.
A wedding party was held here for Erin Napier before Home Town was even thought of.
A Brief History of Wisteria Bed and Breakfast
Built in 1901 for Silas Wright Gardiner, one of the founders of the town and one of the owners of Eastman, Gardiner Company, the current bed and breakfast began as a family home. Decades later in 1972, the Schneider family bought the property and opened it as a bed and breakfast.
A little about your hostess – Peggy
She moved to Laurel in 1963 as a bride to her husband's home town. With a love of old houses and antiques her whole life, and being friends of the former owners, she knew in 1972 she had to buy it. Being purchased as a home, she still loves it just as much today and enjoys welcoming guests into her home. Many will return for more than one visit, always leaving as friends. Her gift of hospitality shows through as a true Southern Lady. She proudly let's everyone know her husband is the breakfast mastermind.
Southern Charm in Spades
If you visit Wisteria Bed and Breakfast for a getaway, you'll be immediately drawn in by the Southern charm that exudes from every piece of this beautiful, historic bed and breakfast.
Upon arrival, you'll walk up the brick walkway, flanked at the entrance by beautiful potted flowers. Climb the bricked steps onto the columned porch, and you'll enter the B&B through a pair of gorgeous doors, almost fully made of glass and flanked on both sides and overtop by matching glass set in casement windows.
Enter the front door, and be truly transported back in time. The open front room features gleaming hardwood floors, authentic period furniture, and a feel of true, pure home. It's the kind of atmosphere that immediately puts you at ease and ready to relax. That's just one room. The entire home is decorated in this way, giving your weekend getaway an air of relaxation that you just can't find anywhere else.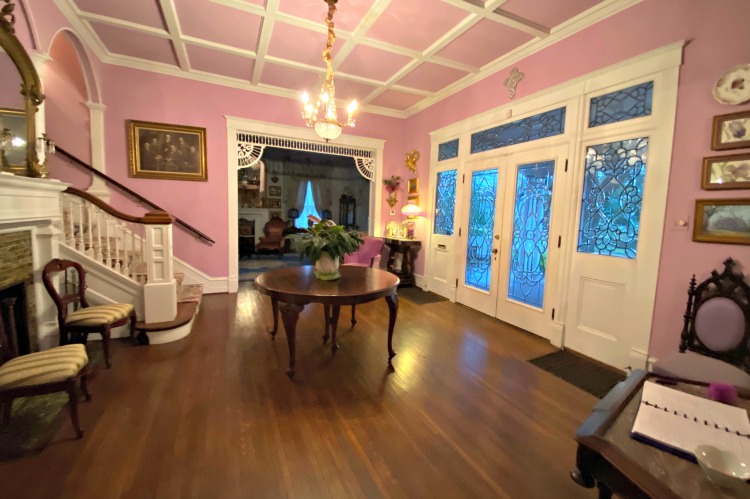 Notable spots in the home include the Sun Room with a beautiful painted floor, comfortable period furniture, and paned French doors that let in all the light. You'll also find local art showcased throughout Wisteria Bed and Breakfast, further bringing home that local feeling.
Make your way behind the home, and you'll find the Veranda and Courtyard. With its white, wicker patio furniture and dozens of beautiful plants in pots place on both shelves and hanging from the ceiling, the Veranda invites you to sit with a tall glass of sweet tea, a good, book, or booth.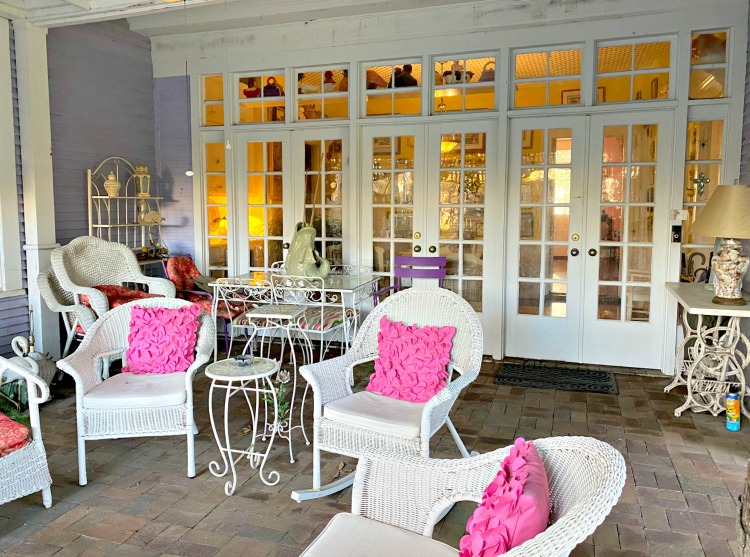 Continue on and make your way to the Courtyard. There you'll be treated to the famous Courtyard Fountain, surrounded by greenery, and a green space overflowing with blooming flowers in all manner of colors, beautiful statues, and outdoor furniture decorated with potted plants, all surrounded by a classic southern wrought iron fence. An enjoyable place for morning coffee. The courtyard was enlarged with many Laurel bricks, which came from Laurel Brick and Tile. This was Peggy's husbands family business.
A Suite Weekend Getaway to the South
Wisteria Bed and Breakfast has three rooms, which is why the staff are able to be so attentive. You won't be crowded in here. Rather, you'll soak up southern hospitality and charm while you stay in one of the three historic rooms offered at this amazing weekend getaway spot in Laurel, Mississippi. Guests over the age of twelve are welcomed, but leave your furry friends at home.
The Silas Gardiner Suite
The original bedroom of Silas Wright Gardiner and his wife, Louisa, the Silas Gardiner Suite is the picture of Southern luxury. The suite features a king bed, a single bed, and a private bath with a tub/shower. Ceiling to floor drapes bedeck the windows, while the authentic wallpaper of alternating solid stripes and classic print welcome you to come sit a spell. The massive suite also features a sitting area for getting away from it all for a spell.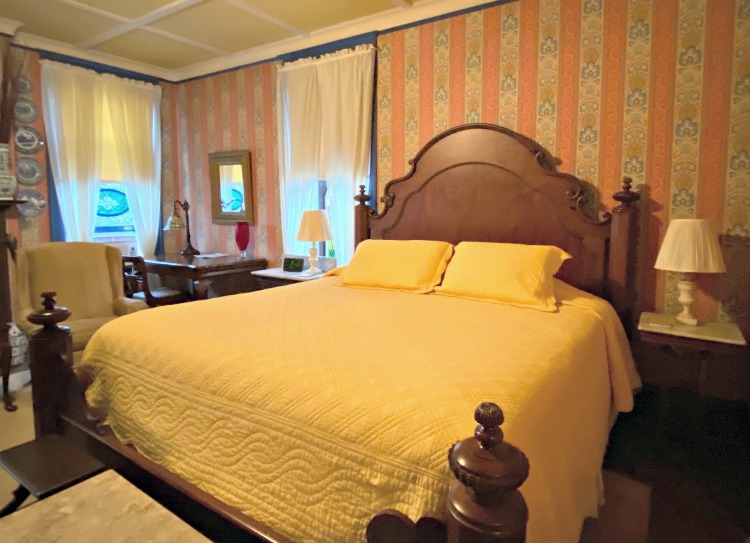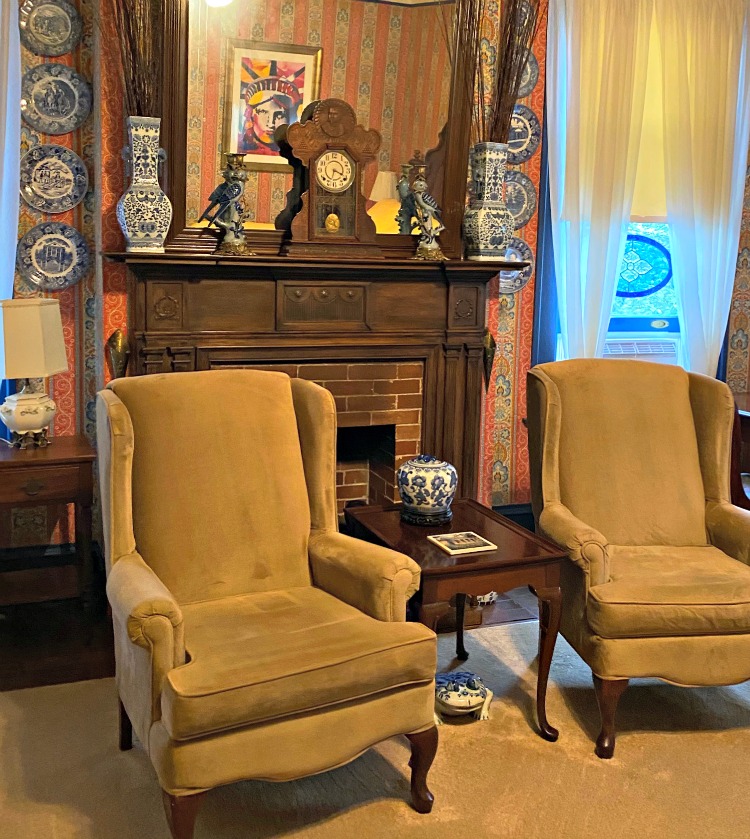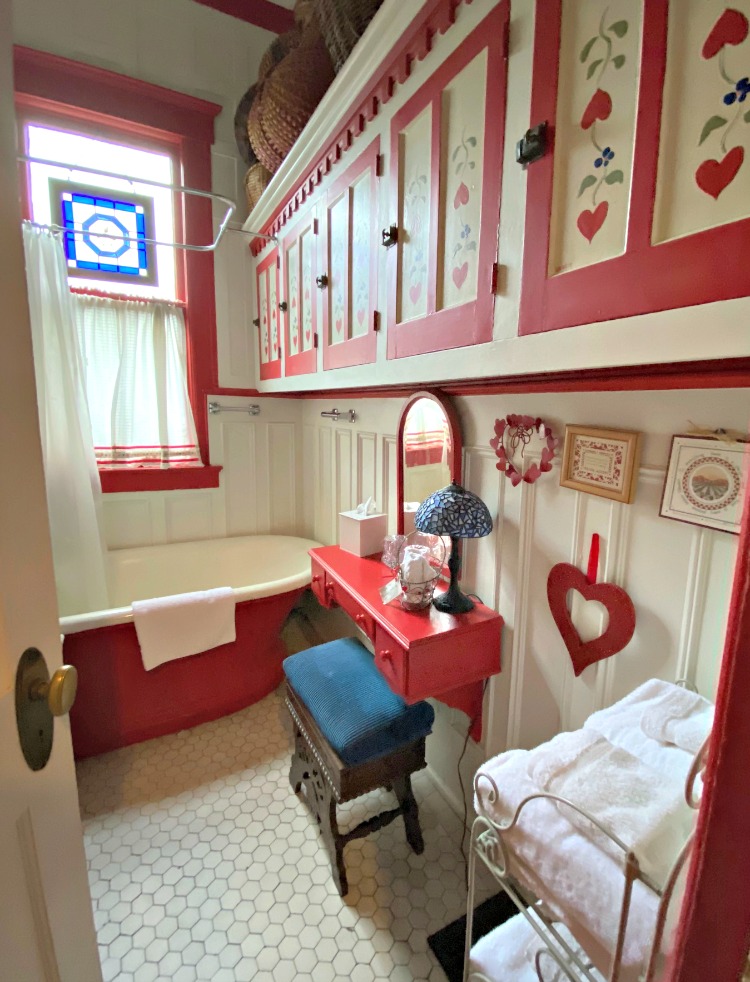 The Wisteria Suite
A bit smaller, but no less gorgeous than the Silas Gardiner Suite is the Wisteria Suite. This suite features a king bed, a private bath with a tub/shower, and a lovely, relaxing atmosphere. The bed features an ornate filigree headboard, while the yellow walls bring an extra feel of brightness and sunshine to the room. It's a perfect place to relax after a day of exploring Laurel and the surrounding area.
The Magnolia Suite
The final option for your southern charm-drenched weekend getaway is the Magnolia Suite. Much like The Wisteria Suite, it's smaller than The Silas Gardiner Suite but equally as relaxing and charming. Enjoy the king bed and a private bath with a tub/shower. The maize walls bring a light but relaxing feel, and the beautiful blue and cream area rug with red accents pulls the color from the walls and bedspread to create a room that is both visually sumptuous and relaxing for the soul.
A Getaway That is Pure Magic
The only thing more magical that the feel of Wisteria Bed and Breakfast is the staff. When you arrive for your getaway, you'll be a stranger, but when you leave, you'll be family. From the moment you arrive, you're treated like a long lost cousin, finally coming home to stay. The warmth of the staff, the home, and the town are all real, and they offer an immediate feeling of peace and easiness of spirit. If you're planning a trip to the area, do yourself a favor and make Wisteria Bed and Breakfast your weekend getaway destination. You'll be glad you did.
Don't Miss Breakfast
I have always said I don't like breakfast but after lots of travel, I've decided I just don't like cooking breakfast for myself. When I can be served a delicious homemade breakfast, I'm all in. There's usually a breakfast casserole or French Toast served each morning when there's a full house of guests. You may also find, bacon, eggs, fruit, and grits many days. If you have a special diet, just let them know. I was introduced to Mayhaw jelly with the muffins.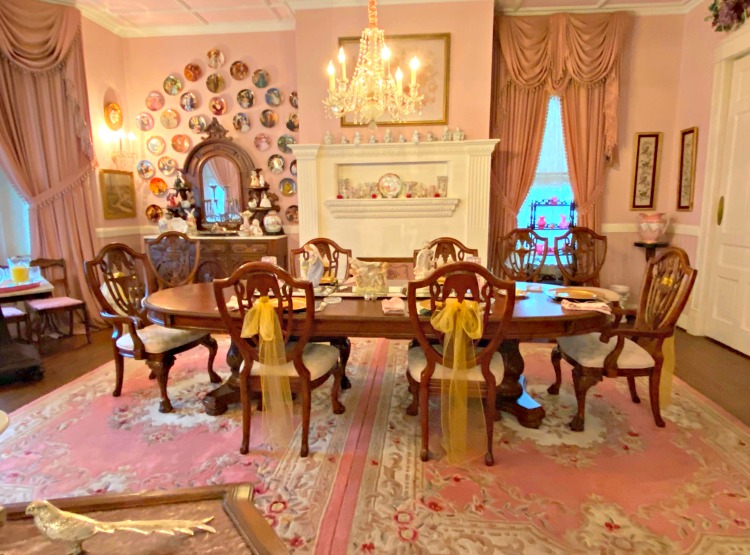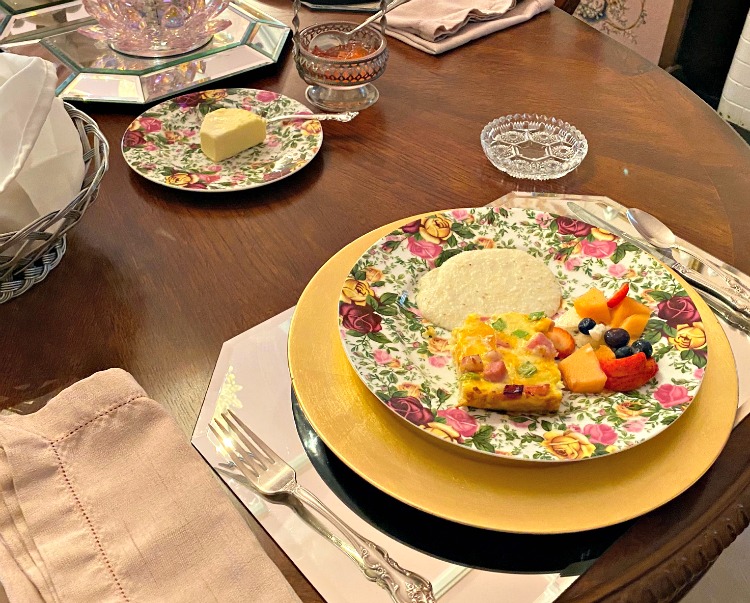 Now start planning your getaway. Opening back up this week, you can find more information on their website including the phone number and email. WISTERIA BED & BREAKFAST
I can't wait til I have another chance to visit.
Follow along my blog or make a Pinterest Board for all things Laurel.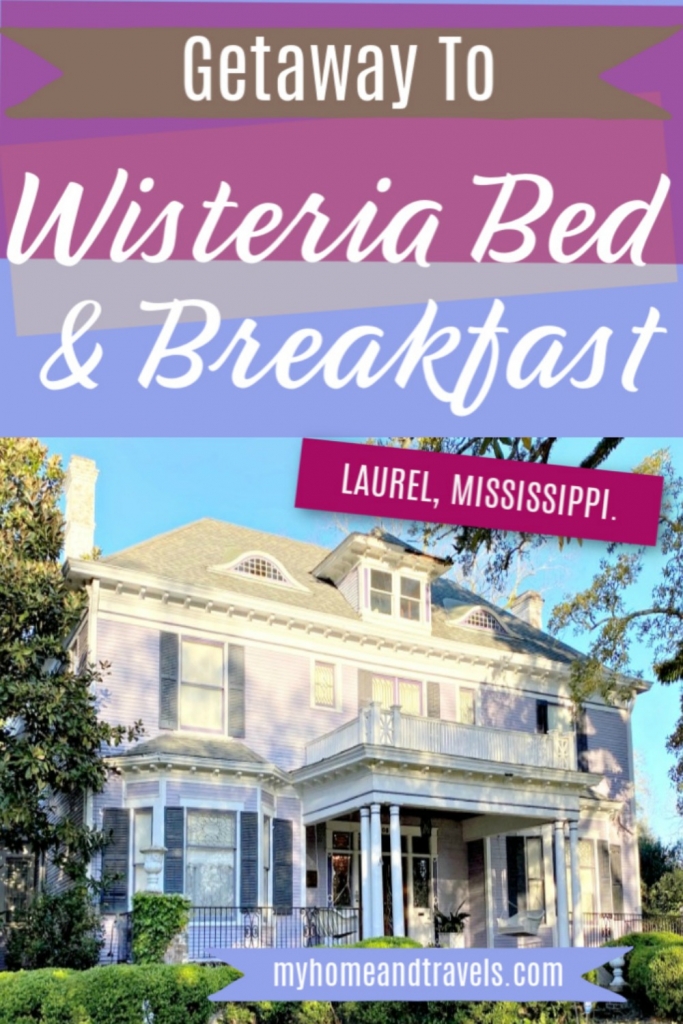 Here's a couple Laurel and Home Town related posts.
A Visit to Laurel – Home of Home Town