Don't you just love when you find a new product, try it out, and absolutely LOVE it?  I do and I did.
In the search for a possible paint line to carry in my booths, Laura at turningleafcrafts mentioned General Finishes so after a little bit of looking it over, thought, I should check it out.  So many brands of wonderful paint is on the market and finding the right one for my area has been a journey in itself.
I have been in contact with Sara and after receiving a sample of their products, I decided on this little chair which I had in my garage.  Can anyone else relate – are there more chairs in your garage than in your dining room?  (I'm raising my hand)
Lamp Black is a great black, which is sometimes hard to get whether they turn out to be too gray or just not a true black.  This one is.  Upon opening the can, which this milk paint is premixed, I could tell the color was a good one.  This paint is pure silk to apply.
Here's the before and after of my first GF project.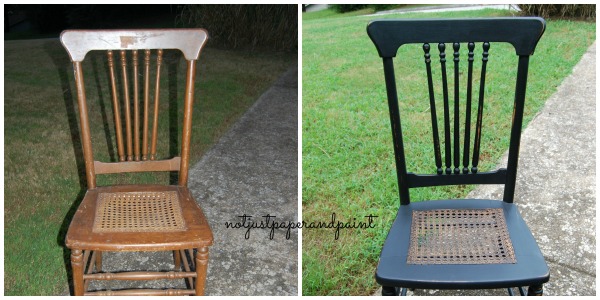 If you haven't heard of this, or tried it out, it's a must.  You will find it very soon in Chattanooga.