Who wants to win an autographed copy of Ree Drummond's latest cookbook – A Year of Holidays?
Couldn't be simpler – just enter below. Fee free to share with your friends.
If anyone asked about food bloggers, most would think of Ree Drummond first. Not only does her show on Food Network show show you a delicious recipe, but how to make it. Although I have been cooking for many more years than I like to admit, but I feel that anyone who claims they can't cook, can watch her show or follow one of the recipes out of any of her cookbooks, and pull it off successfully. She makes no excuses about using butter, whole milk, or wine. My kind of woman. Oh, and bacon – see below.
Most of the recipes call for common items which if you don't have in your pantry, you can find at most grocery stores. Plus, usually no special utensils or cookware is required. If you are starting off, most of the things she uses would be good staple items to add to your kitchen. (Add these to your Christmas List)
Although I lived most of my growing up years on farms, it was nothing like this. There was rice, cotton, soybeans, and milo grown around us. But, like any farm family, it takes everyone to make it successful. I love how they are instilling family values into Alex, Paige, Bryce and Todd.
Who doesn't love bacon? My family sure does. We have experimented with bacon on a lot of things, and although I thought it might be a fail – this recipe won't let you down.
As you think ahead to any brunch or just a breakfast with a special touch, think about these.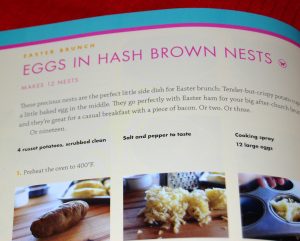 Now go and enter so you can get your very own copy of these recipes.
Hint – Hint – you will be receiving this in time for Christmas.
You have until December 1, 2014 at 1:00 pm EST to enter.