My white frame wall made good use of this stack of frames. Do you have frames which need a new home?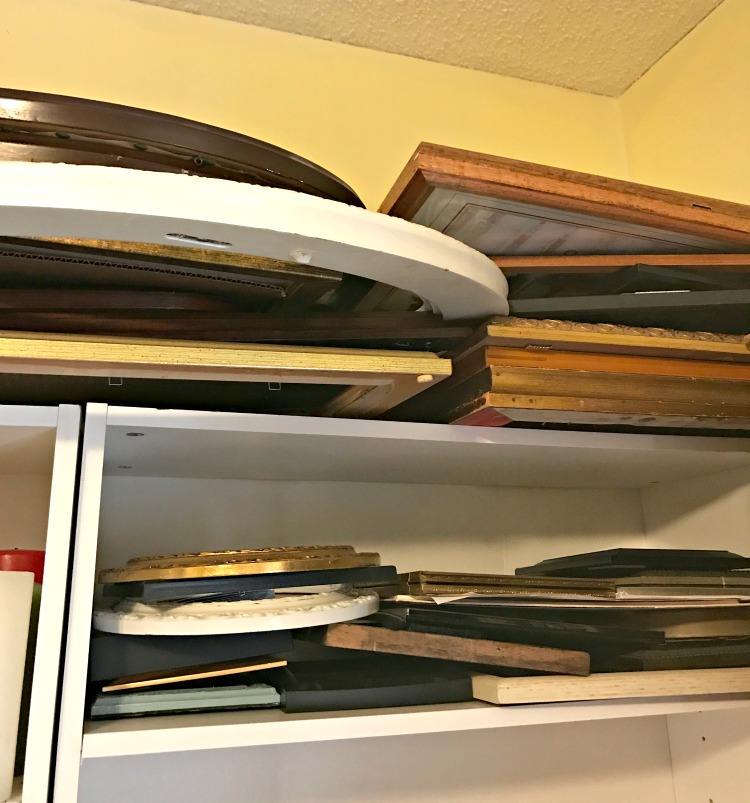 I love how it fills it up the wall above my couch and makes it a great focal point and adds architectural detail to any room. Hanging empty frames on a wall has been a trend for a while, and maybe "out" now for some, but I finally made one.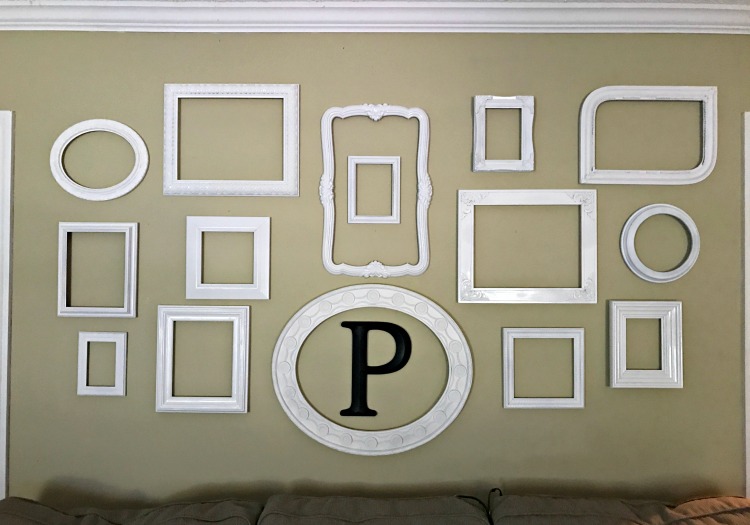 To me trends can come and go, but if you like something and it fits in your home, it's always in style.
This project wasn't designed to be a blog post so I don't have a lot of pictures except the ones from my phone. Taking pictures during this process is important.
I've been picking up frames at sales and flea markets for several years with the intention of doing this in my dining room, but now another project is in the works for that wall.
Here's how my project went:
1 – I went through my stacks of many frames and chose my favorites, but also to include different shapes, sizes, and textures. I knew they would all be painted white.
2 – The area above my couch was measured and I taped off an area on my kitchen floor using painters tape to match these measurements.
3 – I started laying out the frames with the two larger ones in the middle and working out. Then it was just trying other frames to fill it in.
4 – After I had a good layout, I left it a few hours and looked over it again. And of course, a few changes were made.
5 – Take pictures of the layout before moving them to paint.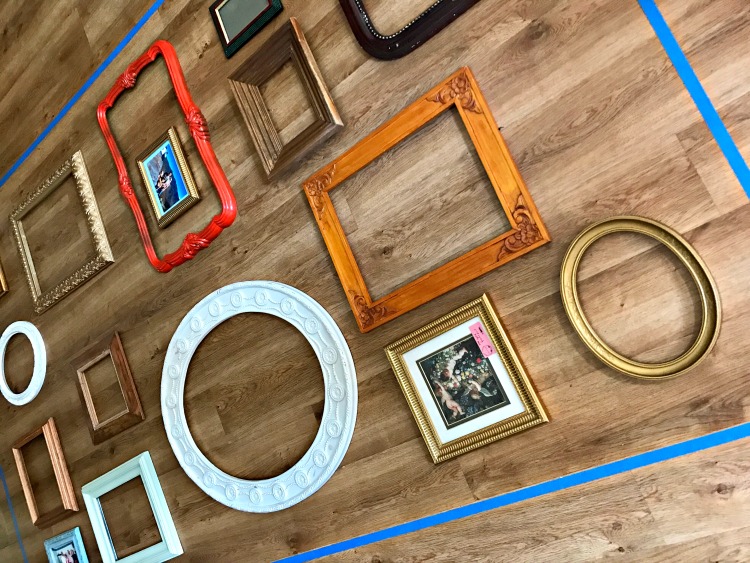 6 – All were to be white, but not the same sheen.
7 – Painting – this was a combination of White Rustoleum spray paint – flat and gloss. A few were with outdoor paint from my Wagner paint project. This is a great way to use up that little bit left over, use what you have.
8 – Layout again just to make sure I liked the look. Again, take a picture.
9 – Hang using picture hangers and small nails. None of these were heavy enough to require anchors.
10 – For those not hanging straight, attach a 3m picture hanger to the back. These won't damage the wall when removing.
11 – The large oval needed something inside of it and after trying multiple frames, none seemed to work. Light bulb moment – a large "P" might work. Just fit, and it was already black and I really liked the contrast.
12 – Take another picture in case you have to touch up or paint any again.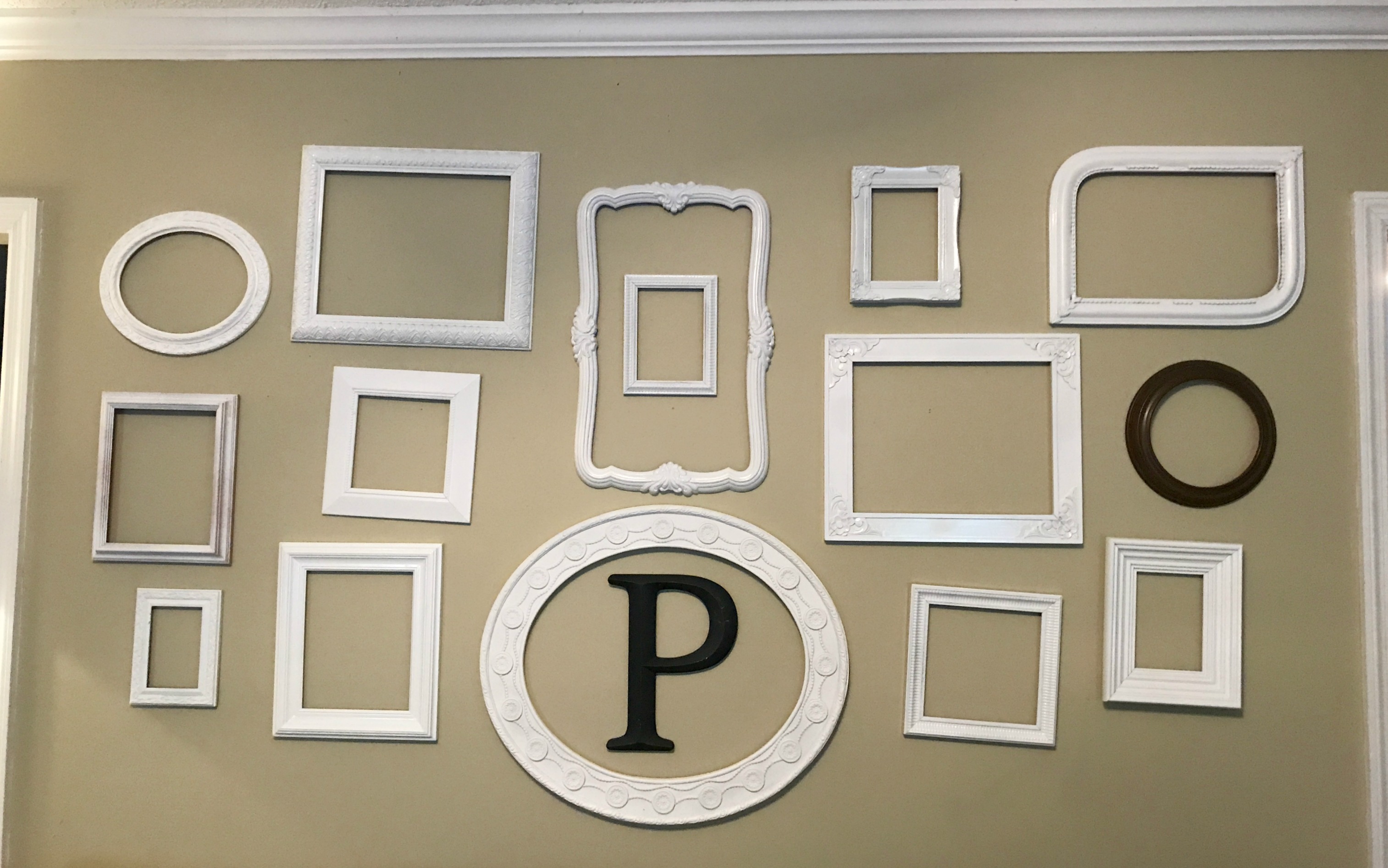 13 – After touching up or painting, I let it dry 24 hours before hanging, just in case there was a wet spot and didn't want it sticking to my wall.
Done!
A few notes:
Although I was working in a rectangular area, I wasn't worried about it be symmetrical.
Rectangle and oval frames can be hung either horizontal or vertical.
A round frame had been found after project started, and knew I wanted to add it.
Paint inner edges of frames as these may show also.
Here's another gallery wall I created for a television segment a few years ago but it might be helpful for any project.